Migrate Offline Exchange 2010 Mailbox to Office 365 – Step by Step Guide
Are you ready to migrate Offline Exchange 2010 mailbox to Office 365 for your organization? This guide will help to go through the process, no matter user is technical or non-technical. But while working with live environment multiple methods can be deployed. Some techniques are given below:
Exchange 2010 to Office 365 Cutover migration
Exchange 2010 to Office 365 Staged Migration
Exchange Recovery Tool – Alternative Solution
Need for Migration of Offline Exchange 2010 Mailbox to Office 365?
A lot of reasons prompt towards companies that make them migrate Offline Exchange Database mailboxes to O365. The primary one is what if any disaster occurs? All, your data can come to risk. Moreover, Hardware maintenance cost, 100% server availability, are also a few reasons to migrate.
Let's see in brief about Office 365 advantage over Exchange:
Office 365 offers easy access to your data without spending on the infrastructure. All you need to subscribe plan as per your companies need and create users.
Forget about Disk Storage or Investment on storage media to save your company data.
Secured against data loss due to disasters, technical faults, etc. at Microsoft Data Centers.
Forget about the Corruption and Stability issues that user faced in Offline Exchange
Now no more Exchange Server Downtime issue or other page load issues
Above cons of Office 365 forced companies to migrate Exchange databases mailboxes to Office 365 successfully. But it needs a lot of in-depth expertise and patience for migrating to Office 365 from Exchange Server.
Methods to Migrate Mailboxes from Offline Exchange 2010 Database to Office 365
a) Migrate PST to Office 365 Mailboxes: Since Exchange mailbox can be exported into PST File format and in Office 365 Account we can use Azure AzCopy Tool import this PST File. As this process divided into three different sections such as:
Section 1: Install Azure AzCopy & Copy SAS URL
Section 2: Create the PST Import Mapping File
Section 3: Create PST Import Job in Office 365 Application
For Complete Steps, Please Visit: Import PST File to Office 365 Account
Method 2: Exchange 2010 to Office 365 – Cutover migration
This Migration Feature helps Exchange Administrator to Move mailboxes to O365 easily. But methods hold some limitation such as:
a) Method used to Migrate Mailboxes less than 2000.
b) Useful for Small and Medium Organization
Now follow step by step for Exchange 2010 to Office 365 Hybrid Migration
1. Create a Group to Receive:
The on-premise Exchange server consists of a mail-enabled security group. So create a mail-enabled security group within Office 365 before migrating. For this login to the O365 account, Next Go To Office 365 Admin Centre > Group > Create new and create a group to receive mailbox items.
2. Create Cutover Migration Endpoint:
For this GOTO Exchange Admin Center >> Recipients >> Migration. Here, click on '+' then Select Migrate to Exchange Online option. Now select radio button beside Cutover migration (supported by Exchange Server 2003 and later versions). Now fill other option for endpoint migration (new batch migration).
At the end Type the name of migration and click on Start button.
Next, Browse the user that will get the migration report and select radio button beside Automatically start the batch. Next click on new to start migration. To view details click on migration tab and click on View Details.
 Now Assign Office 365 license to new users. The user account is automatically created after Cutover Migration.
Next Re-route domain to receive new emails in Office365.
Method 3: Exchange 2010 to Office 365 Staged Migration
This method can only be used for Exchange version 2003 & 2007. And as Cutover migration, Staged migration also helps to migrate only 2000 mailboxes. If companies want to migrate more then 2000 mailboxes then this will not be helpful.
Limitations of Mentioned Techniques
Time taking and takes large server downtime.
In-depth technical knowledge required to perform the migration.
Alternative Solution to Migrate Offline Exchange 2010 Mailbox to Office 365 
Exchange Server Recovery Software provided by SysTools is the advanced software that is used by many IT professionals, Exchange and Novice users around the globe. This utility support both dismounted / offline EDB file (Public & Private). Users can easily load the Exchange database and extract mailbox from offline EDB file & export directly to Office 365 in a simplified manner.
The recovery manager for Exchange database software provided Quick and Advance scanning mode which easily resolves Exchange mailbox corruption and repair pub1 .edb along with priv1 .edb file with no data loss. To recover the Exchange database from minimal corruption select the Quick scan and for the highly corrupted EDB file choose advance scan mode. This option also recover permanently deleted Exchange mailboxes and items from loaded Exchange database file.
Also Read: Easy Way to Recover Permanently Deleted Mailbox Exchange 2010 / 2013 / 2016
The Granular Exchange Recovery tool supports various mailboxes such as: archive, users, disconnected, shared, legacy, and data items like – mails, notes, tasks, journals, contacts, calendars. Users can export all the mailboxes as well as items selectively or multiple to the Live Exchange Server mailboxes, Office 365, and various file formats. Also, users can recover and restore offline Exchange 2010 database to another server in a simplified way.
To back up the Exchange data users can migrate multiple Exchange EDB to PST, EML, HTML, MBOX, PDF, MSG file formats. Any users (technical or non-technical) can use this software as it provides the graphical user interface which makes the users work a lot easier. After conversion, the tool automatically generates the export report which contains the success and fail count of exported Exchange mailbox data.
Key Feature Of Automated Software
Support Offline/dismounted STM & EDB file
Preview Exchange mailboxes items before conversion
Keep metadata intact & maintain actual folder hierarchy
Convert EDB to EML and different file formats
Date filter option migrate Exchange data in a specified date range
Remove email (SMIME/OpenPGP) encryption from EDB mailboxes
Compatible with all versions of Exchange Server, Outlook, and Windows OS
Step by Step Guide to Migrate Offline Exchange 2010 Mailbox to Office 365
Step 1: Download, Install & Launch the software in your local system
Step 2: Select Add file button >> Load offline Exchange database file >> Click on the Add button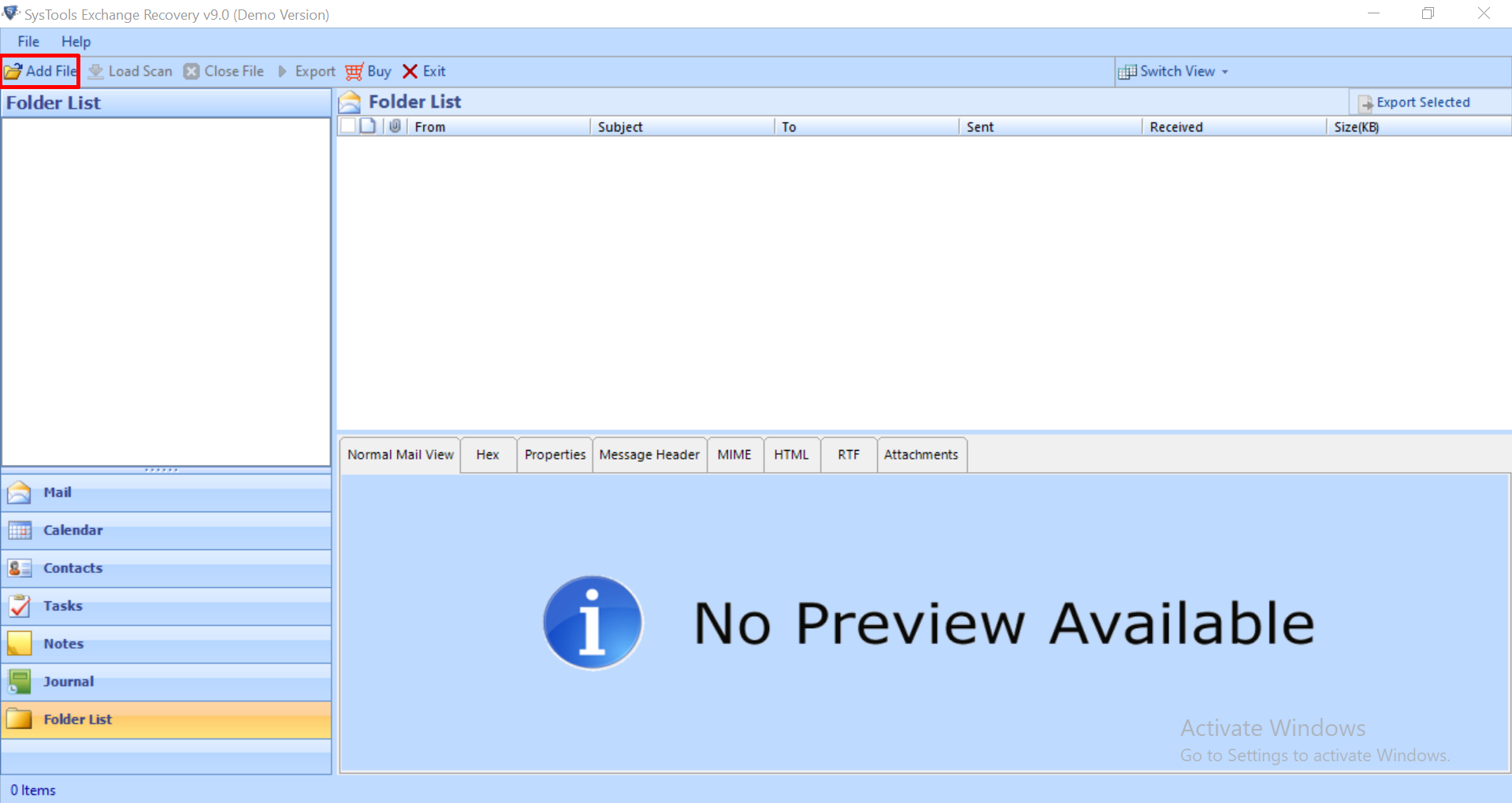 Step 3: Preview Exchange database mailboxes and items >> Click the Export button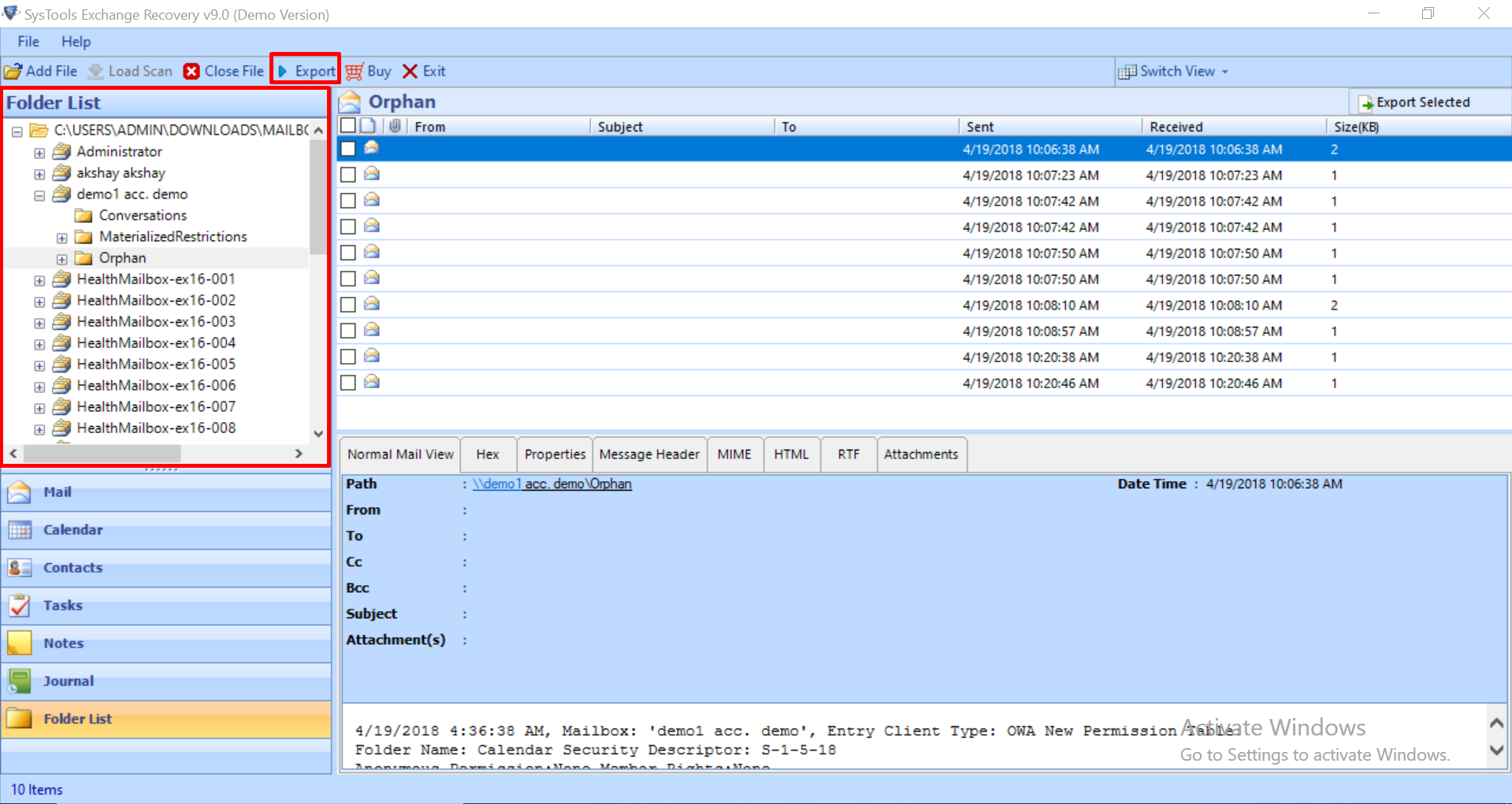 Step 4: Select the Exchange mailboxes >> Click on the O365 export option >> Select Advance settings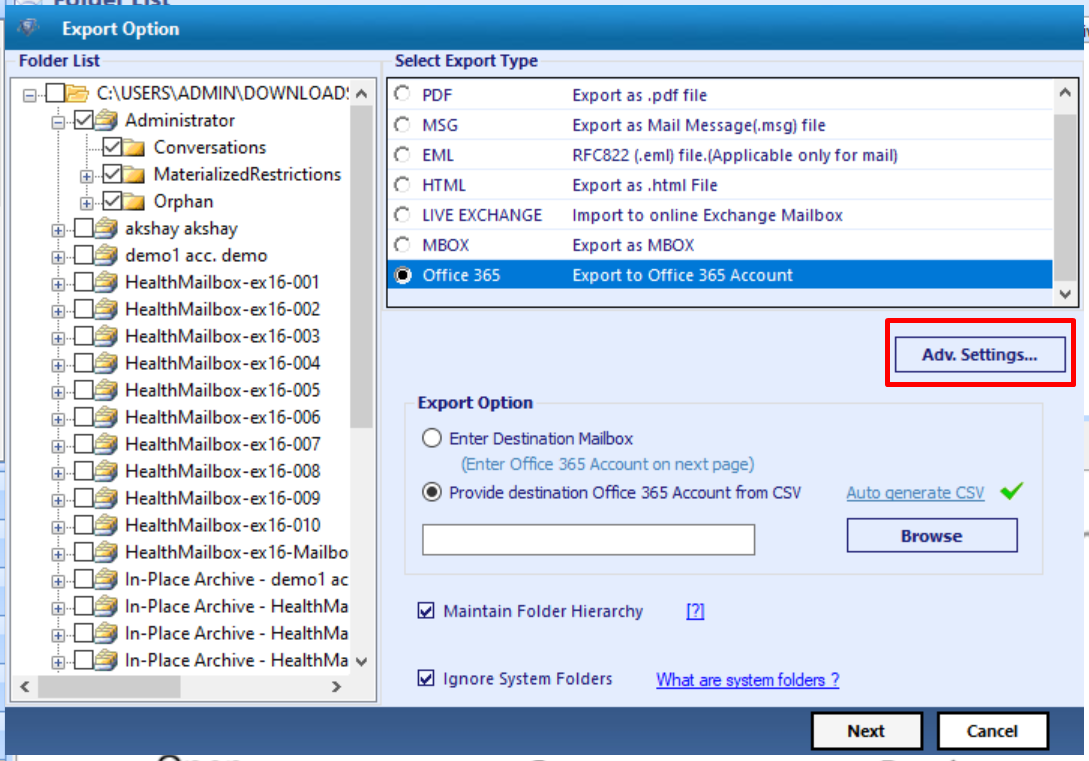 Step 5: Select the user impersonation mailbox >> Enter the credentials >> Click on the save button
Note: It is mandatory to impersonate Office 365 user account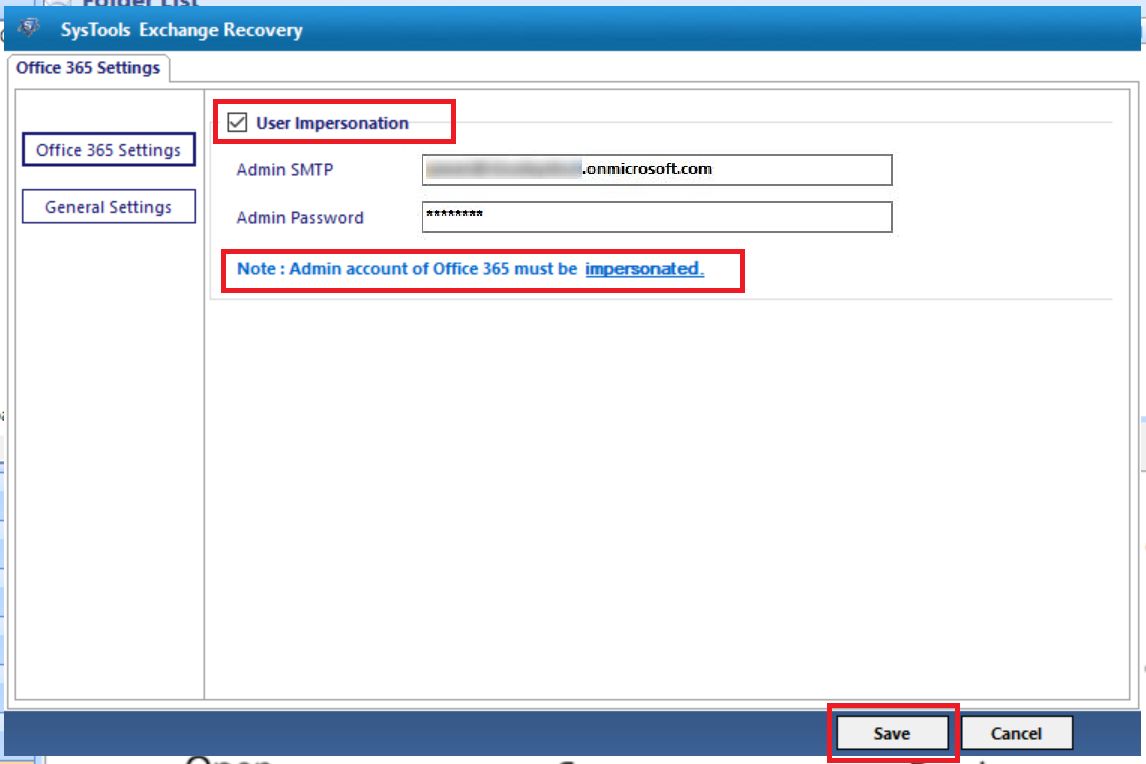 Step 6: Click on the destination mailbox radio button >> Click on the Next button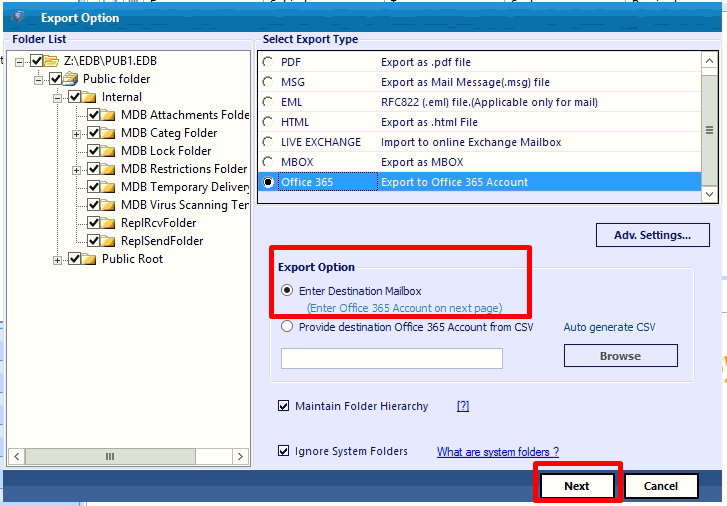 Step 7: To validate the mailboxes, insert the O365 account name & password >> Click on the export button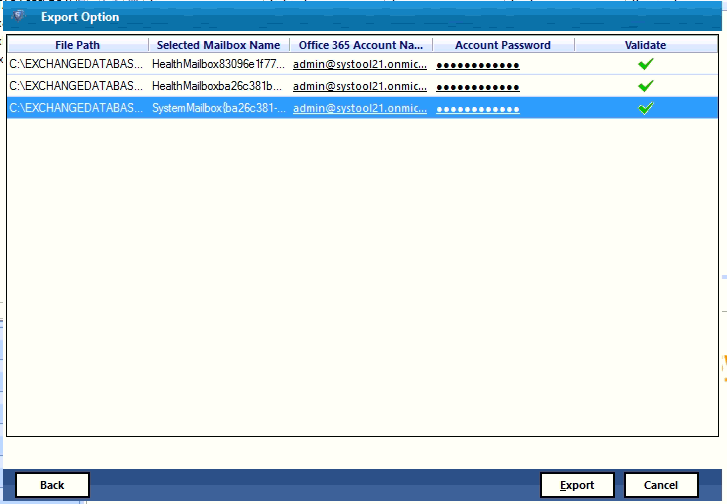 Finally, the offline mailboxes of Exchange 2010 are successfully migrated to the Office 365
Conclusion
Now Organization using Office365 application to avoid infrastructure and other resources such as Space, Operating System environment and networking resources used in Exchange Server environment. But moving mailboxes of users created in Exchange Server environment to Office 365 account remains a difficult task if we did not follow the right procedure offered by Microsoft such as "Cut Over Migration and Shared Migration". Exchange Administrator can try another alternative solution offered by SysTools to migrate offline Exchange 2010 mailbox to Office 365 step by step using the above guide. As Software not only export but also repair and fix any corruption in a .edb file of various Exchange environment without any hindrance.