Import PST to Office 365 Without Duplicates -Easy Method to Follow
Do you want to import PST to Office 365 without duplicates? Are you looking for some trustworthy solution to do the same? Then, you have reached the right blog this writeup explains both the manual and the automated solution for this task.
Well, there are various advantages that users get while importing PST files to Office 365 skip duplicates, as the data kept in the cloud is safe enough and could be easily accessed irrespective of the location.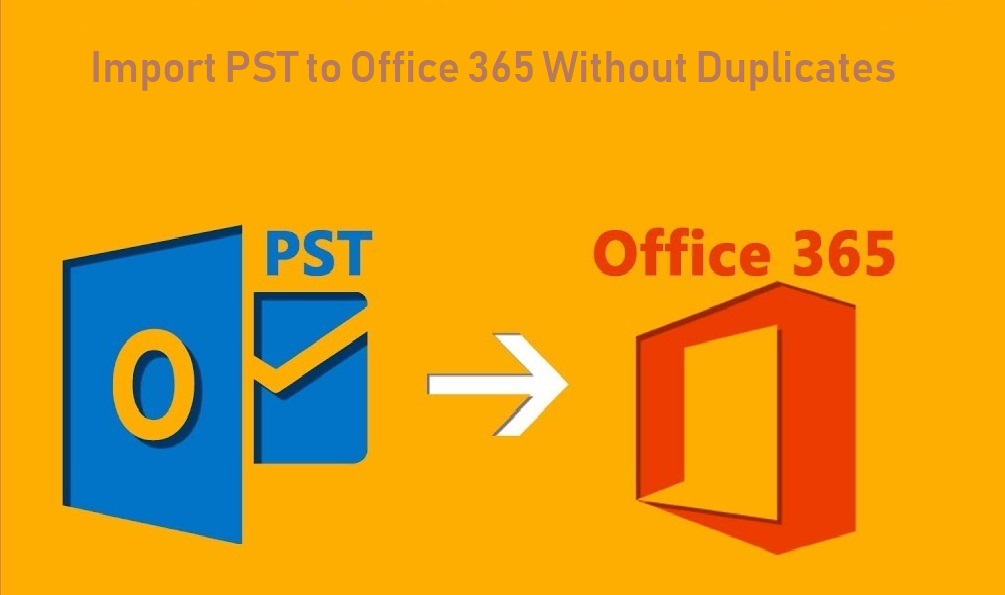 But, the question arises when an organization needs to import multiple PST files to Office 365. There are chances that the duplicate PST files are uploaded more than once. So, readers let's explore the methods to be followed, which has explained in this blog in a seamless way.
Let's Follow a Scenario
"I am working as an IT Administrator in a reputed organization. Recently, our organization has decided to move the PST files to Office 365. As there are multiple PST files of all the employees which is to be imported to O365. However, we tried the manual method, which is Network Upload and Drive Shipping methods. But, it is not feasible as we see there are also duplicate PST files that are uploaded. So, please let me know the correct procedure to migrate PST files to Outlook 365. Kindly reply back at the earliest possible, thanks!"
In the above-described scenario, an organization has to import multiple PST files to Office 365. Here, Network Upload is not a convenient solution to migrate the PST file to Outlook 365. As this method is advised only for technical experts and also one should download Azure Azcopy first. Moreover, this process takes a long time which ultimately wastes the valuable time of the employees.
On the other hand, the Drive Shipping method also proves fatal considering the organization's perspective. In this method, the user needs to save the respective PST files to the hard drive and physically ship it to Microsoft. Once the data is received by Microsoft, it will copy the data to the cloud.
This is also a time taking procedure and must be carried out in a proper procedure as recommended by Microsoft. There are some additional requirements as well like PST files should not be larger than 20 GB, assign Mailbox Import Export role in Microsoft Exchange, etc. All these prerequisites make the process more difficult.
What is the Alternate Solution to Import PST to Office 365 Without Duplicates?
Office 365 Import software is the ultimate solution, which is much better than the manual methods. The main function of the tool is to import multiple Outlook PST files to Office 365 for both User and Admin accounts. It is a fully equipped tool that does not require much technical expertise, thus enabling a naive user to adopt this tool. The Date-filter option allows to import of selective data to an Office 365 profile.
The Incremental Import option enables users to import PST to Office 365 without duplicates. Moreover, one can easily download and install this tool on Windows 10, 8.1, 8, 7, and other lower versions. This software is also compatible with Outlook 2019, 2016, 2013, 2010, 2007, etc. It is an amazing tool packed with power algorithms and has an easy-to-understand interface.
Why Choose Office 365 Import Tool Over the Manual Methods?
The Network upload which is the manual method is currently available only for a few countries. Whereas the tool is available worldwide the globe
In Network Upload, it allows only 24 GB of data of PST data to import into Office 365. Whereas, the tool enables to import of multiple PST files irrespective of the file size
The manual procedure does not allow to import PST files to the public folders of Outlook 365. On the other hand, the tool can overcome this manual failure
PST file which is larger than 150 MB will be omitted to import in the Drive Shipping method, while with the software there is no such restriction. Thus, importing the PST file to Outlook 365 without duplicates
In the Drive Shipping method, nested PST folders with more than 300 levels are not imported to MS O365. On the other hand, the software allows to import of multiple nested folders
Must Read: Learn various method to Import Outlook Folders to Office 365
Simple Working of Office 365 Import Tool
Firstly, download and install SysTools Office 365 Import tool on your system.
Then, enter the Admin credentials and select Add Folder to import PST file to Office 365 without duplicates.

Once the PST files are selected, select the categories to be imported to Office 365 webmail.
Make sure to select the Incremental Import option which will ensure that there is no duplicate PST files.

After the required filters are applied, click Import to begin the process.
Also Read: How to Import iPhone Contacts into Outlook 365?
Let's Wrap Up
The manual methods are Network Upload and Drive Shipping fail to import PST to Office 365 without duplicates. The process takes a lot of time which is not a feasible approach. Therefore, it is advised to use Office 365 Import tool, a reliable solution with multiple features and functionalities. It is designed with advanced algorithms by experts to import the Outlook PST file. It has got a friendly interface that swiftly imports multiple PST files in a hassle-free way.