How to Export Exchange Contacts to PST and Open In CSV Format
Companies are designed with a multi-verse system and different infrastructure to support their communication. They hire professionals, experts, and advisors to build a platform to network with people both internally and externally. They devise strategies to keep information available to them in multiple formats. One way is to export Exchange contacts to PST file format and then can be used on different file formats such as CSV or Excel according to need and situations.
Many times I have seen users want to know how to import Exchange database mailbox contcats to Outlook PST in a simple and effective way. But, moving EDB contacts to Outlook manually is not easy at all. Thus, to have a seamless solution, try EDB to PST Converter tool with all required features.
In a nutshell, these are simple techniques which are used to keep data available at all time. This helps staff and officials informed of employee details even when they are not connected to the internet or during server downtime.
A lot of the times administrators work on behalf of the staff to export Exchange contacts to PST file format so that can be converted into other file formats such as CSV or Excel format. This can be helpful in extracting some communications details (email address, user addresses, other personal details) to store in a separate location in case of a forensic of legal investigation.
There are simple steps to perform the migration. It can be done by following the instructions mentioned in this post. Read carefully in order to avoid data loss.
Reasons to Export Exchange contacts to PST File format
Following are grounds reason to import contacts.edb to .pst file.
The major reason is cases of corruption or infection. There may be some data missing which cannot be accessed through the Outlook client. It can only be read through the server. Hence, the need to Exchange 2007 export contacts to PST
There may be some Server downtime or maintenance work going on. Any urgent project may require immediate extraction of important attachments. These will need the download of the documents saved in the EDB file.
There may be some backup or compliance requirement. These require that user extract contacts in a form that can be downloaded and referenced on any Windows PC or laptop.
Need to View Exchange Contacts in CSV or Excel File format
Automated Wizard to Export Exchange Contacts to PST Directly
Without using Complicated Powershell commands, a user can directly export Exchange Contacts to PST format from offline/dismounted Exchange database file with other items such as emails, notes, Journal, via EDB to PST Software. This utility offer categories filter option easily exports the selected data items from multiple mailboxes to Outlook data file in no time without any data loss.
The software supports private and public Exchange EDB file. It provides dual scan mode option which recovers corrupted & repair pub1.edb file along with priv.edb file. Quick scan option removes minimal corruption from Exchange database file and to recover corrupted EDB file go for the advance scan. This option also recovers purged Exchange EDB mailboxes and data items.
Now you can recover deleted mailbox from Exchange 2016 & various other Exchange data by using the advance scan mode option. It supports all Exchange Server version from 2003 to 2019 and restore deleted emails from Exchange 2010 easily.
This tool supports various Exchange mailboxes such as: user, shared, archive, legacy, disconnected and items. After recovery, the utility is capable to export the healthy and unhealthy EDB mailboxes directly to Live Exchange Server, Office 365, PDF, MBOX, MSG, EML, PST, HTML file formats.
After exporting EDB to PST or any other Exchange data, the software generate export report automatically which stores the success and fail count of Exchange exported data in CSV file format.
Key Features Of Professional Software
Recover and Repair unhealthy or damaged Exchange database file
Preview healthy and recovered Exchange EDB mailbox items before conversion
Renders remove (SMIME/OpenPGP) encryption in bulk from Exchange mailboxes
Extract mailbox from offline EDB to various standard file formats
Maintain actual folder structure and keep metadata intact after conversions
Convert EDB to PDF file format for backup & storage purpose for future use
Selectively export Exchange data using date and categories filter option
Support all Microsoft Outlook, Windows OS, and Exchange Server versions
Stepwise Method to Export Exchange Contacts to PST File Format
Step 1: Download the automated utility in your local system and Run it
Step 2: Click on the Add File button > Load offline/dismounted Exchange EDB file > Click on Add button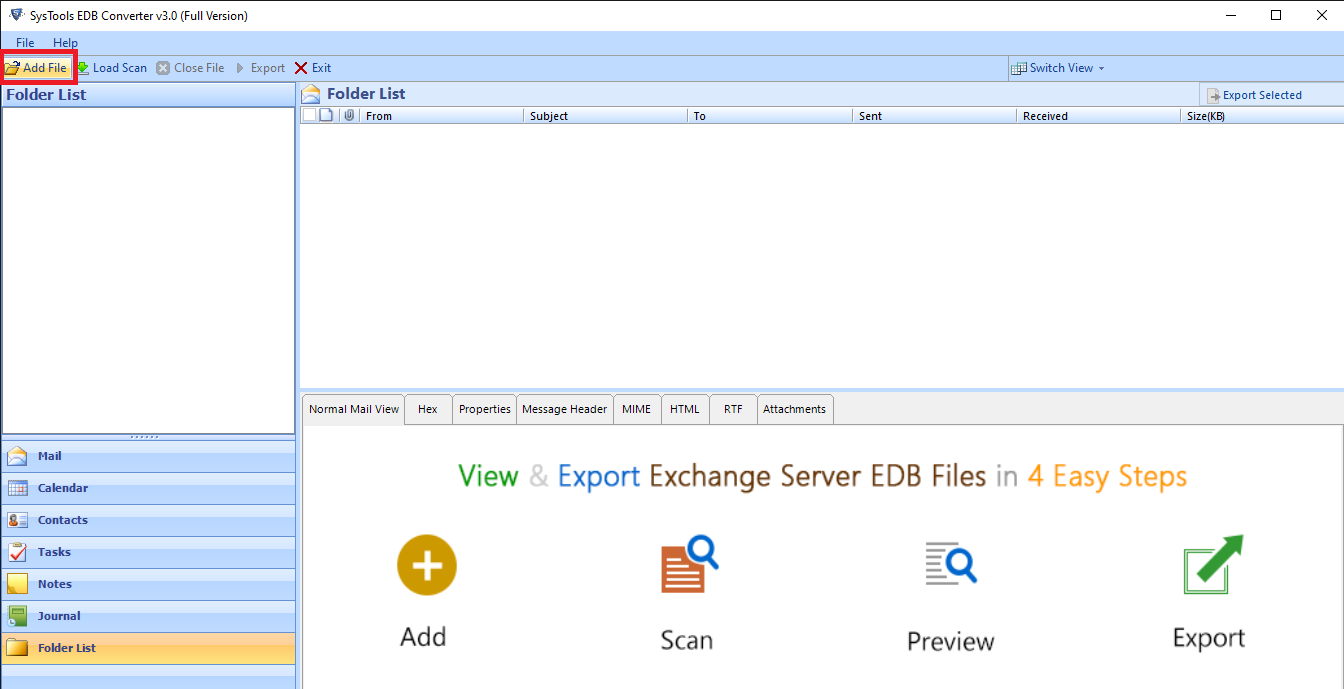 Step 3: Preview Exchange EDB mailboxes and items > Click export button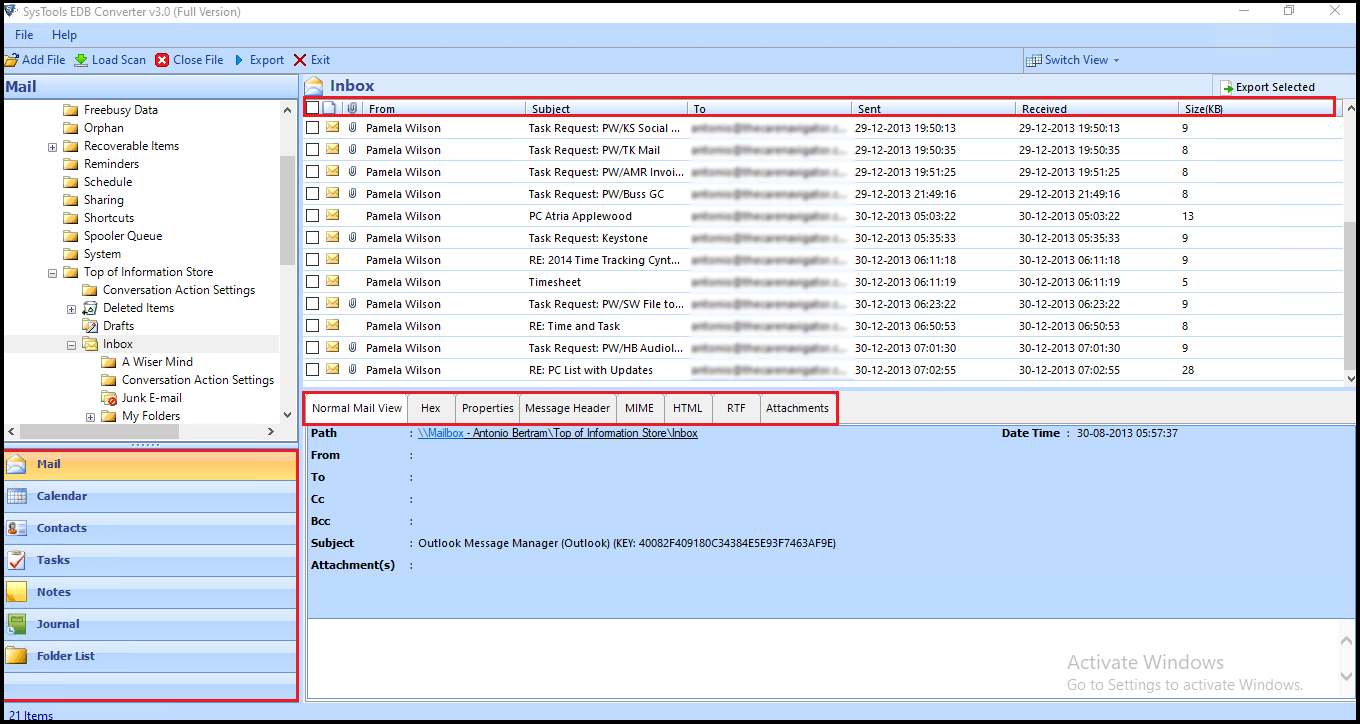 Step 4: Select the mailboxes > Click on PST export radio button > Select advance settings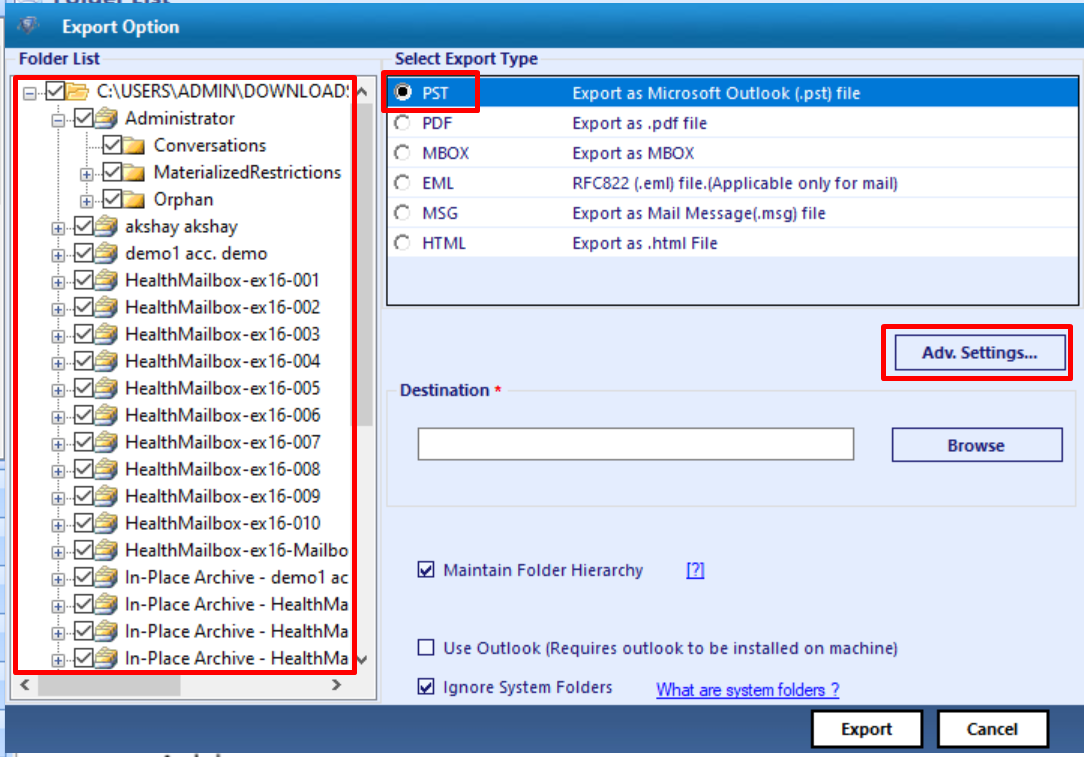 Step 5: Click on contacts from categories option > Click on save button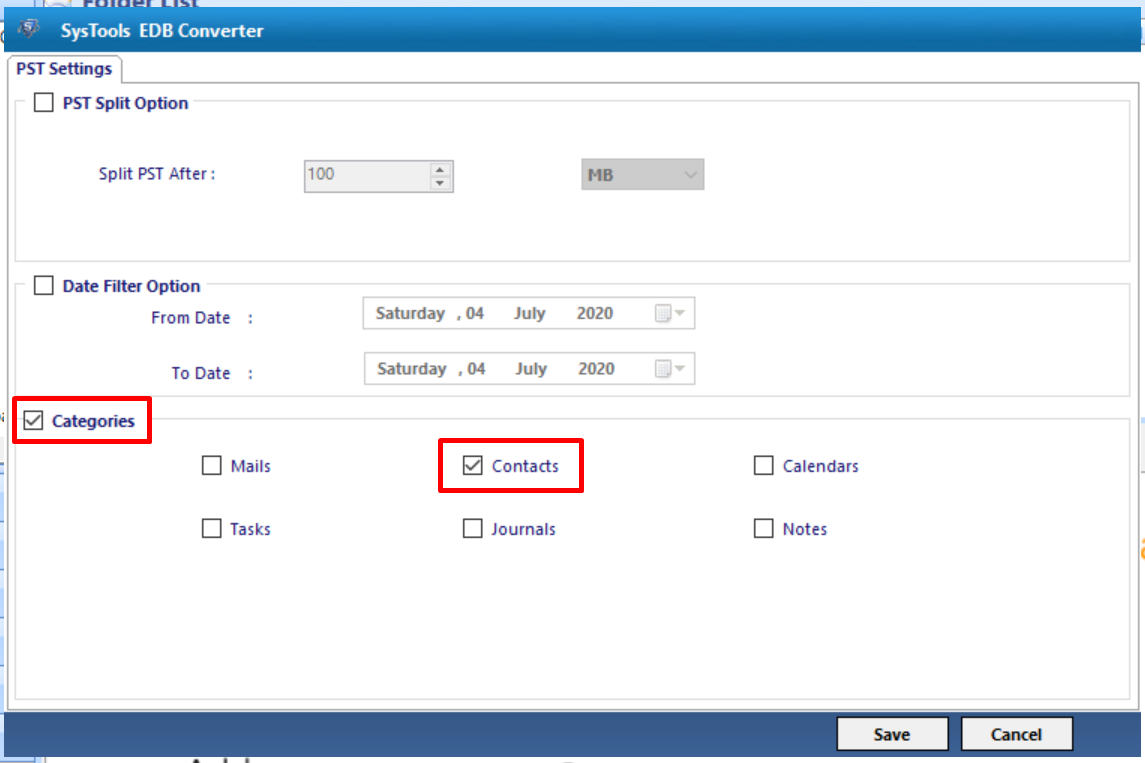 Step 6: Select the browse button to save target file path > Click on the export button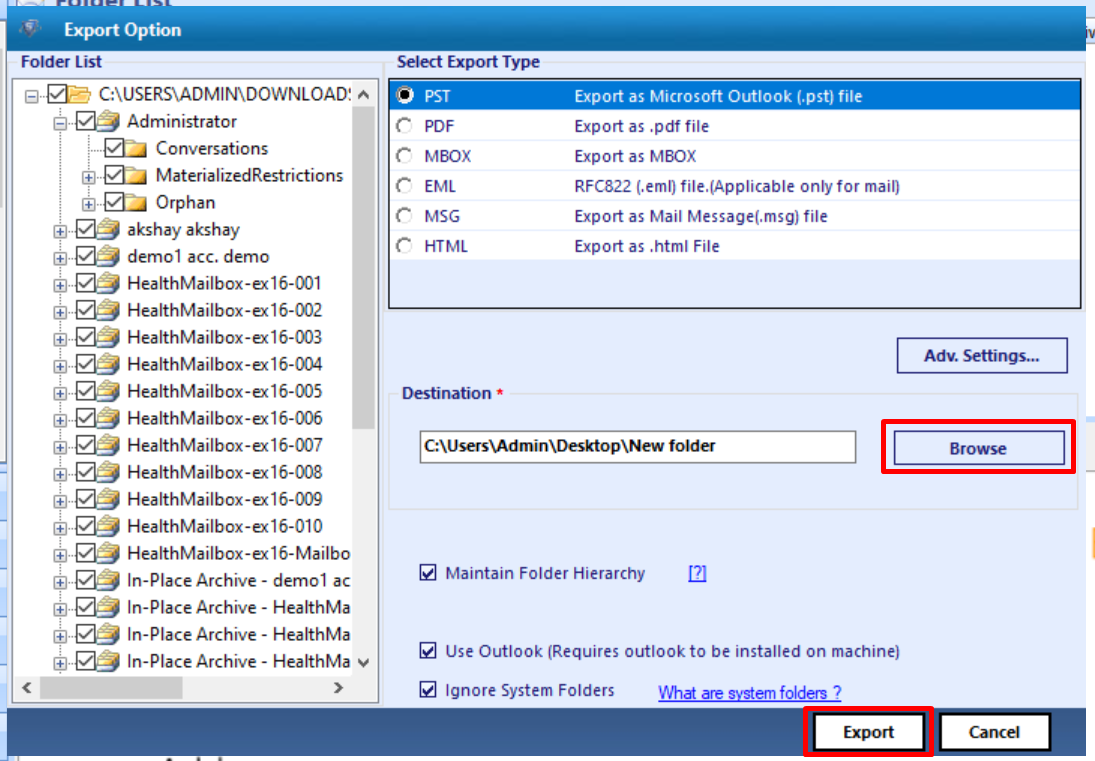 Possible Solutions to Export Exchange Contacts to PST Format
Following are some of the steps that can be undertaken to download the information to the PC. These are PowerShell commands which require expertise help to work. If a user is unfamiliar with it, it is advised to ask for professional help or guidance before performing any.
Step 1: Export Exchange Contacts to PST Outlook
First, a user must have permission for 'Mailbox Import Export' Role.
For this, execute the following command:
New-ManagementRoleAssignment -Role "Mailbox Import Export" -User xyz
When permissions have been executed then run the following command in Exchange management shell:
New-MailboxExportRequest abc -FilePath Example.pst -IncludeFolders "contacts"
It is an important step in Exchange export contacts to PST. Here, abc is the name of the mailbox that needs to be exported. FilePath is the location of the EDB file where all the contacts are stored. example.pst is the destination file where all the data will be kept.
This will help users to Export Exchange Contacts to PST Outlook using PowerShell in a few simple and easy steps.
Step 2: Exchange 2007 Export Contacts to PST using PowerShell
First, a user is supposed to have full access to the Microsoft Exchange Management Shell and Mailbox.
For that, run the following command:
Add-MailboxPermission -Identity -User -AccessRights Full Access
Then, having granted the all the rights and given the user full access in the EMS, run the command as given below:
Export-Mailbox -Identity -IncludeFolders '\contacts' -PSTFolder_Path [Path\xyz.pst]
Step 3: Exchange 2013 Export Contacts to PST using PowerShell
In order to perform this procedure, an administrator must move the global address book to PST file format. It can be done by writing a cmdlet command to complete the process to export the exchange contacts. There are some prerequisites to this operation:
First, contacts must exist in Exchange 2013.
Also, target PST file with the complete UNC must be known. It will be similar to something like abc \\PCName123\\C$\PST\example.pst
Finally, the user account must have access to the PST file
If all these conditions are met, a user can run the following command:
New-MailboxExportRequest -Mailbox xyz_name -IncludeFolders "#Contacts#" –excludedumpster -file_path\\server_name\pqr\jkl.pst
Note: After Exporting Contacts of Exchange 2013, 2010 server to PST, a user now needs to convert the exported contacts into CSV or Excel format using Import Export Wizard.
Step 4: Export PST Contacts to CSV File Format
Follow the few below steps to move Outlook Address list Contacts to CSV Format list:
First, go to Outlook Application>>File>>Open and Export>>Open Outlook data file(.pst) and upload the .pst file.
Then, go to File>>Open and Export>>Import/Export Wizard.
Now Select the CSV Format to move the PST Contact to .csv format.
Conclusion
There are organizations that store private information in multiple different formats. Using the above manual commands can be difficult for any novice user. It is a risky undertaking and any misstep could lead to huge data loss. It is advised to use the professional software mentioned here to export EDB mailboxes contacts to Outlook PST file in a single shot with any loss of data.