How to Save Gmail Message to Desktop (Computer) in a Systematic Manner
Shayadri Sharma | June 3rd, 2020 | Tips
In 2020, Gmail is still one of the top free webmail services available for mankind. However, not being able to access emails offline (on desktop) is still the biggest concern of many Gmail users. Therefore, in this blog, we showcase some of the methods using which any user can save Gmail messages to desktop/computer. Additionally will provide a lime-light of the needs & benefits of saving mails offline reading.
Why Saving Gmail Message to Desktop Is So Important?
As we all know, Gmail provides the best services and that is why users are fully dependent on it. Whether it is for personal usage or professional, most of the users prefer Google account. The Gmail account contains important data such as emails, calendars, address books, notes, etc. It makes the work quite easy as the user gets all his documents in a single email client.
However, to make the work more reliable many users are looking for a solution to save Gmail messages to computer desktop for offline access.
Reasons & Benefits of Saving Data Offline
Google Account Hack: There is no doubt in the security of Google but unauthorized activity i.e., account hacking is still happening. The priority of a hacker is to delete the data and sometimes a user gets blocked & cannot login to their account.
The size limitation of Gmail: Once Gmail exceeds its storage limit a user is not able to send/receive a message. Therefore, if users download Google mail for PC then, they can easily delete the unnecessary emails.
Human error: If someone deletes the mail items by mistake then it is a laborious task to retain the data. And it can be possible within the retention period only.
If the user saves all Gmail email to computer then they can easily avoid all such issues related to the Gmail account. Apart from this, they can work offline without any network connectivity. If a user is facing any issue i.e. data loss, data corruption then he/she can easily get back the data.
Whenever this kind of issues occur the first question that comes in mind is how to save Gmail messages to computer? Therefore, in the next section, we will be discussing the solution to resolve those issues.
Instant Solution: Download the tool to save Gmail messages to computer (desktop) quickly.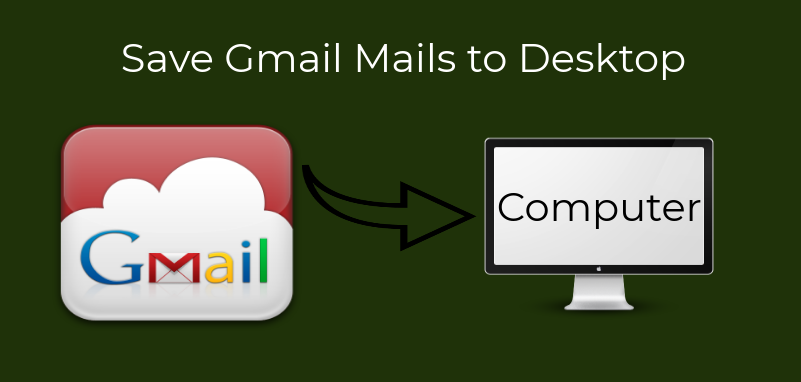 Method to Save Gmail Message to Desktop, Manually
Login to Google Account with the correct username & Password
Click on profile picture and go to My Account tab >> Personal info & Privacy >> Control Your Content
To store the content click on Create Archive.
Here user will receive the complete list to download Google mail for pc
First, click on Select None, then select those files of which need to be store
Click on Next button >> Create Archive.
Now a message will appear that is An archive of your Mail data is currently being prepared.
The user will receive an email, whenever the download procedure will complete. Until the time he/she has to wait after receiving the mail, one can proceed to store Gmail inbox on desktop.
Whenever the email will receive open it and click on Download Archive.
Sign in again and it will download the backup file in .zip format.
Extract the mail items by using an archiving utility such WinRAR or WinZIP
Alert: After extraction, you will get all Gmail messages in MBOX format. However, you cannot read the messages inside the MBOX file directly on your computer. For offline reading, you need to take help of free MBOX viewers available in the market.
Limitation of Manual Solution
The manual method for saving Gmail messages to desktop (computer) is quite tricky and doesn't provide a direct solution to access mails in offline mode.
Mostly users stuck into download procedure reason it takes much time for a large amount of data. Sometimes it takes 2 hours & sometimes 2 days and after spending a lot of time and effort there is no guarantee for the exact output & data loss may occur.
There are only limited attempts for downloading the archive. If archive download failed due to internet connection loss, then after a few attempts, you need to re-request for a new archive.
Method to Store Gmail Emails on Computer by Automated Solution
To avoid the limitation imposed by the manual solution, most of the experts suggest third-party tools. One of the best tool that is recommended by most experts is SysTools Gmail backup tool. This software offers a user to save the Gmail messages into different file formats i.e., PST, MBOX, EML, MSG, PDF. By saving Gmail messages in PDF format, you can access the emails and attachments in Offline mode. Or you can save in the desired format and use free viewer available in the market for offline reading.
Benefits of Option Automated Solution
A direct way to save Gmail messages to computer for offline reading
Provides an option to store emails in multiple formats
Option to save selective Gmail mailbox
Incremental option to save new emails in next attempt
Delete after download feature that allows saving server space
Summing Up
This entire discussion provides all the reasons, benefits, and solutions to save Gmail message to desktop. The manual and automated solutions both are good at their place. But when it comes to mail attributes, I think no one can afford a huge data loss. Therefore, to avoid these circumstances one can opt for the aforementioned software to store Google mails to computer.