How to Download All Your Emails From Gmail in Simple Steps
Summary: Having a local copy of your emails is the best preventive measure to stay secure from cyber-attacks. Therefore, we suggest all the Gmail users have a take backup of their accounts on a regular basis. You can get the steps to download Gmail emails in bulk in this article.
Having a Gmail account is almost mandatory in today's technical world due to its requirement in many fields such as setting up android smartphones, registration for accounts, and many other purposes. As these email accounts are connected for so many purposes, they also contain a lot of important emails of the users.
And while keeping in mind, the increasing number of cyber-attacks, the hackers have become so much smart. Thus, it is recommended to store a backup of your data on the system. So, this article contains the easiest method to download Gmail emails in bulk.
Here, you will get two different ways using which you can download all your emails from Gmail without any data loss. It totally depends on you to select the method which best fits your requirements.
Two Methods to Download Gmail Emails:
Download Gmail Emails in Bulk – Manual Steps
Users can perform the complete task manually as well if they have sufficient time. This step includes the use of Google Takeout using which you can archive content stored in your Google account into your local system. Execute the following steps as mentioned below:
1. Login into your Gmail account and navigate to this link – https://myaccount.google.com.
2. Here, click on Data & Personalization tab on the left panel. In the right panel, click on Download your data option to proceed further.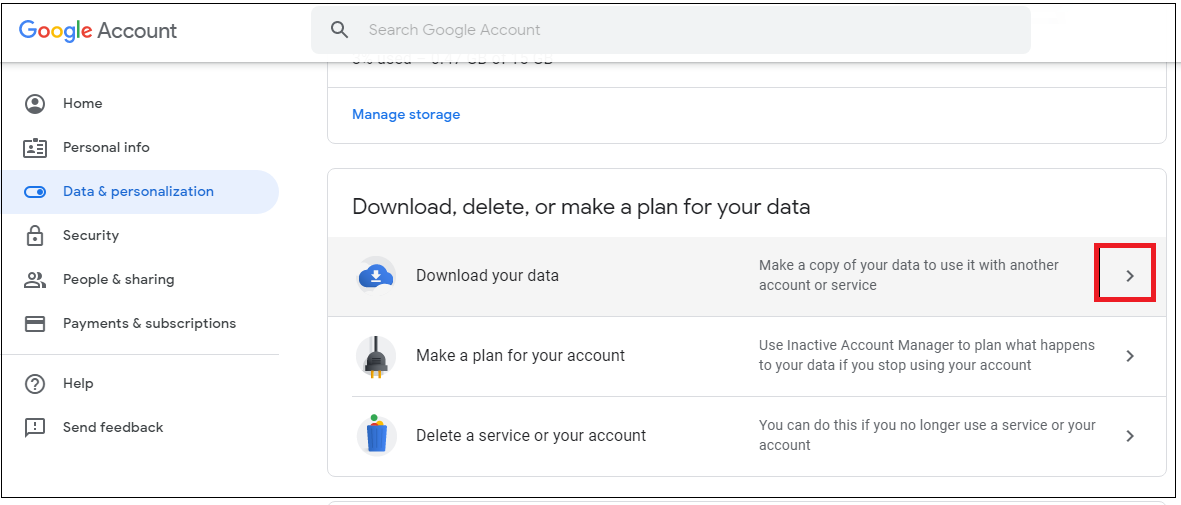 3. Now, to download all your emails from Gmail, deselect all other categories of Google account and only select the Mail option. Then, click on the Next button.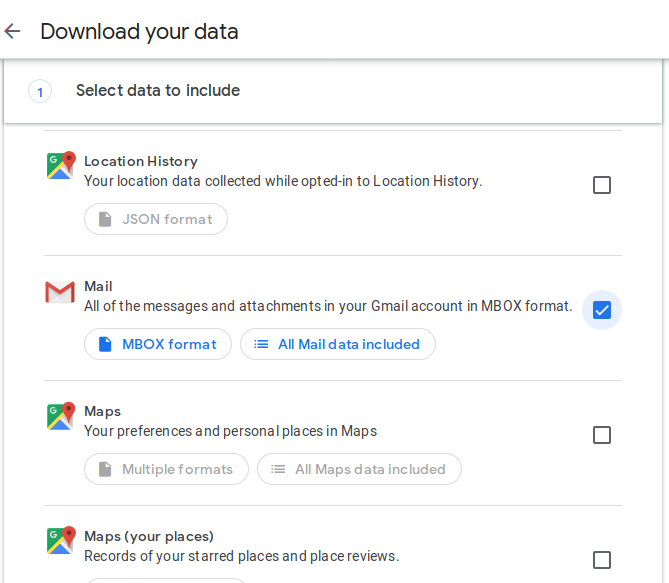 4. Then you also get the option to customize your archive data by choosing Export Type, File Type, Archive Size, etc. You can customize according to your needs and click on the Create Archive button to download Gmail emails.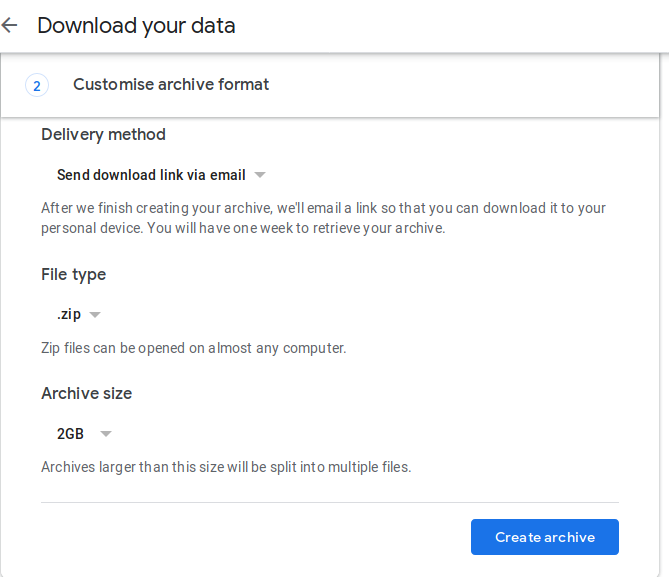 5. The archival process will now start and might take many hours or even days depending on the size of mailbox data.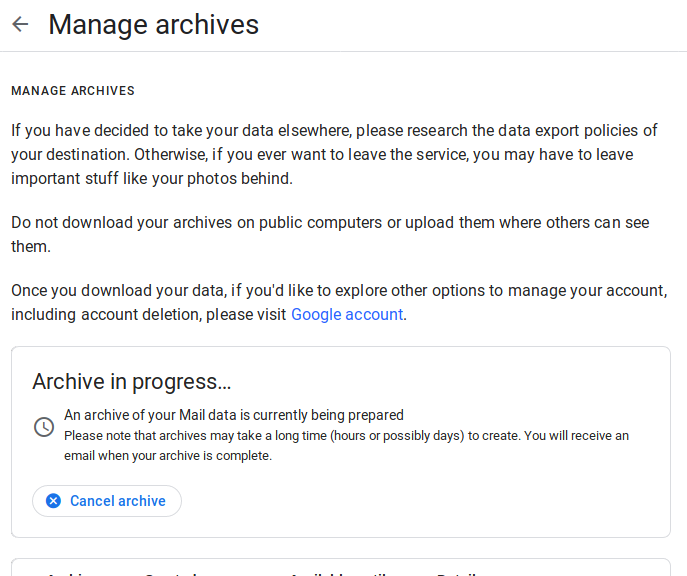 Therefore, this process is not recommended by experts as it is so time-consuming. And users have to wait a lot to get this task completed.
If you don't have so much time to spare, then you don't have to worry. We have another backup solution using which you can download Gmail emails in bulk in just a few clicks. Read the following section to know more about it.
Use Automated Tool To Download Gmail Emails
After looking at so many user's queries to get the best alternative of Google Takeout, we have come up with a third-party solution i.e. Gmail Backup for Mac OS. This application is offered by SysTools and performs complete email backup in just a few clicks and in a hassle-free way.
There are many other features as well which makes it the best utility to download all your emails from Gmail. It offers multiple file-formats to export your data so that you can access your email messages in their supported email clients. The tool makes sure that the folder hierarchy of the data is maintained after you store it on your system. One thing which makes this tool unique is that it is available for both Mac as well as Windows OS.
It is a trusted and reliable solution and is quick as compared to Google Takeout. Let's see the step by step procedure to run this application.
Steps to download all emails from Gmail are:
Step 1: Download & Install this tool on your system. (Here, we are discussing steps of Mac version. You can also check steps for Windows OS here.)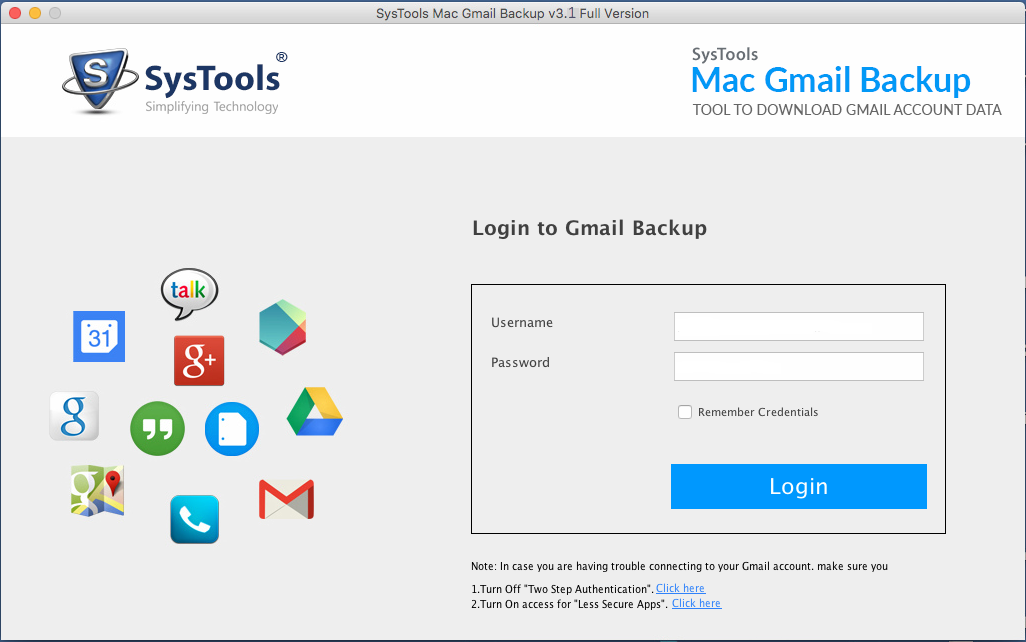 Step 2: Enter Gmail Email Address and Password and then click on the Login button.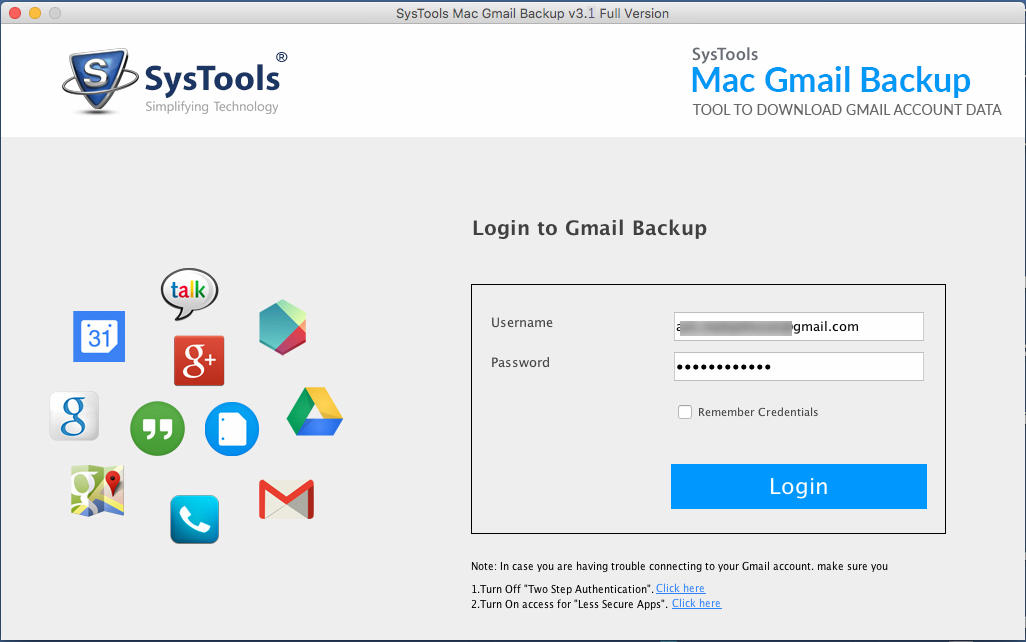 Step 3: Select the desired file format in which you want to export your data.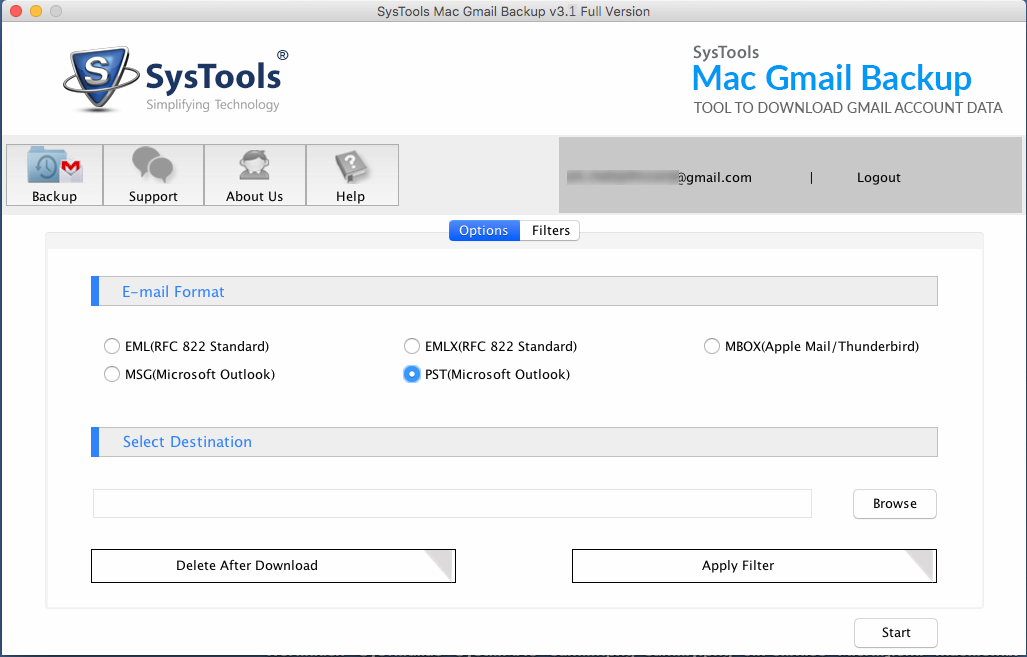 Step 4: You can apply various filters as well to download only important email messages instead of complete data. This feature helps in saving a lot of time and storage space in the system.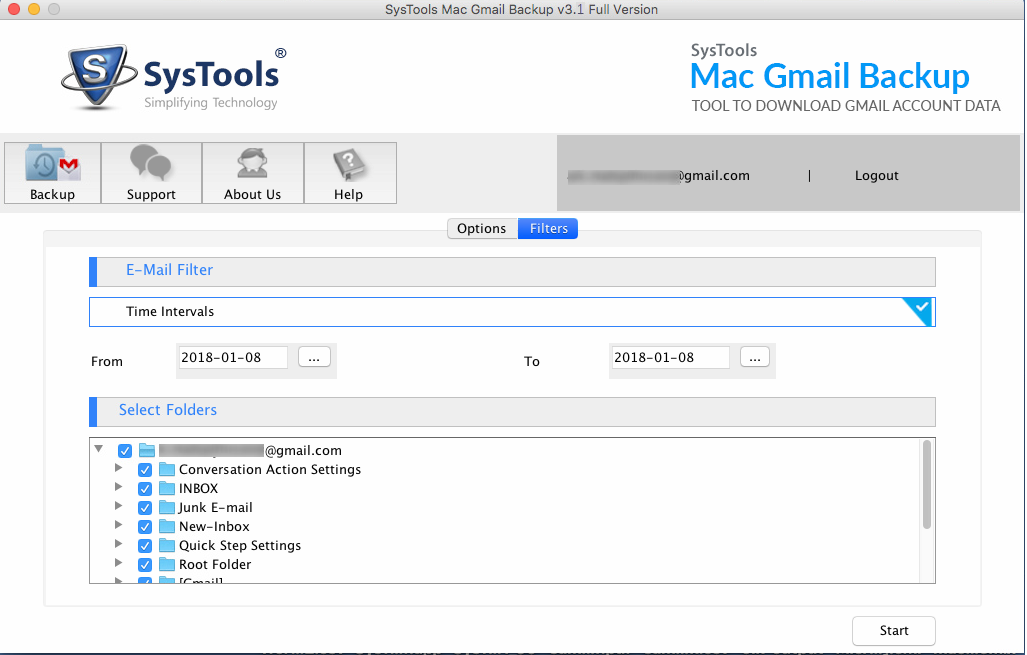 Step 5: Here, you can check the number of emails the tool has downloaded and the progress rate of the task.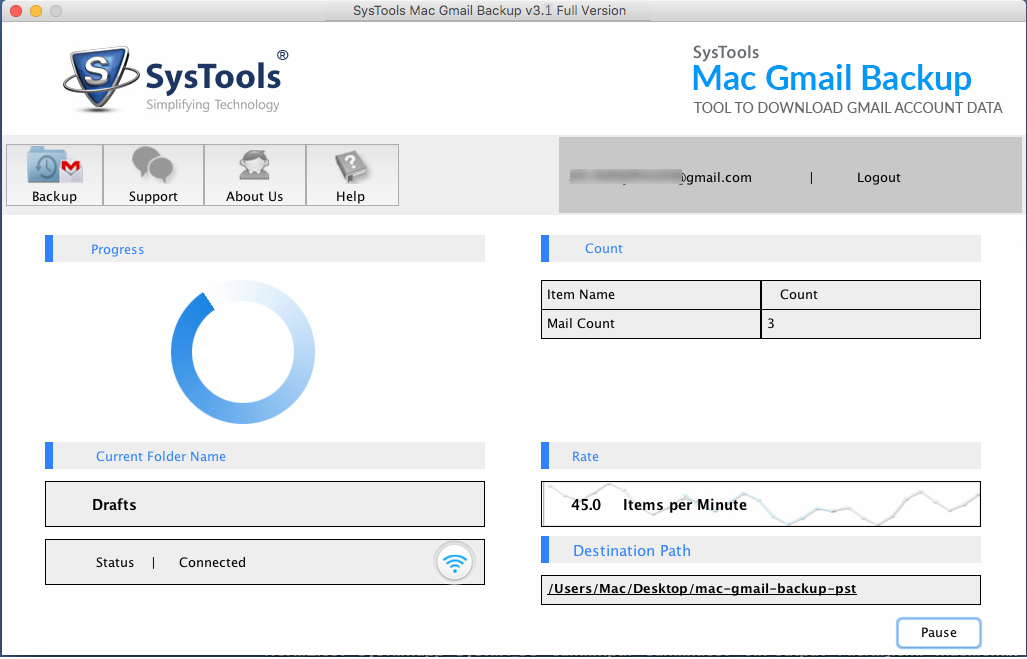 Step 6: Once the software download Gmail emails in bulk, it will display the message "Download Completed Successfully".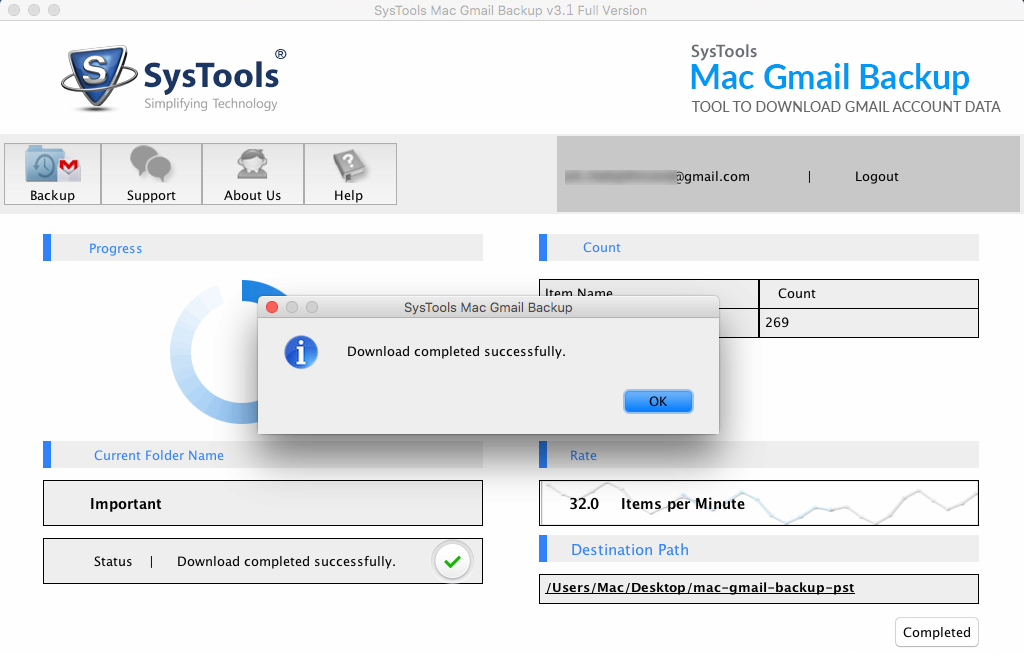 The simple and user-friendly interface of the tool makes it easy for novice users to save emails from Gmail to computer. Additionally, it generates an export report as well which shows the number of emails that are download successfully and those which are failed.
Also Read: How to Save Gmail Emails as PDF
Conclusion
After analyzing the importance of email messages in everyone's life, and the increase in the number of cyber-attacks in past years. It is highly recommended to have a secure backup on the system at regular intervals. Thus, we have mentioned both manual and automated way to download Gmail emails in bulk in a secure way. Users must use the third-party application to perform the backup as it is easy and effortless to perform.