Export Disconnected Mailbox to PST: Complete Solution
When the mailbox is in the disconnected or offline state, the disabled / deleted and soft-deleted mailboxes are retained in the mailbox database until its mailbox deleted retention period expires i.e. 30 days. When the retention period gets over the disconnected mailbox is purged (permanently deleted) and it can't be recovered. That's why it is very important to export disconnected mailbox to PST file format.
It could be a disaster if the organization's Exchange Server disconnected mailbox gets permanently deleted. They will lose everything that their mailbox items contain such as emails, contacts, calendars, tasks, journals, notes, and the data loss is permanent.
What To Do Now?
In this case, there is no manual solution given to restore disconnected mailbox when it gets purged. But, you can export disabled mailbox to PST with the help of automated utility and then you can access your purged mailbox. Just read this blog and by the end of it, you will find the solution.
Here is a rough overview of what Disconnected Mailbox is:
It's a Mailbox that isn't linked with the Active Directory user account in Microsoft Exchange Server. The Exchange contains two types of disconnected mailboxes i.e. Disabled Mailboxes and Soft Deleted Mailboxes.
Automated Solution to Export Disconnected Mailbox to PST
The SysTools EDB Converter software helps users to access permanently deleted (purged) disconnected mailbox when user export their deleted mailbox to Outlook Data File (PST). It supports various Exchange mailboxes such as: user, shared, disconnected, archive, legacy and export directly to PST file in a hassle-freeway.
Download Now Free Purchase Now 100% Secure
This software provides Quick and Advance Scan option to recovers & repair pub1.edb file and priv1.edb file from corruption. The users also convert EDB to PDF / HTML / MSG / MBOX / EML file format.
To recover Exchange database file from minimal corruption users can use the quick scan mode and to recover high corrupted EDB file select advance scan. Also, this option recover hard deleted mailboxes and items from loaded .edb file.
Now users can easily recover deleted mailbox from Exchange 2016/2013/2010 & various other versions. This utility automatically generates an export report in CSV file formats which contains the fail and success and count of exported Exchange mailbox data.
Note: This software is capable to export disconnected mailbox to PST Exchange 2010 / 2013 / 2016
Features of Automated Software
Preview mailbox items: Mails, Contacts, Calendar, Notes, Journals, and Tasks
User can create Individual PST for each Exchange Mailboxes
Maintain the actual folder structure and data integrity
Users can extract mailbox from offline EDB file
Remove email encryption (SMIME/OpenPGP) from Exchange Mailboxes
Export Exchange EDB to PST Outlook and multiple file formats
The software support both Exchange Database File and Streaming Media File
Restore deleted emails from Exchange 2010, 2013, 2016 using advance scanning option
It is compatible with all version of Exchange, Windows OS, and Outlook
Step by Step procedure to Export Disconnected Mailbox to PST
So many users want to know how to export offline mailbox to the personal storage table file. The following steps show how to do it:
1: Download >> Install >> Run the software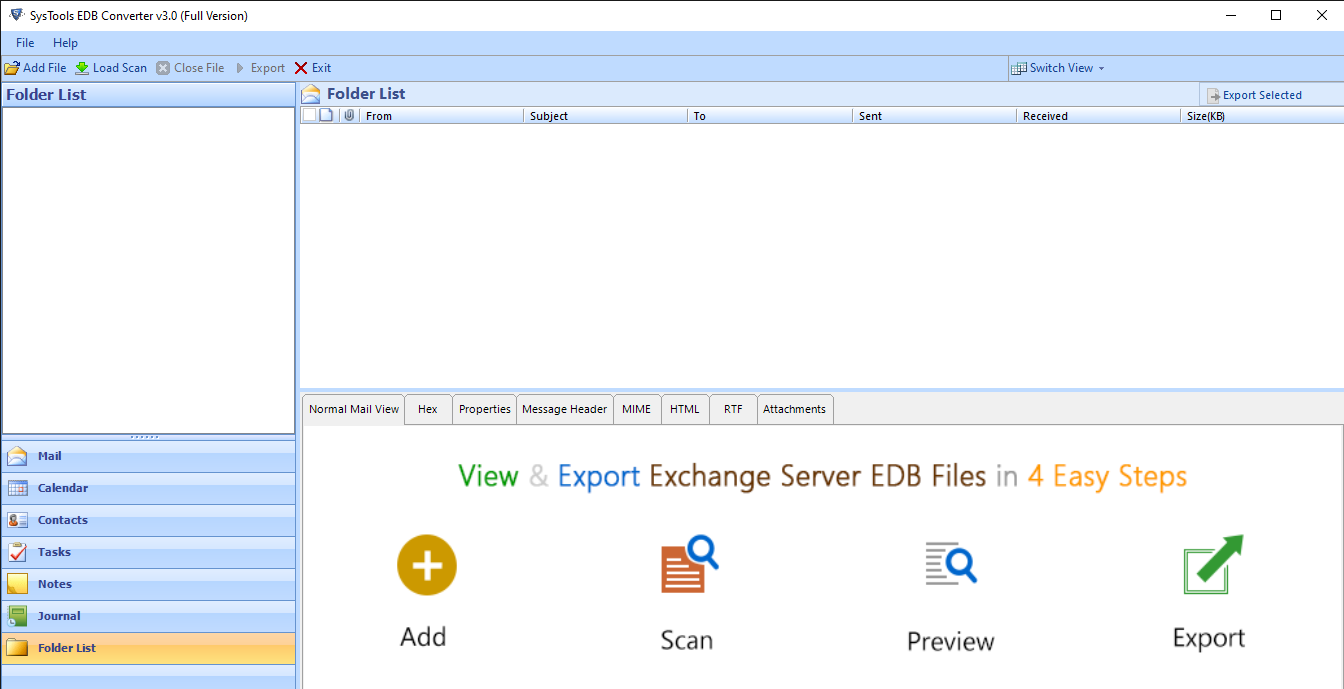 2: Click on Add File >> Load EDB File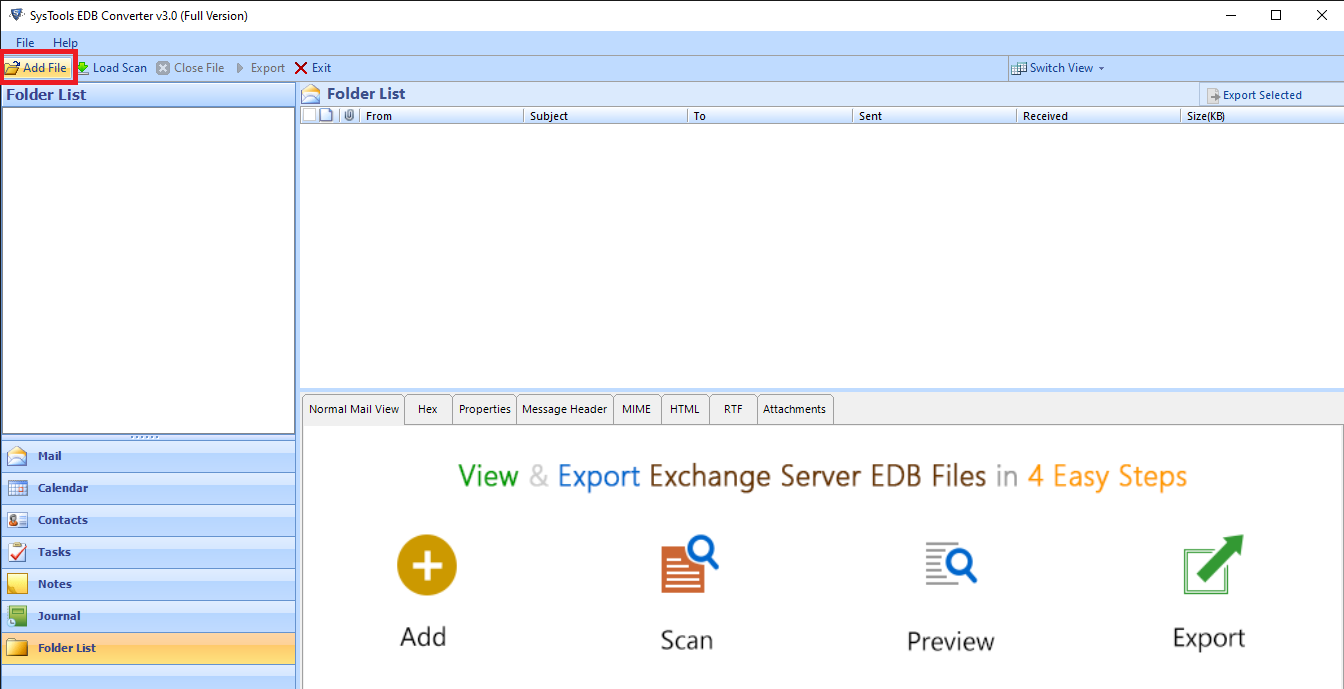 Note: Users can choose the Advance Scan option to recover their purged (permanently deleted) Mailbox. This option also recover highly corrupted Exchange database file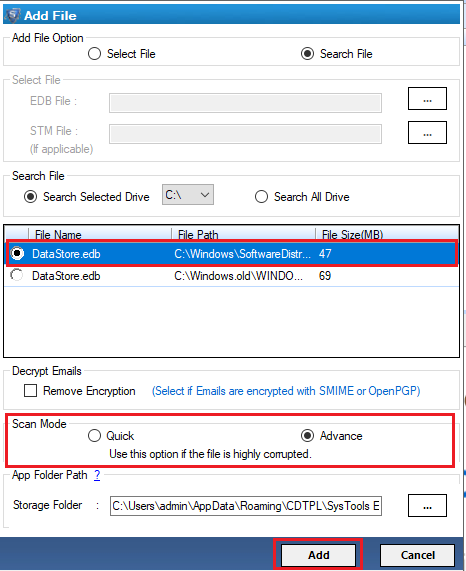 3: Preview Loaded EDB File in the Folder List >> Click on Export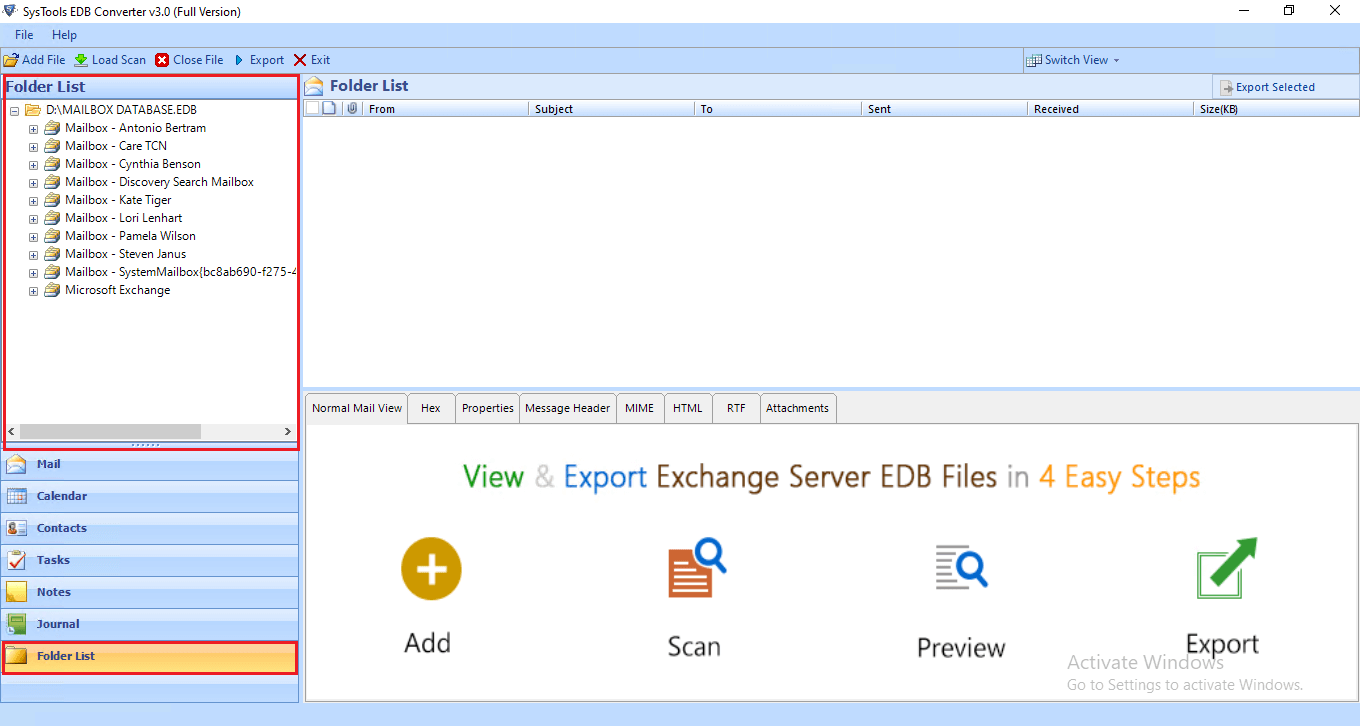 4: Select Exchange Database Disconnected Mailbox >> Choose PST >> Click on Export Button to export disabled mailbox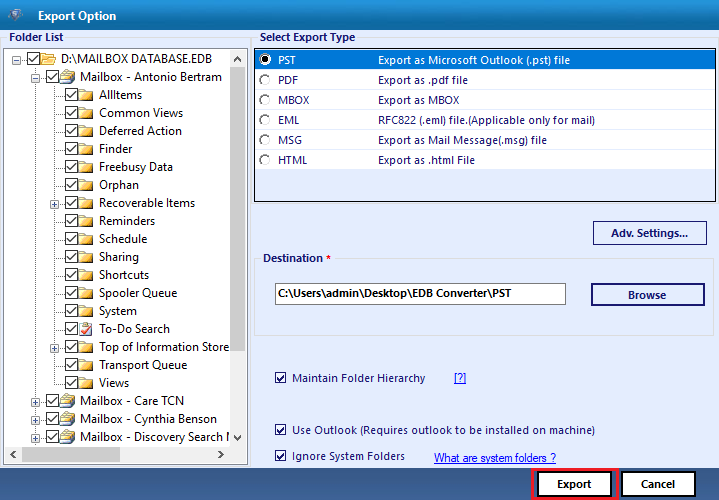 Why Choose Automated Software rather than Third-Party Tool?
1. This software recover permanently deleted (purged) mailbox which is deleted after the 30 days retention period. It also recovers the corrupted Exchange Database file.
2. The tool auto-detect Microsoft Outlook, its component, and whether its profile is configured or not.
3. The software generates the resultant Outlook Data File in Unicode PST. It provides high data conversion speed and proper error handling mechanism.
4. During exporting the file the tool shows the process in percentage. It also provides the export report in CSV file format.
5. Where the user can see the success and fail count of the exported disconnected mailbox.
Note: There are most users who want to export the Exchange Server disconnected mailboxes to the Outlook data file without facing the complexity and technicality of the manual solution, users can use the method provided by SysTools i.e. Exchange Export Tool which is capable to export various Exchange database mailboxes: disconnected, disabled, enabled, exclude dumpster, hosted, journal, corrupt from the Live Exchange Server 2016 / 2013 / 2010 / 2007 / 2003 to the Outlook data file without any hindrance.
Download Now Free Purchase Now 100% Secure
Working Steps to Export Disconnected Mailbox to PST from Exchange Server
1. Download and run the automated software in your local system. Then enter the Exchange credentials >> Select Exchange Server version & click on include sub-domain users option >> Click on the Login button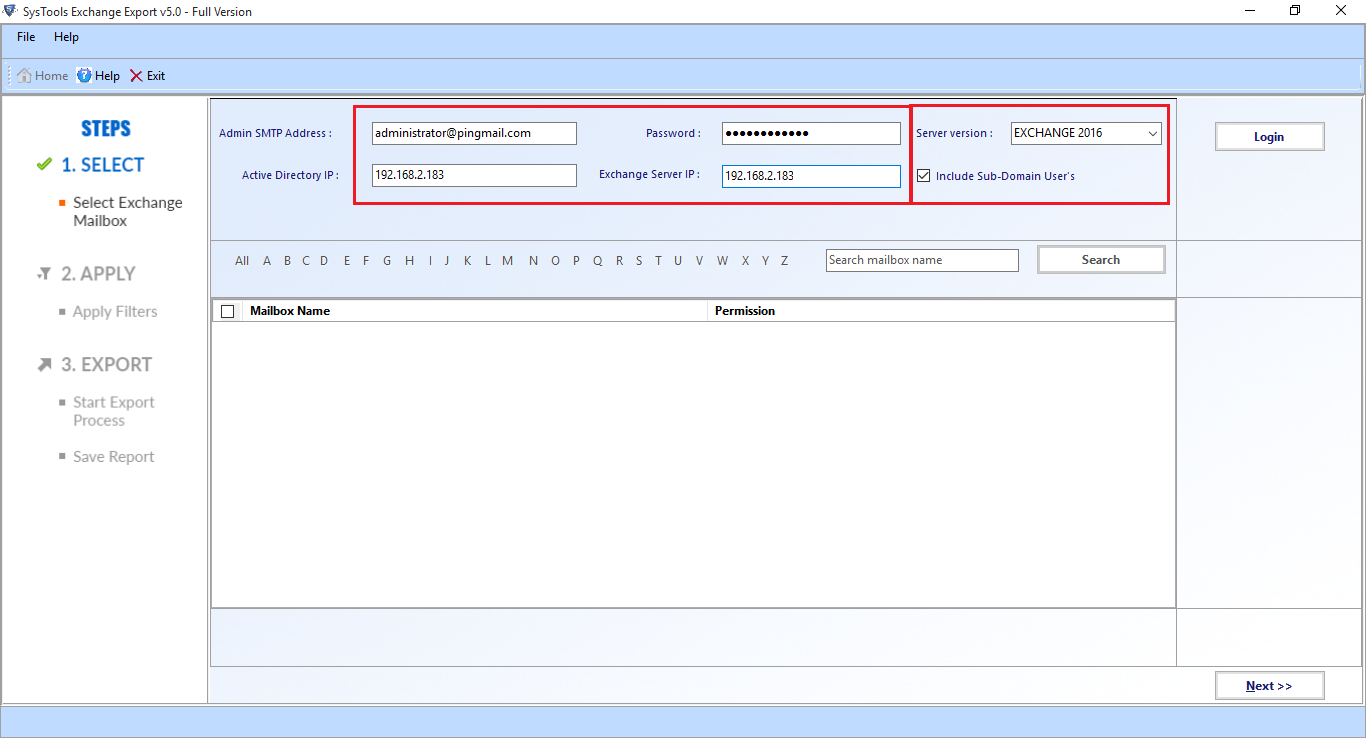 2. Select the required Exchange database mailboxes >> Click on the Next button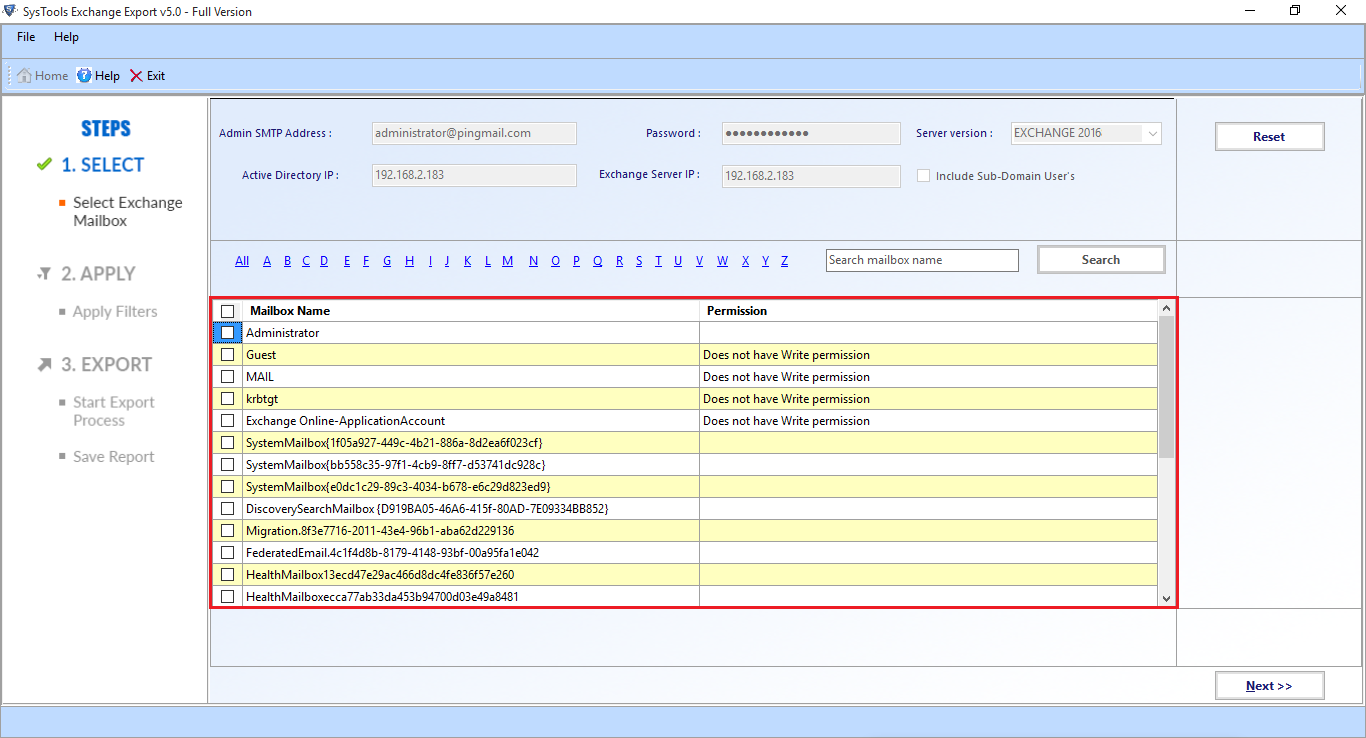 3. Then, select the mailbox data items >> Click on the given checkboxes and select the browse button to set destination file location >> Click on the export button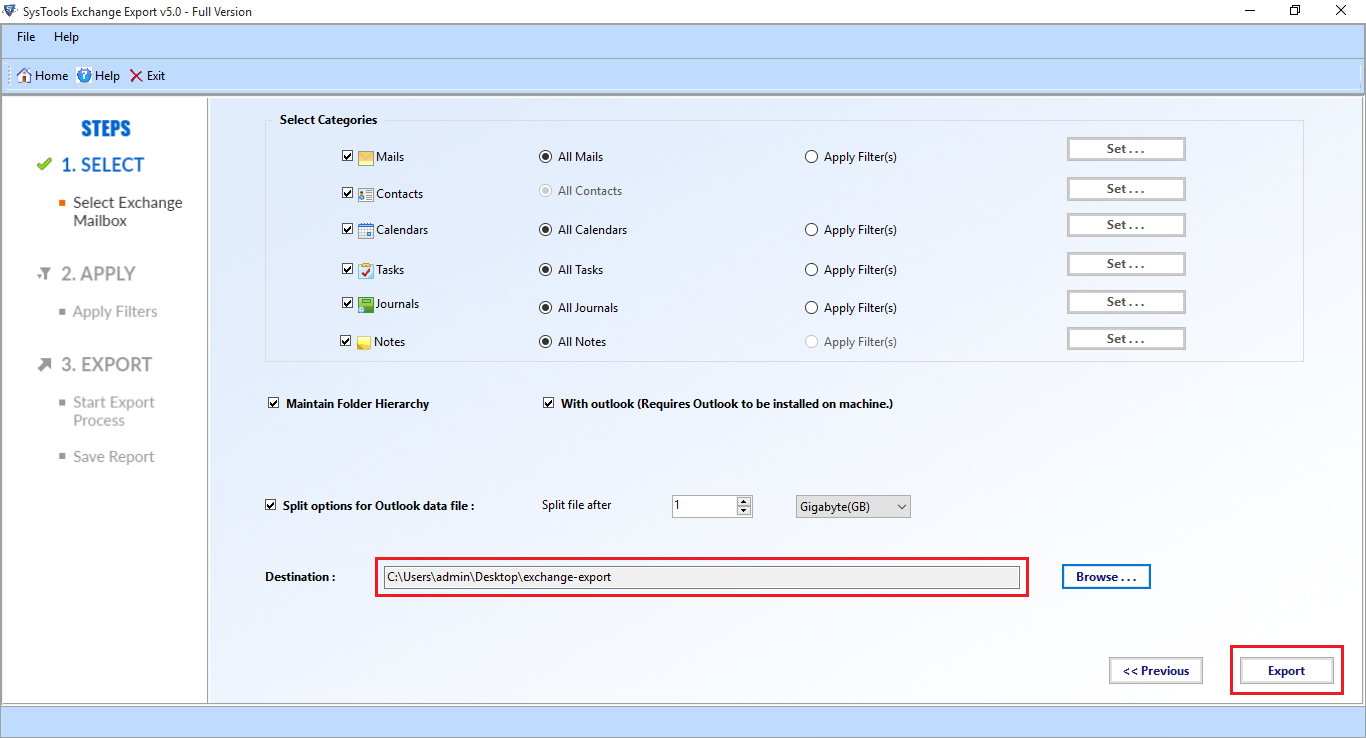 Bringing It All Together
This write-up provides the complete information to export disconnected mailbox to PST file with any data loss. It is recommended to use the professional solution which easily export the disconnected Exchange mailbox from the offline/dismounted EDB file or from the Exchange Server to the Outlook data file in a simplified manner without any hassle. You can select the solution depending on your preferences you can select the method and export the Exchange database disconnected mailbox.