Fix Exchange Error 12014 Using Best Available Techniques
Nowadays, everyone is concerned about technology because the technology up-gradation is at its peak. There are many platforms that are available for the storage of essential information. Microsoft Exchange Server is one such platform that allows users to implement cross-communication. But, there are a lot of errors which a user can encounter while using Exchange Server and Exchange Error 12014 is one such error.
This error generally occurs in Exchange 2019, 2016, 2013, 2010 or 2007 and can be encountered while loading certificate when the connection is made between TLS and SMTP for the purpose of authentication. The users who are facing this error can refer this article as it explains the root causes behind the Exchange Server error 12014 and both manual as well as an advanced solution such as Exchange Recovery Software provided by SysTools to fix the issue.
Why Exchange Error 12014 Occurs?
The factors which could be responsible for this issue are listed in the following section:
If a user changes Fully Qualified Domain Name in the send or receives connector to match outside DNS Code. There are chances that the error will be displayed.
Another factor which can arise the issue is when a user installs a custom certificate on Microsoft Exchange Server but the certificate which is changes has the same FQDN. Although, the certificate is not empowered for SMTP.
Transport Layer Security needs a valid certificate which is to be installed in the Personal Certificate Store on the system.
Procedures to Resolve Exchange Error 12014
There is a various number of methods available to fix the issue without any issue:
Solution 1:
The first step is to check the configuration of the certificates which are available on the Microsoft Exchange Server. You have to verify the configuration of both send and receive connectors installed on the server. You can apply the following commands to check the configuration: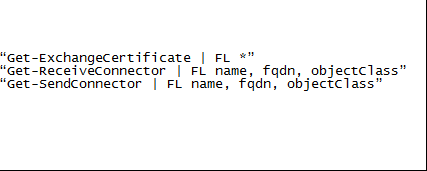 To fix Exchange 12014 error, you have to compare between the returned FQDN with warning and the one specified on each connector and with "CertificateDomains" values which are specified on each certificate.
Important Note – "CertificateDomains" is the sequence of the Subject and Subject Alternative Name Fields on the certificate.
The motive of comparison is to examine each connector that is using the TLS consists of an associated certificate. It consists of connector's like FQDN, which lies in the "CertificateDomains" value of the certificate.
The values of services on each certificate is mandatory to be examined. If a user is using a TLS certificate, then it is necessary to make it accessible for SMTP service with an SMTP service value.
Solution 2:
Another solution to resolve Exchange error 12014 is listed below:
If the name of a fully qualified domain is not specified on the "CertificateDomains" parameter, then the new certificate is to be created. Along with it, the FQDN of the connector which was returned in the warning should also be specified. You can use "New-ExchangeCertificate" cmdlet to create a new certificate.
Solution 3:
If any third party custom certificate is installed on the Exchange server and has a similar FQDN but the certificate is not enabled for SMTP service, then that certificate should be enabled for the SMTP service.
Solution 4:
If the above-mentioned manual methods do not provide you satisfactory results and you are not able to access your Exchange database data. Then, there is an expert solution i.e. Exchange Recovery Software which will help you to convert EDB mailboxes and data items to Live Exchange Server, Office 365, and different file formats.
It has a simple and user-friendly interface that can be used by both technical and novice users. The application can also repair the corruption issues in EDB file and if the Exchange error 12014 is occurring due to corruption, then it can also transfer damaged emails stored in the Exchange database file.
The software provides dual scan mode i.e. Quick and Advance scan which easily recover & repair pub1.edb file along with priv.edb file from corruption. If the Exchange database file is less corrupted, select quick scan and go for advance scan mode if the EDB file is highly damaged or unhealthy. This option also recovers hard deleted Exchange mailboxes and data items from loaded .edb file.
Now, User can easily recover deleted mailbox from Exchange 2016 & any versions. The tool support public and private Exchange database file. After recovery, it export various Exchange mailboxes (archive, disconnected, legacy, user, shared) and data items (mails, notes, journals, calendars, contacts, tasks) directly to Live Exchange Server, Office 365, other file formats.
This utility convert EDB to PDF, MSG, EML, HTML, MBOX PST and auto-generate export report which stores success and fail count of exported Exchange database mailboxes data in CSV format.
Key Features Of Automated Wizard
Support Exchange EDB and STM File
Recover & Repair Exchange Mailbox Corruption
Preview recovered Microsoft Exchange mailbox items before conversion
Maintain original folder structure and keep metadata intact
Save MS Exchange EDB to PST, EML, MBOX, PDF, MSG, HTML file formats
Option to remove (SMIME/OpenPGP) encryption from Exchange mailboxes in bulk
Renders advanced features: Naming Convention, Categories, Date & Time based filter option
Suitable with all Microsoft Exchange Server, Outlook, and Windows OS versions
Steps to Remove Corruption from Exchange Database File
Step 1: Download the professional software in your system, Install and Launch it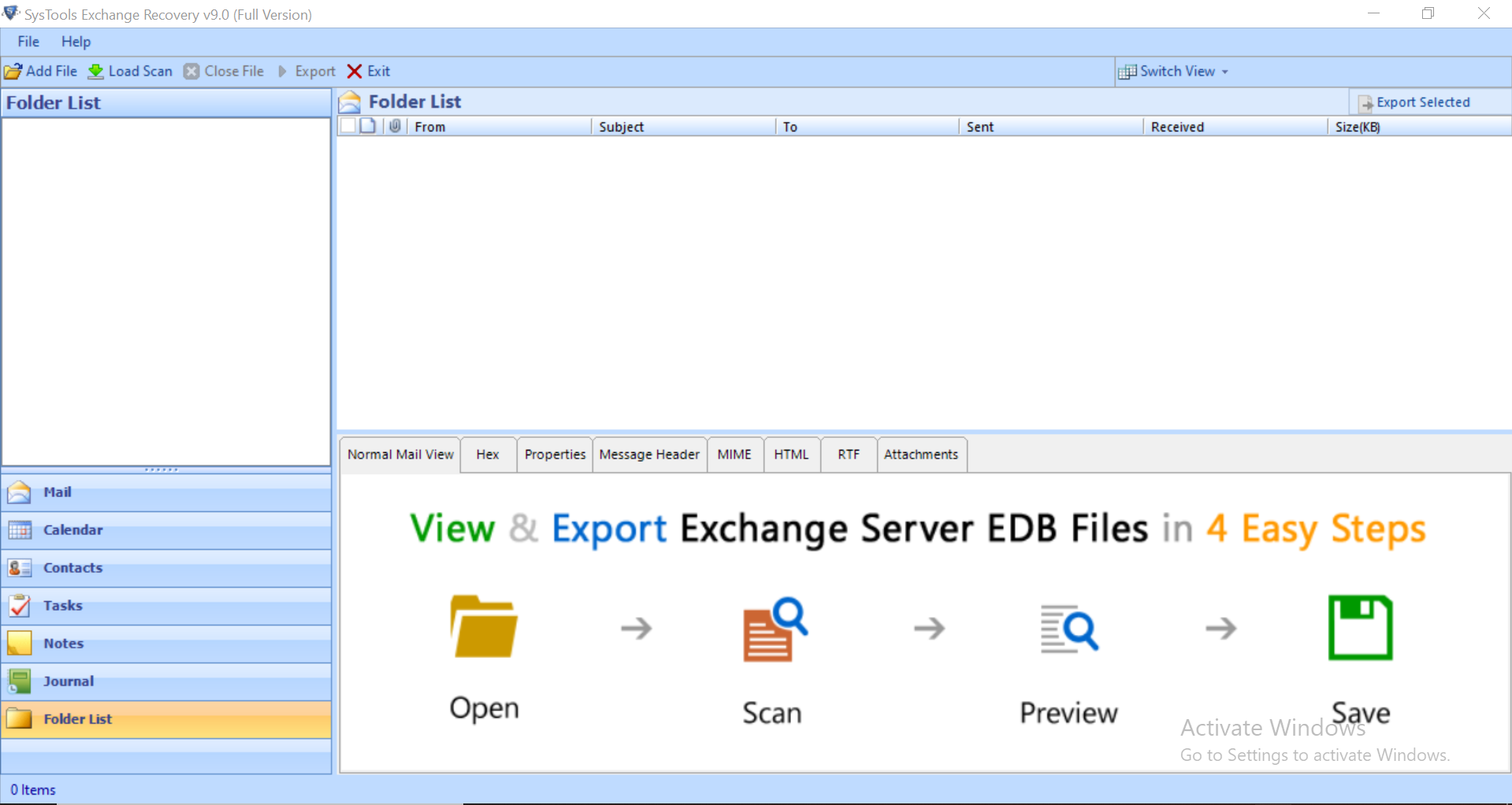 Step 2: Click on the Add file button > Load offline MS EDB file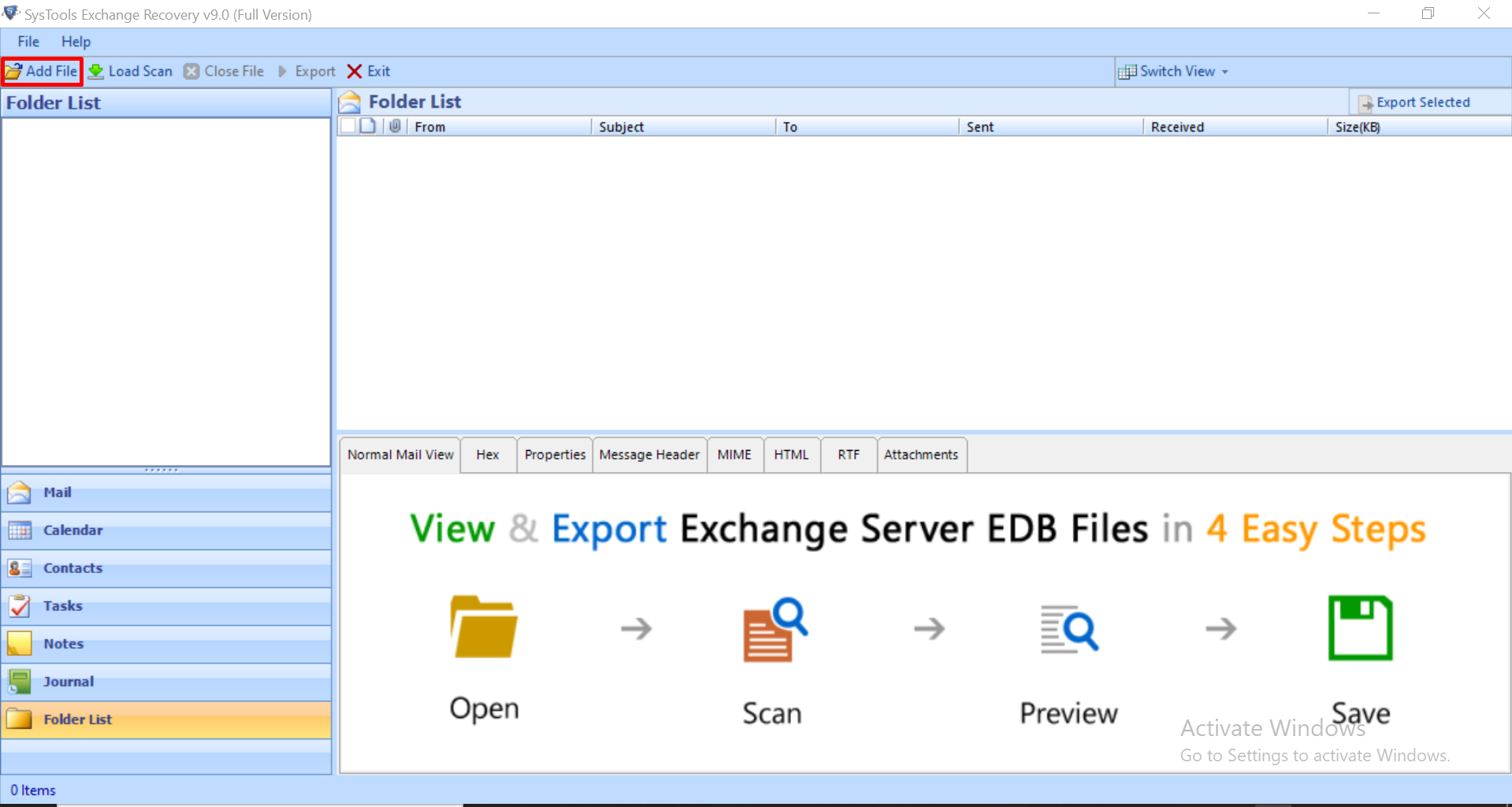 Step 3: Click on Advance scan option > Click on Add button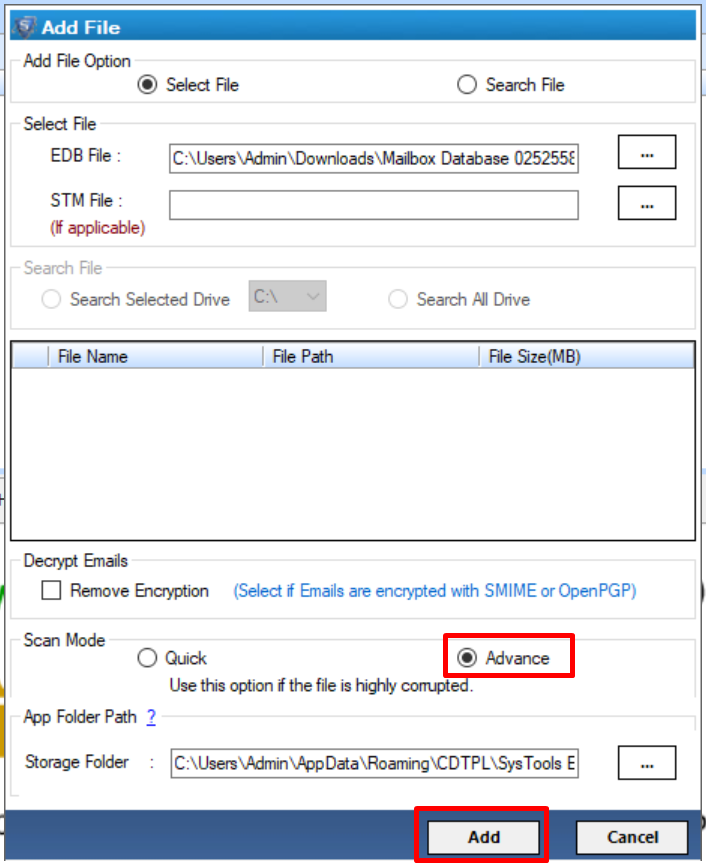 Step 4: Preview recovered Microsoft Exchange database file > Click Export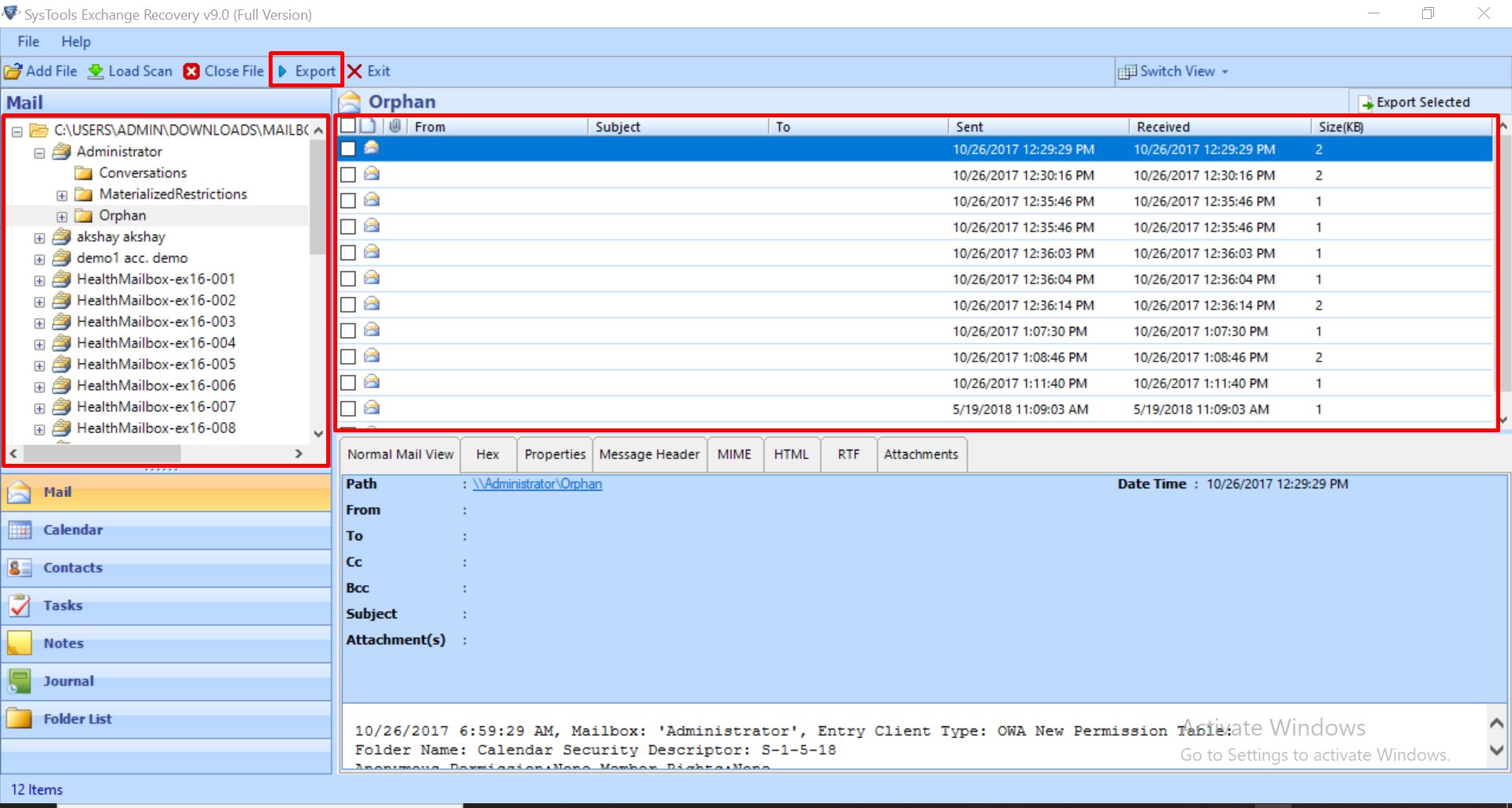 Step 5: Click on .edb file > Select the export option > Click on browse button to set destination file path > Click on the Export button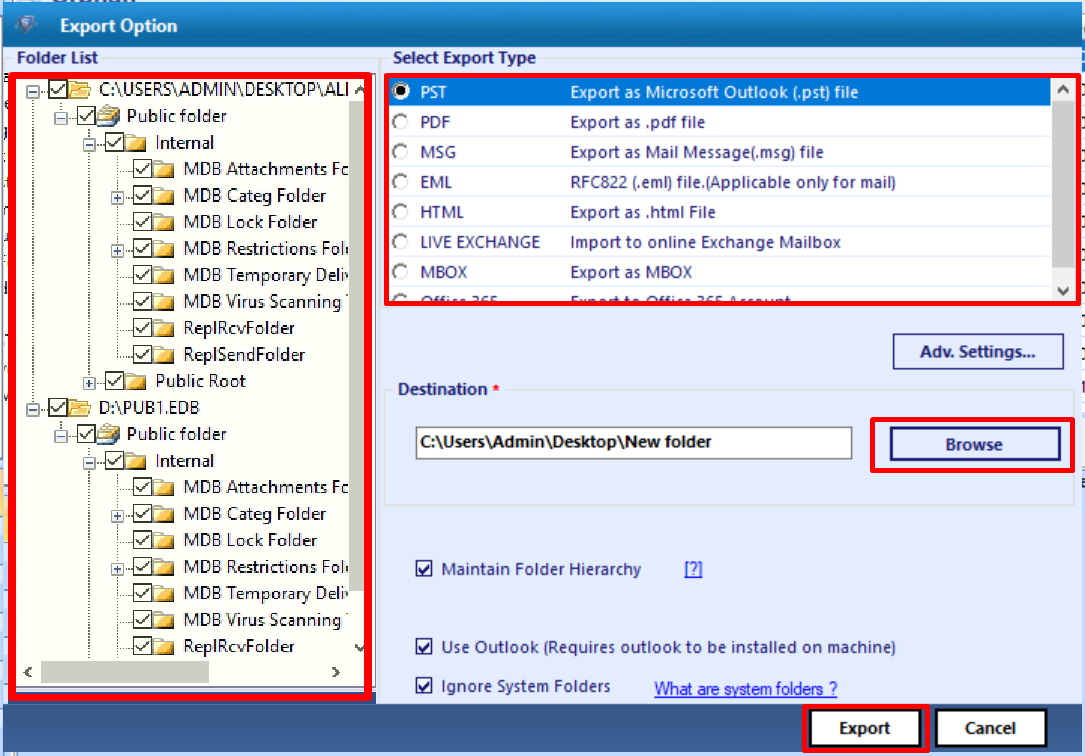 Finally, the Exchange database file is recovered and successfully exported to the selected export option
Note: One can also use the EDB to PST Converter Software used by various IT Experts, Naive and Exchange users to extract mailbox from offline EDB file to UNICODE PST and multiple other formats in a hassle freeway.
Conclusion
In this article, we have explained the root causes behind the Exchange error 12014. After that, the manual and expert solutions are discussed. At first, users can find the issue why they are getting the error and after that, they can apply the method which best suits their problem.