How to Combine Multiple Outlook PST Files Into A Single File? – Instant Guide
Most of the Outlook users are searching for a solution to combine multiple Outlook PST files into a single file at once. MS Outlook releases new versions from time to time with more features and storage space, so users upgrading from an older version to a newer version of Outlook. Now, users have multiple PST files that are difficult to manage and impact the performance of Outlook. To resolve this problem, users want to merge PST files into one file. This blog is all regarding how to merge Outlook PST files into one PST file. So, read on to get the most appropriate solution.
Know About PST File
PST file stores and export all Outlook data like emails, calendars, notes, contacts, tasks, journals and more. It is also known as the Outlook data file. PST file has size limitations in different versions of Outlook. In the recent versions like Outlook 2010, 2013, and 2016, a size limit is up to 50 GB. Outlook 97 to 2000 supports ANSI PST file format. In Outlook 2003 and latest versions supports UNICODE PST file.
Reasons to Combine Multiple Outlook PST Files into A Single File
There are so many reasons for merging multiple PST files into one PST file. Some of them are-
Users want to combine the ANSI PST file with UNICODE PST.
To import old PST files in the latest versions of Outlook.
Users want to access all PST files in one place.
To merge multiple Outlook archive files.
To combine multiple Outlook account into one.
Manual Guide to Merge PST Files Together
The manual method has different two steps. First, create new PST file and Second is import old PST files into a newly created blank PST.
Step 1. Create A New Blank PST File in Outlook
Open Outlook application and go to New Items >> More Items >> Outlook data file
Select the required location to save a new PST file and give it a name
In the end, click the OK button and you are done.
Step 2. Import Old PST Files into Newly Created PST File
In Outlook, click on File >> Open >> Import
Import/Export window will appear, here, select Import from another program or file option
In the Import a File window, select Outlook Data File option and click Next button
Click on the Browse button and select the file to import. Select the option "Do not import duplicates" and click Next
Select the folder which you want to import. Check the box "Include subfolders" and "import items into the same folder"
Click on the Finish button.
Done! This is how you can combine multiple Outlook PST files into a single file using manual guide.
What Challenges Do Users Face Using the Manual Method?
The manual process for merging PST files into one is undoubtedly very long and time-consuming. You must repeat the steps for all PST files to import into a newly created PST file. Because Outlook only supports one PST file to be imported at a time. Now, users have no enough time to import PST files one by one and they want a solution that instantly merge PST files into one file at the same time.
Instant Solution to Combine Multiple Outlook PST Files Into A Single File
To merge PST files together quick, you can try SysTools PST Merge Software. This is able to merge multiple Outlook data files in a single one without damaging any kind of information. It only takes a few minutes for combining PST files. The software has the option to join PST file, Merge PST file and Merge Outlook contacts only. You can easily choose any of the options which are suitable to fulfill your needs. With this application, you can combine Outlook data files with all items like emails, calendars, tasks, contacts and more. It is compatible with all Microsoft Outlook versions and runs on every Windows OS editions including Windows 10. You can easily merge Outlook archives and password protected PST files with this tool without any data loss.
Steps By Step Procedure to Merge PST Files Into One
Step 1. Download the PST Merge tool and install on the system to combine multiple Outlook PST files into a single file

Step 2. Select Add Files or Add Folders option to add PST files in software panel
Step 3. Choose any option, Join, Merge and Merge Contacts according to your need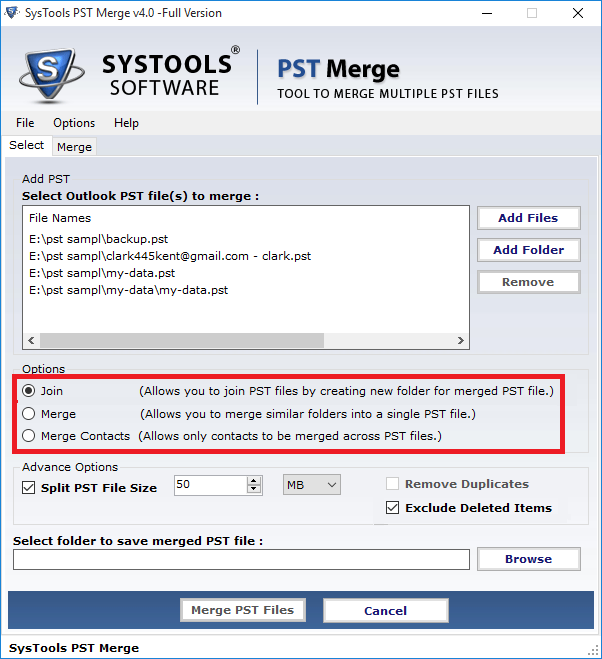 Step 4. In Advanced options, check Split PST File Size, Remove Duplicates or Exclude Deleted Items as per the requirement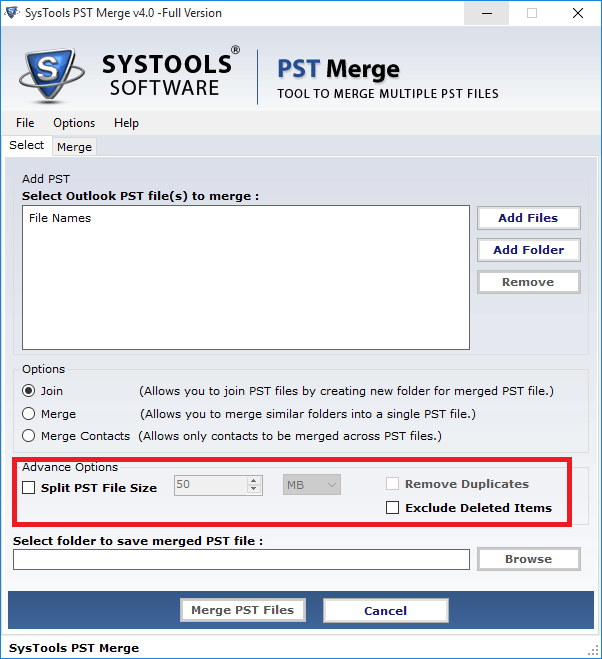 Step 5. Click on the browse button and select the folder location to save merged PST file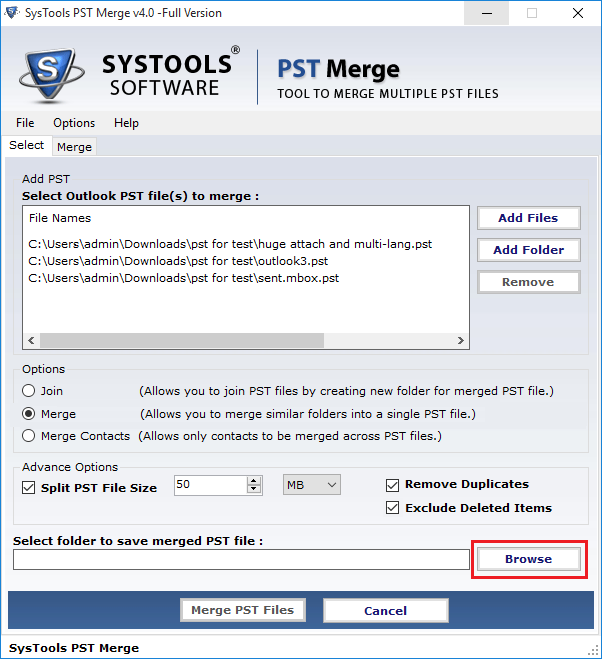 Step 6. Finally, click on the Merge PST Files button to start the process.
Concluding Words
Here, we explained both manual and instant solution to combine multiple Outlook PST files into a single file step by step. Also discussed the limitations of the manual method to merge multiple PST files into one. To instantly combine PST files, we highly recommended to use the professional software that is able to merge Outlook emails, Outlook contacts, Outlook calendars, and other data items which are saved in PST files.