Without the Proper password You don't have Permission to Copy this File
Isha Ratra | January 7th, 2019 | Tips
There is no doubt that the PDF file format is the most secure file format to store and exchange information. It offers an immense level of security and prevents any unauthorized access of your document. Password protection and restricting actions on PDF are the popular ones. But, in some cases, you have PDF but with restricted permission. In such situations, when you try to access the PDF like a copy from it, an error message is displayed. For example, "without the proper password you don't have permission to copy portions of this document." Here, if you do not know the exact permission password, then you are unable to unlock PDF on Mac machine.
Moreover, if you are thinking to remove restriction via some manual tricks, then let me tell you it is not possible. Now, the question is how you can overcome this problem?
No need to worry! We got you with a reliable and trustworthy approach of doing the same.
Challenges Faced by Users
But, before moving to the solution directly, it will be generous if we have a look at the queries asked by the users:
"One of my clients send me a PDF file containing some important evidence details related to a case. I opened that document on my Mac machine in Mac Preview to view it. But, when I tried to copy some details from it for my notes, it displayed a message Without the proper permission password you don't have permission to copy portions of this document. Enter the password to unlock copying protection from the document. The proper screenshot has been shown below: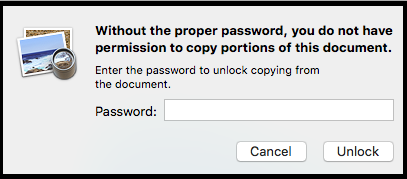 Now, I am not having the password of that PDF document so that I can enter it and remove restrictions from it. But, it is important for me to copy some portions from it as I have to maintain a report, which I need to present in court. So, can anyone tell me, what can be done in such type of case without any loss of information."
Like this, there are several other users also who face issues similar to this when they try to perform any action on password protected PDF file. This type of message can be appeared in any situation like while printing, editing, or commenting.
How You Can Beat That?/ Beat That With Mac PDF Unlocker
You must be wondering that sometimes you do not have permission to perform this operation on PDF document. Also, you don't know how to get complete access to PDF file, so learn about it read the below section.
Let's get the thing under the way!
There is no foolproof method available to unsecure PDF files on Mac machine. Therefore, switching to a professional solution will be a smart move. Mac PDF File Unlocker is one such application that will help you out in the same. It will simply remove both user level or owner level password security from PDF file. In addition, it is capable to unlock secured PDF from copy, edit, print, and extract restrictions. While unlocking PDF on Mac machine, you are allowed to remove commenting, signing, and document assembly security also. Apart from all this, you can run this application on Mac OS X 10.8 and above versions.
Want to see how it works right now?
You just need to follow the steps mentioned below & learn how to copy text from secured PDF document:

1. Open the software on the local machine and click on Add File(s) or Add Folder(s) option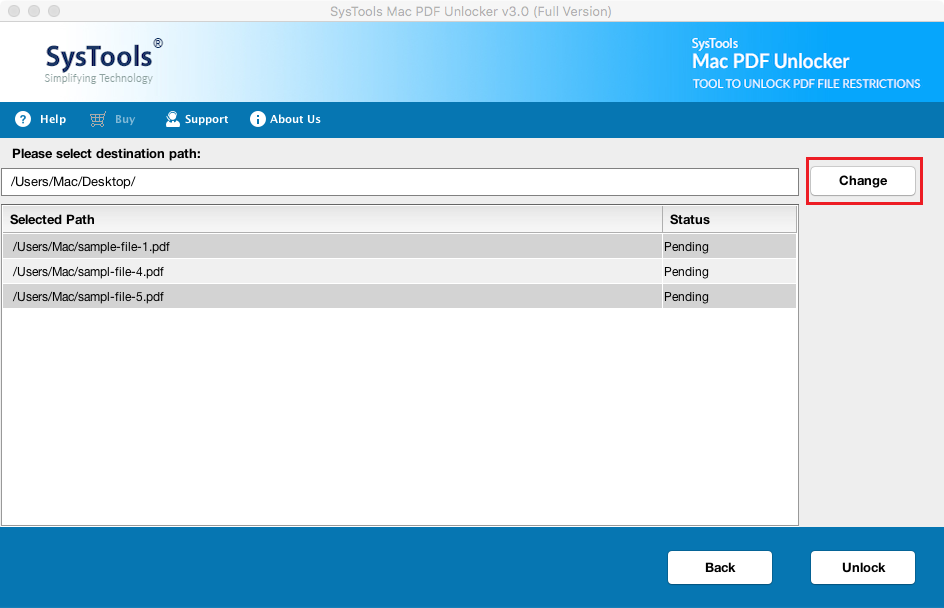 2. You can click on the Change button to choose the desired destination location. By default, the destination location is desktop for unlocked PDF file
3. As the PDF files get uploaded successfully, click on Unlock button to start the process of unlocking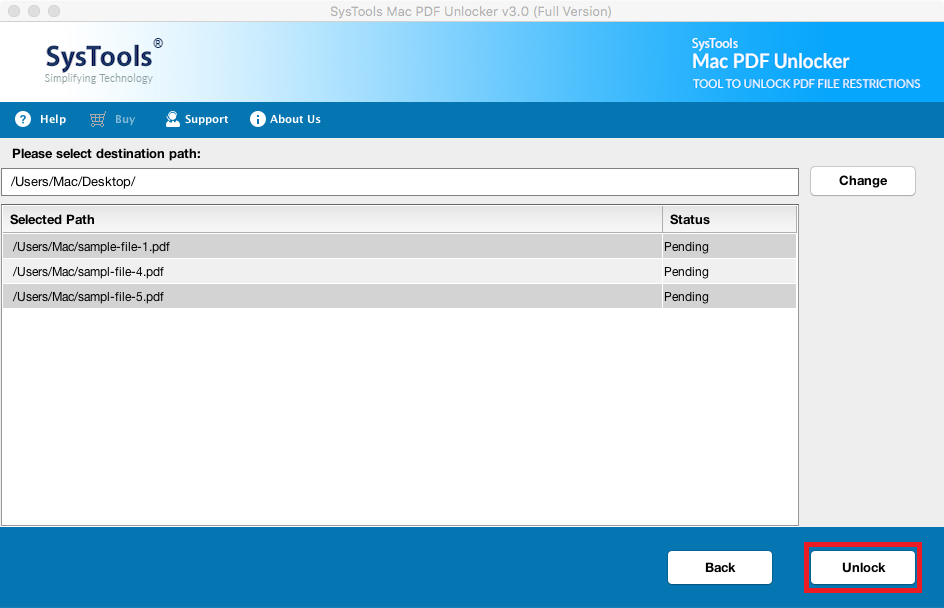 4. After that, a message will appear stating "Unlock process completed successfully" when the process is done. Simply, click on the OK button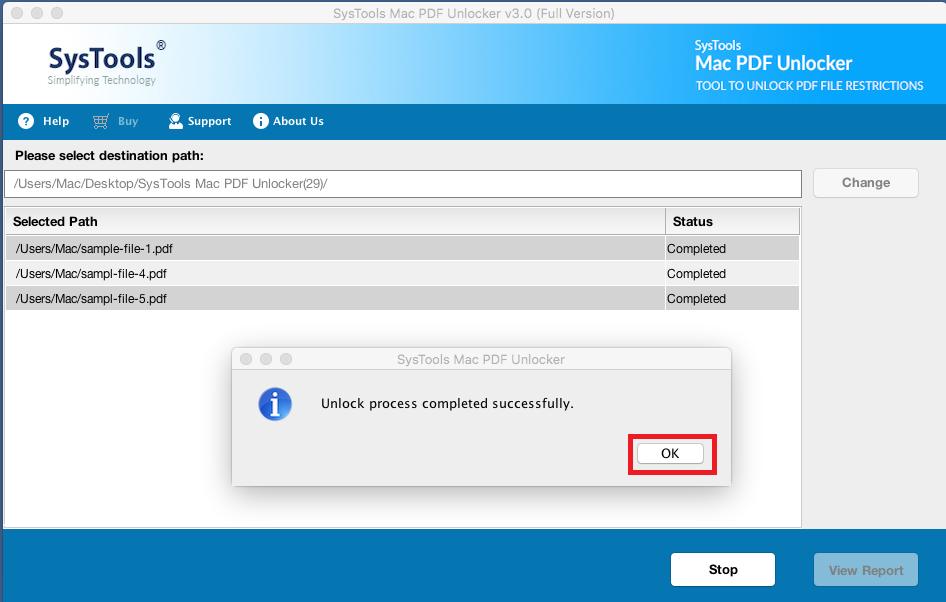 5. Now, click on the View Report option in order to open the report after removing the restrictions from PDF. A complete Export Report with the list of unlocked PDF files will be displayed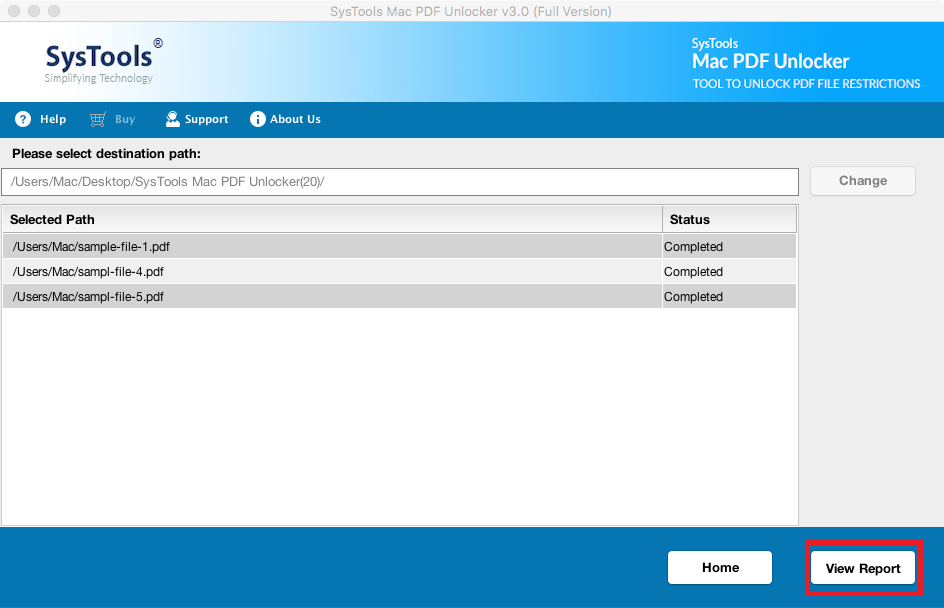 6. This Export Report in CSV format includes details such as Selected path, Destination Path, Unlock Status, Total Count, Fail Count and success count
7. At last, you can view the PDF files free from all restrictions like copying, printing, editing, signing, etc.
It is one of the easiest and reliable way to deal with an error message like:
"Without the proper permission password you don't have permission to copy portions of this document."
In addition, the software allows you to unlock or remove restriction from PDF documents in batch also. You can unlock digitally signed PDF also using this application. Avilability of Adobe Acrobat on the local machine is not required.
Let's Recap
Dealing with locked or restricted PDF document on Mac machine is really irritating. While doing so, users faced an issue like "Without the proper password you don't have permission to copy portions of this document." Therefore, to deal with this issue, a professional solution with guaranteed results is explained above. To get rid of such issue in PDF file on Mac machine, go through the solution suggested above.