How Safe it is to Unprotect PDF Online on Mac OS X?
Isha Ratra | October 26th, 2018 | Tips
"I am using a Mac machine and yesterday, I had received some secured PDF files from one of my colleagues, and I need to edit them and mail it again. Is there any way to unsecure restricted PDF files? Is it possible to unprotect PDF online on Mac OS X? Will it be safe? If not?, then please suggest me an appropriate way to resolve the issue. Any help would be appreciated. Thanks in advance."
In today's arena, most of the users need to keep their crucial data in PDF format. It makes the PDF most preferable file format as compared to others. Even this portable document can be used everywhere and at any time. Mostly, it is used in university form, office document, business transaction, and so on. It will facilitate several functionalities and features over other file formats. PDF file format makes easier to work on digital documentation at the Mac Operating System.
But, sometimes users cannot print PDF because of security or restrictions, moreover, they are unable to perform any task on the document. Hence, they decided to unsecure Adobe PDF. But, they want to know that is it safe to unprotect PDF online on Mac machines?. Therefore, to resolve users queries here we have discussed two solutions that will help users to know which one is the safest solution to perform the task.
Online Approach to Unsecure PDF Files
If you are searching on the internet then you can see a lot of applications that can unlock restricted PDF documents. But, users can only unprotect PDF online up to 5 MB for free. We are not saying that the online service is very convenient. Due to its unknown functionalities mainly, you do not need download and install the program on your Mac OS X. The operation is looking very easy in the beginning. You just want three steps: upload, click unlock and download as shown below. However, all these free services have effective constraints. Your file size cannot exceed some value, or the program automatically will add a watermark to your PDF data file. Moreover, you can unlock one file at a single time. Uploading and downloading need your valuable time if your network is not very fast. It is not safe to upload the PDF file which contains private information.

Alternate Solution to Unprotect PDF File on Mac OS X Effortlessly
As you know that, some of the PDF files are being password protected. But, if you are trying to unlock secured PDF online, then you should have to be aware of the fact that the online services do not provide any surety. So, here we come up with an effective way to do the same. This is third-party utility such as PDF Restriction Remover for Mac. With the help of this tool, you can easily unlock restricted PDF documents on Mac OS X. This application furnishes an understandable user interface even, a non-technical user also performs with it without taking an expert help. This remover tool is equipped with advanced functionality and facilitates amazing features. It is unlock secured PDF on Mac OS X for printing, editing, copying and extracting text. Moreover, users can unprotect multiple PDF documents for commenting, signing & document assembly. This software allows to add files and add folders option to remove restrictions from several PDF files at a time.

Guide to Unlock Restricted PDF Documents
Step 1: Initially, install and run the software and then select an option to "Add File" for inserting secured PDF files. Also, a user can remove unwanted PDF files by using "Remove" option. Hit on "Next" to proceed the process forward.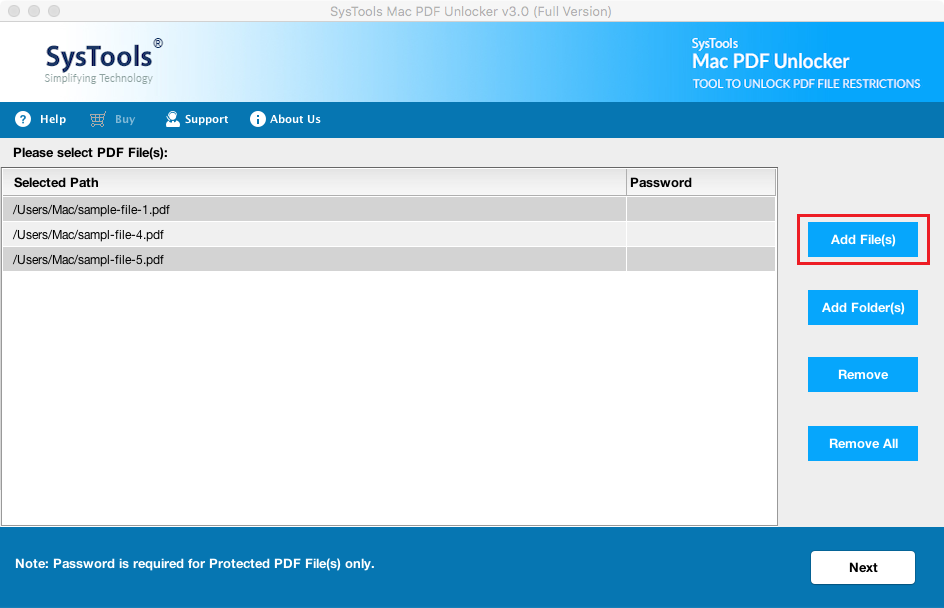 Step 2: Now, the default destination location for the resultant PDF is the Desktop. But, a user can also set the location as per their desire by selecting the "Change" button. Moreover, the unlock status will appear as Pending and it gets changed after the process completion.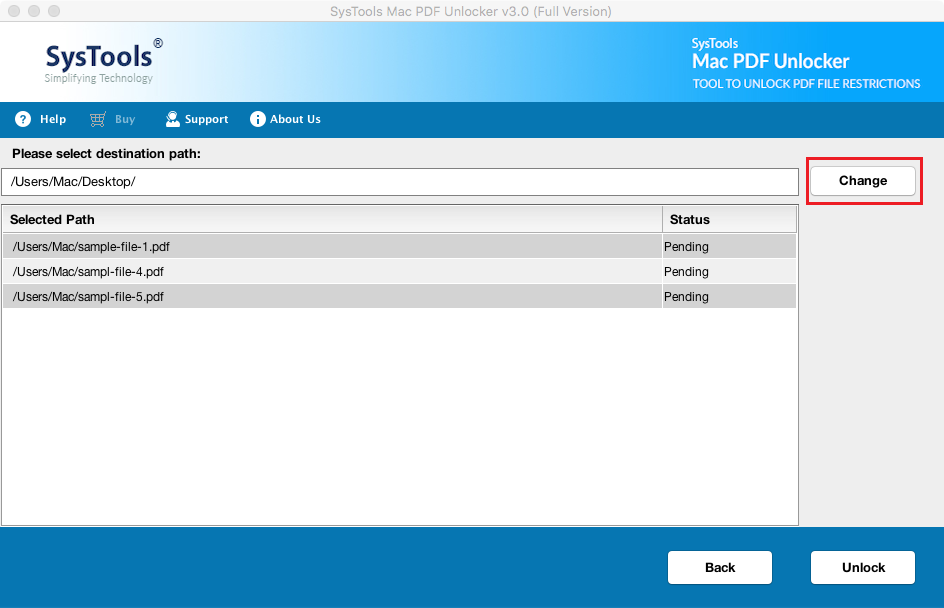 Step 3: Afterwards, you have to hit on the "Unlock" button to unprotect secured PDF files. When the file gets unsecured the "Unlock Status" gets changed from Pending to Completed. You can see below image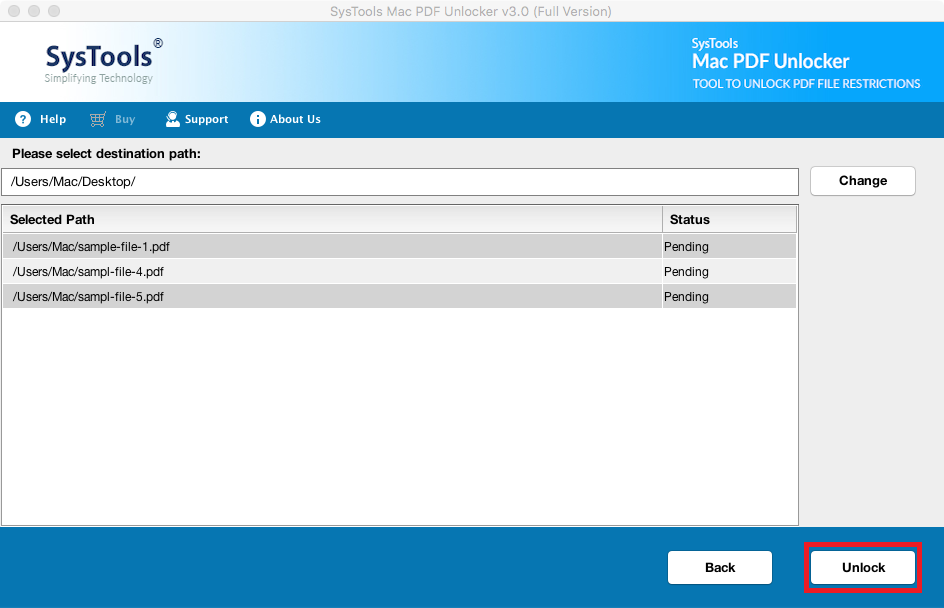 Step 4: When the tool completes the process to unprotect PDF document, a pop-up message i.e. Unlock Process completed successfully gets to appear. Select the "OK" button.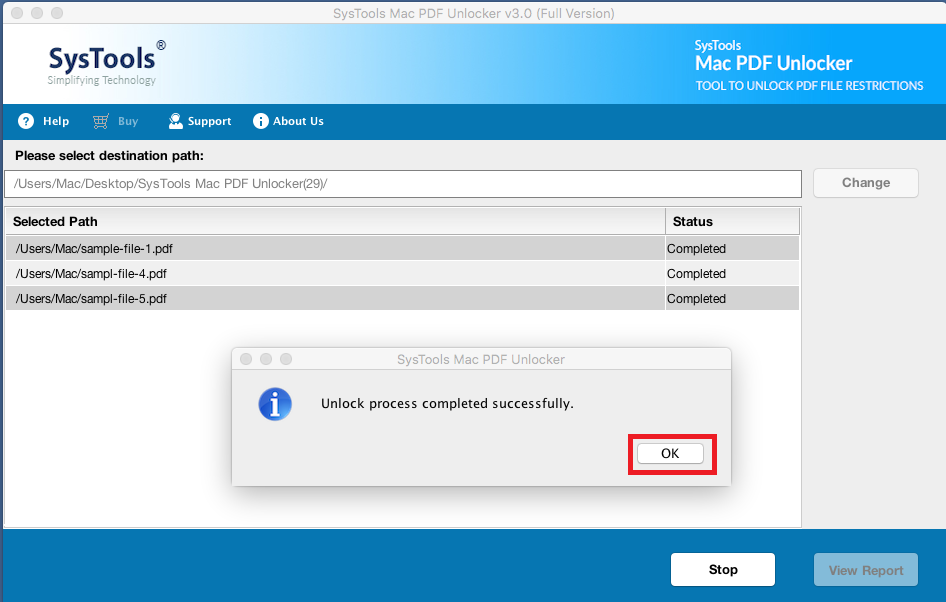 PDF file format is so popular that you will see them every day while working with the documents. But, sometimes when you get a PDF file from someone, that you cannot open it or cannot print, edit, or copy text from it because it is locked or secured. On the other hand, some PDFs are restricted for opening until and unless the appropriate password is applied to it. This is all because of the security presence in the PDF document. However, in the next section, we have described two types of securities that  can be easily removed by the software.
Quick Glance on Types of PDF Security
There are mainly, two types of security included in the PDF file document. One is "Owner" and  other is "User" level. They both are described below in a descriptive manner:
PDF Owner Protection: It is also known as permission password security. With this type of security, a PDF file is restricted from copying, editing, printing, signing, commenting, etc.
PDF User Protection: It is also known as Open Password or User Passwords. With this permission, the entire file is encrypted. Without knowing the correct password users are unable to open the PDF file.
Final Words
Users can unprotect PDF online, but online utilities has some limitations. As they are not applicable to unsecure multiple PDF files. So, it is advised to go with an alternative i.e. offline software. This is a prominent and safest tool to unlock restricted PDF files in bulk. However, in the above segment, we have also discussed both types of securities that can be easily removed by the software without any data loss. Therefore, considering all things it is suggested to use offline utility.