Fix the Error PST File Too Large to Open in Microsoft Outlook
Many users of MS Outlook are now searching for the methods to resolve the error PST file too large to open. This happens because the users keep storing all the incoming data items into the same PST file. It may lead to the increase of PST file. If the Outlook is taking much time to respond or you cant perform the processes like opening files, downloading attachments or emails, copying a folder etc.
Then you are probably dealing with the large size problem that is the file exceeded its maximum limit. Therefore it is essential to know that how to solve the error cannot open PST file in Outlook 2016, 2013, 2010, 2007 & 2003.
This article discusses the manual as well as automated approaches to solve the Outlook data file error by using the technique split Outlook PST file.
What is PST File Too Large to Open Error?
If the Outlook PST file displays an error like PST file too big to open Outlook 2013, 2010, then it is basically due to the oversized PST issue during the process of accessing mailbox emails. In this situation there is a chance for showing following errors in MS Outlook:
Background Sync Error.
File Access Error.
Reported Error: 0x00040820
File xyz.pst reached its maximum size
User Query
"I am using Microsoft Outlook last few years, Last week I faced an issue with the Personal Storage Table file. When I try to open my Outlook profile then it says the error cannot open large PST file in Outlook 2016 and I need to delete some data items.

I don't know what is the actual issue. How can I rectify this problem?"
How Can I Fix Large PST File Won't Open Error
The main reason for Outlook 2010 PST file too large to open error is the excessive storage of data items without checking the size limitation. To avoid the corruption in Microsoft Outlook PST file, you need to follow some preventive measures that are mentioned below:
1) Create the archives for emails.
2) Backup PST file.
3) Remove the unwanted stuff and clean mailbox regular basis.
Manual Approach to solve PST File Too Large to Open Error
To fix the PST file size error, you can use the inbuilt utility inbox repair tool, which is located by default in Microsoft Office folder. To proceed with this method, follow the steps that are listed below:
1: First, open the scanpst.exe application.
2: Click on "Browse" button to choose the PST file which you want to crop.
3: Now click on the "Start" button to initiate the dividing process.
4: Choose the option "Make a backup of scanned file before repairing" and then select the destination folder from the drop-down menu.
5: Finally, start the repair process by clicking on the option "Repair".
Limitations: Manually Fixing Damaged PST Files:
Above described manual method is good if you are having a less amount of data items in PST file. You can repair it by consuming a large amount of time. Also, ScanPST.exe cannot fix major damages in PST file.
The technical peoples can understand the manual procedures very clearly. But in case of a non-technical person, it makes confusion. That is if you are just started using MS Outlook then you might not have sufficient knowledge. So, in this case, the automated methods helps to perform the task in an easy way.
From the above section, it is clear that using inbuilt utility, Inbox repair tool is not an efficient way to repair severely damaged PST files. So, the best way is to, use a reliable Outlook PST File Repair Tool to fix corrupted Outlook PST file in bulk. The software supports repair and recovery of multiple PST files without any file size limitation in a single go.
Resolve Cannot Open PST File in Outlook 2016 Issue Automatically
To avoid the shortcomings of manual procedure, you can use third-party utilities. There are times when the manual methods fail to deal with the corruption of Outlook PST files. In this case, the automated methods can provide the efficient and perfect result within minutes.

SysTools Split PST is one of such type of tool, it can give the best answer to the problem how to fix Outlook 2016, 2013, 2010, 2007, 2003 PST file too large to open error. The tool can be used with both UNICODE and ANSI files. It can work with Windows 10 and all below versions.
Features
Divide large PST files based on year, date, size and folder.
Provision to work with Active PST and Archive PST.
No file size limitation imposed to perform the dividing process.
Option to break all items including calendars, contacts, tasks, etc.
Instructions to Cut Large PST File Even Without Outlook
Here, in this segment, we will disclose an efficient way to break large Outlook data file and fix PST file too large to open issue. Simply, follow the steps to begin the process.
Step 1: Install & run PST File Splitter utility.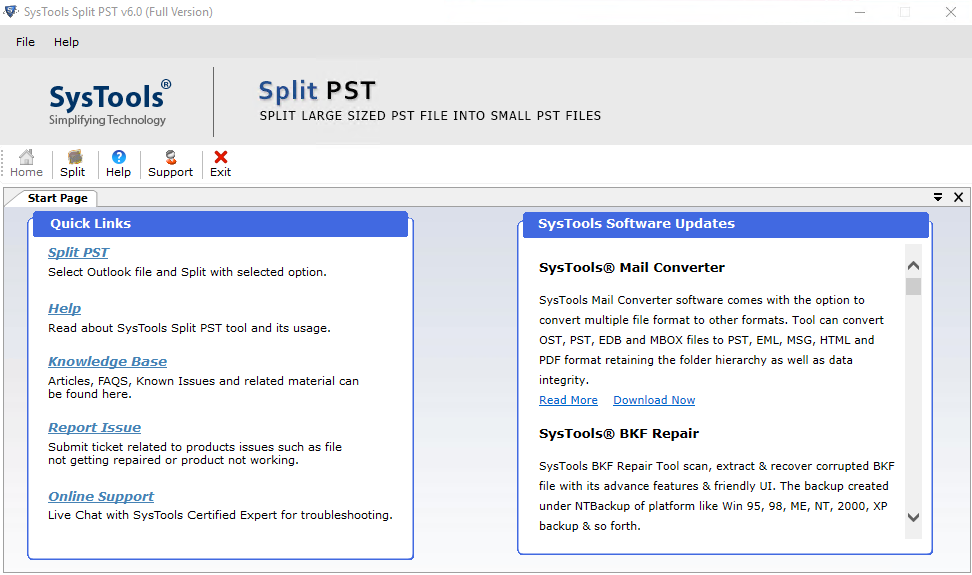 Step 2: Opt Outlook format and select Split option.
Step 3: Add required details and click on Next button.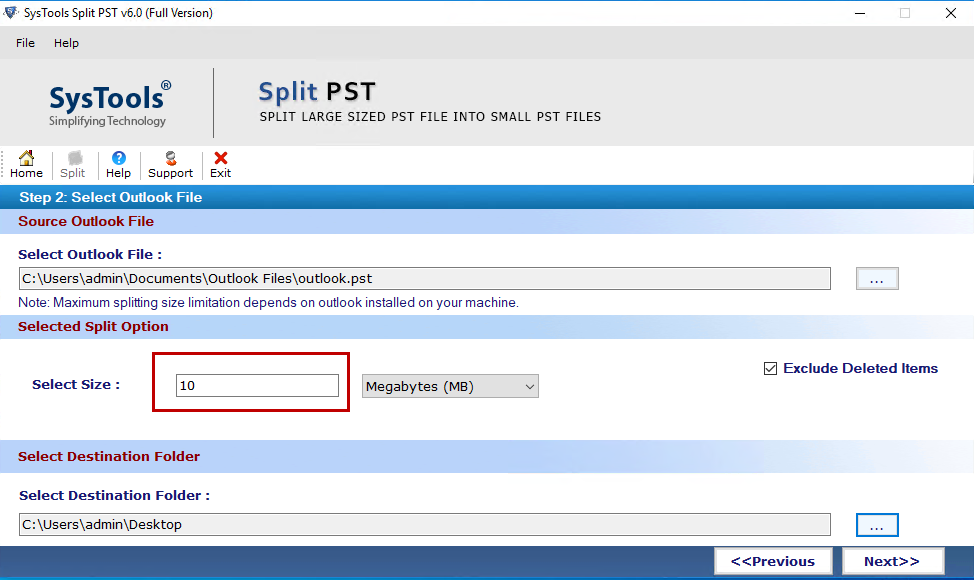 Step 4: Click on the Split button to begin the procedure.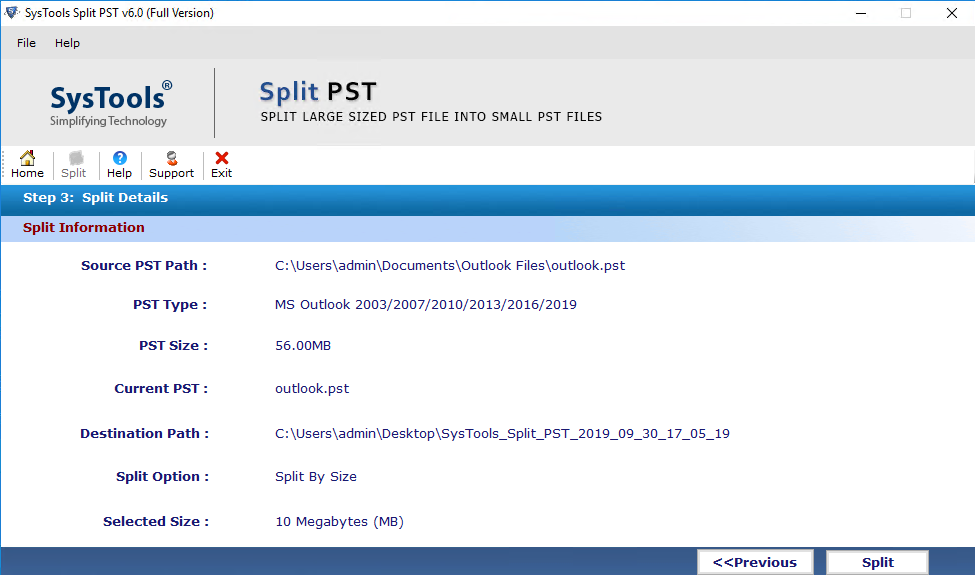 The Verdict
The article describes the manual as well as automated approaches to fix the error PST file too large to open. You can use any of the methods to overcome this error. But if you are using manual approaches then you can solve your problem perfectly in case of a limited number of PST files also in case of too huge error it makes some issues.
So, to overcome this limitation, you can choose automated solution discussed in this blog. It will help to resolve PST file corruption issues more securely and perfectly.