2 Tips to Resolve Oversized PST File Issues in Windows
Before we start discussing the process to resolve oversized PST file issues. Let us have a quick review of the Microsoft Outlook files.Basically, PST file is a central repository of Outlook to save all the mailbox elements including contacts, emails, notes, etc. Moreover, both PST and OST data file possess maximum file size limit in Outlook 2010 and Outlook 2013 as compared to its earlier versions. Whenever a PST file may exceed the specified size limit, it becomes oversized and problems which arise thereafter when accessing the desired folders and messages. Therefore, in the following segment, we are going to discuss various reasons along with a suitable solution that helps to deal with large PST file problem to in a detailed manner.
Main Issues Behind Occurrence of Outlook large pst file problems
If Outlook application takes too long to respond and many users are unable to perform some operations like open each file, copy the desired folder, download of emails and associated attachments from MS Outlook; they are dealing with Problems with large PST files that have reached the maximum size limit.
An oversized PST can lead to the data corruption in Outlook and sometimes shows error "Outlook Data file not getting smaller". This ultimately results in data loss which is hard to recover. Thus, the following segment discusses possible errors and solutions to avoid Outlook 2007 large PST file problems.
Various Errors Due to Oversized PST File Issues in Outlook
Go through the following errors that helps to let users understand while attempting mailbox folders and email messages: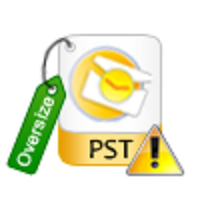 Outlook error 0x00040820: This error occurs when a user tries to send or receive emails through a specific mail account in MS Outlook 2010. This error appears while syncing the mailboxes with the outlook data file that exceeded the above limits.
Synchronization error in Outlook: Generally, this error takes place when users attempt to synchronize mailboxes from one Outlook edition to another and there may be a mismatch between the file size of newer and older PST.
Path or File Access Error: One such error "abcd.pst cannot be accessed – 0x80040116" appears when Outlook data files(.ost and .pst) gets corrupted due to a Problems with large PST files.
How to Avoid Large Sized PST File Issues?
One most common reason for an oversized PST file issues is excessive storage usage of emails or attachments and tested the file size limit up to 2GB in MS Outlook 2002. Although, in the new version of Outlook, PST may encounter the severe corruption issue. Follow some ways through which large PST files issues can be avoided:
Clean Your Mailbox Regularly: There are multiple email messages which can carry attached files that may no longer need. These emails can easily remove to free up some disk space with a mailbox. Press shift+delete key to delete the redundant data permanently without being saved into the deleted items folder.
Create Archives or Backup Files: There is one option available in later editions of Outlook to archive emails to the PST file. For this way, having a copy of entire mailbox(archive) located in a separate folder. Data could be deleted on the regular basis to free some space and overcome oversized PST file issues.
Keeping PST File Safe in Desired Path: Once the backup of PST file is created so that one can easily recover they are lost or deleted data back if they may receive any PST corruption issues.
On-Stop Solution to Split Oversized Outlook PST File
At times, it becomes little bit impossible for all users to repair deleted as well as corrupted .pst files. Therefore, to overcome all constraints faced by the manual approach, there is a software namely SysTools Split PST Software. This utility is used to split up oversized PST file. With this tool, users are capable to recover permanently deleted and password protected .pst data files without any hassle.
This tool is completely safe and secure to utilize without any external help. Moreover, it provides an option to split by date, by folder, by time and by size. Also, users can divide PST file into smaller parts using 'Split PST file by Size' option.
Manual Ways to Resolve Oversized PST file Issues
Huge PST file creates several Outlook large PST file problems like .pst file is damaged or corrupt, and system crash, and so it is necessary to address such as unwanted issues to keep crucial data remains safe at all times. Well, there are many ways to overcome issues that arise due to an oversized PST file in MS Outlook. To do the same, follow below-stated steps:
Method#1: Resolve Oversized PST file Issues Using Inbox Repair Tool (scanpst.exe)
It is an inbuilt utility located in MS Office folder on your computer system, comes to the rescue when users have faced a problem because of a large PST file.
In simple words, open scanpst.exe utility and then, click on browse tab to opt a .pst file whose size you wish to reduce.
Go to the Start option and enable the selected files for all type of errors or issues.
Now, select this "Make the backup of scanned file before repairing" option and choose the desired location from a drop-down menu to save the backup files.
Finally, start the recovery process with clicking on "Repair" button and Oversized PST file issues will be resolved successfully.
Limitations of Manual Approach
To perform above procedure, it is necessary users must have the technical knowledge. Moreover, one major limitation is that as the level of corruption rises ScanPST fails to repair Outlook PST file. It will not respond while to retrieve a .pst file. Although, users may encounter an error when ScanPST fails to repair PST file in Outlook.
Summing Up
How to resolve Oversized PST file issues is still a big trouble for normal users, if they are unable to restore the corrupt PST file. In such situations, users have to perform ScanPST inbuilt utility, which is very difficult technique and have some drawbacks as well. Therefore, it is suggested to use the second method, as it is a straightforward way to will resolve this Outlook error without any risk.