Fix Outlook PST File Not Getting Smaller After Archiving Or Deleting Emails
As we know, a large PST file is the root of various issues including Outlook performance slowing down, PST corruption, and Outlook may crash, which may lead to the inaccessibility of PST files. In the following section, we are going to discuss a relevant solution for Outlook File Not Getting Smaller in an efficient way. Below we will discuss errors showing that PST file won't shrink along with their causes & best solutions.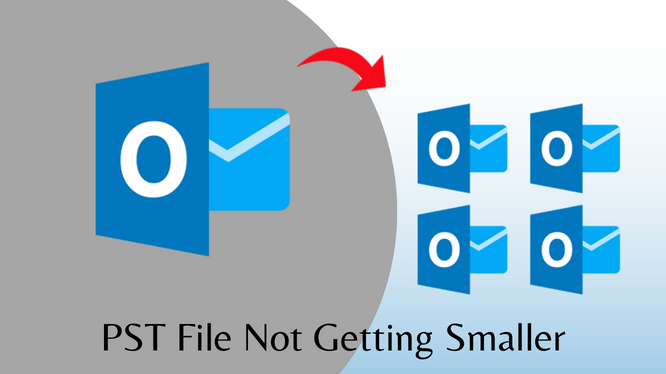 MS Outlook is one of the most popular email clients, which stores all data items such as emails, contacts, calendars, etc in the personal storage table. However, the PST file of Outlook is just a main database repository that can easily save or copy each file over a certain size limit.
In Outlook 2002 and its below versions, I created a PST file in ANSI format and the overall size of the PST file was 2 gigabytes (GB). For Outlook 2003 and the later versions, the UNICODE PST file you have to create a UNICODE PST file with a file size limit of 50 GB. With increasing time, the number of items from Outlook mailbox grows and the size of PST is also growing.
Necessity For Outlook PST File Not Getting Smaller
Due to an oversize PST file, its performance will slow down, and the Outlook file size not decrease. Even though the maximum size of the Unicode PST file has a limit of 50 GB, Outlook will pose problems such as slow performance and consuming more time while synchronizing.
Additionally, due to the performance issues and the appearance of such errors, large-size PST files may also lead to corruption. Thus, in order to protect all these happening, it requires shrinking the size of Outlook PST files.
Manual Methods to Fix Outlook PST File Not Getting Smaller Error
There are numerous methods and techniques that can help Microsoft outlook PST file size not decrease. Let us discuss some of them given below:
1. Outlook PST File Not Compacting
Shrinking PST files is one of the best ways through which users can reduce the size of PST files. However, the users have permanently deleted some data items, the portion that is marked as black or white space. In order, MS Outlook can remove this white space to increase performance and utilize that space for all new items. When the white space occupies more than 20% space of the total size of the PST file, Outlook will automatically compress the size of the PST file within the background.
Note: Make sure that after compacting, the size of PST should be 5% of this white space left by MS Outlook for performance reasons.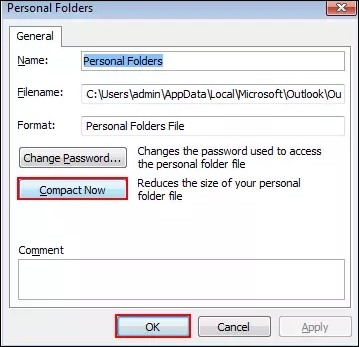 2. File Truncated to 2 GB Limit
Microsoft Outlook introduces the truncation utility only when the PST file not getting smaller. This inbuilt utility will truncate the files which are corrupt or damage due to maximizing the file size up to 2 GB. It is also recommended to reduce at least 20 to 25 MB of Outlook. During the error like – PST file size not decreasing also to obtain the PST file back to operable condition. It is advisable to take a backup copy of the original PST file and then, use the truncation utility also.
3. Archiving Method
Archiving all unnecessary and previous emails regularly can be a way of avoiding such unpleasant situations in Outlook due to the size of the PST file. Moreover, the frequency of archiving depends on the large number of emails then, so Outlook is encountering a problem. Usually, archiving solution is suggested when MS Outlook files have reached over 500MB or greater. This method will be used for shrinking PST file size. The users can easily archive the necessary items and all data resides in different PST, files. After that, erase the data from the original file.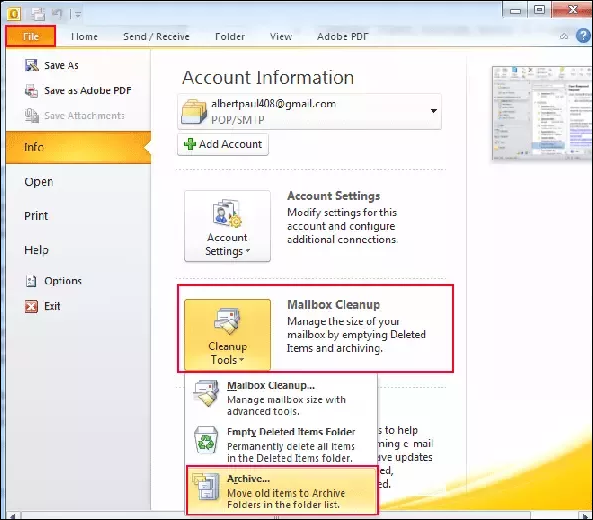 4. Delete Unnecessary Items
Removing unwanted data items from a PST file will help the users to keep the PST file within the predefined size limit. The users are capable of downloading all attached files and then, preserving them on the local machine.
If none of these manual solutions work fine, then the users will take help of a trusted third-party tool to split PST file into smaller parts. This tool comes with many advanced features. And also this utility is having a user-friendly interface. And having a trusted user database. Moreover, this tool is tried and tested by technical experts of knowledge for more than 12 years.
Final Words
Many users use Microsoft Outlook for emailing propose and storage data of PST files. Also, it comes up with an attractive feature suite. However, on many other platforms, they will come with many issues in their file formats. One of the main issues is that the Outlook PST file not getting smaller, so we have mention the four manual solution to rectify it and make the task easy and quick.