How to Recover Data from Hard Drive with Bad Sectors – Know Instant Solution
Outline – Bad Sectors can damage the hard drive to an unrecoverable extent. Before its gets too late, Read this blog and recover your data in few simple steps. We will provide a complete recovery process on how to recover data from hard drive with bad sectors.
User Query #1. Data Recovery for Bad Sectors Drive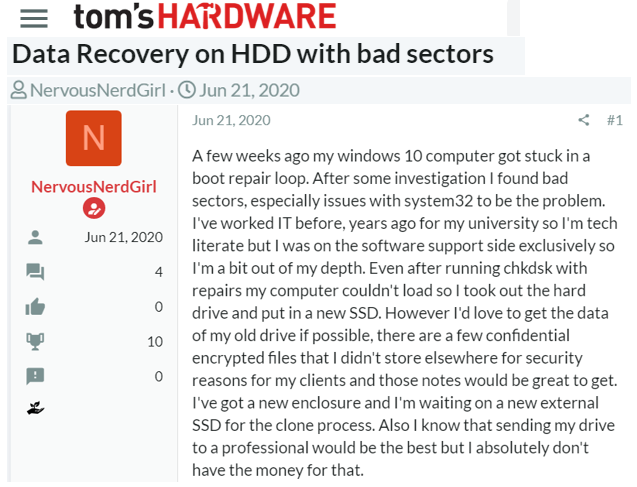 User Query #2. Bad Sector Freeze the Hard Disk

Is it possible to Recover Data from an External Hard Drive that has Bad Sectors?
Yes, you can recover data from an external hard drive with bad sectors. It apparently depends on the level of damage to the drive. You have a minimal chance of recovering your files if your hard drive is physically damaged or broken. If the disk is just corrupted due to logical bad sectors, there are solutions to restore data from a hard drive with bad sectors. A corrupted hard drive indicates that your drive has a program error and that your files are simply unavailable. Your data can be easily recovered using hard drive data recovery tools.
Note: Data that has been lost due to bad sectors on your hard drive can be easily overwritten. First and foremost, if you want to recover all missing data, you must stop using the hard drive. As well, a hard drive data recovery program should not be download on that particular external hard drive with bad sectors.
What Does a Bad Sector in Indicate?
When the drive surface is physically damaged or the transistors malfunction, your disc gets bad sectors on it. In most cases, bad sectors on external hard drives are inaccessible or unwritable. If bad sectors are not treated timely they will increase the chances of losing data. It's also possible that the removable hard drive won't be able to operate or run normally again.
If you are facing any symptoms of the bad sector, we strongly advise you to copy and recover data from the hard drive to a new storage device. Before it gets too late to restore the data.
What Causes a Hard Drive to Have Bad Sectors?
Storage components on hard drives, known as 'Platters,' are divided into sectors and blocks. These sectors are used by the read/write head to locate the requested information. After a long period of use, a hard disc becomes rough and loses its magnetic nature, eventually failing. Aside from that, there are a number of other factors that can trigger bad sectors on your hard drive, some of which are mentioned below:
Virus/Malware Attacks are programmed to cause computer systems to malfunction. However, it may also destroy hard drive platters and other CPU components, causing them to fail permanently.
Internal hard drive equipment fails easily due to overheating. Overheating will destroy any hard drive, regardless of how new it is.
Among the most common causes of bad sectors on a hard drive is a File System Error. Your data will be permanently corrupted and unrecoverable as a result.
Almost any electronic device suffers from wear and tear. Electronic devices will continue to malfunction or even collapse after a certain period of time. The same concept applies to external Hard drive equipment.
Recover Data from Hard Drive with Bad Sectors Using Data Recovery
Hard drive Data Recovery Software for Windows is a reliable hard drive data recovery program that can help you restore data from drives that have bad sectors. All partitions on your hard drive can be recovered. Its data recovery features enable you to recover a large number of files in various formats of multimedia files. Such as images, videos, documents, audio files, and so on. Furthermore, it is compatible with all system hard drives and removable hard drives. To restore data from a hard drive with bad sectors, download the trial version now.
How to Recover Data from Hard Drive with Bad Sectors – Five Steps
No matter if your drive is facing logical or physical bad sectors. Using Data Recovery will let you save the affected data in just five steps:
Data Recovery tools perform these fast and easy steps to learn how to recover data from hard drives with bad sectors.
Highlighting Features of Data Recovery Utility
Efficiently, securely, and fully recover missing or deleted files, images, audio, music, and emails from any storage device.
Data recovery from empty recycle bin, external & internal hard disk, memory card, flash drive, SD cards are all supported.
Allow data recovery from unexpected deletions, formatting, hard drive corruption, malware invasion, and device crashes in a variety of circumstances.
Without any problems, recover data from a corrupted MBR or GPT boot recorder.
Conclusion
Bad sectors on your external hard drive will cause the drive to become completely inaccessible, resulting in data loss. Try the solutions in this post if your hard disk has any bad sectors. So you can finally understand the process of how to recover data from hard drives with bad sectors.