How to Remove Write Protection From USB Drive in Windows 10 OS – Know Here
"When I tried to transfer files from Windows 10 to Kingston 32GB USB flash drive, I got an error message: "The Disk is write-protected. Remove the write-protection or use another disk." Now I cannot move all files to USB drive or unable to create a new file from USB drive. The system upgrades from Windows 8.1. So, how can I remove the write protection from USB drive in Windows 10?" Please suggest me a feasible solution for the same."
Are you also getting the same error in Windows machine? Searching for a solution to remove the write protection from USB drive in Windows 7? No need to worry, here is a simple and trustworthy solution. In this blog, we are going to discuss a complete procedure to understand how to remove Write Protection from USB drive in Windows 10. Before that, first, let us know the role of Write protection in pen drive.
What is Write Protection on USB Drive?
Write protection is also known as read-only that can be either physical or virtual. The USB drive is enabled with write protection and the ability to prevent a new file from being written or old copies of files being changed. This usually means that you can only read data stored on USB flash drive, but you cannot change or remove them. By using the write protection, make sure that the data is not accidentally erased or overwritten.
Manual Measures to Remove Write Protection from USB Drive windows 7
Go through the following workarounds that will help to disable write protection from the USB drive. Please have a look:
Method 1: Check Write Protection Switch if accessible
Some USB drives have a physical switch that allows the user to lock or unlock the write protection. The location of the switch on a flash drive will be different. Make sure that the lock switch is slid up to the unlock position. Users will not be able to move files to a USB flash drive if it is already locked.
In case, if write protection switch is available on the USB drive that is off and the user still get an error message or there is no physical switch on a pen drive, please move forward.
Method 2. Remove Write Protection from USB Drive windows 7 with DiskPart utility
If the Write protection switch is not available and there may be a problem with the above steps. Then, follow these steps:
Press Windows + R key on your keyboard. In the Run dialog box, enter diskpart and click Enter key or press OK button to open DiskPart in Command Prompt

Enter the below commands one by one and click Enter key after each:
a) List disk: All disks are connected to the computer that will be displayed, including some internal hard drives.
b) Select disk n: Where n is the total number of USB drives. You can use Size column to identify each other
c) Attributes disk clear read-only: Change the attributes of USB so that it is no longer read-only.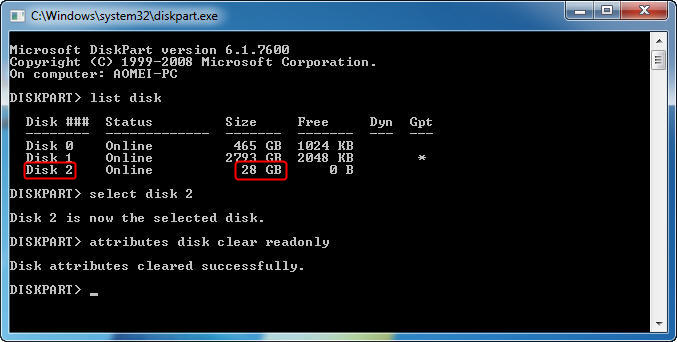 Close the DiskPart Command Prompt and then, re-plug the pen drive to check if Write protection error is resolved. If it does not fix, proceed to the next.
Method 3: Edit the Registry Editor
Press Windows + R key together on your keyboard. Type Regedit and press Enter key or click OK button to start the Registry Editor

Expand all the entries on the left side panel to navigate to the following location:
HKEY_LOCAL_MACHINE\SYSTEM\CurrentControlSet\Control\StorageDevicePolicies
On the right side pane, double-click on WriteProtect or right click on it and choose Modify. Under the pop-up screen, you may get the Value data is set to 1 that means the current system is enabled with the write protection on a USB flash device. To remove it, users must have to change the value from 1 to 0 and press the OK button to apply the change.

Exit the Regedit Editor and connect the USB drive to the computer system again, and users must find a USB write protection has been deleted. If not, please move forward.
Points to Remember
If this StorageDevicePolicies folder does not exist under Control folder, then right-click on the Control folder and select New>> Key. Assign the name with StorageDevicePolicies and open it.
Right-click on white space on the right side panel and choose New option>> DWORD (32-bit) value. After that, name it with the WriteProtect and double-click on it to verify if the Value data is set to zero (0).
Automated Solution to Recover Formatted Data
If the above-stated methods will not able to provide precise results thus, users can go for a reliable third-party tool named as SysTools USB Drive Recovery tool. It is designed in such a way to recover corrupt, lost and permanently deleted data from USB drives. The software will maintain the original on-disk folder hierarchy without any kind of data loss. Besides, it supports to regain data from exFAT, FAT, and NTFS formatted external drives like USB drive, pen drive or SD card.
Wrapping Up
The USB drive is a storage device used to store and transfer sensitive data. But sometimes, users want to remove write protection from USB drive in Windows 10 thus, we have discussed various methods for the same. Else, users can take help of a reliable third-party tool named as USB Drive Recovery, which helps to recover deleted files/ data from the USB drive.