How to Transfer Excel contacts to Outlook 2007/2010/2013/2016 Platform
Samuel Adams | September 18th, 2017 | How to, Tips
A Contact file in Outlook gives you all details related to each user. It holds different field that store user information such as username, home & business addresses details, email address, country, contact details, etc. It took efforts & time to store details for each user and if the number of users is large in number. To save time and store all details of each user perfectly, a user can try to store user information in an Excel sheet format and then transfer Excel Contacts into Outlook format.
Different Queries are asked by Various Outlook users in different Outlook forums related to How to transfer Excel contacts to Outlook 2010/2013 platforms.
Query: How do I transfer contacts from Excel to Outlook profile. I am using the Outlook 2013 versions and Windows 8 Operating system. Try the manual methods available on the Internet, but get an error and try again the method, but this time some email address field gets empty. Want to transfer Excel contacts to Outlook without any data loss, Can someone suggest me any utility or tool that can help to fix this issue.
Transfer Excel Contacts to Outlook Address Book
Sometimes it becomes an easy task to transfer Excel contacts to Outlook 2013/2010/2007 profile, but some time due to the different error such an empty email address file, wrong file format, mapping translation error and duplicate email address error occurs. As Manual method do not always work as a solution for every problem, an automated solution has been the last solution to transfer contacts from Excel (.xls) to Outlook.
Significant feature of XLS to Outlook Converter
A user can Download the Demo version of the XLS to Outlook Converter Tool and explore different features of the tool, that can help them while importing the spreadsheet into Outlook contacts.
Transfer Contacts from Excel to Outlook: Software easily transfers details such as user-name, Business Address, Phone Number, Fax Number stored in .xls format to Outlook Contact format. The user-friendly interface helps user to work effectively and efficiently.
Create Distribution List: While transferring contacts from Excel to Outlook platform, a user can create a distribution list to store the converted contacted. A Distribution list can help, Outlook user can send a message to all group members of a particular group in a single time.
Eliminate Empty Email Addresses: If any Email address field left blank or empty in Excel file, the user can choose the option to eliminate or include the email address field while moving contact list from Excel to Outlook.
MAP Excel Attributes With Outlook Attributes: During the Conversion process, a user can Map the field stored in an Excel sheet with Outlook Attributes. Sometimes some alias of the field stored in the Excel sheet. To save the value of field properly in the Contact list, XLS to Outlook allows a user to Map the attributes.
Windows & Outlook Version Support: While Transferring Excel Contacts to Outlook 2016(32-bit ) and below version, Outlook Application should be installed and configured properly. Tool support all version of ranging Windows OS, ranging from Windows 10 (32-bit) to below versions.
Steps to Transfer Excel data to Outlook Contacts
With the help of XLS to Outlook Converter, convert all excel sheet data into Outlook PST Format. Tool directly configure and save the contacts to Outlook account, So don't need to perform any manual procedure. Just launch the software and follow the steps:
Step 1: First Launch the XLS to Outlook Converter and Browse the location of Excel file stored in the configured system.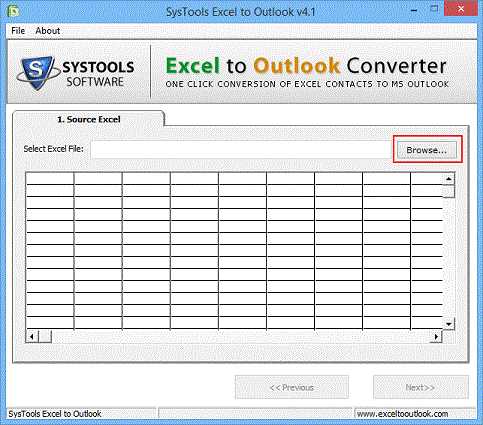 Step 2: Browse the XLS File stored in the configured system. Select .xls format file and click on an Open option.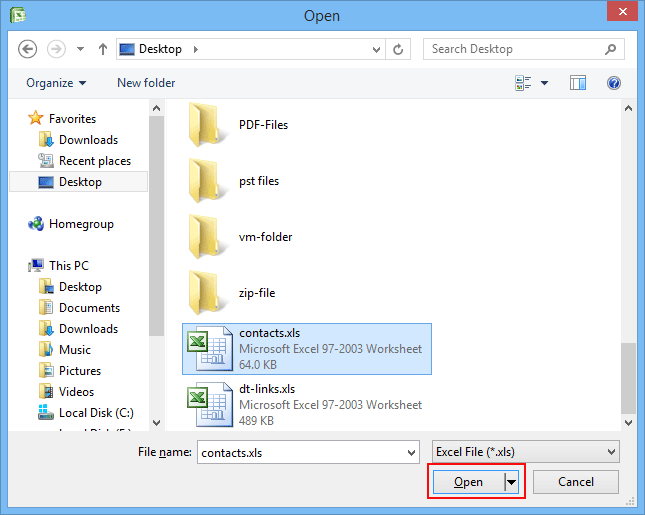 Step 3: A user can preview the Excel (.xls) file contacts details before transferring Contacts to Outlook within the Software.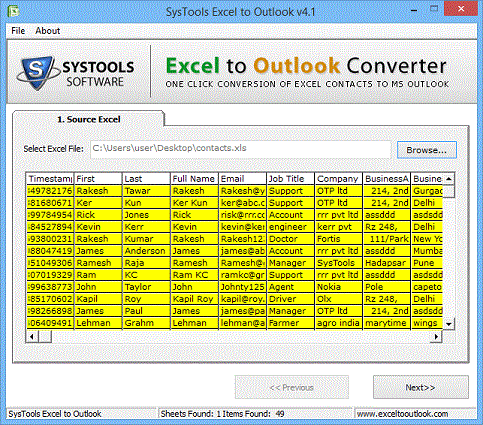 Step 4: Now Map the attributes of Excel Contacts File with the Outlook attributes of the Software. As you can see the attributes of Excel file on the left pane of the Screen and user can map these attributes with the Outlook Attributes within the software.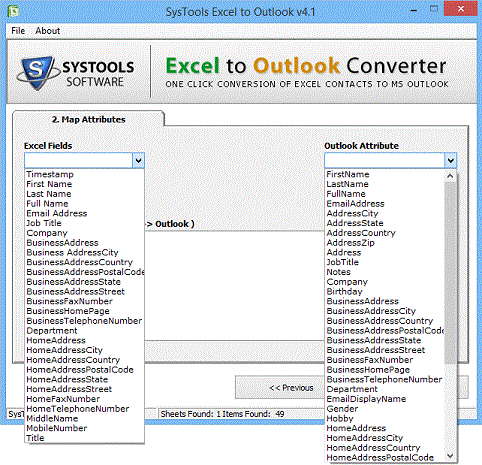 Step 5: Transfer Excel Contacts to Outlook, as 3 option to maintain the integrity of contact file in the Outlook profile offered by XLS to Outlook Converter.
Allow Duplicate contacts based on Email address

Allow Empty Email addresses to be imported

Create a Distribution List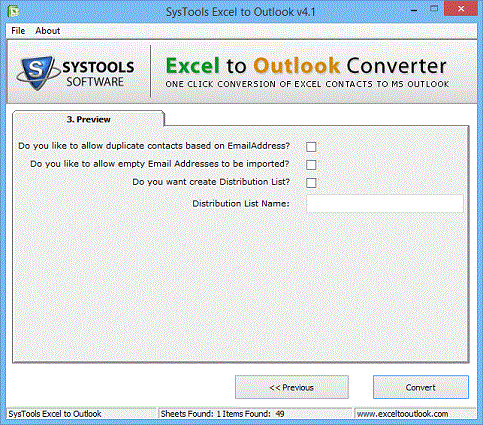 Step6: Finally, Transfer contacts from Excel to Outlook using the Convert Option.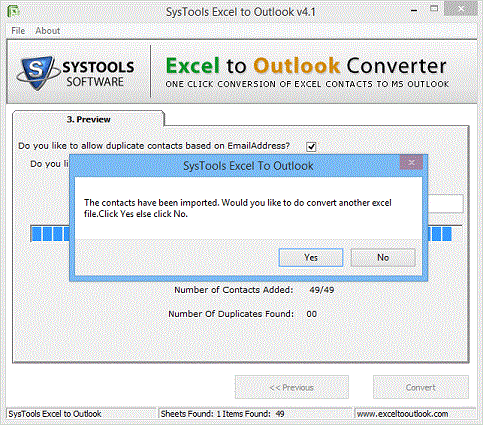 Conclusion
To Save time and effort, an Outlook user can save the contacts in Excel sheet format and transfer Excel contacts to Outlook easily using the automated solution. To create contact file for thousands of user can be a tedious and time-consuming task and if each field stores a large number of data such as name, Job, Address, Fax, Mobile and much more. An XLS to Outlook Converter is the best solution to transfer Excel contacts to Outlook 2013/2010/2007 and below versions. Download the demo version and move unlimited contacts from excel spreadsheet to the Microsoft Outlook platform.