Excel to VCF Format Online Converter – Problem and Solution
If you are not able to use Converter VCF File freely. You can go for the manual method to move Excel contacts to VCF format. As the manual method is easy to use and without any charges and restrictions, a user can convert their contact files. In this blog, we explore solutions to the problem faced by Excel to VCF format Online Converter.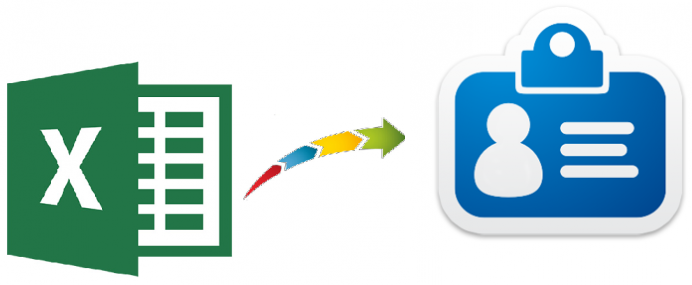 Using various Online Websites available on the Web offers the option to convert Excel files to VCF Format Online. But the various problems are faced by the user during this conversion process. Some user queries are given below:
" Hey, One day I need to convert the Contacts stored in Excel format urgently and try to use the online Excel to VCF converter on web for quick solution but while saving the time effort and time, even first sites took lot of time to load the input Excel file and after some time showing the file is corrupted, even file is not corrupted. Just waste my precious time."

"Open a  Excel to VCF  Free Online Converter website for Conversion. Provide the Excel file as input file but get message that " Converted VCF File " will be transferred to to email address. Provide the email address but still not get the my Output VCF Format file."
Problems – While Converting Excel to VCF Format Online
As We can see people face lots of problems when converting the file using an online tool. Some of the common issues are:
Need to Sign Up First on Online Converter Sites.
The conversion process can take time (Depending upon Internet speed and File size)
No Guarantee of Getting an accurate result.
Data Can be Missing or Misplaced in the Output file.
How to Create Contacts Without Excel to VCF Format Online Converter
Before using Excel to VCF Format Online Converter Tool to use .xls file contacts another platform,  a user can go for the Manual method. As the manual method can be free of cost and have some limitations but still users can go for it. As Excel file contacts are stored in ROW and Column format or tabular format, but still can be used to move contacts file of the user to VCF format, used as Virtual Business Card.
This file format is used by Different Mobile-based (Android, iPhone), Messenger Applications (Whatsapp), and most important Desktop Based (Thunderbird) and Email-Based (GMX, Lotus Notes,  Zoho) Email clients.
For Windows:
For Mac:
Working of The Software – Simple Steps
Step 1. Download and Run the Excel to VCF Online Converter.
Step 2. Add & Preview the Data of Excel File.
Step 3.  Match Attributes List Displayed.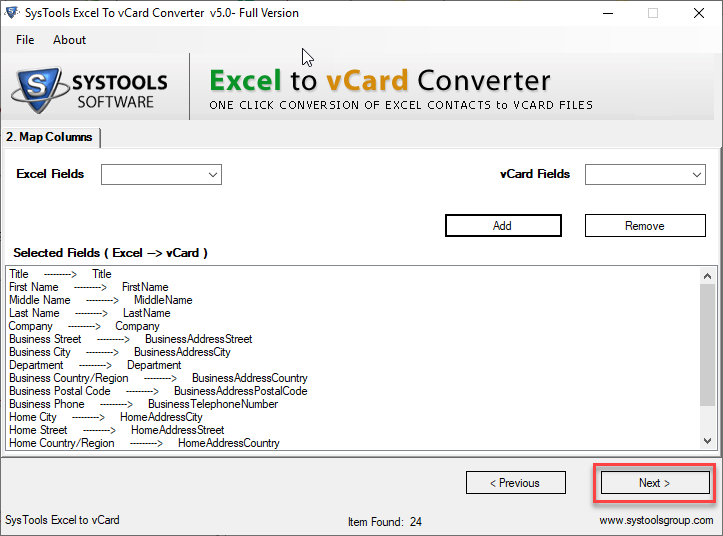 Step 4. Last, Convert the Excel file to vCard.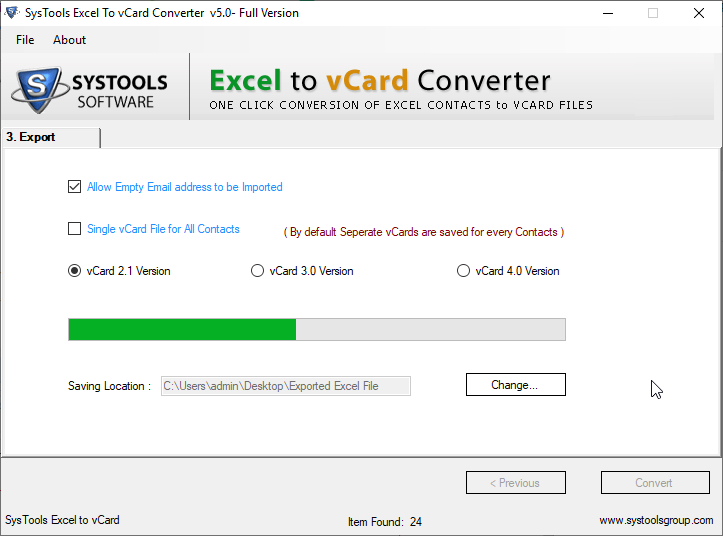 Manual method to Convert Excel Contacts Without Online Converter
Open the .xls extension file in which contacts are stored in a structured manner.
Now Save this input file into another format called CSV format first. For that just click on the "Save as" option "CSV Format" and save this file into a safe and easy access location.
Now type Win + R  or you can just click on the Start button and type Contacts.
A Contacts interface Screen will appear, Now just "import" from the navigation bar.
The different option appears to import files from a different format. Just select the "CSV" file format.
Navigate to the converted CSV File from the Excel file and select the file.
Map the attributes so that the file can be properly saved in the Contacts interface.
Now you are able to view all the contacts stored in CSV format on the Contacts screen, for each user can contact file created. After that, we just need to convert the Contacts into the desired VCF File format.
Again, In the Contacts interface, a user can select all or desired contacts, those users wanted to convert into VCF format without an online Converter.
After the Selection of contacts, click on the "Export" option from the Navigation panel and select "VCF (folder of .vcf Files)".
Provide the Destination Path and save the Exported file VCF File.
Note: Now you can use resultedVCF File on Different Mobile, Email, and Cloud Platforms
Also Read: How to Convert Contacts List From Excel to vCard Easily.
Conclusion
Now you can use the converted file on different mentioned platforms, as the VCF file is used to save user contacts information. As You can see even without Excel to VCF format online converter, a user can still be able to convert the file into a Contact format.
Since the manual process is time-consuming but you can go for it rather than using online Converters. An alternative solution is also available, which is mentioned above. Just install and run the Software and converted unlimited Excel contacts into VCF format.