Office 365 Backup Solutions For Mailbox Items | 10 Min Setup
Summary: Get the best Office 365 Backup Solution to securely archive & backup O365 emails, calendars, contacts. Users can use this utility and restore the backup whenever needed without using eDiscovery Tool quickly. It is simple to use & maintain a backup copy of items locally on the system.
Have you gone stuck at a point in searching for solutions to backup your Office 365 email account? One could find many numbers of solutions to Backup Office 365 Account. Most of them provide cloud-based services to backup Office 365 data to the cloud. Do you think backing up your data on 3rd party cloud storage would be safe? What if data gets leaked out from 3rd party cloud or any malicious user hacks their storage servers and stole your data. A huge data loss situation can take place. Many other possibilities may also occur. We have come up with a great solution i.e. SysTools Office 365 Backup & Restore Tool.
SysTools Office 365 Mailbox Backup Tool simply archive all your mailbox items and store it on your local machine in PST file format. Now this PST file can easily be stored in any secure place or shared with multiple users. Not only this, but you can also import Outlook data file to Office 365 account instantly within few clicks.
Quick Glance at Best Office 365 Backup Solution
Backup Office 365 Account Items to PST  file format
Filter option: Provided filters for selective emails, user's mailbox backup.
Backup emails, contacts, calendar, and documents from O365 Account
Import large PST files to Office 365 mailboxes
Extended Unbeatable Features to Office 365 Backup Software Solution
Backup Office 365 Mailbox – This Office 365 exchange backup tool smoothly archives single as well as multiple mailbox items to PST file format. After that, users can save it to the local server, desktop, hard drive & other external storage media. Impersonation mode is available to backup multiple mailboxes using the admin account.
Quickly Connects to Account – This Office 365 backup solution is programmed powerfully so that it can easily connect to an Exchange Online Mailbox account. Internet connection must be good for establishing connectivity between software and O365 account to fetch and backup Exchange Online data.
List Out O365 Data – Arrange complete Mailbox items into the tree-like structure on the left side within the best Office 365 backup solution. That helps to select the items from the huge collection of mailbox items and backup it without any confusion and easily save it to your system.
Various Quick Filter Option – The user can easily manage the process to archive Office 365 mailboxes to PST using multiple filter options. Like filter out selective data, Date filter to backup Office 365 data at the different time interval. Checkbox option to export particular Mails, Contacts, and Calendars into PST files.
Real-Time Progress Report – This best Office 365 backup solution offers a real-time progress status of the task. It shows the exact count of mailbox items (Mails, Calendar, Contacts) that are being saved to the destination location. There is a progress column as well in the tool which shows if the task is in process or completed.
Office 365 Backup Solution Versions
The best Office 365 Backup software is available in two versions:
Free Demo Version: To facilitate free testing of the Office 365 backup & restore Tool, the organization has launched a free demo version. As the name recommends it is made available for users as freeware and can be easily downloaded from the official site. It allows users to backup two user's accounts for free.
Licensed Version: The licensed edition is available, users can buy full version in order to backup mailboxes, more than 2 user's accounts.
Live Working of Best Office 365 Backup Solution
The software comes with a user-friendly GUI so that non-techie users can easily backup Office 365 mailbox on a local PC and later can export backup Office 365 to PST without facing any problem.
Follow Steps to backup O365 Mailbox items including Calendar/ Mails/ Contacts/ Documents:
Step: 1 You need to download, install and run the utility on your computer. Select Office 365 as the source and Outlook as the destination platform.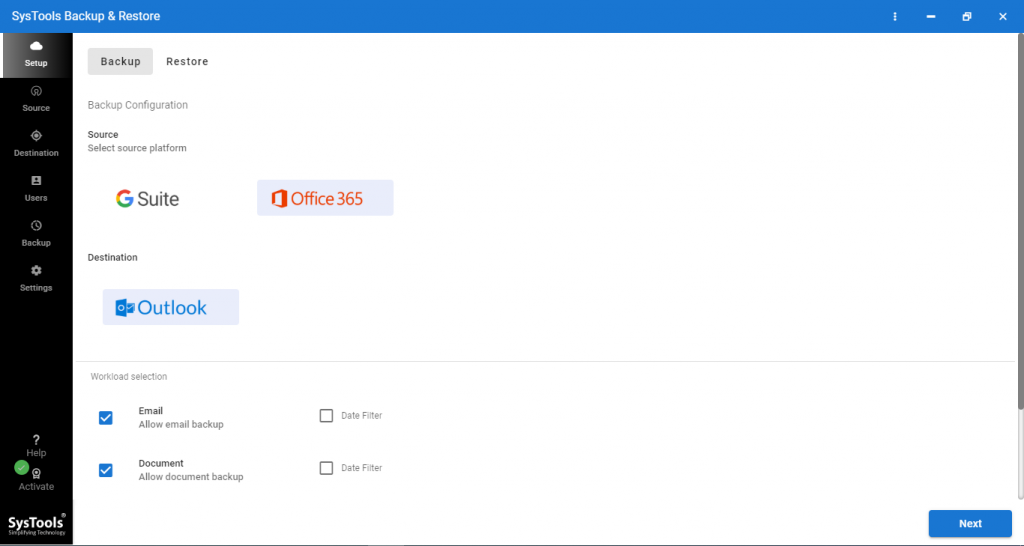 Step: 2 Choose the desired mailbox categories from the given options. Use the date filter option given in this utility for a selective Office 365 data backup solution.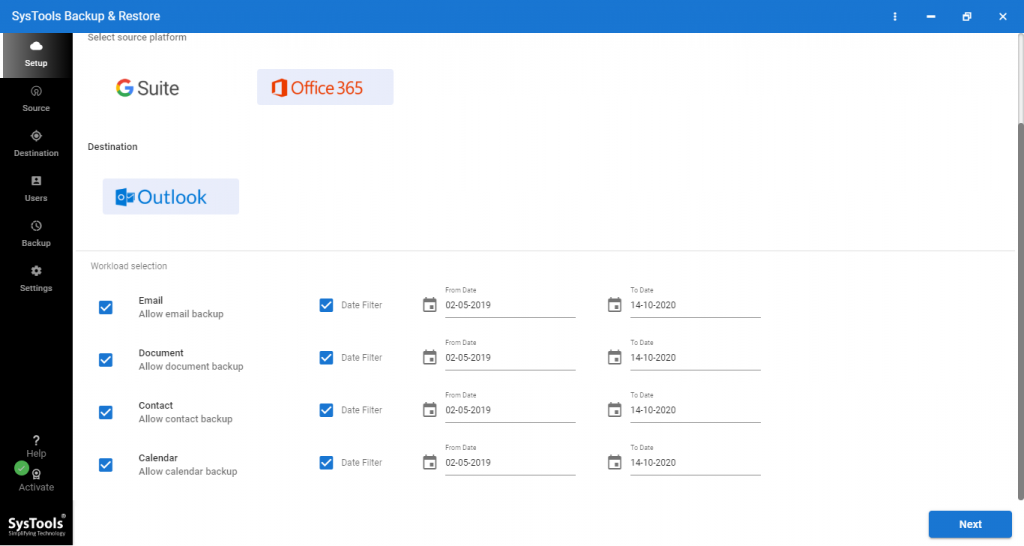 Step: 3 Now, you have to log in with Office 365 admin account credentials i.e Admin ID and Application ID and click next.
Step: 4 Browse for the destination location path, where the resultant PST file will be saved.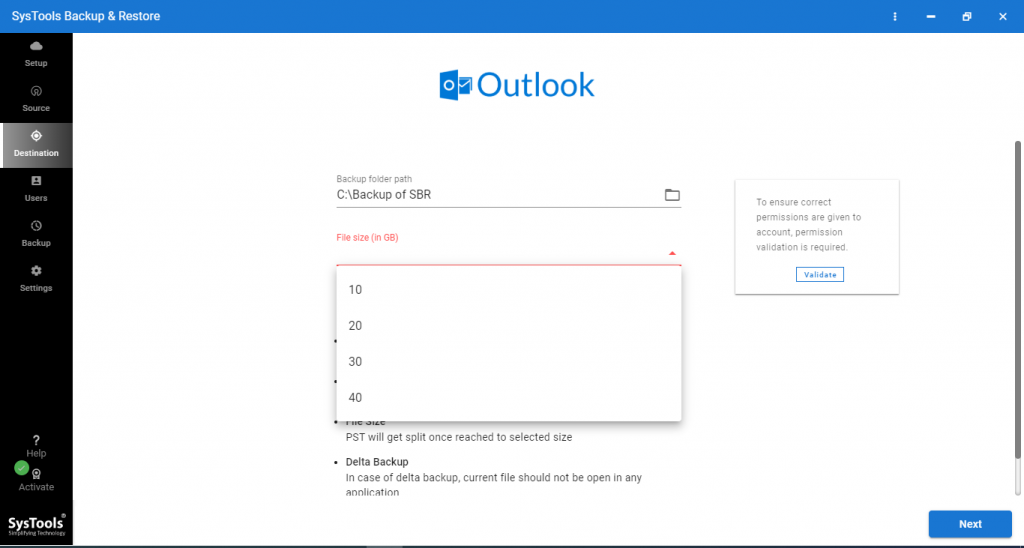 Step: 5 Now, select the desired user mailbox from the given list and click on the Start backup button.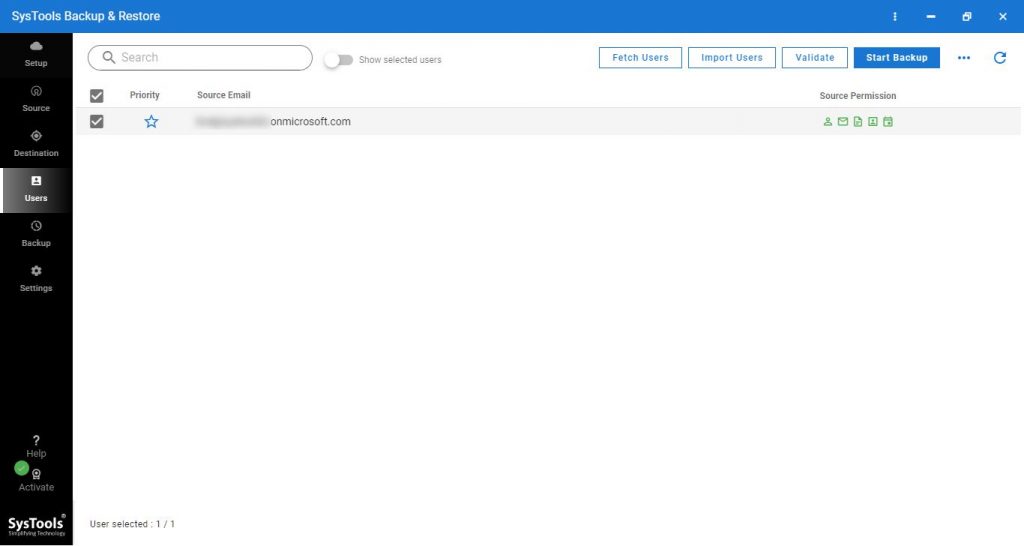 Visit to see full working:
https://www.systoolsgroup.com/office365-backup/how-it-works-new.html
The Bottom Line
On the performance and individual ratings, the tool is rated 9.6/10. Although the best Office 365 backup solution for mailbox items does not work for backing up one drive storage, it has proved itself a must-have utility to save office 365 mailboxes locally. To sum up, this tool deserves a trial.
FAQs
Does the tool allow to backup selective data according to a specific date?
Yes, this utility offers modern functionality and allows users to backup their Office 365 data selectively by applying a date-based filter from workload selection.
Does this tool save its user data or Office 365 account credentials on the server or any third-party system?
Not at all, the main motive of this tool is to keep user data safe secure, and intact throughout the whole backup process. Once, the backup process gets completed, the user can check all the backup data reports in the summary report provided by this tool.
Does this software possess any data limitation while backing up from Office 365?
No, this tool does not possess any limitation on data size while backing up from Office 365 to your local computer.