Archive Office 365 Mailbox to PST Outlook File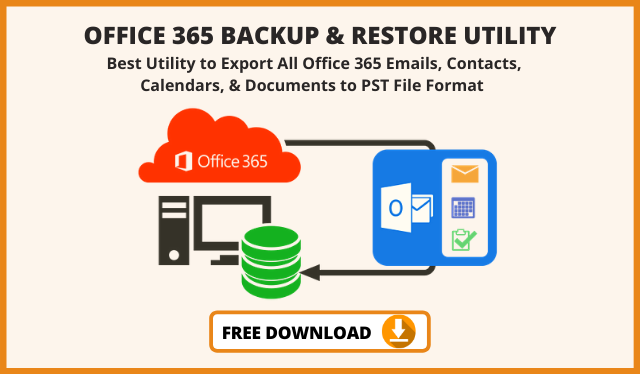 The goal of any business holder is to manage their piece of data from any unauthorized access so that they remain completely abstract. Office 365 is one of the most preferred suites that holds all the important entities like Outlook, Sharepoint, Yammer, Word, Excel, One Drive, etc. The data stored in their account is very important and they cannot risk any of the data. So, in order to protect the data from any type of loss, it's very important to archive Office 365 Mailbox to PST.
In this particular section, we are covering the way that will help the management of the firm or a local Office 365 user to manage their account. The users need to follow certain ways that can help the user to get a backup of their data. We would be covering both the manual as well as an automated tool to backup Office 365 emails locally. Both the methods work well but having a tool that exports Exchange Online to PST makes the whole easier. Your data on a regular basis gets back up and reports an error if there is any.
How to Archive Office 365 Mailbox to PST file
The users can add your Office 365 email account that contains the important information or the data that they want to backup. The method to archive Office 365 Mailbox to PST format, includes the process of using Outlook to move email, contacts, and calendar items from Office 365 mailbox to Local Outlook PST. Here's what you need to do:
The first step to backup Exchange Online mailbox to PST is to add your Office 365 email account to Outlook, when you do this, Outlook will automatically sync with your Office 365 account. You will see all the data items of your Office 365 mailbox appears in Outlook.
Now choose from export instructions to export your email from the source account to archive Office 365 Mailbox to PST
As you choose the export option you would get the browse location option to export your export exchange online archive to PST files.
After that, the email data is exported to a .pst file which is portable. The user gets the PST file that can be imported into any other email accounts.
As the archive Office 365 Mailbox to PST will totally complete the biggest problem with this method is that user needs to have the Outlook account already installed in their system. Also, the method that we follow to export Exchange Online to PST Outlook sometimes includes some technical errors or bugs due to which all the data is not exported to PST format.
Important Note: Users can also import Outlook data file to Office 365 using this single utility. This option gives this tool an edge over other tools.
Archive Exchange Online Mailbox to PST Easily
One of the points that we have covered in the process to export Office 365 to PST file includes user need to have Outlook installation in the system moreover the whole process would take a legitimate amount of time to archive Office 365 Mailbox to PST. The best Office 365 backup solution will help you to take the backup of the entire account within few mins. The interface of the tool is so attractive and easy to use that clients can easily archive Exchange Online mailboxes.
How to Archive Office 365 Mailbox to PST Using SysTools
Follow the below steps to archive Office 365 emails and docs to PST file format using above discussed software
Detailed Working Steps to Archive Office 365 Mailbox to PST Outlook File
Step: 1 Download the above wizard on your system and launch it. Opt for Office 365 and Outlook as the source and the destination backup platform.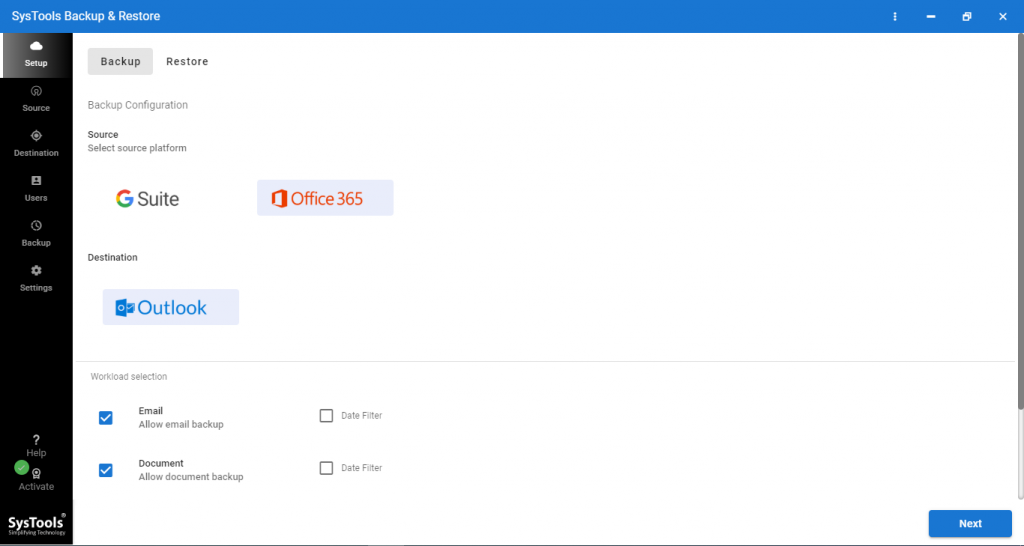 Step: 2 Enable all the required mailbox categories checkbox like, emails, contacts, calendars, and documents from the given options. Also, use the smart Date filter option for specific data backup based on a particular date range.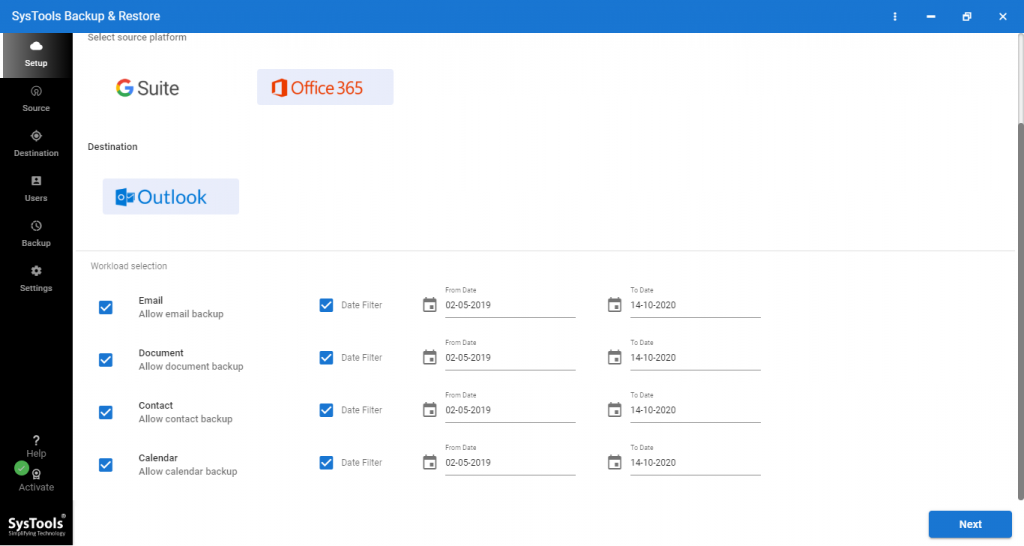 Step: 3 Sign in with the admin account details like Admin ID and Application ID and click validate button for required permission validation.
Step: 4 Specify the desired location destination and path on your computer storage for saving backup resulting PST file.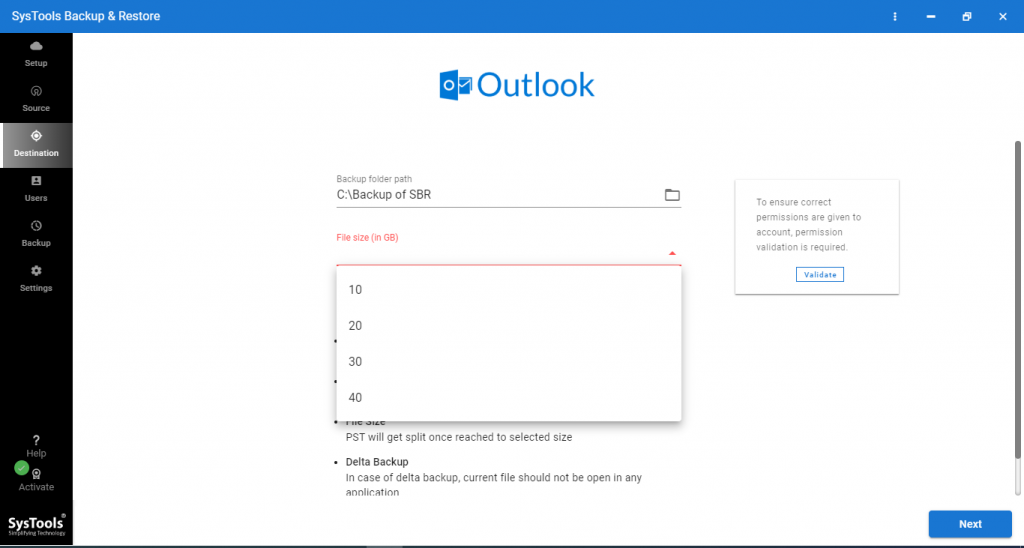 Step: 5 Click on the desired Office 365 account and hit the Start backup button to initiate the backup process.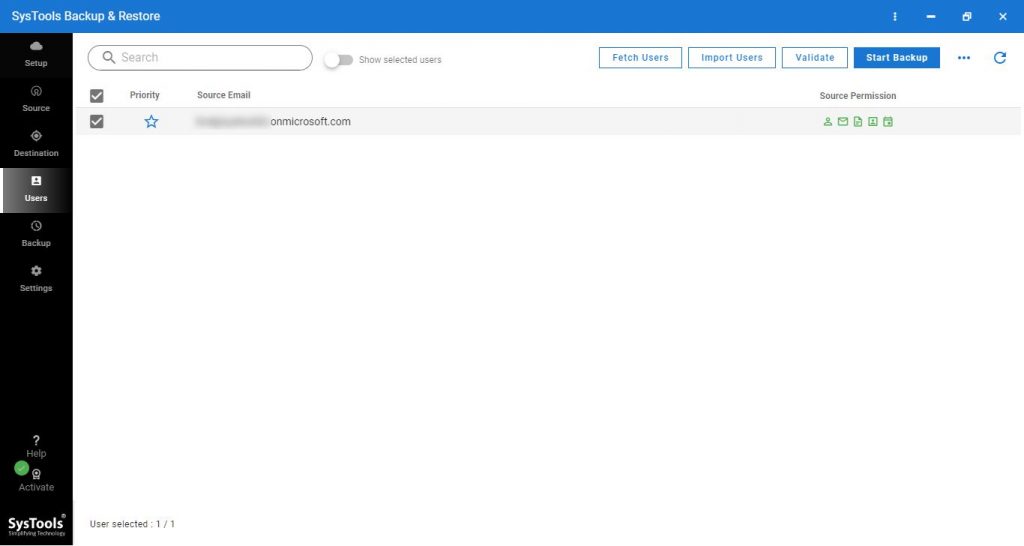 See Full Working: https://www.systoolsgroup.com/office365-backup/how-it-works-new.html
Verdict
The method to backup Office 365 to PST format is quite simple to follow, the method and steps to archive Office 365 Mailbox to PST could be done manually or using some tool. Performing such an imbecile step, again and again, would cause a lot of time waste so to fasten the process the tool will easily migrate Office 365 data to local Outlook file format.
Some Frequently Asked Queries
Can we backup mailbox data specifically base on a date or something with this software?
Yes, this utility comes with a built-in date-based filter for selective data backup that can greatly reduce time and effort.
Can this software store our personal user data on their server?
No, this tool never saves any user data or Office 365 account credentials to its server or any third-party systems.
Does this tool keep data structured at post backup stage?
Yes, this is an advanced utility that ensures 100% data integrity and security, keeping the data structured and hierarchy.