Migration from Domino Server to MS Exchange Made Easier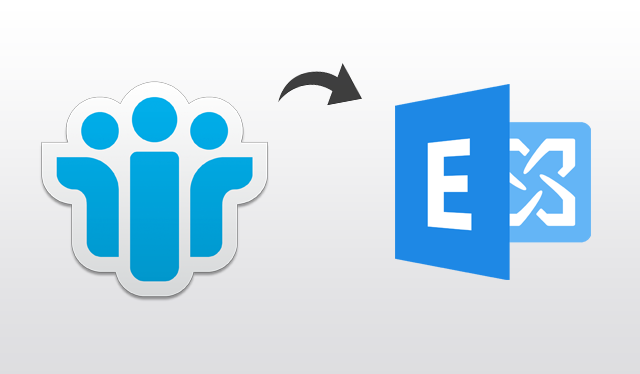 In this today's fast growing world, both IBM Notes/ Domino and Microsoft Exchange Server are used as an emailing application. Often times, most of the Lotus Notes users come up with the need to process migration from IBM Domino to Exchange Online.
This can be due to various reasons such as changing business needs, Exchange offers better data management options and much more. But, still, there are some users who are searching for a proper solution to migrate from Domino Server to Exchange 2019, 2016, 2013, 2010 and other below versions.
Both the applications offer a variety of features that are widely used in the corporate world. But, Microsoft Exchange provides more attractive features as compared to Domino Server that is why more users are moving towards MS Exchange. Apart from all this, there can be any other possible reasons also behind the conversion.
But, the main issue is that users need a secure and reliable solution to efficiently perform Lotus Notes to Exchange Migration for all Exchange Server versions without any complexity. Therefore, this blog is created for those users only who want an effortless solution for conversion process.

Why Users Want to Migrate from Domino to Exchange?
There can be "N" number of reasons for users moving from one email platform to another. Some of those reasons are listed below:
Exchange provides more user-friendly interface compared to Domino.
Microsoft Exchange is capable of enhancing the enterprise services.
It provides unified communication platform and built-in enterprise mobility.
The archiving, storing and restoring services are better in Exchange Server.
It provides low cost and better storage options when compared with Domino.
It offers full access to mailbox data from anywhere via Outlook Web Access, Entourage, etc.
Microsoft Exchange Server is a largest on-premise email application available in the market.
Manual Method to Migrate From Lotus Domino to Exchange Server
Exchange Server has the new MS Transporter Suite for IBM Domino that provides new and updated software in a single suite. In the similar way that Microsoft Exchange is equipped with Exchange Management Console, this transporter suite is equipped with the Transporter Management Console.
It becomes easy for the administrators to adapt it quickly as it is presented in the familiar interface. In addition, as MS Exchange Server uses Exchange Management Shell, Transporter Command Shell is used by the Microsoft Transporter Suite. Administrators can take full advantage of these powerful shell commands to perform any type of task like migration from Domino to Exchange Server.
To perform this task, transporter suite consists of 5 different components:
Directory Connector: To synchronize the objects between the Lotus Domino Directory and Active Directory.
Free or Busy Connector: Provides Outlook & Lotus Notes users the ability to perform the calendar free or busy queries between the two systems.
Directory Migration: It allows users to create a new AD user accounts for the Domino Directory users.
Mailbox Migration: It performs data migration from Domino Server to Exchange mailboxes.
Application Migration: It permits migration of Domino applications to MS SharePoint.
Drawbacks of Using Manual Solution – Why Manual Method is a Failure?
There are various limitation of migrating from Lotus Notes to Exchange Server manually, which are discussed below:
The complete process of Lotus Domino to Exchange Server Migration is very slow and time-consuming. It is because it export only single item at a time.
Also the above discussed solution is to migrate from Domino to Exchange 2007 version.
While moving to Exchange Server, there is a co-existence between IBM Notes and Exchange Server.
The manual solution is not so simple to perform because a user has to move each email and other items like contacts, calendars, etc. separately.
Thus, it becomes very complex for the users to perform migration from Domino to Exchange manually and there are chances of data loss as well.
The Perfect Alternative to Migrate from Domino to Exchange 2019, 2016, 2013, 2010
As we can see that the manual solution has some limitations, which can further create issue. Moreover, the migration from Domino Server to Exchange Server is always a crucial task to perform. Therefore, it is always recommended to use a trusted third-party solution. One such popular tool is SysTools Lotus Notes Mail Conversion Utility.

This application is mainly designed to migrate IBM Domino Server to Exchange 2019, 2016, 2013, 2010, 2007 in just a few number of clicks. It exports all data stored in Domino mailboxes like emails along with attachments to Microsoft Exchange without compromising data integrity. In addition, always keep in mind that Domino Server environment is necessary to perform the migration successfully.
Conclusion
Migration from Domino Server to Microsoft Exchange has always been an critical process. It is because if the process is not completed successfully, then there will be huge loss of crucial data. Therefore, to avoid any such situation, it is recommended to use a foolproof solution.
A user can use a third-party tool suggested above to migrate from Domino to Exchange 2019/2016/2013/ 2010/ 2007 as it is one of the reliable software recommended by the experts.