Import Excel Contacts to Outlook Mac 2019, 2016, 2011 Using This DIY Trick
If you're searching for the solution to import Excel contacts to outlook Mac then, you have landed on the right solution page. Here we will show you a really simple and 100% working technique to import contacts from an Excel Spreadsheet to Outlook Mac just in a couple of clicks. So, tighten your seat belts and get started!
Before initiating import contacts from Excel to Outlook for Mac process, there are a few things you have to keep in mind:
If you have exported the Excel contact file from some email client or platform like Google Contacts, Windows Outlook, Mozilla Thunderbird, etc., then make sure this Excel file is opening correctly and is not corrupted.
The Excel file must be formatted correctly and the first line of the Excel Contact File should be labeled with contact field names. For example, Name, Contact, Address, Business, Department, etc.
Make sure your Excel contact file extension is .xls, .xlsx, .xlsm. If it is not then, open this file in MS Excel and click on File >> Save As. Then select XLS / XLSX / XLSM file format and save it.
Import Excel Contacts to Outlook Mac
Since there is no direct option provided by Mac Outlook to import contacts from an Excel file directly so, what we have to do is, first make this Excel file Mac Outlook compatible and then, import the converted file into the Mac Outlook address book to execute import contacts from Excel to Outlook for Mac process. Below are the steps to do the same:
The first thing you have to do is download Excel Contact Converter on your Mac computer and then launch it.
Tip: In case you are using a Windows computer to perform the Excel file conversion, then it is suggested to download the Excel to VCF Format Online Converter Tool to convert the Excel Contacts file into vCard. Once done, with the conversion, follow the same set of instructions given here to import contacts from the converted vCard to Mac Outlook.
Click on Add File(s) button and navigate to the location where your Excel Contact File is saved. Add this file to the software and click Next to proceed to import Excel Contacts to Outlook Mac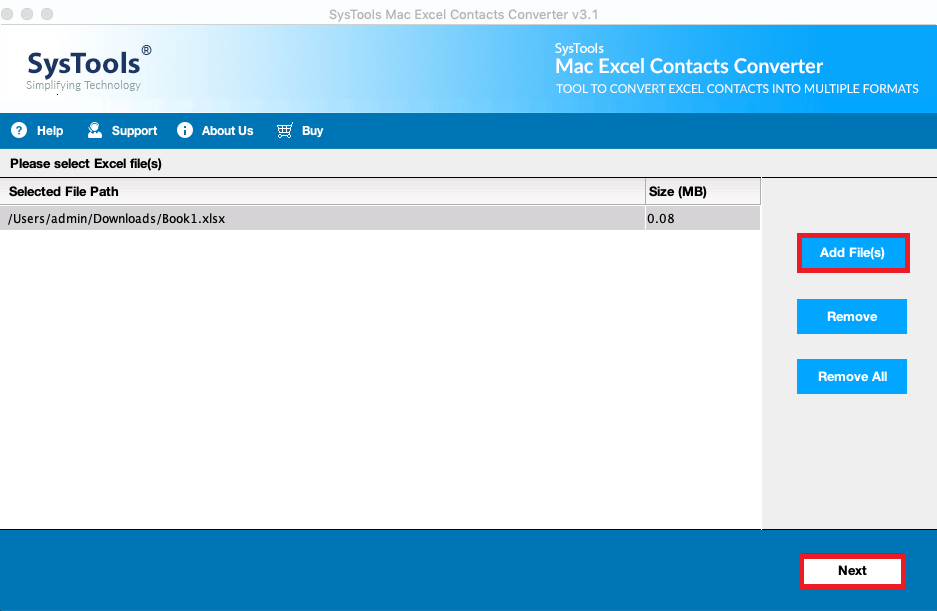 Now, you can select PST or VCF as an export option because you can import both file types to Mac Outlook.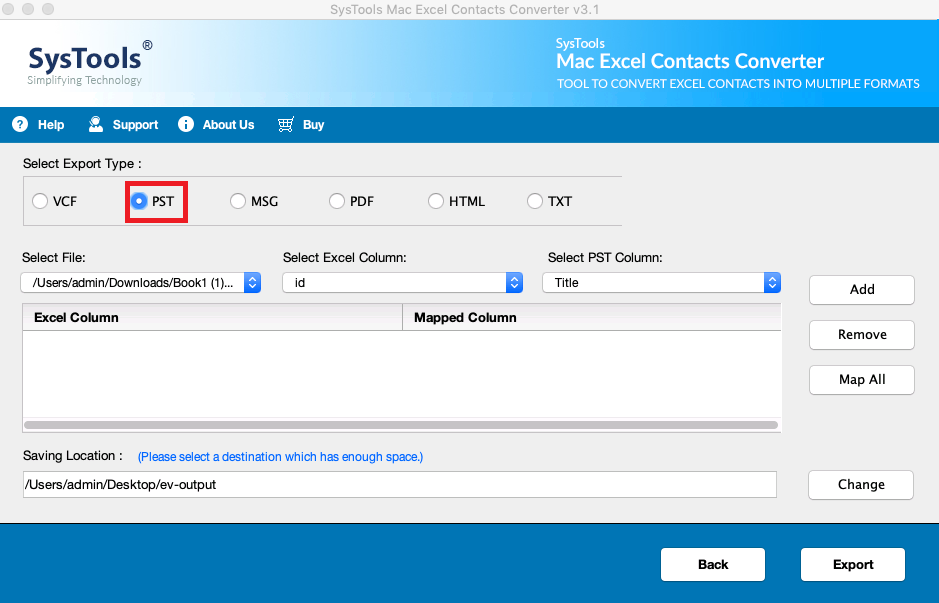 Selecting the VCF file format will give you the following customization options:
Create Single vCard Per File: In case you have added multiple Excel Contact Files then, choosing this option will create separate VCF files for each Excel file added. In case you will leave this unchecked, then all the added Excel Contact Files will be exported into a single vCard file.
vCard Version: The software will allow you to export Excel File Contacts into vCard v2.1, v3.0, and v4.0. You may select any of these versions (v3.0 or v4.0 is recommended) as Mac Outlook supports all these vCard versions.
vCard Type: As you are going to import this vCard further to Mac Outlook so it is suggested to choose Mac vCard.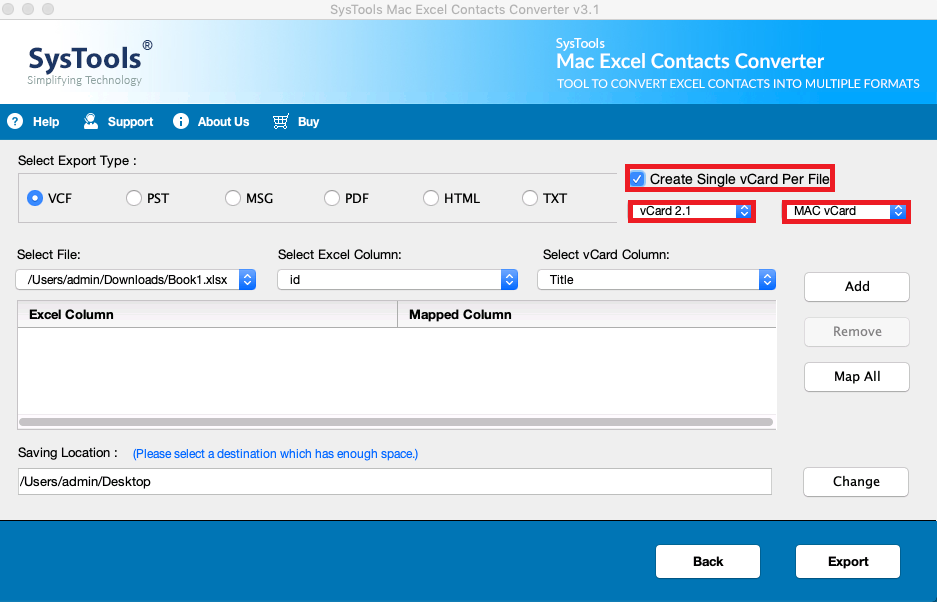 After customizing your resultant file format, map Excel File Contact Fields with vCard / PST Columns manually or automatically. Browse a destination location for the output file and hit the Convert button to start importing Excel Contacts to the Outlook Mac process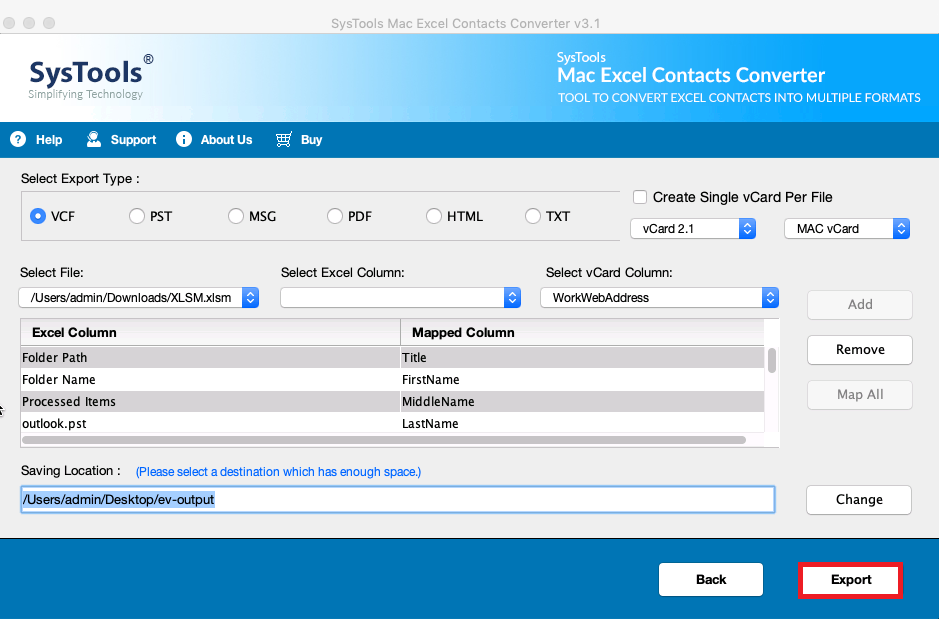 All the Excel file contacts will get converted into vCard / PST (whatever is selected) file format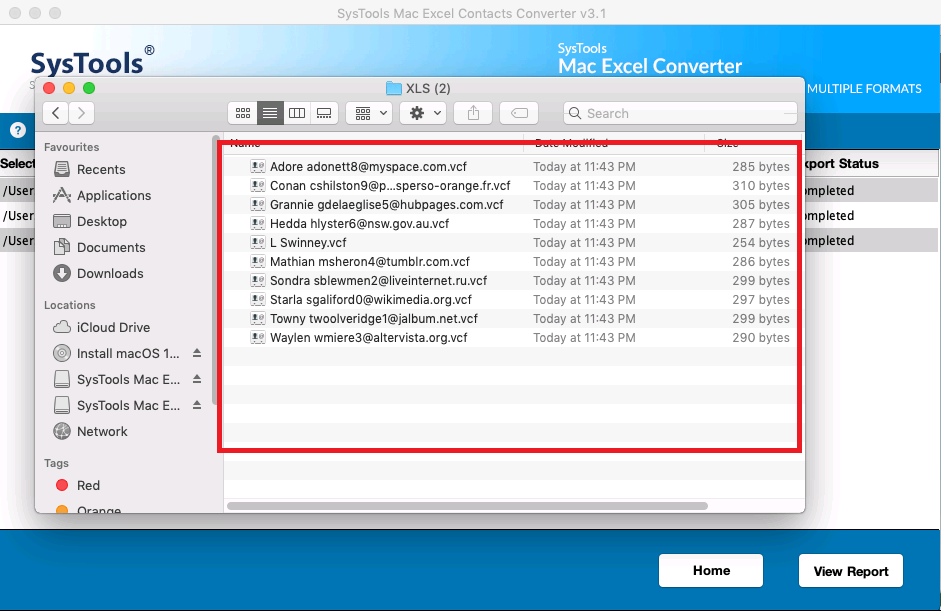 Import vCard to Mac Outlook
Compose a new email, attach the converted vCard to it and send it to your Mac Outlook email address
Open this mail on your Mac Outlook and click on the attached Card
The vCard will get open in the Contacts window. Click on the Contacts tab. Click Save & Close
Import PST to Mac Outlook
Open your Outlook for Mac and click on the File >> Import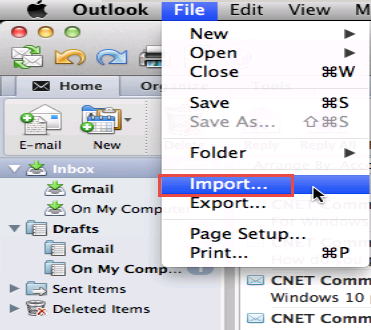 Select Outlook for Windows archive file (.pst or .olm) and click Continue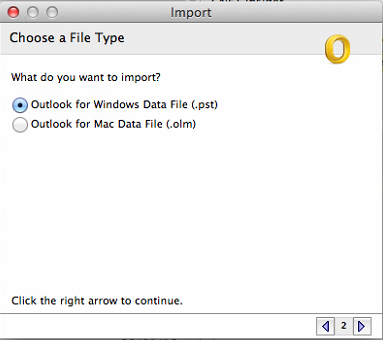 Locate the converted contacts PST and click Import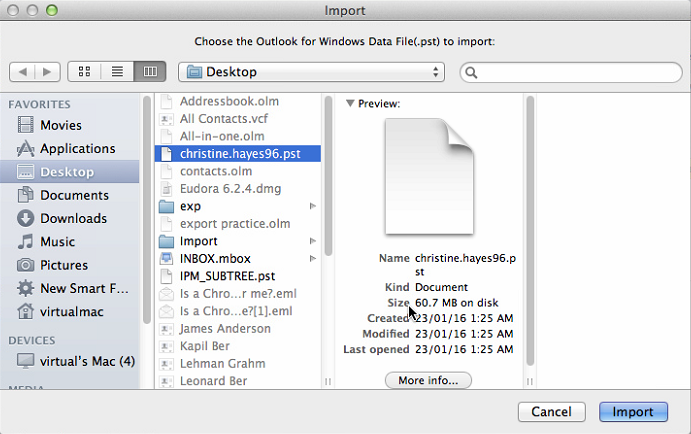 Once import contacts get done, click Finish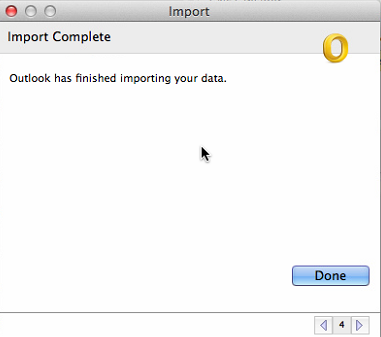 All the imported Excel file contacts will get synchronized automatically with your Mac Outlook Contact List and the imported contacts will appear in Mac Outlook Address Book List.
Conclusion
In the above article, we have mentioned the best possible solution to import Excel contacts to Outlook Mac. Also, we hope you understand the solution mentioned above. So, this software mentioned above is safe and secure. Just download now and solve your problem!
Also Read: How to Import Excel Contacts to WhatsApp