How to Move PST file from One Computer to Another?
How do I transfer Outlook PST file to new computer? If you have the same query and looking for a way to do the same. This blog discusses the step by step method to move PST file from one computer to another computer or location.
Microsoft Outlook is widely used desktop-based email client application and stored data in PST file format. PST file contains emails, contacts, calendars, and other data items. It is tough for the users to transfer Outlook data from one computer to another. But you don't need to worry, here in this post you will get the complete answer to this query. First, let's know why users needs to move data to new PC.
Reasons Behind Transfer Outlook PST File to New Computer
There can be many reasons when users need to transfer PST to new location or PC. Sometimes users may have to reformat or discard their computer for various reasons, such as due to a hardware failure, an unexpected data loss, etc. In such situations, users need to move Outlook data files to a new computer to protect their data.
How Do I Move PST File from One Computer to Another? – Solution is Here
You cannot share or synchronize PST files between one computer and another computer. However, you can still transfer Outlook PST file to new computer by copying from the existing system and then importing to the Outlook on another computer. Let's us discuss both steps one by one.
Step 1: Copy & Export Outlook PST File
First you need to close the Outlook application and then perform the below steps:
Click the Start button
Go to Run, type Control Panel and click OK.
In the control panel, click on User Accounts.
Double click on Mail icon
Click on Show Profiles and select the suitable profile.
Click on Properties and then click Data Files.
Under Name, click on the Personal Folders Service to backup PST file. Copy the path name. (Note: If your profile contains more than one personal folder service, make sure that each PST file is backed up separately.)
Close all windows, open Windows Explorer or My Computer and paste the path in the location bar on the top and press Enter.
You can see the PST file now.
Just copy and paste it at another location on the hard drive, external drive or any removable storage drive to take a backup.
Step 2: Import PST File from Another Computer
Open MS Outlook. Go to the File and click Open & Export >> Import/Export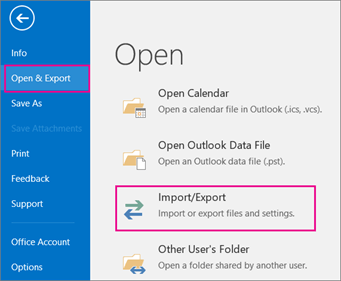 Click Import from another program or file and hit the Next button.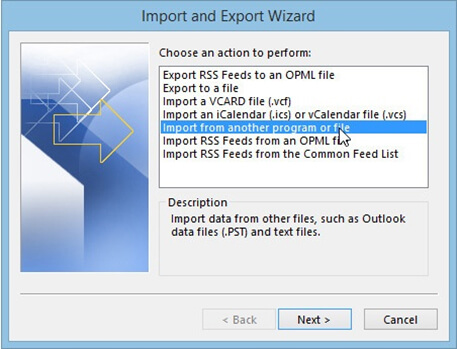 Select Outlook Data File (.pst) and click Next.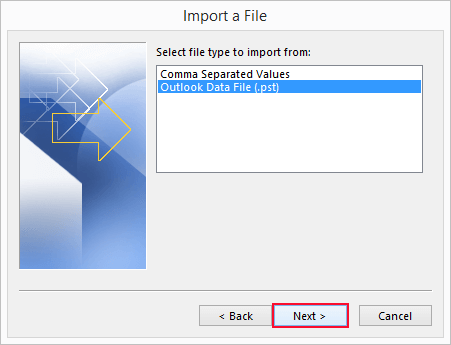 Click Browse and select the PST file you need to import.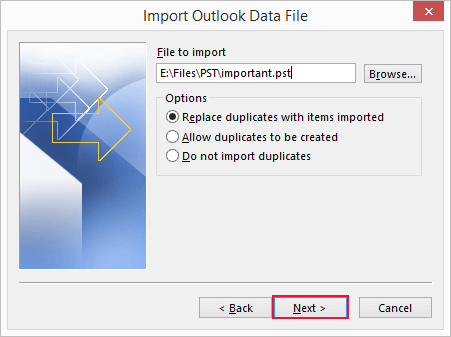 Under Options, select the required options and click Next.
Select the folder you want to import and also check the include subfolders box.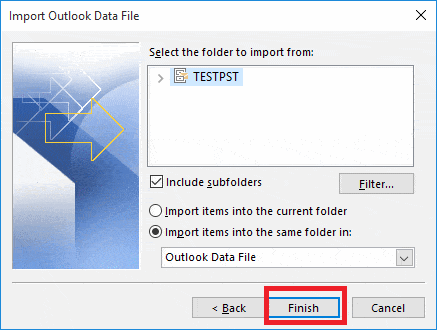 Click on the Finish button to start importing PST file process.
This is the complete way you can move PST file from one computer to another computer or location. Moving the PST file from one computer to another may damage your PST file. To get rid of this issue and repair PST file, you Outlook PST File Recovery Software. Or if you have multiple PST files and you want to merge them into a single file, then you can try the PST Merge tool.
Final Words
Generally, there is no direct method to transfer Outlook PST file to new computer. However, we mentioned the possible indirect ways that helps you to transfer outlook data from one computer to another or location by creating backup PST and import PST file on another PC. You must perform all the steps carefully to avoid data corruption. This is all about you can use to move PST file from One Computer to another. Otherwise you can go with the third-party tools to transfer Outlook data files.