How to Extract Elements From PDF – Use This Instant Tool
Do you want to know how to extract elements from PDF files? Elements like PDF attachments or images.
This PDF Extractor by SysTools can extract attachments like another PDF document attached to the main PDF or Excel spreadsheet, Word, PPT, Audio, etc.
It can also extract images having .jpeg, .png, .gif extensions. With this, it can extract inline images, illustrations, or graphics that appear inside a PDF document. These are simply called as embedded images.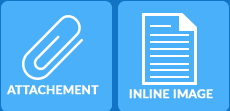 In this blog, I will tell you how to use this tool to extract elements from PDF files. This tool was created with these people in mind – legal professionals like lawyers, paralegals, legal IT, and people associated with enterprise-level businesses. You can say it is an ultimate tool that can be used by professionals and non-professionals as well.
This tool is available for both Windows and Mac operating systems.
For Windows: Microsoft Windows 10, 8.1, 8, 7 & Windows Server 2008, 2012 R2, 2016

For Mac: 10.15 (Catalina), 10.14 (Mojave), 10.13 (High Sierra), 10.12 (Sierra), 10.11 (El Capitan), 10.10 (Yosemite), 10.9 (Mavericks), & 10.8 (Mountain Lion)

Note: You need to download Java JDK 1.8.0 & JRE 8 to run this tool on the Mac machine. You can download it from HERE.
Now, let's dive into its working!
How to Extract Elements From PDF Using The Tool
You can download this tool's free demo version. The free version can extract 1 element from 5 PDF files. Follow these to extract attachments and inline images from PDF files:
1. Run this Software for Windows or Mac OS & click on either "Add Files" or "Add Folder".
Note: By default, the tool will create individual folders for each extracted element. If you want all extracted elements in a single folder check the option "Create Single Folder Only".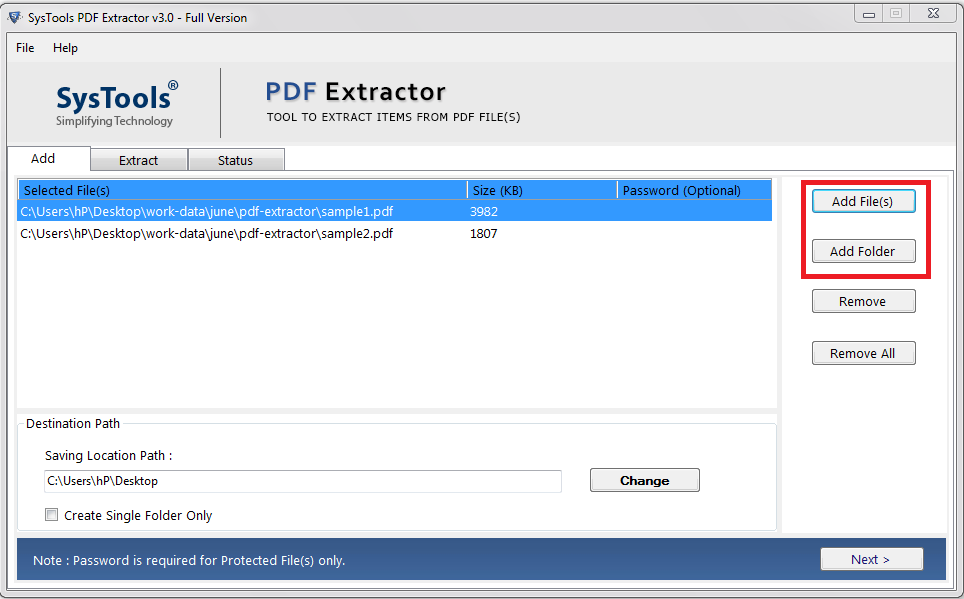 2. Select the "Element type: Attachments or Inline Image" and apply filters as per your choice.
Note:
A. In Mac, the Inline Images option is mentioned simply as "Images".
B. For images that are there as attachments in the PDF file, select the "Attachments" option.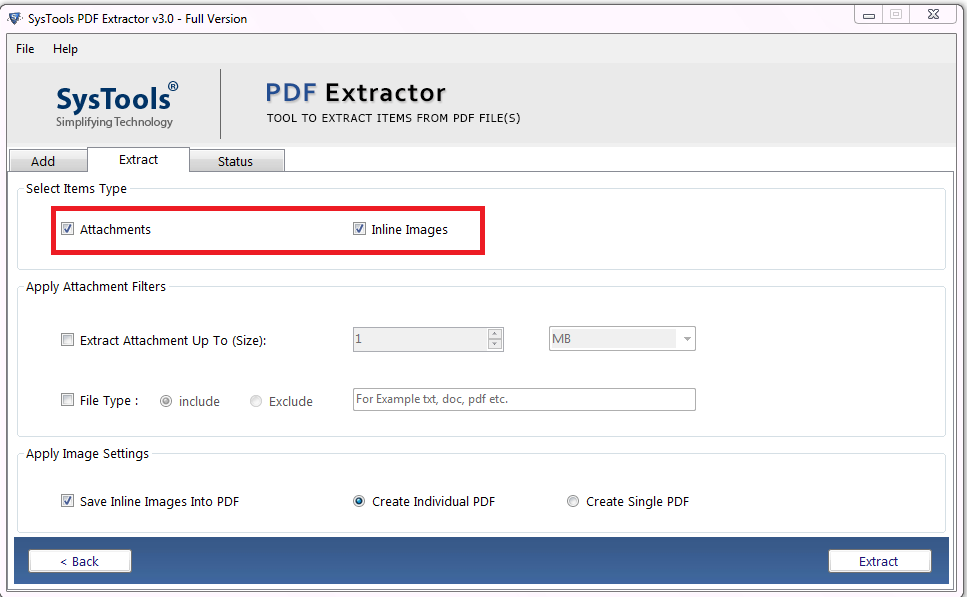 3. Click on the "Extract" button to start the extraction process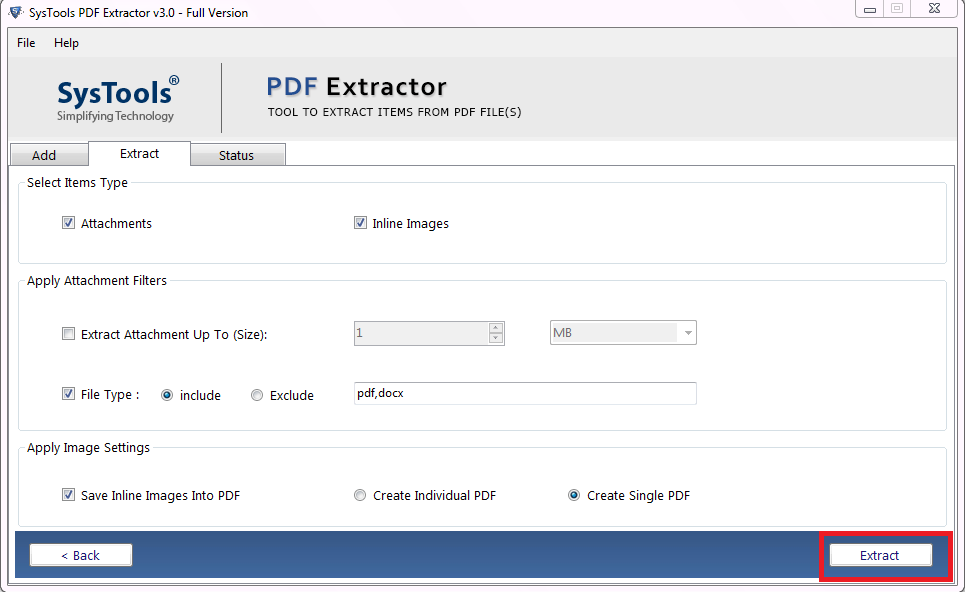 4. After completing the extraction process the following message will be displayed. Click OK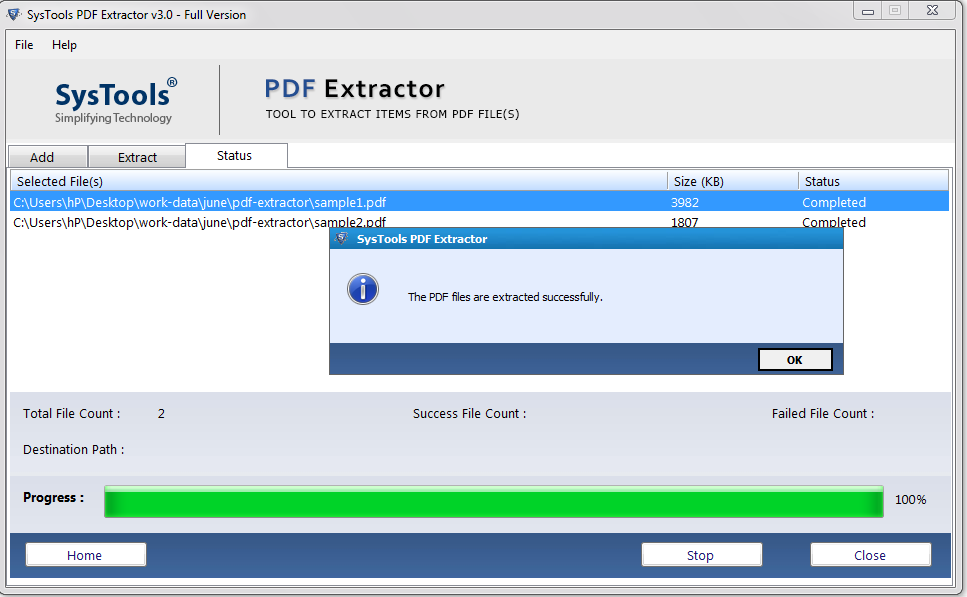 Various Filters and Image Settings Options
Now, you know how to extract elements from PDF. Now let's talk about various filters and image setting options that come with the tool.
1. Apply Attachment Filters
In the tool, you can see there is a section to apply filters to the attachments extraction process.
A. Extract Attachments Upto (Size): With this option, you can specify the size of the attachment files that you want to extract.
B. File Type: Under this, you get 2 options – Include & Exclude. You can choose this option and specify which files to include or exclude while extracting elements from the PDF.
2. Apply Image Settings
Here you get options to save your extracted inline images as PDF:
A. Save Inline Images Into PDF: Using this option you will get extracted inline images as a PDF file. Under this you get 2 options:
Create Individual PDF: Create individual files for all extracted inline images
Create Single PDF: Create a single file for extracted inline images from the PDF files.
With all these features and filters, this tool gives you full control over the type of attachments or inline images you want to extract from PDF files.
Points to be noted:
1. If your PDF file has an opening password, you have to provide the password to extract the elements.
2. In the case of restricted PDF or PDF having owner-level restrictions, this tool can still extract items from the PDF.
Conclusion
In this blog, you learned how to extract elements from PDF files. You can easily extract any type of attachments files and inline images of any file type like JPEG, PNG, GIF, etc. Also, you have full control over the size and type of attachments. You can also save extracted inline images in a PDF file. Lastly, you have the option to create a single file consisting of all your extracted elements or you can create individual files.
Also Read: Extract Text From PDF