A Beginner Guide to Extract Icons From PDF Documents
Samuel Adams | January 6th, 2021 | How to, PDF
Hi, everyone! I had more than a dozen of icons in my PDF catalog. I want to extract icons from them so that I can use them in print media or on a website. When I was in the process of extracting icons from a PDF file, but due to certain issues, I am unable to export icons from a PDF document. Is there any software that can extract the icons from a PDF file?
Quick Solution to Extract Icons from the PDF File
PDF users of all levels and industries who are in need of extracting icons from PDF files, reports, catalogs, etc. can utilize this PDF Extractor Tool offered by SysTools. The program is designed to help the organization to manage data extraction from PDF documents. The utility meets all the expectations of the enterprise users and also focusing on ease-to-use for users who may be new to data extraction.
Additionally, you have many more options for exporting icons from the desired pages of PDF. You can choose those pages from where you want to extract such as odd pages, even pages, page range, page number, etc.
Available for Windows & Mac
It is a handy tool for users having Windows and Mac operating systems.
Supported Windows OS are 10, 8.1, 8, 7, and Windows Server 2008, 2012 R2, and 2016.
Supported Mac OS X versions are Mac OS X 10.15 (Catalina), Mac OS X 10.14 (Mojave), Mac OS X 10.13 (High Sierra), Mac OS X 10.12 (Sierra), Mac OS X 10.11 (El Capitan), Mac OS X 10.10 (Yosemite), Mac OS X 10.9 (Mavericks), MacOS X 10.8 (Mountain Lion)
Let's dive into the working of the tool!
How the Software Works to Extract Icons from PDF documents?
In this step-by-step guide, we will show you how to export all icons from a fully completed PDF catalog. The first thing that you need to do after launching the application is to follow the steps to extract icons from PDF documents.
1.Run the software for Windows & click on "Add Files" / "Add Folder".
2. Select the "Item type"as Image and "Apply Filter".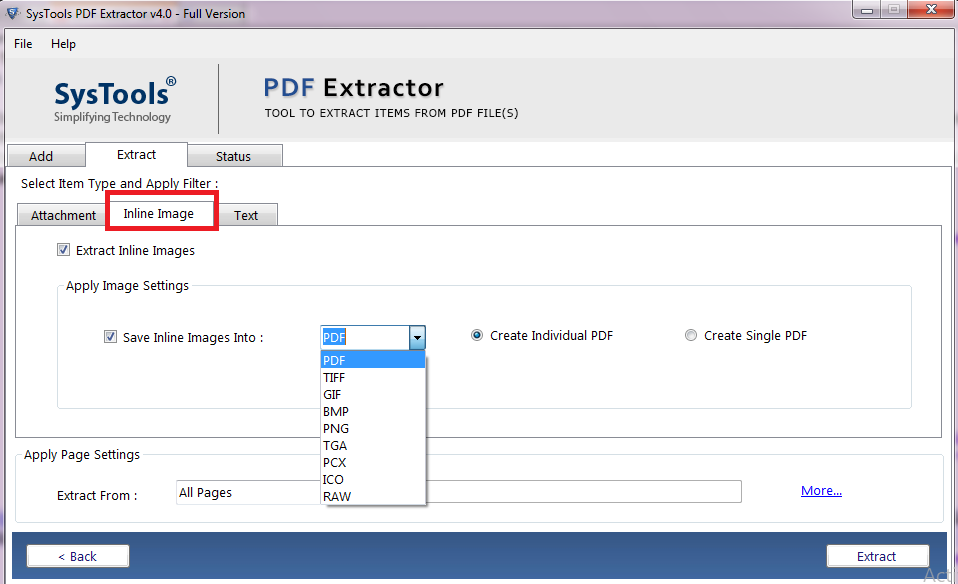 3. Now, Apply Page Settings to extract icons from selective pages of PDF.
4. Click on the "Extract" button to begin the PDF extract process.
5. Now, the "tool starts to extract items from PDF" & displays the pop-up message.
This is how you can extract all icons from PDF documents by using this versatile software.
In addition, it offers an extensive variety of functionalities that we have explained in the subsequent section.
Other Functionalities/ Features About the Tool
Here, we have listed some of the best features that are offered by this software which you don't get in other extractors.
1. Extract Icons from Password Protected PDF File– The tool lets you extract all icons from a secured PDF file.
2. Export images from Adobe PDF-.You can even extract images from PDF in their original resolution. Moreover, there will be no file formatting done by the tool all data remains as it is was before.
3. Bulk Extraction ofIcons from Multiple PDF files: You can perform batch extraction from PDF document that means you can extract icons from multiple PDF files at once This feature saves your time and effort to perform extraction on numerous PDF files.
4. User-friendly and Intuitive Interface: The task of extracting icons from PDF using this tool becomes easier because of the GUI of the tool. The GUI of software is user-friendly and self-descriptive in nature.
5. Shows Progress Status: While performing the export process tool will show the progress status. Also, it will show the size of each PDF document that you add in the software in KB. Besides this, other details like Total file count, success count, failed count, and destination path will also get appear in the software panel.
Winding Things Up
The purpose of this blog post is to provide a solution on how to extract icons from PDF. We have explained the automated tool that helps users to export icons from PDF files. It is an excellent program for users that want to export icons for multiple PDF documents on a regular basis. Moreover, you can extract attachments, images, and text from PDF files.