How to Repair Outlook PST File Over 2GB – Fix Huge PST File Problems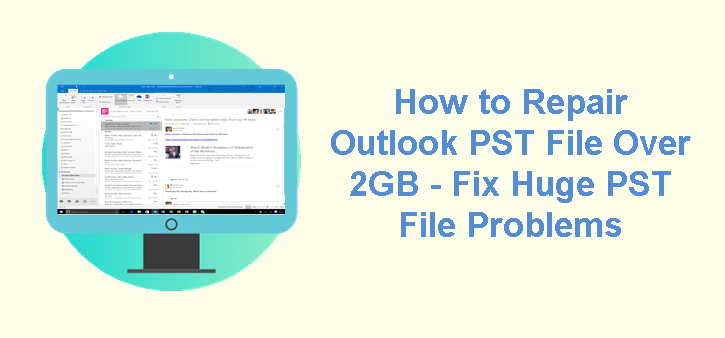 The post deals with the ANSI PST formed in the older versions of Outlook. However, it is possible to generate an ANSI file in newer versions, but be default UNICODE file is created, which offers a file size up to 1 TB, where 50 GB is suggested.
Now, in previous versions of Outlook, Microsoft limits the size of the file. Both OST and PST files can have a maximum size of 2 GB. If any changes are made, or due to other reasons, the size of the Outlook data file crosses 2 GB, a user cannot access this file. If he/she will delete data items from a server mailbox, the Outlook OST file will not be synchronized. At that time, users want to know how to repair Outlook PST file over 2GB.
Quick Solution –
If your PST file is corrupted and the size of the file is over 2GB, then you can try this tool to fix the how to repair Outlook PST file over 2GB. The tool offers no boundaries and limitations while repairing the Outlook PST file.

Learn How To Check Format of Outlook Data File
To know about the format of Outlook file, users have to follow these steps:
On the top level folder, right-click and select the option of Properties (In Outlook 2010 and newer versions, choose Data File Properties)
If the format is specified as Outlook data files and you are working in Outlook 2003 and higher editions, it is a UNICODE file
If the data file is mentioned as Outlook Data File (97-2002), it is an older ANSI file. The file size is limited to 1.9 GB and it does not contain more than 65,000 items per folder.
How to Repair Outlook PST File Over 2GB
There is no inbuilt method to lessen the size of OST or PST file which has already crossed the limit. However, Microsoft equips the user with a tool named as, PST2GB. This can be downloaded to fix Outlook 2000 PST files over 2GB so that users can operate on it. But, the application trims the data between 20 to 50 MB. This cropped data cannot be recovered. The data left under 2 GB should be restored.
If you want to repair Outlook PST file over 2GB, you can use a tool called a hex editor. This can edit the data from the Outlook file directly. Every shareware site on Windows has a selection of hex editors. It is recommended to use the iHex editor, which is capable of loading only 64kb of a file at a particular time. It makes this tool an ideal choice for fiddling with large-sized PST files.

You have to make a backup of your OST or PST file.
In the next step, open the original file and use a hex editor.
Then, you will want to remove some characters in the middle of the file followed by saving this file.
Afterward, run Outlook Inbox Repair Tool i.e. Scanpst.exe. It will be used to repair the damages caused by using Hex editor.
If the file has been completely repaired using scanpst.exe, then it can be opened using Outlook. In case, you are unable to open this file, attempt to remove some other characters from the Outlook file.
If this method works, only one or two data items will be lost. Around 100% of data will be recovered by repeating the process. For this, a new copy of the file should be taken and the data should be removed from a specific area. In other words, the location of data should be interchanged.
Way to Prevent PST File From Growing Too Large
Starting With Microsoft Office XP Service Pack 1, MS Outlook equips with better care against PST and OST file from becoming an oversized file. Once OST and PST reach 1.82 GB, users cannot add more items to it.
Alternative Method to Repair Outlook PST File Over 2 GB
No doubt, the manual method discussed above is an effective solution to fix multiple Outlook PST file over 2gb. But, the problem is one or two data items are lost. In order to ensure 100% recovery, users can use an automated tool like Outlook PST Repair Tool. According to professionals, it is a perfect solution to fix damages caused by a large-sized Outlook data file. Then, the file can be accessed without any issue.
Also, the tool provides you a feature to recover deleted data from Outlook PST files if the files or folder is deleted due to file corruption or any reason. By using this tool users can easily export data into various file formats such as EML, PDF, MSG, HTML, and others.
Final Words
Many times, the size of ANSI PST crosses the defined limit of 2GB, and hence, it becomes corrupted and inaccessible. The post explains a workaround solution to fix Outlook PST files larger than 2GB. However, an automated tool is also introduced to repair Outlook PST file over 2GB easily. This program is recommended by various technical experts to resolve the issue efficiently in a professional way.