Export Lotus Notes Contacts to Outlook 2019, 2016, 2013, 2010 Efficiently
Ugra Narayan Pandey | November 13th, 2019 | How to
Both Microsoft Outlook and Lotus Notes are the most popular email clients worldwide. But, Outlook offers a simple user interface to its users as compared to IBM Notes due to which some of the users want to move their mailbox data to Outlook especially the address book. There are chances that the users might face some challenges during the conversion because the manual process is not reliable and has some limitations associated with it. Therefore, we are discussing the methods to export Lotus Notes contacts to Outlook 2010, 2013, 2016, 2019 versions of it.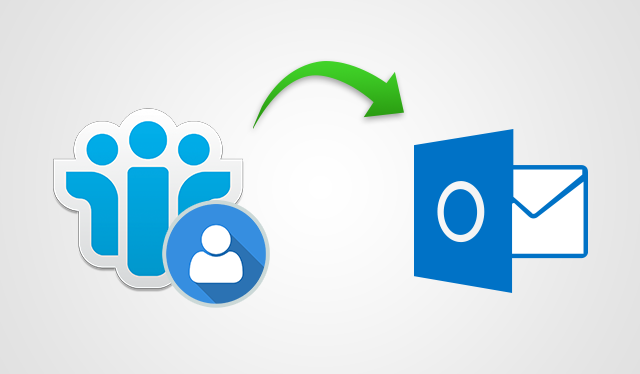 The users who are using Lotus Notes for a long time, they might know that it uses the NSF file as its repository to store its mailbox data such as emails, contacts, calendar, and other items. The email application comes with a set of inbuilt utilities that allow users to configure the system as a web server as well. While on the other hand, Microsoft Outlook uses Personal Storage Table (PST) to store its mailbox data. It not only helps users for sending and receiving emails but also enables users to store contacts, schedule meetings, etc.
There can be multiple reasons why most of the users want to import Lotus Notes address book to Outlook 2019, 2016, 2013, 2010 and other below versions. But, the migration requires a proper process as any mistake can lead to data damage or data loss. Users can convert names.nsf to Outlook using both manual and professional solution but the application such as SysTools Lotus Notes to Outlook Migration Tool is always suggested to have a secure and efficient conversion.

Possible Reasons Why Users Migrate Lotus Notes Address Book to Outlook
Microsoft Outlook offers lower installation and maintenance cost as compared to Lotus Notes.
Lotus Notes has a more complex user interface in comparison to Outlook.
Another reason why users import names.nsf to Outlook is that Microsoft Outlook comes in a bundle with Office suite that means it should not be purchased separately.
Microsoft Outlook offers more set of features if compared with IBM Domino.
Manual Procedure to Convert Lotus Notes Contacts to Outlook 2019, 2016, 2013, 2010
The entire manual method to transfer names.nsf to Outlook is divided into two steps. The first step includes the process to export the complete address book from Domino and then the second step includes the process to import those contacts into Outlook.
Step 1: Export IBM Notes Contacts
Run Lotus Notes and go to Contacts
Then click on More option from the Menu bar and choose Export contacts option
In the appeared dialog box, choose "All Contacts in This View" option if you want to move all contacts
Select "All Fields" option to transfer all the information of the contacts
In the "Save To" option, browse the storage location where you want to save the address book
Enter the name of the file and select CSV option from the "Save as Type" field
Finally, click on Export button to save contacts.
Step 2: Import IBM Notes Address Book to Microsoft Outlook
Launch Microsoft Outlook and click on the Open tab
Now, select Import option and the Import Export Wizard will be displayed
Then, "Choose an Action to Perform" field will be opened. Choose "Import from Another Program or File" option
Click on Next button
Here, choose "Comma Separated Values (Windows)" option to import CSV file
Hit Browse button and locate the CSV file which you exported
Select "Do not import duplicate items" field and then press Next
In "Select destination folder" field, select any available folder and click Next
At last, press Finish button and the import process will start.
Limitations Associated with Manual Procedure
Although, the manual method is totally free of cost and allows users to convert names.nsf to Microsoft Outlook. But this process fails to transfer all the information stored in IBM Domino. Another limitation of this procedure is that the logo and image information cannot be opened in Microsoft Outlook. Also, the above-mentioned process to export Lotus Notes contacts to Outlook 2019, 2016, 2013, 2010 can be a bit too technical for the novice users.
Therefore, the better option is to go for a third party application to perform the conversion.
Error Free Solution to Import IBM Notes Address Book to Microsoft Outlook
To overcome the shortcomings of the manual procedure, we will suggest users to use an efficient solution such as SysTools Export Notes. The Software helps users to migrate entire mailbox data such as emails, contacts, calendar, etc. to Microsoft Outlook in countable minutes. It is packed with multiple advanced features which makes the migration process easier even for the novice users. The application offers an interactive user interface which makes the working of the utility really simple.
Conclusion
The manual method can be useful in scenarios where the amount of data which is to be exported is smaller in amount and is not critical too. If a user has a large amount of data which is crucial as well, then it is suggested to try some third party application to export Lotus Notes contacts to Outlook 2019, 2016, 2013, 2010. The software prevents the data from getting damaged or lost and also makes the conversion process really simple.