Exchange Server Toolkit – Toolbox to Manage Exchange Mailbox Issues
To manage Exchange Mailboxes become Time-Consuming task if Exchange Administrator don't know the specific manual tips or tool used to fix issues in short Time. The major issues deal by Administrator is corruption issues in EDB Database. After the second major problem faced regarding moving Exchange mailboxes database into other format such as PST format or moving other Outlook Data stored in PST format to Exchange mailboxes, Even some situation arise when Exchange user need to export mailboxes files (Email, Contacts, Calendar) and other details in document of single file format supported via popular email clients.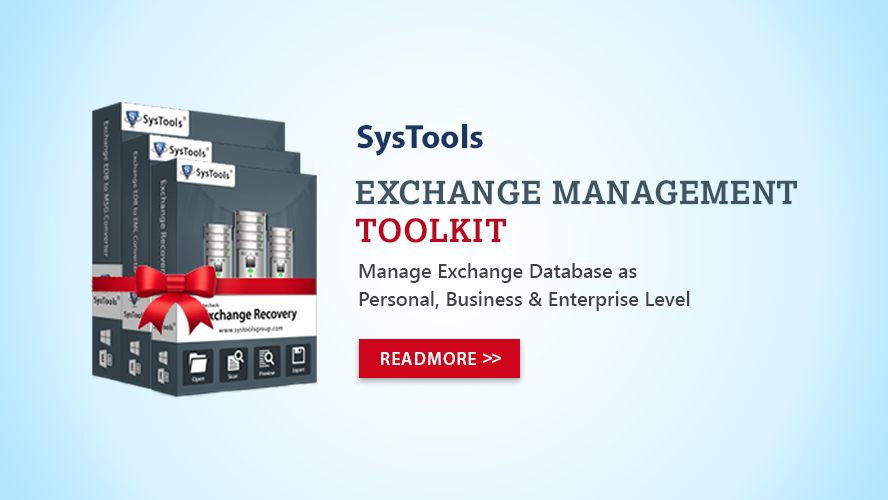 To fix the above-discussed problem regarding Recovery, Conversion and Import/Export, Try SysTools Exchange Server Toolkit for resolving various issues in MS Exchange. This Exchange Toolkit is multitasking software that fulfills the need of every Exchange Server administrator. However, it is a combination of 8 essential Exchange software and gives you the great functionality to manage recovery, conversion and import/ export of Exchange mailboxes. Here, we will introduce every tool and their features. Keep reading to know more.
For Complete Information of Toolkit: Exchange Server Toolkit
 Exchange Server Toolkit – Unique Features
Maintains folder hierarchy during Exchange EDB Recovery and even after migration
Offers several file naming convention while saving Exchange emails to another format
Provide an option to apply Date and Time-based filter to restore and migrate EDB files
Exchange Server Toolkit has dual file scan modes: Quick scan & Advance Scan options
No Size Limitations on the number of files, it can export multiple EDB mailboxes at once
The tool allows exporting both Public (Pub.edb) and Private Folders (Priv.edb ) of EDB file
Exchange Server Environment is not necessary for Exchange mailbox conversion process
Once the migration starts, the tool generates complete export progress or summary report
Compatible to work with MS Exchange Server 2016, 2013 / 2010 / 2007 and below version
Exchange Server Toolkit
This Exchange Management Toolkit includes 8 Software that helps Exchange Administrator to manage Database. Below section deal with complete details of each software previously, so that, you can get all details regarding Unique features of Specific Tool.

MS Exchange Server is vulnerable to deletion and corruption. So, corrupted or inaccessible EDB files are major concern for Exchange administrators. as it stores hundreds of User Mailbox Details. But, the Exchange Server Toolkit ensures recovery of complete mailbox along with corrupted EDB files. Because, Exchange Recovery Tool has many other advantages like:
It recovers deleted emails from Exchange EDB mailboxes
Supports Recovery from Dismounted / Offline and offline EDB files
Recover EDB and Move to Live Exchange Server, Outlook & Office 365 Account.
Export by Category Feature: Mail, Contacts, Calendar, Tasks, Journals.
The Exchange Server Toolkit provides an option to search users of sub-domain also.

This Exchange Import tool of the Server Toolkit helps users to Import PST to Exchange Mailbox. Just provide the Dismounted / Offline .pst within software and it convert all data items of Outlook such as emails, contacts, calendars, notes, etc. to Exchange in bulk. Other major features offered by Exchange Toolkit are:
Move Password-Protected and inaccessible PST file to Exchange .
Option to search and import PST files within the domain network .
It is necessary to have server domain credentials to find PST files .
Capable to search for the PST file in sub-domain during migration.
Management Toolkit provides an option to Exclude Duplicate PST contacts.

The Exchange Export application enables the migration of multiple Exchange Server mailboxes into MS Outlook PST format. It permits users to access migrated PST file in any version of Microsoft Outlook without any hassle. Since to Export Exchange Mailboxes to PST via Powershell Command is a Lengthy & Time Consuming Process.
Other major advantages of using this Exchange Server toolkit are:
Move all Exchange data items like emails, contacts, tasks, etc. to PST format
Option to auto detects, scans and loads the active directory configuration
The tool has a feature to search Exchange EDB mailbox within Sub-domain
Allows exporting all mailboxes from Microsoft Exchange 32 bit and 64 bit
It is required to have Outlook 2016 or below version Installed and Configured.

In order to convert EDB files to MSG format, this Exchange Server Toolkit is one of the best choices. It is programmed in such a way that it can export multiple emails from Exchange to MSG format for Outlook. Apart from this, there are many unique and versatile features offered by this application:
It also supports recovery of corrupted Exchange EDB files
Option to preview all mailbox items before conversion
A direct option to export selective folders as MSG format

Conversion of Exchange to Lotus Notes becomes easy when it is done with Exchange Management Toolkit. This toolbox can easily migrate all mailboxes of Exchange like emails, contacts, calendars, tasks, notes, journals etc. to NSF format. Other highlighted features offered by this tool are:
Allows to migrate corrupted Exchange EDB files to NSF file format
Required to install Lotus Notes 9.0 or below Version on your system
Option to create names.NSF file for every contacts in different EDB files

Today, Mbox file format supported via multiples MBOX file format, hence to view all Exchange mailboxes details into MBOX file format. Administrator can take help from Exchange Toolkit. It create separate MBOX file for each EDB file. There are also many other unique feature of this toolkit like:
There is no any requirement to have MBOX supportive application
It is compatible with more than 15 email clients that use MBOX file
Option to recover corrupted Exchange files by using advanced scanning.

Sometimes, Exchange users need to access their mailboxes everywhere. In this case, they can convert their mailboxes to PDF or Document format with the help of Exchange to Adobe software. Some other unique Features of this Exchange Toolkit are given below:
This Exchange Server Toolkit offers option to create searchable PDF file after conversion
Also allows converting corrupted Exchange EDB file into PDF format
Option to save resultant PDF file in a new folder or any desired location

In Exchange Management Toolkit, a unique tool also added to enables smooth migration of Exchange mailbox data (emails) to EML file. And, this resultant EML file can be used in any other supported email clients such as Outlook, Thunderbird etc. apart from this, there are also so many benefits of using this software:
Option to convert damaged or corrupted Exchange EDB file into EML
Preview all the folders like Inbox, Outbox, Sent Items, Deleted Items, etc.
The tool has inbuilt search feature to find EDB files within the local system
Supports to scan Exchange 2016, 2013, 2010 EDB Files and all below version
All In One Solution to Fix Exchange Database Issues
As Exchange Administrator manages thousands of User client and to manage issues regarding Exchange database quickly, An Exchange Management Toolkit should be used so that error regard any Conversion / Recovery / Import and Export can be fixed. So keep SysTools Exchange Server Toolkit to resolve all critical situations related to Exchange Server and help when Exchange-disaster strikes.