Import PST into Exchange 2016 / 2013 / 2010 / 2007 Mailbox – Exchange Importer
Exchange Server Store the information of user mailboxes in EDB File format. Whereas Outlook Application stored information in .pst file format. To import them into PST Format without any Power shell command or using any Exchange Server versions, known as Exchange Importer designed for this purpose. This article deals with all the all features and advantages that help Exchange Administrators to import PST into Exchange 2016 / 2013 / 2010 / 2007 / 2003.
Today Different Exchange Version used all over the world still, a tool able to data into them without any Data loss. Before explaining unique characteristics, let's find the reason when we need to move the PST Data to Exchange Database Mailbox.
Need to Import PST Into Exchange 2016 / 2013 Mailbox
To View Dismounted / Orphan PST Mailbox Items in Exchange Environment. For Ex, Oftentimes, organizations creating a backup for the employees who are leaving their jobs, respond to any discovery motion or the compliance request or import data into the test environment. It is required to import data from the Outlook PST file. Generally, IT admins need to Import PST File to Exchange Server 2013/2010 Database
In Exchange Environment, Powershell Command & EAC can be used to move mailbox items to Exchange environment, but New-MailboxImportRequest Failed due to BadItems in PST File or LargeSize Database issues. To Overcome any kind of issue while importing PST File into Exchange 2013 / 2010. SysTools Exchange Import tool acquired lot feature that helps naive as well as the Expert user. It allows users to import Outlook data file to Live Exchange Server  2016 / 2013 / 2010 / 2007 / 2003 in a simplified manner. As it provides graphical user interface which makes the users work easier and save their time & effort too.
Download Now Free Purchase Now 100% Secure
Some of the highlight features are given below: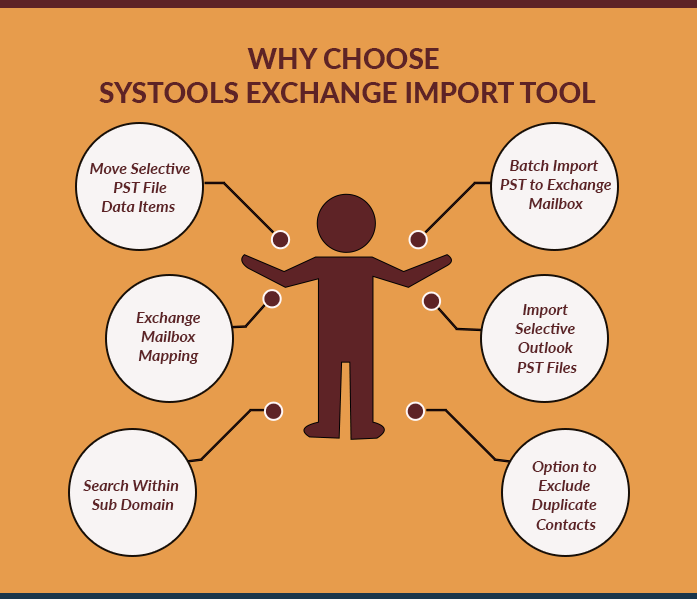 Import multiple PST file into Exchange mailbox in Bulk or Batch.
Move PST File items such as Emails, Contacts, Notes, Journals to the Exchange mailbox,
Search Outlook PST  in Domain Network and imported to Exchange Server 2013/2010 environment
Exclude Duplicate Contacts while importing contacts files
Support all the versions of MS Outlook & Exchange 2019 & below versions.
Note: Server Domain credentials are required to Search the PST file in the Network
Software Features In Brief
Import PST into Exchange Server Database: Complete migration PST File data such as Emails, Contacts, Tasks, Journals and Calender details. The local machine or the local network PST File also imported to the Exchange 2016 / 2013 / 2010 / 2007 / 2003.
Search PST Files from the Network: The utility also provides the network searching option to browse the Outlook PST files from the network. To import PST file to Exchange 2010/2013 Database from domain network, a user can browse it with the help of Add file option.
Import Selective PST Files to Exchange: Using Specific category to import them into Exchange Server can be used to save space in Mailbox. According to need user can select the items from Category of Emails, Contacts, Calendars, Journals and Tasks, and the tool will automatically Migrate the selected category items of PST File to Exchange Server.
Exclude Duplicate Contacts: While importing pst contacts into Exchange 2010/2013, remove the Duplicate Contacts present within the Outlook PST file. This can be done by simply clicking on the option Exclude Duplicate Contacts.
Import Calendar Files: With Exchange Import Tool, Administrator can select only the specific sections from the Mailboxes items such as " Email, Contacts,  Notes". Even Administrator can import calendar from pst to exchange mailbox with separately.
Date Based Filters: The software allows the user to apply the date filter on emails and other components like contacts, calendars, notes, journals, tasks. By doing this, only relevant data is exported and the rest is not. A user needs to specify "To" and "From" fields of the Date Range.
Generates  Status Report: Once the complete process to import PST files into Exchange 2013 Database is done, the tool will display the complete migration report. It will also show the current status of migration of emails and other components also. At last, a final report is produced.
Mapping Features: While importing PST into Exchange 2013/2010 Server, to maintain the Folder Structure. Exchange Administrator needs to select an Advance Setting option & Map the Folder of PST File to Exchange Server Mailbox the help user to maintaining the Folder Hierarchy.
Import PST into Exchange 2010 /2013 Database – Stepwise Guide

 Download and Install the Software in System and Open Software.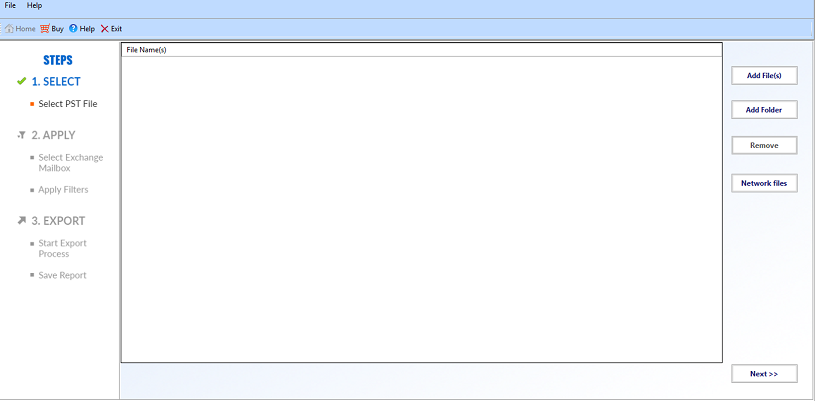 Now Add PST via Two Option.
a) Adding Orphan PST File by browsing the file stored in the system.
b) Search PST File within the Network using Network File option.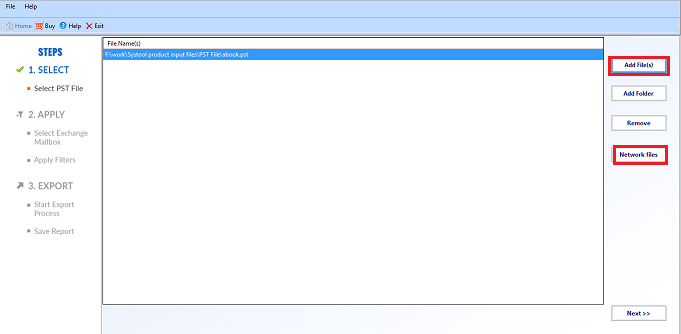 Now Provide Administrator Credentials and IP Address Details to import PST File data to Exchange mailboxes Database, Select Exchange Version & Click on the Checkbox "Search User in sub domain" >> Click on the submit button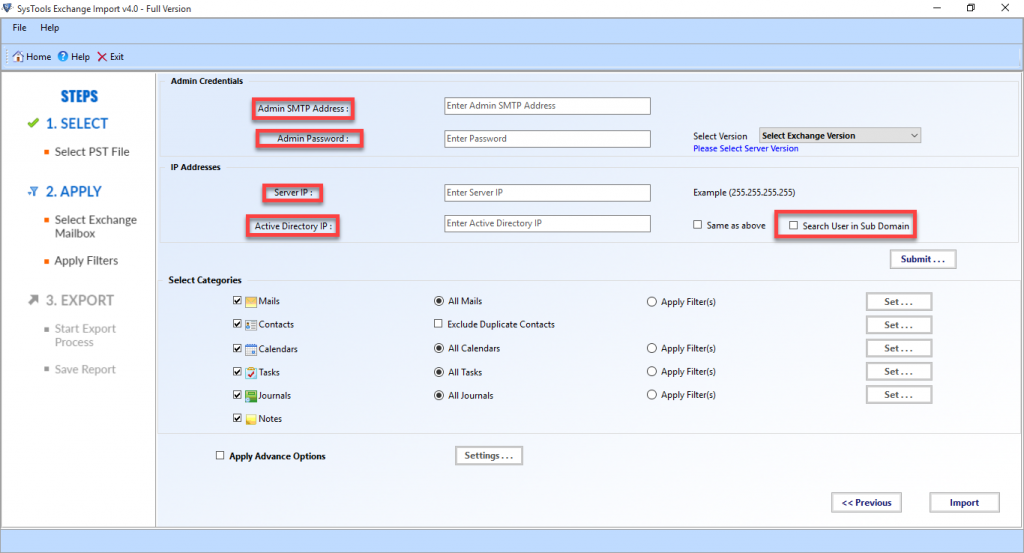 When Administrator Details get authenticated, a user needs to select all categories to export all data to PST file or select specific Category items to import into Exchange Mailboxes.
 Each Category, Specific Filter is available, a user can go for according to need.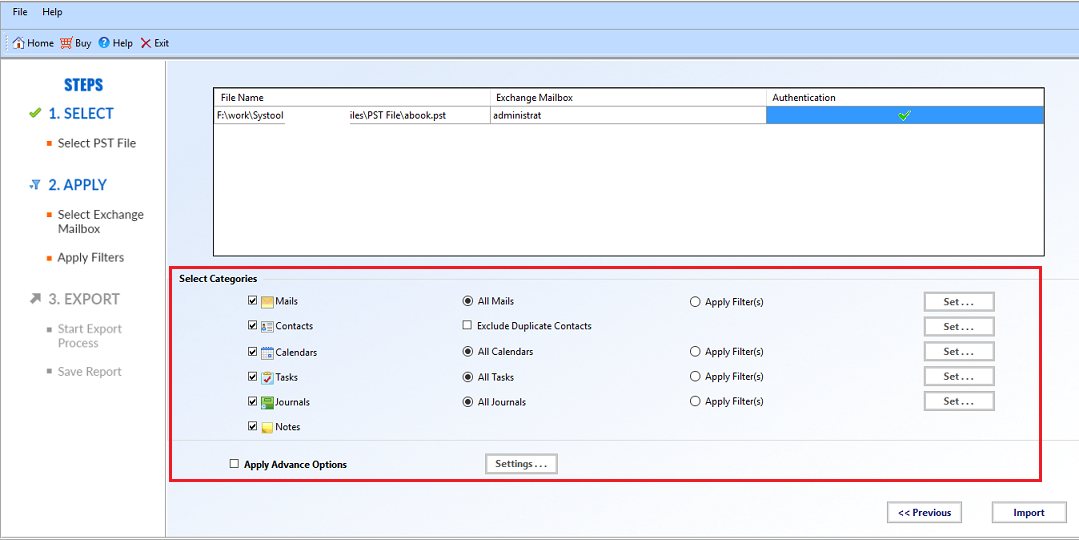 At last to Import PST into Exchange 2013 / 2016 Database or any other versions. Click on Import Button.
 Software Will Display Progress Bar Report While importing data and CSV Report also generated of Import Process.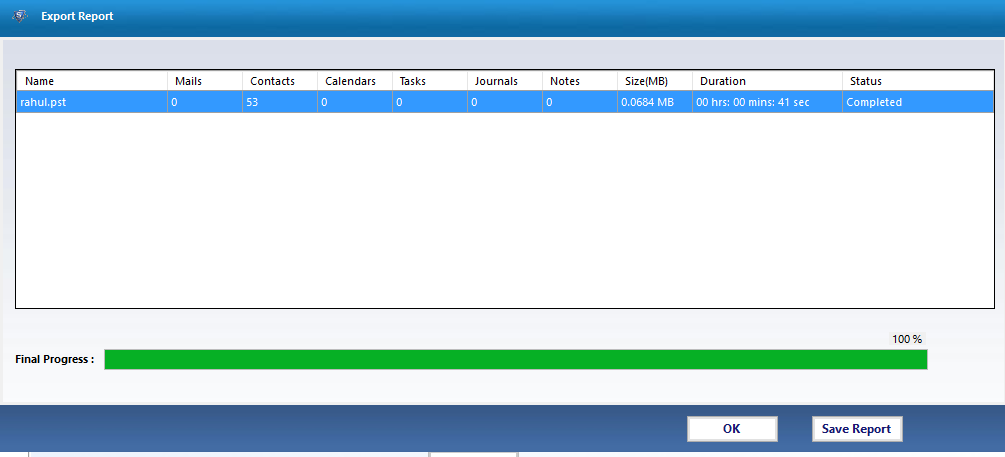 System Specification

Admin account must be impersonated to Import PST Data in Exchange 2010/2013 Database,
For Windows 10, 8.1, 8, 7 or Vista, Open the tool as "Run as Administrator"
The Bottom Line
To import PST files into Exchange 2010/2013 Database Mailbox required by IT administrators in the various situation. To do this, Exchange Importer is needed to migrate Outlook PST file to the Exchange Server. An Advance Tool recommended by  Exchange Experts. The user interface of the tool is so simple that even a novice user can use it without hindrance.