Steps to Download PST File from Office 365 Online Outlook
A lot of users are opting for the best email clients and Office 365 is the winner in most scenarios. Office 365 and Outlook are the most popular platforms among users for email services. However, there are some situations where users have to download PST file from Office 365. This is because Microsoft doesn't provide any backup solution and users cannot access their data during downtime. So, it is better to have a hard copy of your mailbox in your system.
This proves useful in various scenarios such as:
Data accessibility even during Office 365 services downtime.
Online Mailbox Storage space can be freed up once you save your data on local system.
You can access your data locally without having internet access.
Your data will be safe with you even if any ransomware attack takes place.
There are several other situations as well which proves that it is important to create a PST file from Outlook online.
Learn Two Ways to Download PST File from Office 365 Online
Method 1: Office 365 Export Tool (Quick & Secure)
The users who are non-technical and looking for a simple tool can consider this software. This Office 365 Email Extractor Tool enables users to create PST file from Outlook 365 in just few clicks. Users don't need any technical expertise to run this application. The simple user friendly interface makes the whole process effortless. Additionally, there are two other export options other than PST, so that users can access their data in multiple email applications.
List of Prominent Features:
Download PST, EML & MSG Files from Office 365 Online
Feature to Pause & Resume to Task if Required
Advanced Filters to Download only Important Data
Option of In-Place Archive Office 365 Mailbox to PST
Trial Version of the tool is free to use
How to Create PST File from Office 365 Outlook
1. Launch this software and click on Login button.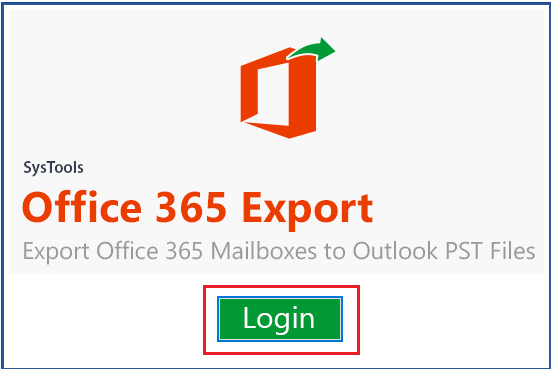 2. Login and authenticate your Office 365 account here.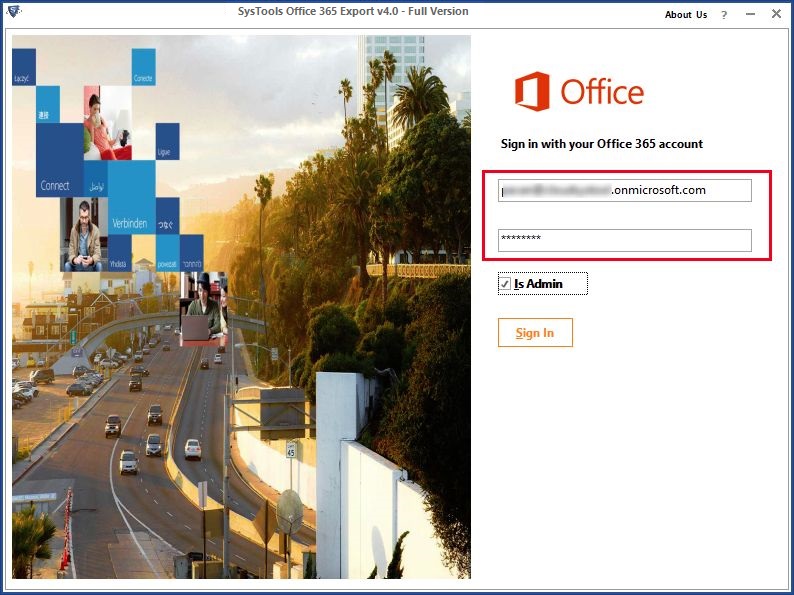 3. You can select the set of folders that you want to download.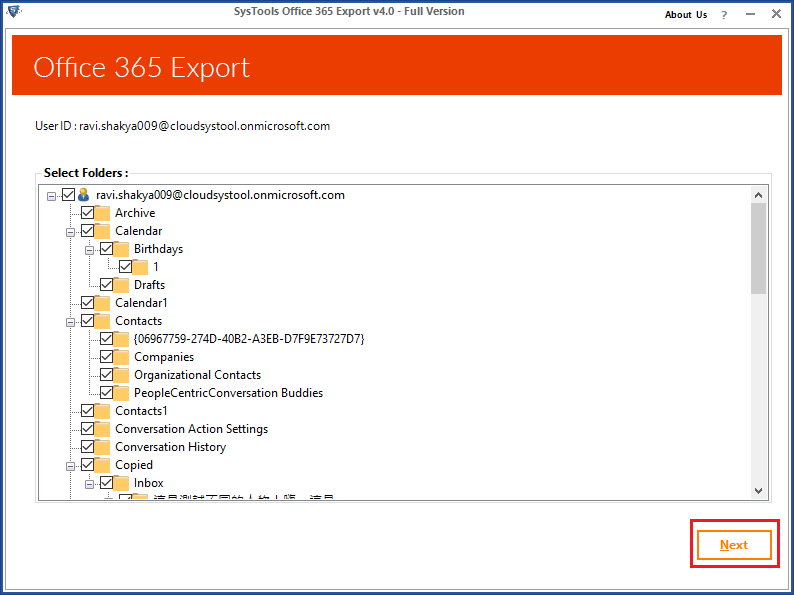 4. Choose the desired output format and use advanced filters.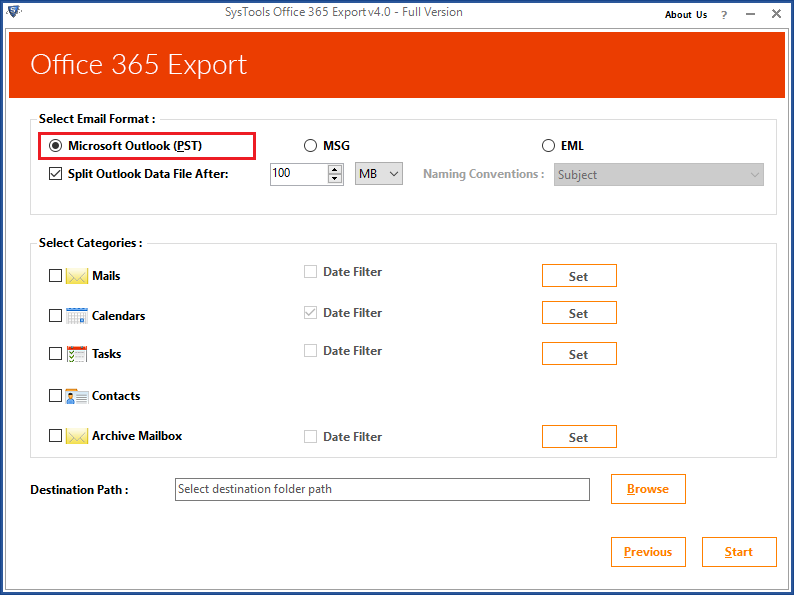 5. Finally, select destination location and hit Start button.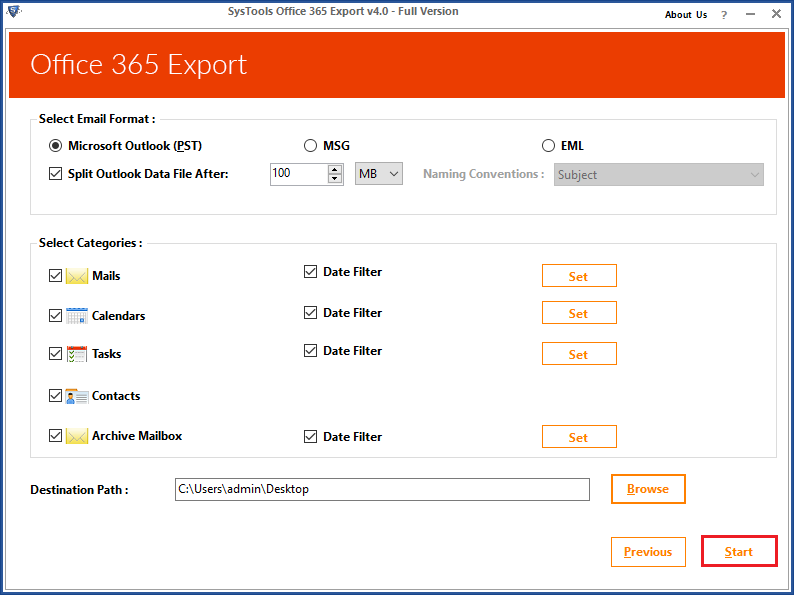 Method 2: eDiscovery Export Tool to Download PST File from Office 365
Step 1: Login to your Microsoft Office 365 Admin Account.
Step 2: Go to Admin Center and then open Exchange Admin Center.
Step 3: Click on Permissions option available on left pane. Then, navigate to Admin Roles >> Discovery Management.
Step 4: Under Discovery Management, click on "+" icon to Add Roles.
Step 5: Then, click on "Mailbox Import/Export" role.
Step 6: Under "Members" tab, hit "+" icon again to add the name of users. Click on "Save" button to proceed.
Step 7: Now, go to "Compliance Management" >> "In-Place eDiscovery & Hold" >> "+" icon.
Step 8: Under In-Place eDiscovery & Hold dialog box, enter name and hit Next button.
Step 9: Then click on "Search all mailboxes" for selecting all mailboxes or "Specify mailboxes to search" for selected mailboxes and hit "+" icon.
Step 10: Apply filters and hit Next button from "Search query" dialog box.
Step 11: In the next dialog box, you can mention the number of days for which you want to retain the items before they get deleted from server. After that, press Finish button.
Step 12: At last, click on Close button once you get the confirmation message.
Step 13: Once the list is generated, you can click the download button to start downloading.
Conclusion
After understanding the importance of backup copy of cloud data on system, we have explained two ways to download PST file from Office 365 online. The eDiscovery Export Tool is basically used for executing search query. It is not specifically made for exporting file, so it is suggested to go for the automated tool mentioned in the above section.