Does Microsoft Backup Office 365 Emails – Still Confused Read this!
Shini Mohan | July 24th, 2020 | office 365
Query: Does Microsoft Backup Office 365 Emails?
Answer: No, Microsoft doesn't provide any backup of your crucial Office 365 emails. You have to take the backup manually or by using the automated tool "Office 365 Backup Tool". Read this guide to know the step-by-step solution to backup Office 365 emails.
Microsoft Office 365 provides a dynamic and collective platform for its users. But after a survey, we still find a data loss concern with Office 365 users. So here the question arises does Microsoft backup Office 365 Emails?
In the upcoming section, we will let you know how your Office 365 emails are protected against data loss.
How Office 365 Data is Saved?
Users should read that how data is guarded in Office 365 by Microsoft's Trust Center, from data security and compliance purpose or also may concern about does Microsoft backup Office 365 email.
Because users need them all-time availability of data so the data is always stored in multiple data centers within your destination location such as the United State. Data is not the only store in multiple data centers for availability but it must also available in other data centers regions at any time. By which your data is always available and will be accessible in every type of scenario.
Does Microsoft backup Office 365 Email?
OneDrive and SharePoint application power much of the collection capabilities within Office 365. But all those collections are also very harmful as they lead to hacking, sync issues, malicious insiders that harm your data. Both the applications have primary and secondary recycle bin with a 93-day retention period which can also be emptied at any time which means that data is irretrievable.
Data loss is still a big concern for Office 365 users as Microsoft's backup policies cannot guarantee to restore lost data. Even the data retrievable process is very long and complicated.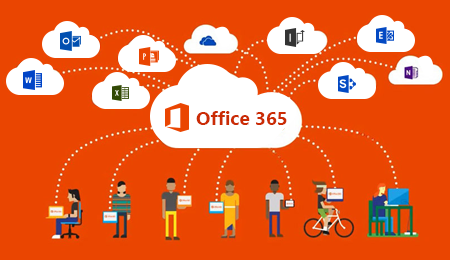 Recently Microsoft released an OneDrive restore feature, which permits the user to roll back their files to a previous point in fix duration of 30 days, but there are also some limitations and does Microsoft backup Office 365 email is still a tough nut to crack. The superior limitation is it adds no new protection in case of data deletion; the data may not be restored. The user has to roll back all the changes which are made in OneDrive accounts in a selected time.
Mostly All the policies are tending to be very complicated to understand.
Office 365 retention policies vary from service to service. But the new service like Microsoft Teams may don't have similar safeguards.
Backup and retention policies preserve your from data loss in very limited scenes, and can't make it possible as the third-party backup tool.
But what if somehow your data will get destroy or damaged during a natural disaster or unexpected deletions? Microsoft does not provide an option for data recovery then how can you deal with that scenario? The only possible way to deal with such a situation is by backing up all your crucial emails.
Reasons to Backup Office 365 Data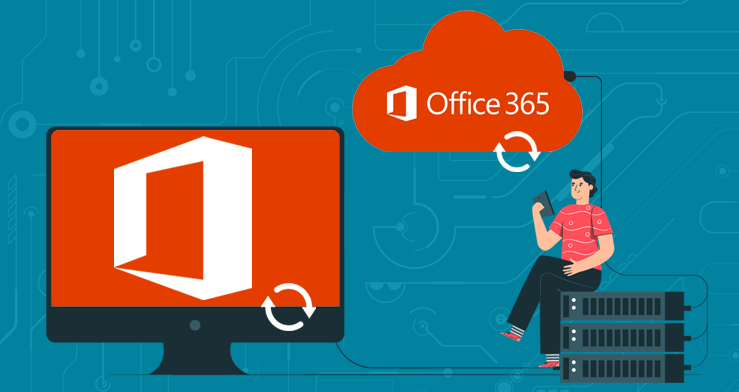 Does Microsoft backup Office 365 Email is still an issue. Below are some causes to backup Office 365 emails using third party tool:
Intentional deletions: If an employee of an organization intentionally deletes an important email which may harm the whole organization monotony. Sometimes the harm may discoverable but sometimes it's too late to discover it.
Unexpected deletions: When a user gets storage running out notification they start deleting their old or less important emails. But sometimes accidentally they delete their original emails which contain some important information or attachments. Deleted emails will lose forever unless the user has the backup of the emails.
Overwritten of Crucial Emails: Office 365 permits multiple users to work on the same file. So in case, your important email will overwrite with some other user. What will you do? By backup your crucial email you can reduce the risk of overwriting.
Backup Office 365 Emails using Automated Solution
We have discussed the reasons why one should take the backup of Office 365. In the upcoming section, we will discuss how Office 365 backup tool works and you can also use this tool to export emails from Outlook Office 365 Mac.
Steps to Backup Office 365 Emails using Office 365 Backup Tool
Fill the required credentials of the user account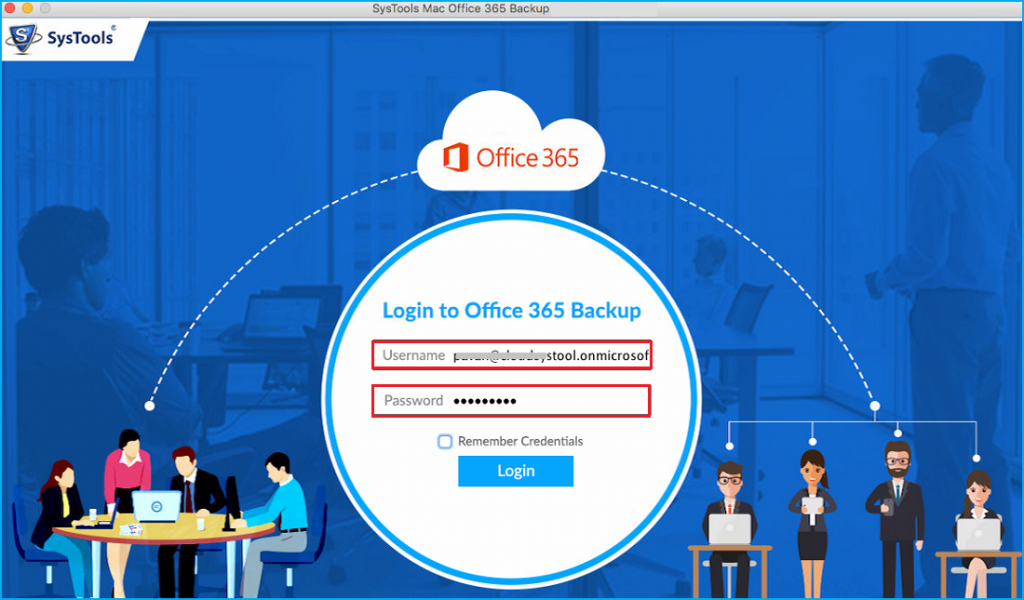 Navigate the menu option and select the Export format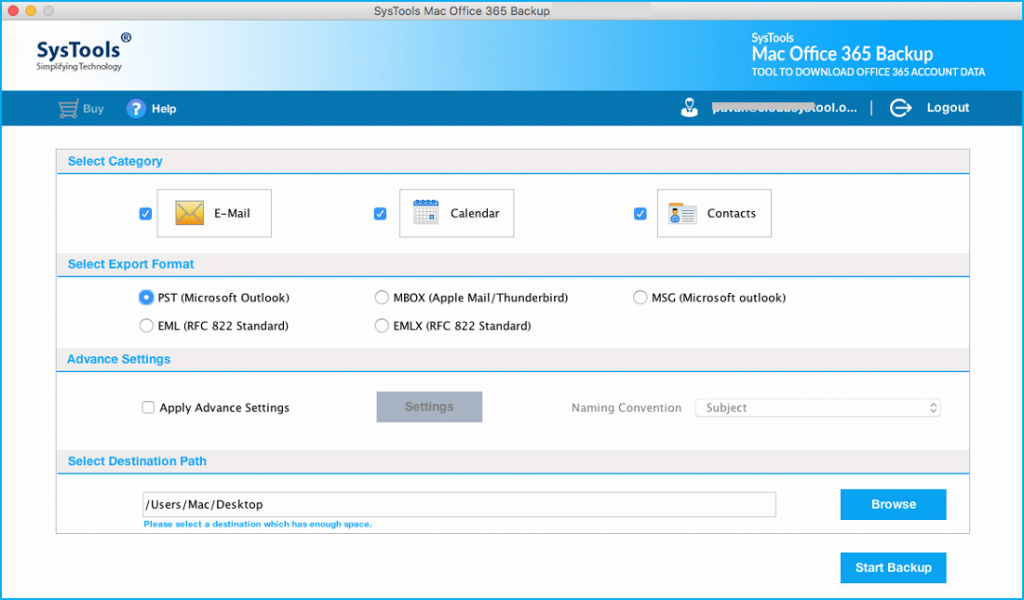 Choose the location for your file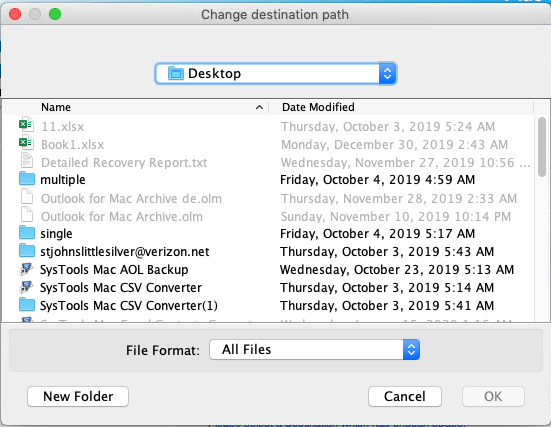 Click on Start Backup button to begin the process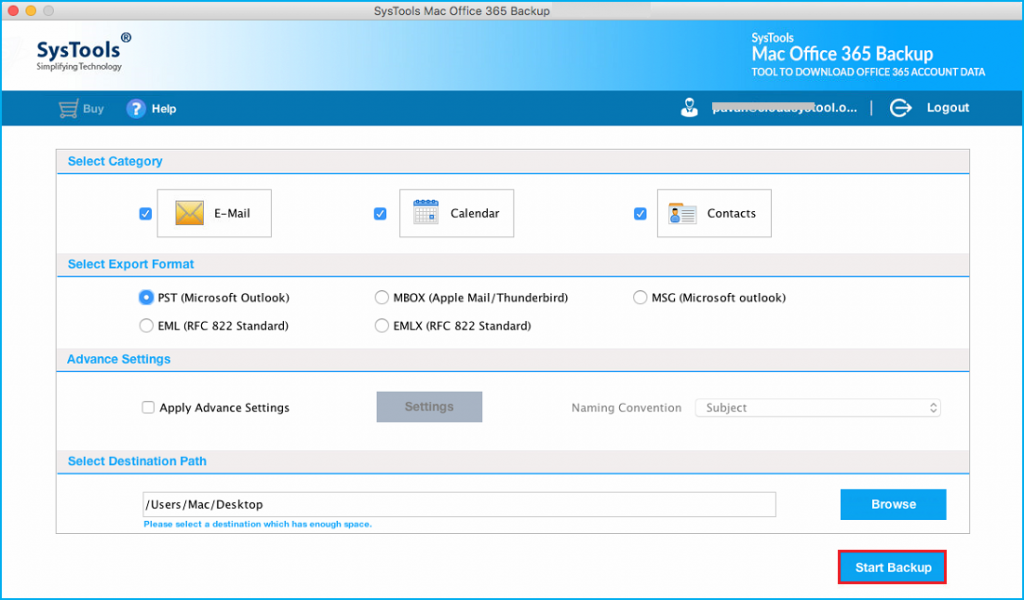 By using the above method you can backup your emails very easily and reduce the entire risk discus above in the article.
Judgement
Emails are contents very crucial information however Microsoft does not provide any solution to restore the crucial emails. In this article, we discuss the frequently ask question i.e. does Office 365 backup Emails. We also provide you the solution to the most asked query "does Microsoft backup Office 365 email" the tool is designed in such a way that a non-technical guy can also use it. Download the Demo version of the tool from the above link.