How to Compress Large PST Files in Outlook 2019, 2016, 2013, 2010 & 2007?
Do you have Outlook Data files that have surpassed their size limits and you wish to compress them? Well, if that's the case then you are on the perfect page. In this following blog, we will discuss how users can compress large PST files without any issues along the way.
A PST file stores all the mailbox data in the system's drive. So whenever you migrate your mailbox items to a local drive, they usually get saved in the PST format. In case, you have a large number of emails in Outlook, there are chances that your PST files are oversized. For this, you need to compress large PST files.
Do not worry, we have already selected quite a few techniques that may help you in this current situation. But before moving further, we will discuss why is it important to reduce the size of the data file.
Why Reduce the Size of Large PST Files? – Reasons For Compression
By reducing the size of the data file can be beneficial in so many ways. It is crucial to compress large data files cause it can lead to many issues in your system.
There are chances that an oversized data file may obstruct the proper functioning of the system. Also, the large Outlook data files can cause the overall system to hang.
To free some space and for that, you have to delete some of your valuable data. By compressing the files you can free space from your system that you can later use for multiple purposes.
One of the main reasons to compact large PST files, is that an oversized PST file is prone to corruption. When an Outlook data file reaches its final size limit, it cannot store any more information and data. Also, you may end up losing your available files too.
After knowing why it is important to reduce the size of the PST file, it is now time to know how to compact Large PST files.
Read More:- How to Move Large PST Files?
What Are the Methods to Compress Large PST Files?

It is possible to compress large PST files by using different methods. For this, you can either choose a manual method or a professional solution for a secure procedure. Here follow the below-mentioned methods to compress your files.
1. Compress Large PST Files Via Outlook Compress Feature
Go through these simple steps to complete this task:-
First, Open MS Outlook on your Windows System.
Then, make sure to eliminate all the necessary email items from your MS Outlook account.
Hit the Folder List icon option to enable the list view.
Afterwards, Right-Click on the deleted items folder and then choose the Empty folder option.
Later on, navigate to the File tab from the menu bar.
In the next step, go to the Account Settings icon and from the given list choose the Account Settings option.
A new Window screen will pop up on your screen and you can now select the Account settings option from there.
Now, in the final step press the Compact Now option.
2. Using the Archive Option in Outlook
Run Microsoft Outlook on your Machine and select the File menu.

After that, you can choose the Info tab from the left pane.
Then, hit on the Tools icon and then choose the Mailbox cleanup option.
Make sure to press the Cleanup Tools, then select the Archive dialog box.
Next, an Archive Windows will pop-up  on your screen and browse the particular mailbox folder that you wish to archive.
In the end, click on the OK button to complete the process.
Also Read:- How to Fix PST File Too Large Error?
3. An Automated Solution to Compress Large PST Files Without Outlook
The aforementioned methods can be a little complicated for novice users. That is why it is advised to opt for an Automated solution such as the PST File Compress Tool. This tool helps users to compress large PST files size by simply removing, extracting, and saving attachments. It is compatible with all versions of Windows OS and Microsoft Outlook. Moreover, it can skip or eliminate duplicate emails and other items from your PST files.
How to Use this Tool – A Quick Guidance
Simply follow these below-listed steps:-
1. Launch this PST Compress tool on your Windows Machine.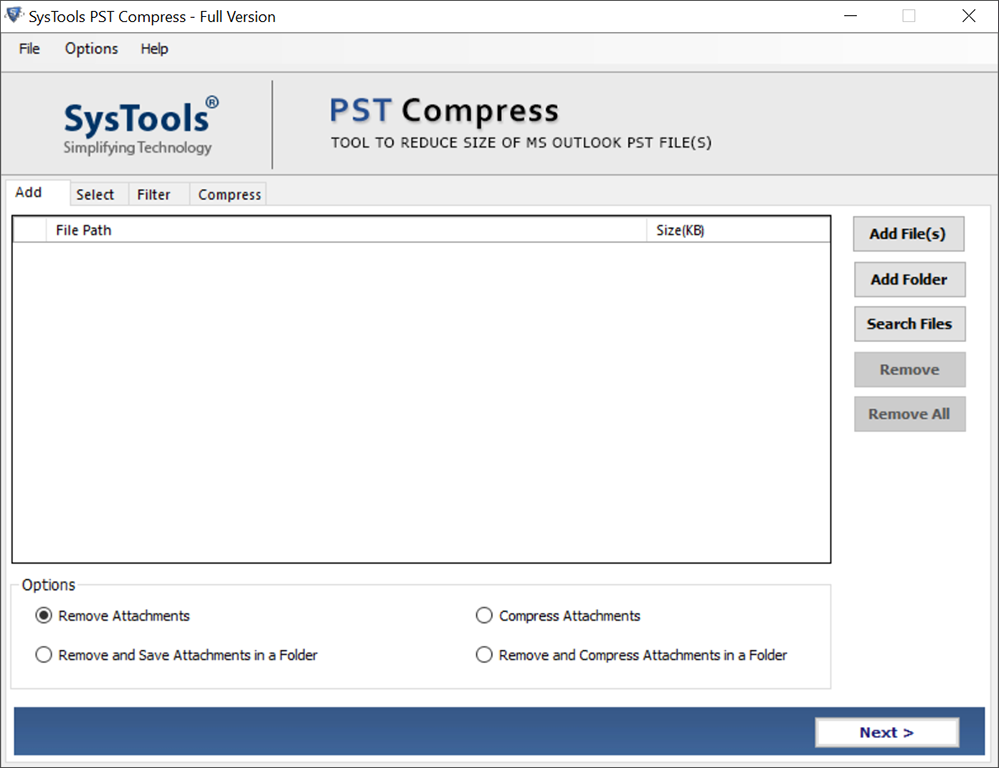 2. Now, you can browse the data files by selecting the Add File or Folder(s) option.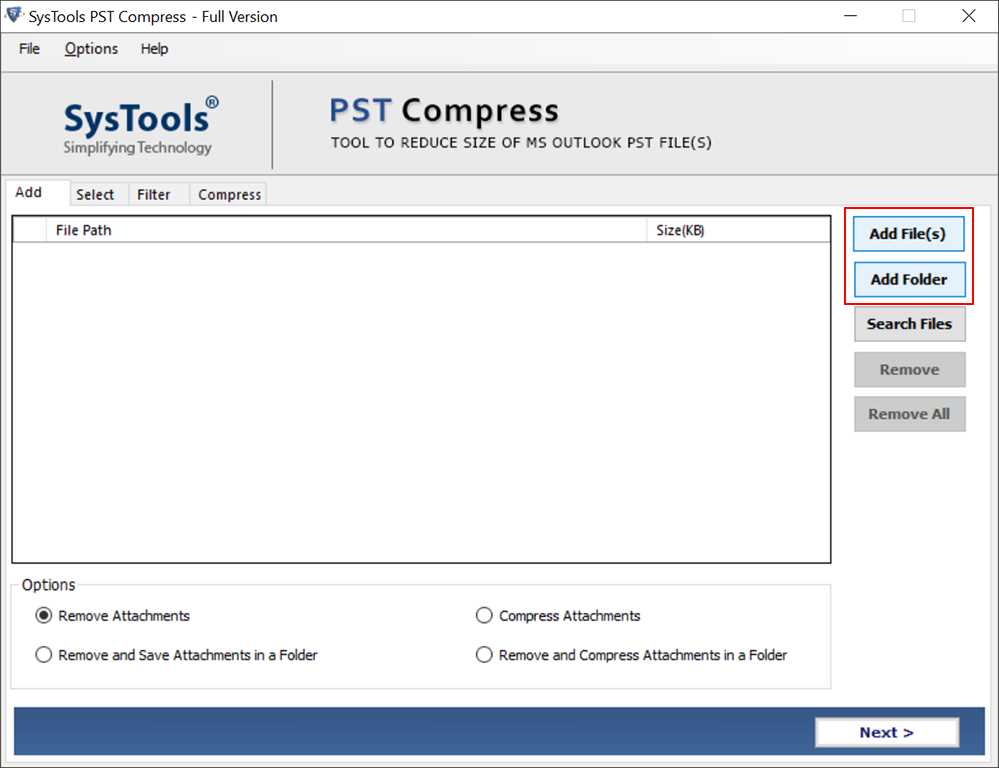 3. If by any chance you don't know where your PST files are, you can simply utilize the Search file option to find those files.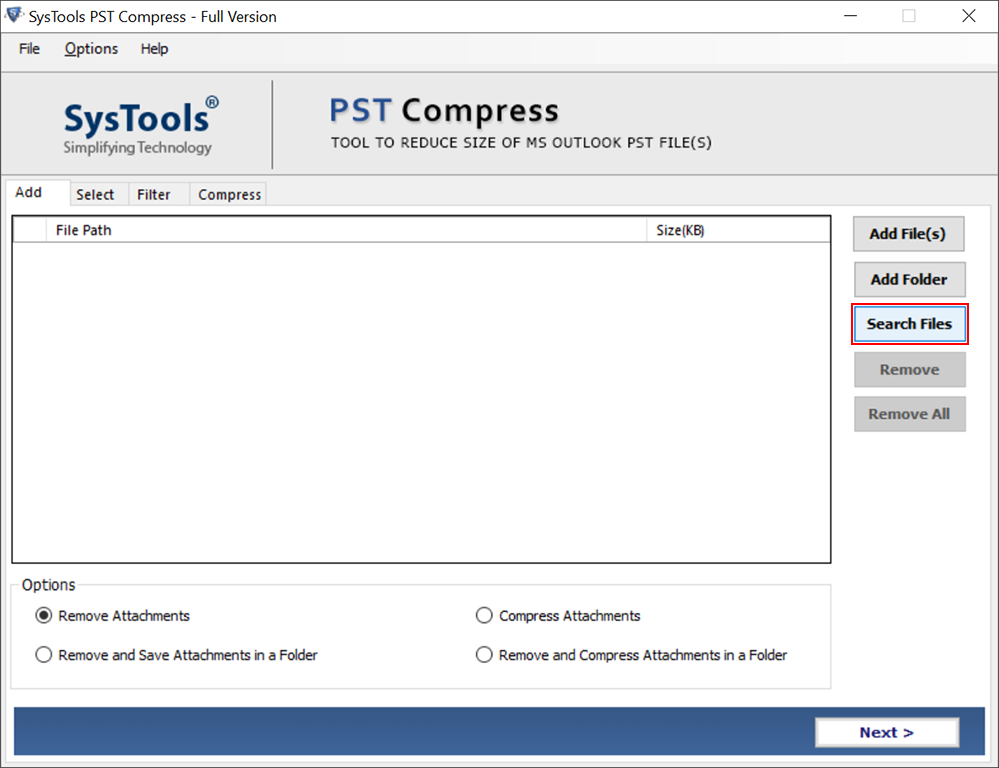 4. To compact Outlook data files, choose a folder & then hit the Compress PST button and after that select Browse File>> Compress PST.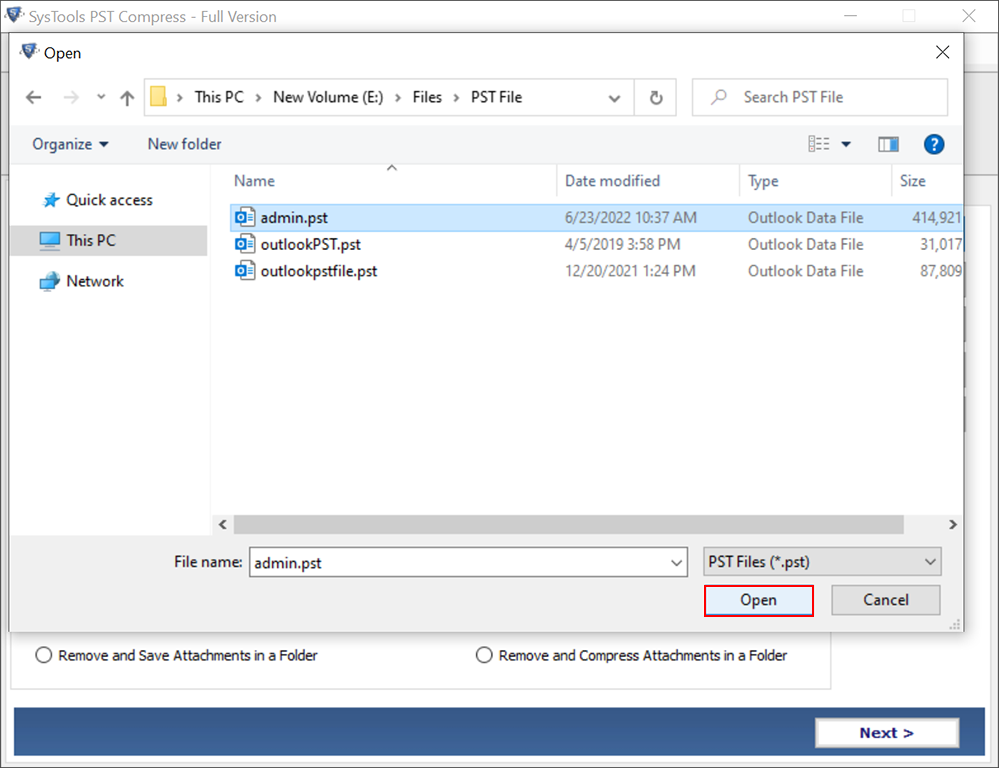 5. Now you can choose between these options: Delete Attachments, Compress your Attachments, the option to Extract & Save Attachments, and so on. Next, hit the Compress button.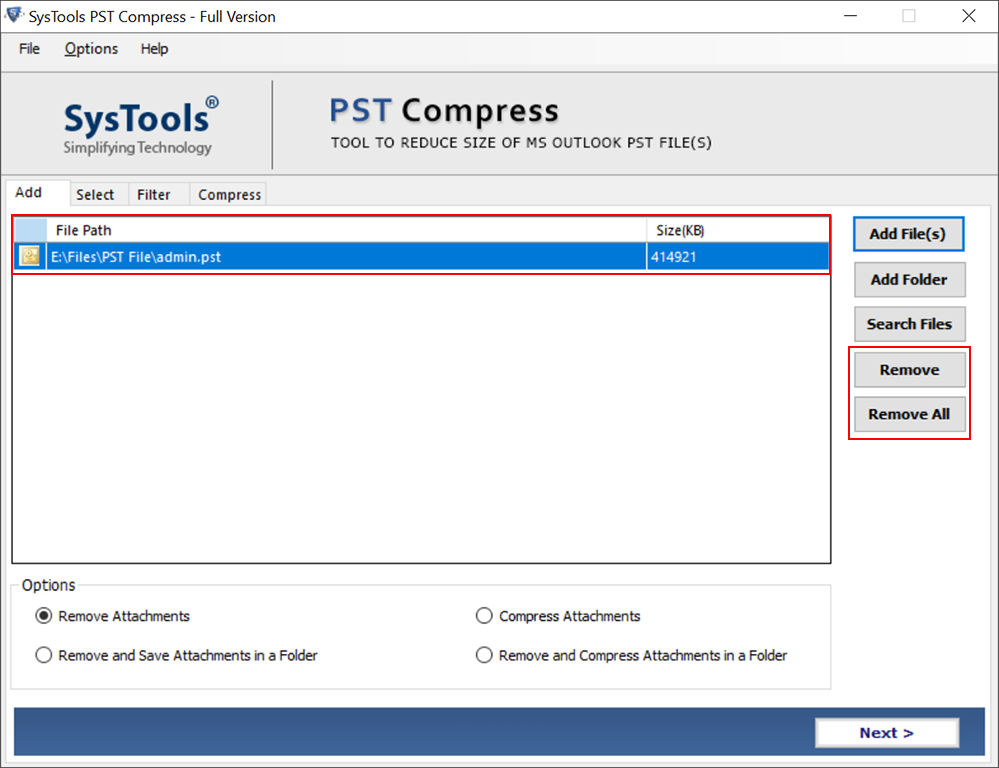 6. This application will show you the status as "Compress Successfully".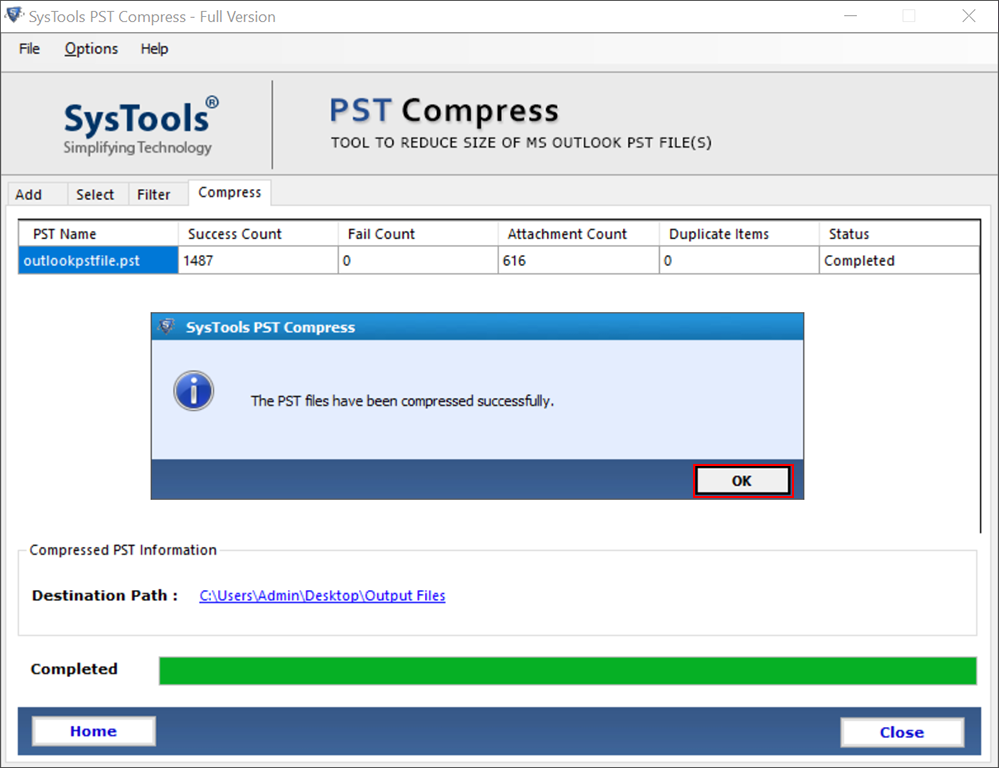 Final Conclusion
This blog explains how users can compress large PST files. For this, we have mentioned both free and professional methods and now it is up to you to choose any method as per your requirement. But, as we know manual methods can be a little complicated for novice users. That is why it is advised that one should opt for a professional solution to perform this task without needing any sort of technical guidance.