Best Method to Migrate From Cloud to Cloud – Complete Guide
Cloud technology is increasing rapidly so as the number of businesses over the cloud. Nowadays more and more organizations are switching between cloud platforms to get more cost-effective features and functionalities of different platforms. In this blog, we have provided the method to migrate from cloud to cloud using the best cloud migration tool. We have also listed the benefits and the need for cloud migration tools.
What are the Benefits of Migration to Cloud?
If you are still wondering, whether to perform cloud migration or not, then below are the important points that might encourage you:
All cloud platforms are different from one another due to its unique features and functionalities. Switching to the right cloud platform can boost your business productivity and helps in easy management.
It helps the employees to access data from anywhere and anytime with the help of the internet.
The organization doesn't have to purchase an external drive to increase server and employee storage space. Cloud technology provides an on-demand storage facility.
The cloud platform provides multiple business applications for its users for all type of business works.
Cloud platforms work on Updates, not on upgrades. So new features and functionalities can be added easily.
Easy to maintain, organize and monitor the data of each employee in an organization.
Why Cloud Migration tools are necessary?
Most of the peoples generally asks, why use the tool? What's the need for it? Why can't we do it manually?
The answer is, if you want to migrate user account data between same cloud platform, then yes, there are manual methods to do that. However, when it comes to migration from cloud to cloud platform, there isn't any direct method to migrate mails, contacts, calendars and drive data from one platform to another. Because, almost all the cloud platform companies, provides easy way to adopt their service but doesn't provide any solution to leave their service. This is why the cloud migration tool is necessary. These tools make the migration task possible as well as easy for the user.
Best Method to Migrate From Cloud to Cloud
When it comes to the automated method for cloud migration, then the best tool is SysTools Cloud to Cloud migration tool. This automated software is a highly advanced solution for migration between G Suite and Office 365 combination. The tool also provides the option for migration between Exchange Serve and Office 365. During the migration procedure, the tool provides many advanced features for the filtering and mapping of user accounts of different platforms.

Top Feature of Cloud Migration Tool
1. Migrates Complete Account Data: This migration tool is capable to migrate complete account data such as emails, contacts, calendars, and documents simultaneously. All the email's attachment and email properties will remain intact in-destination platform. The tool will automatically convert the default drive files source to the default drive file type of destination cloud.
2. Multiple Platform Migration: Using this migration tool, one can perform a migration between G Suite and Office 365 combination. There will be no limitation on the amount of data and type of data. The tool will migrate all items of selected source to a destination cloud platform.
3. Quick & Easy User Mapping Option: The cloud migration tool provides two options for mapping of source and destination users.
Fetch Users: This option will automatically fetch all the source user account into the software and provides an option to manually map the destination user for each source users.
Import CSV File: This option allows to import a csv file containing the mapping list of a source & destination user account. One can use the 'Download Template' option to get a sample CSV file for mapping.
4. Re-Run Migration: After completion of the migration, if user wants to migrate failed, left-off, updated files, then this feature provides multiple options for the task:
Retry Failed: This option of the tool will retry all the failed items of the initial migration attempt.
Re-Run Full: This will run all the categories to counter any items of a category that is not migrated in the previous attempt.
Delta Migration: The option will skip already migrated data in the last attempt and migrate new and updated data from source to destination account. To make the delta migration work, the tool needs to run on same machine and same user accounts.
5. Enable Concurrent Migration: The most unique feature of this tool is concurrent migration. Admin can enable the concurrent migration option from settings. After enabling, the tool will allow admin to setup multiple migration projects and determine the number of users in each migration project.
Working Steps to Migrate From Cloud to Cloud
Download and Run the Tool on Windows 10 / Serve 2012 / 2016
Choose the Source and Destination cloud platform for migration

Select the Workload categories and apply date filter for selective data migration

Enter the Source Admin account and Application Id and validate

Enter Destination Admin Id & Application ID and validate

Select the source and destination user Id mapping option

Validate the Source and Destination account using the "Validate" option

Click on the Start button to migrate from cloud to cloud

Note: After completion of migration, you can Download the migration report. In case, any item got failed then use the retry migration feature.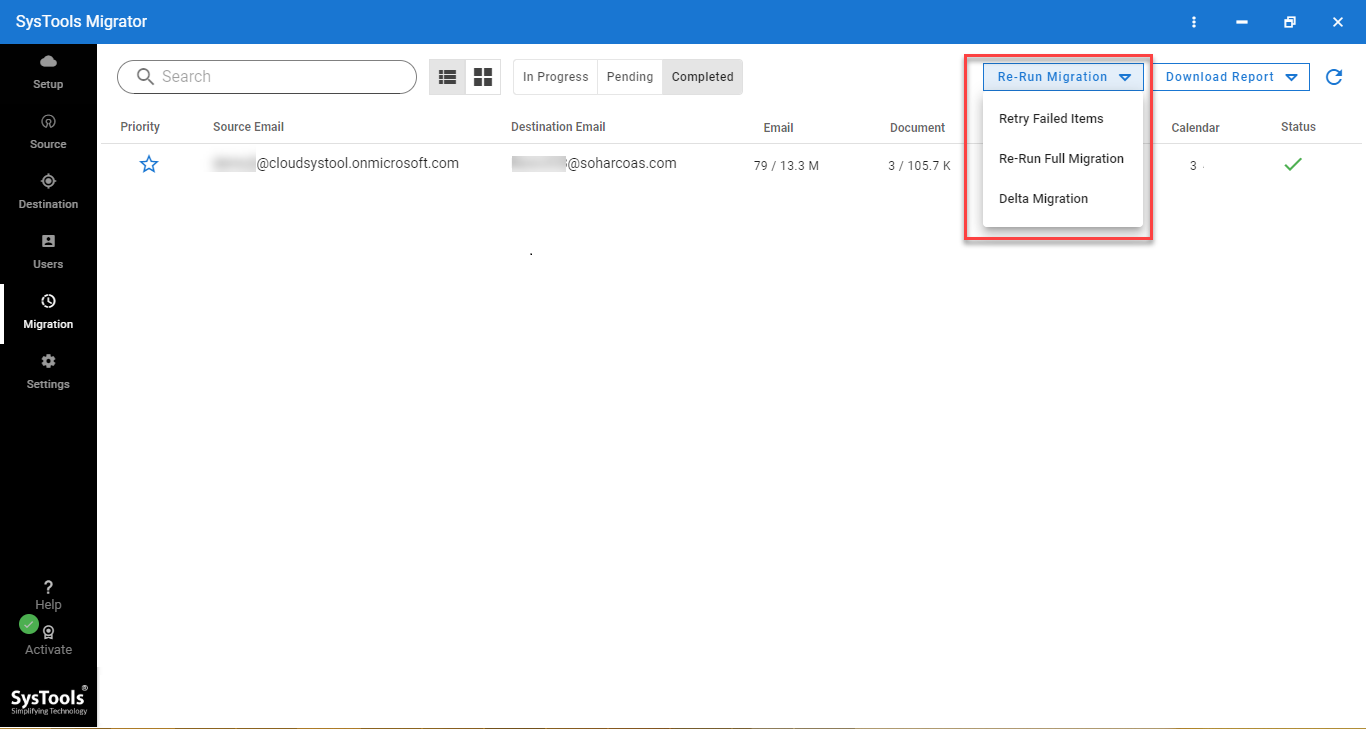 Conclusion
Migration from one cloud platform to another is not an impossible task if the right method known. To help the cloud platform users of G Suite and Office 365 for the migration procedure, we have created this blog. Using the above mentioned automated tool, an administrator can easily migrate from cloud to cloud. First, try the free demo version of the cloud migration tool, it provides two user licenses for complete data migration.