How to Batch Convert PST to PDF Without MS Outlook?
Srishty | May 1st, 2019 | Technology
Want to export PST file to PDF without MS Outlook? Looking forward towards the best PST to PDF conversion solution? Don't worry! This post will help the reader to understand how to batch convert PST to PDF file.
Nowadays, Adobe portable file is need for mobility users, whether they belong from business or any other field. Moreover, the PDF file is considered as a standard document to show digital evidence in a court. Well, many Outlook users are looking for a solution to export Outlook email folder to PDF. The reason being, PDF file can be accessible on different platforms. Thus, in the upcoming section, we will discuss all possible techniques to perform PST to PDF Conversion. Read this blog in order to have the complete idea about how to batch convert PST to PDF without MS Outlook.

Table of Content:
Reasons to Switch PST File From Outlook to PDF
Most of the people travel to different places along with their crucial data with them wherever they go. Carrying the email data creates some issues, as you are not allowed to access the same email client everywhere they travel. Thus, many users look for a solution to export PST to PDF in batch. Here are some reasons behind PST to PDF Conversion:
PDF document is highly measured in order to store data in a versatile but reliable and secure manner.
Portable files are mostly safe in order to store data in the form of text messages, images, etc.
It offers password into two forms, ie. Owner and User password. If User password is applied on the document then, it protects that file whereas on the other hand, owner password directly applies restriction over the contents of a PDF file like copy, edit, print and extract restrictions.
Manual Approach to Batch Convert PST to PDF File
There are following steps to export Outlook data file to PDF document which are described below:
Start Outlook application and select messages that are to be saved in Adobe PDF
Then, go to File option and choose Save As option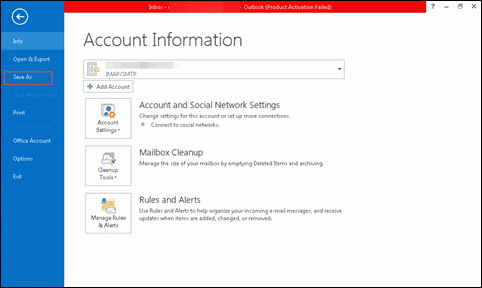 From Save As dialogue, you have to browse the path where the resultant PDF file is to be saved and specify the name of PDF file.
Choose HTML format from Save As Type drop-down menu and press Save button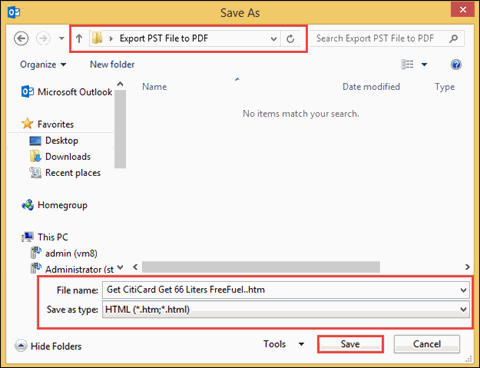 Now, browse the desired location where HTML file is to be saved
Choose File and then, right-click on it. Next, select Open With option>> Open Word (desktop).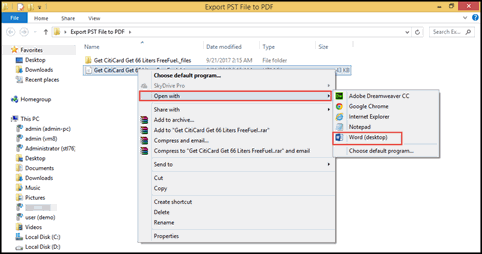 From MS Word Application, navigate to File option and click Save As option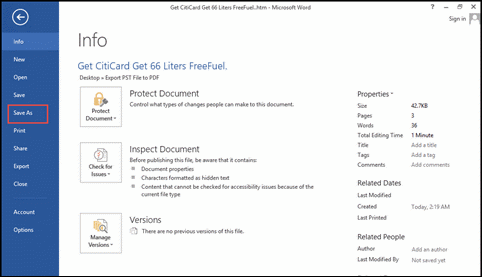 Under Save As Menu, find the location where an output PDF file is stored
Choose PDF option from Save As Type drop-down menu and click Save button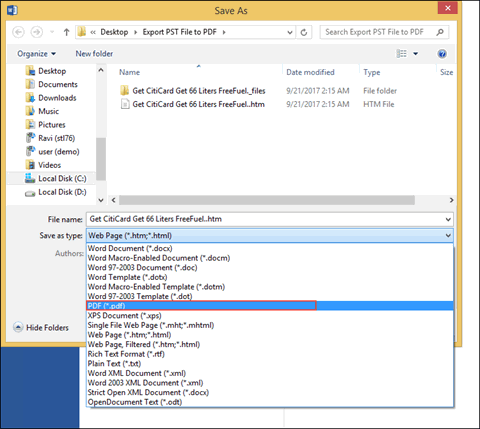 At last, you can successfully export PST emails to PDF format
Challenges Faced While Using Manual Method
This method fails to perform PST to PDF conversion if there is a large number of PST files. This approach requires a lot of time and efforts to execute this process as it is very complicated and lengthy as well. Besides, the proper technical knowledge is required to perform this manual method.
Automated Method to Batch Convert PST to PDF
To overcome such drawbacks you can use a reliable third-party tool, i.e., PST to PDF Converter. This application allows to convert Outlook emails, calendars, contacts, tasks, notes, etc., selectively. The major benefit of using this tool is that it converts all embedded attachments with Outlook messages. It has a user-friendly interface that even a novice user can use it without having much knowledge.
Here's the list of some unique features that are listed below:
Migrate multiple PST files to PDF document at once
Apply Date Filter and File Naming Convention option
Maintain folder hierarchy during the export process
Offers Bates Numbering and Date Stamping feature
Supports to convert PST file to PDF with attachments
Compatible with all latest version of Microsoft Outlook
Time to Conclude
As everyone knows, MS Outlook is the most popular email client that can be used by both regular and business clients. In today's arena, the most common query among an end user is how to batch convert PST to PDF? So, in this blog, we have discussed both manual and automated solutions to export Outlook PST to PDF file. From these two approaches, you can select any one of them as per your needs and requirements.