"Unable to Import vCard to iCloud": Issue Resolved
iCloud is the cloud storage facility provided by Apple Inc. A large number of subscribers use this service for safe storage of emails, contacts and all other files. Sometimes, iCloud users face an error while importing vCard to iCloud. The error says " Unable to Import vCard or Could not import vCard to iCloud " This error causes a lot of inconveniences if users do not know the techniques to fix import VCF to iCloud error. This post will share techniques to resolve common error like "Can't import vCard to iCloud".
" Yesterday, I tried to import some contacts from my old phone to iCloud. Strangely, an error message keeps popping up on my screen saying " Unable to import vCard ." I did not realize the reason as the message does not mention the reason. Later, a friend told me that it is caused by the unsupported version of vCard. I want to know how to fix error while importing vCard to iCloud. Someone, please suggest me ways to resolve this error "cannot import vCard to iCloud"."
Do not worry we have the answer on the issues related to error while importing vCard to iCloud and how to view the VCF file.
Approaches to Resolve " Unable to Import vCard " Error
This error can be fixed using different approaches. This post will elaborate two approaches to solve import VCF to iCloud error. Users can choose between the methods according to their necessity.
Method 1: Manual Approach to Fix " Cannot import vCard to iCloud " Error
This approach changes vCard versions. Follow the instructions to manually resolve this error.
Open a blank Word Pad file or any other text editor on your system.
Drag all VCF files into Word Pad window. If you have a large number of contacts, try to process them in different batches.
Now open 'Replace window' by clicking on 'Ctrl+H' and enter details as below.
Find what – (VERSION:2.1)

Replace with – VERSION:3.0 / VERSION:4.0
Also, choose 'All documents' under 'Scope.' Click Replace All.

Save all the files by clicking File>> Save All.
Go to Start>> Run>> CMD.
Type cd c:\vcf and enter. If your VCF files are stored in any other drive, replace C with that drive name.
Enter this command copy *.vcf combined.vcf
All VCF files will be combined into a single VCF file. You can easily import it to iCloud by dragging.
Note: As iCloud does not support vCard 2.1 version, that's why when a user tries to import VCF to iCloud, the following errors "Could not import vCard to iCloud or Unable to import vCard invalid contact data " arises.
Drawbacks of Manual Approach
This manual approach has a lot of drawbacks. The drawbacks are:
Time-Consuming: This is a time taking an approach in all senses. Users have to spend a considerable amount of time to fix this error.
Manifold Process: The process contains multiple numbers of steps. Users have to be very careful to execute all the steps with caution.
Limited Functionality: This method will only change vCard version. This technique cannot be applied if the error is caused by other reasons.
Success Not Assured: The success rate of this method is quite low. Most of the times, this method cannot change vCard version properly.
Method 2: Reliable Approach to Resolve " Unable to Import vCard " Error
Users need a reliable approach to fix " Unable to Import VCF to iCloud " error. That approach is using vCard Viewer Pro tool. This tool will solve your queries related to how to import vCard to iCloud. It can import multiple vCard to iCloud easily. UI of this program is so user-friendly that even people without any technical knowledge can use it. This application can also import images included in the vCard. Here are some of the top features of this software:
Opens, reads, and views multiple VCF files in a batch
Processes VCF files with both single & multiple contacts
Previews all information of vCard files including images
Contacts can be viewed both vertically and horizontally
Supports different vCard versions like 4.0, 3.0 and 2.1
Compatible with Windows 10 and all below versions of it
Working Steps:
The first part of the process will differ depending on vCard type. After you process your vCard, import to iCloud. Users can follow these steps to fix this error using this program.
Part I: Fix error " Unable to Import vCard " with single or multiple contact VCF File
Users have to apply different methods at this stage based on number of contacts in a vCard.

a) Importing Single .vcf with One Contact
i. Launch vCard Viewer Pro and click Add File.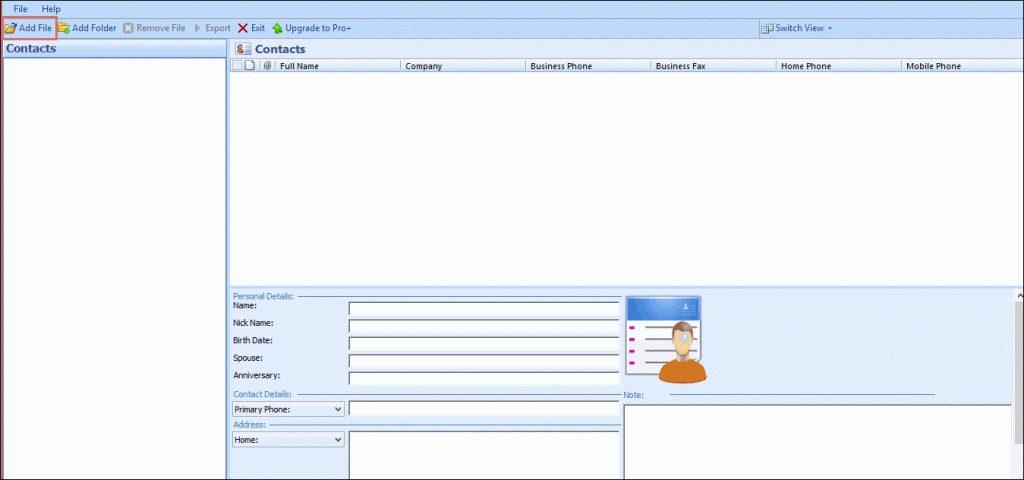 ii. Select the vCard that you wish to import and click Open.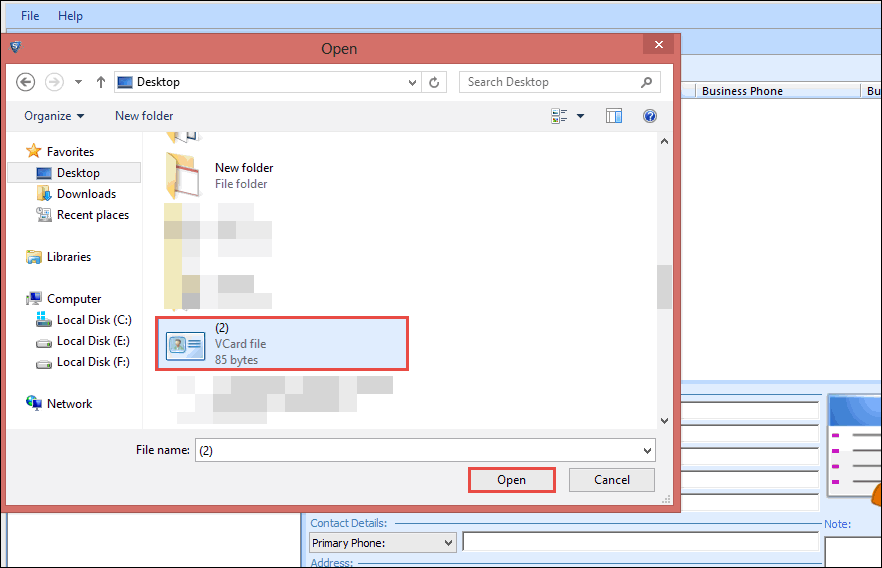 iii. If needed, preview the information of VCF file. Otherwise, skip this step.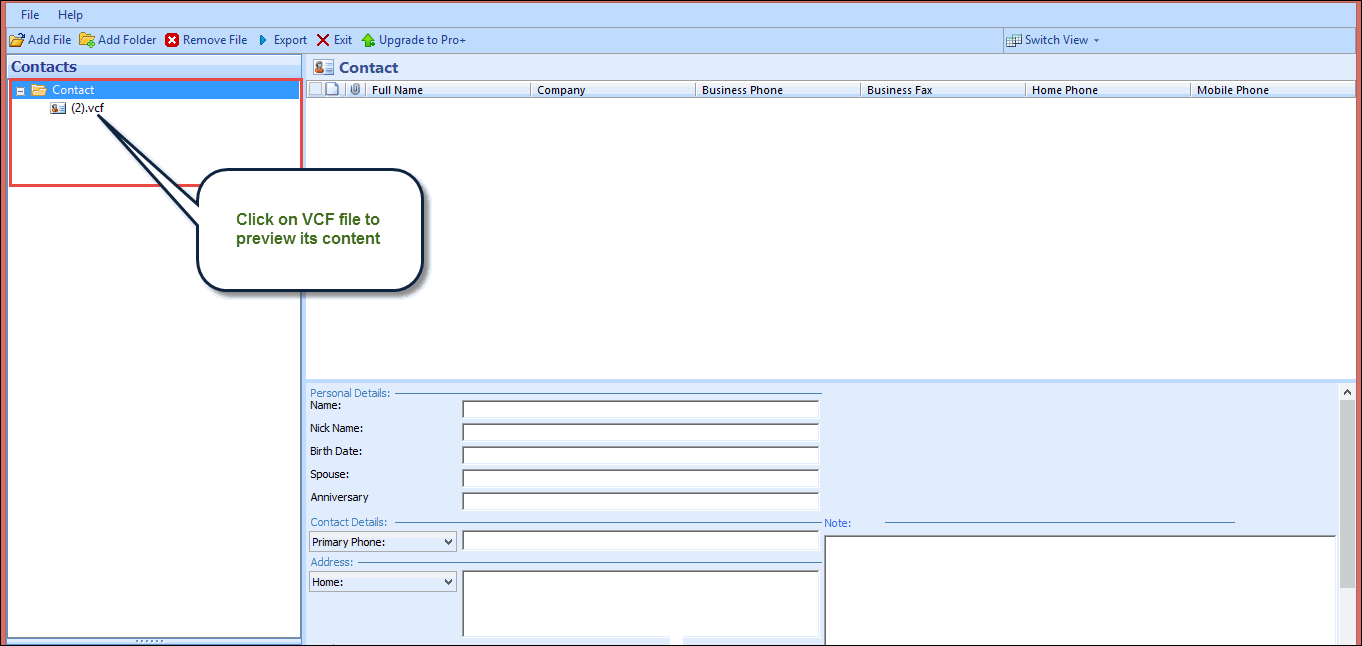 iv. Click Export to start fixing "  Unable to Import vCard " error.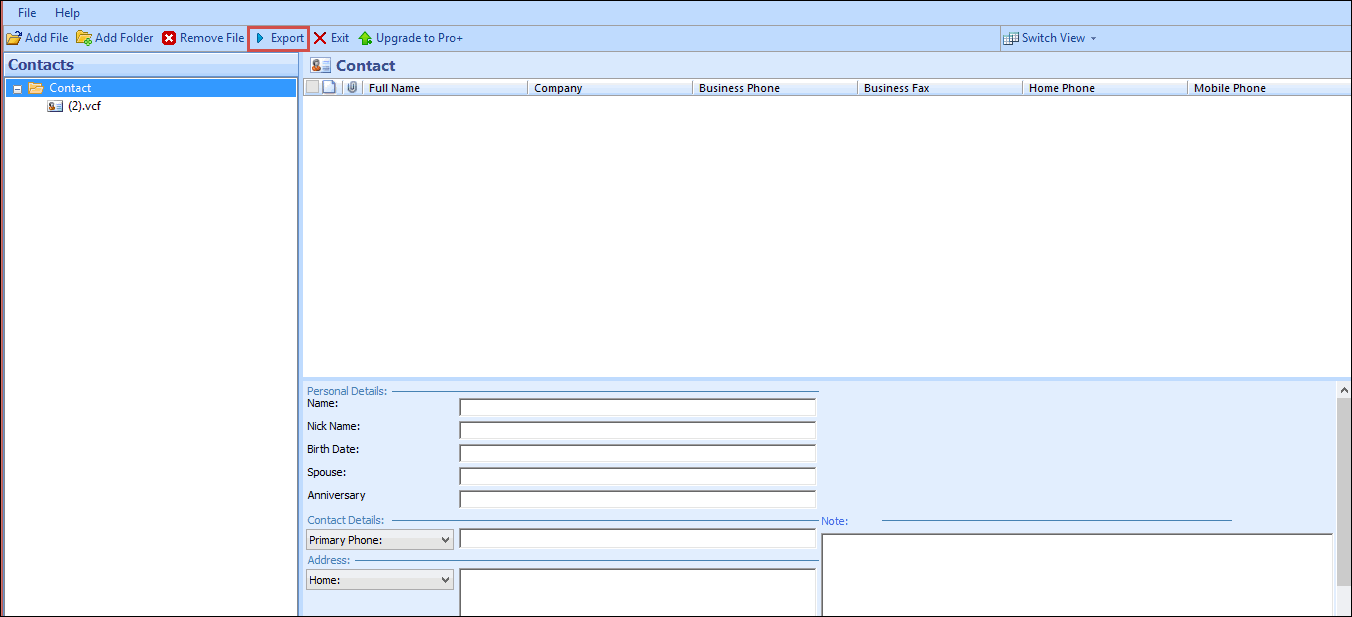 v. Now, select your vCard file and choose between options Merge vCard or Split vCard.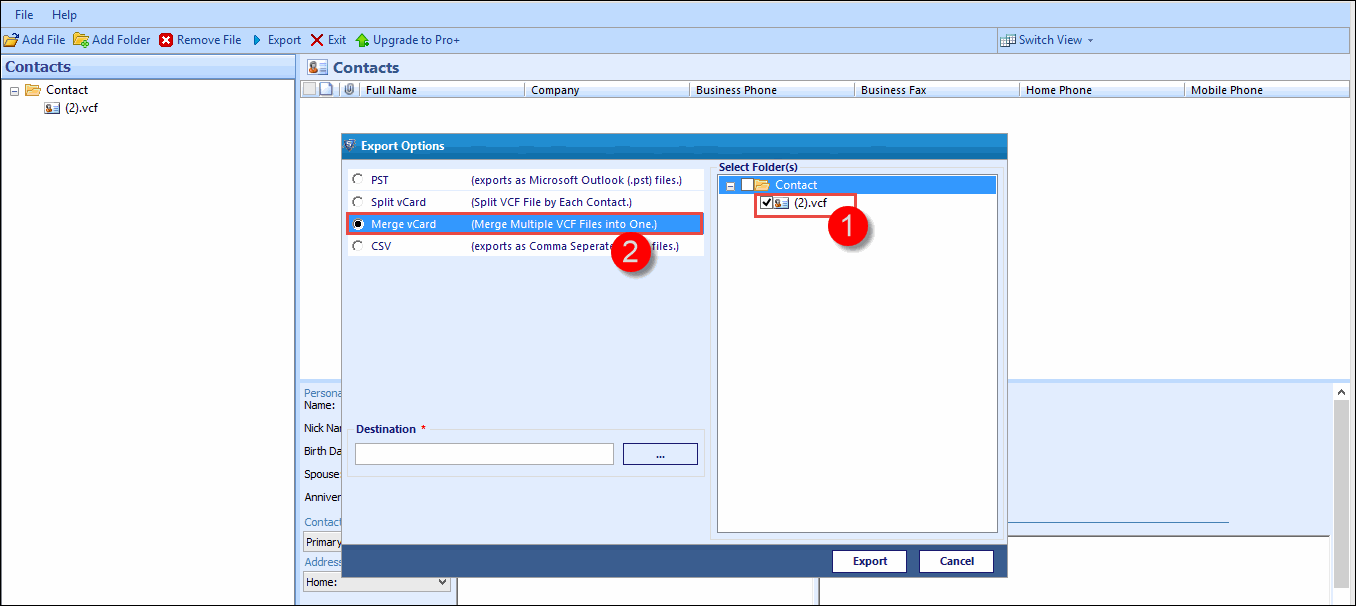 vi. Click Browse to select the storage location of updated VCF file. Click OK.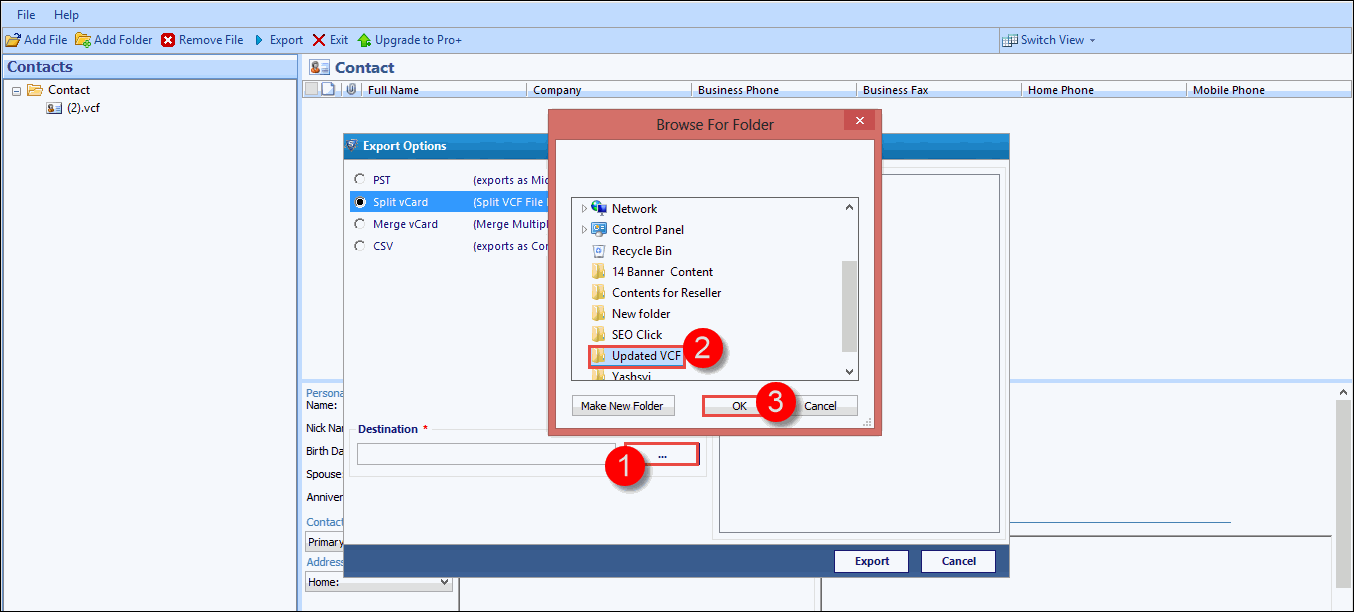 vii. End the process by clicking Finish and your " Could not import vCard to iCloud " issue will be resolved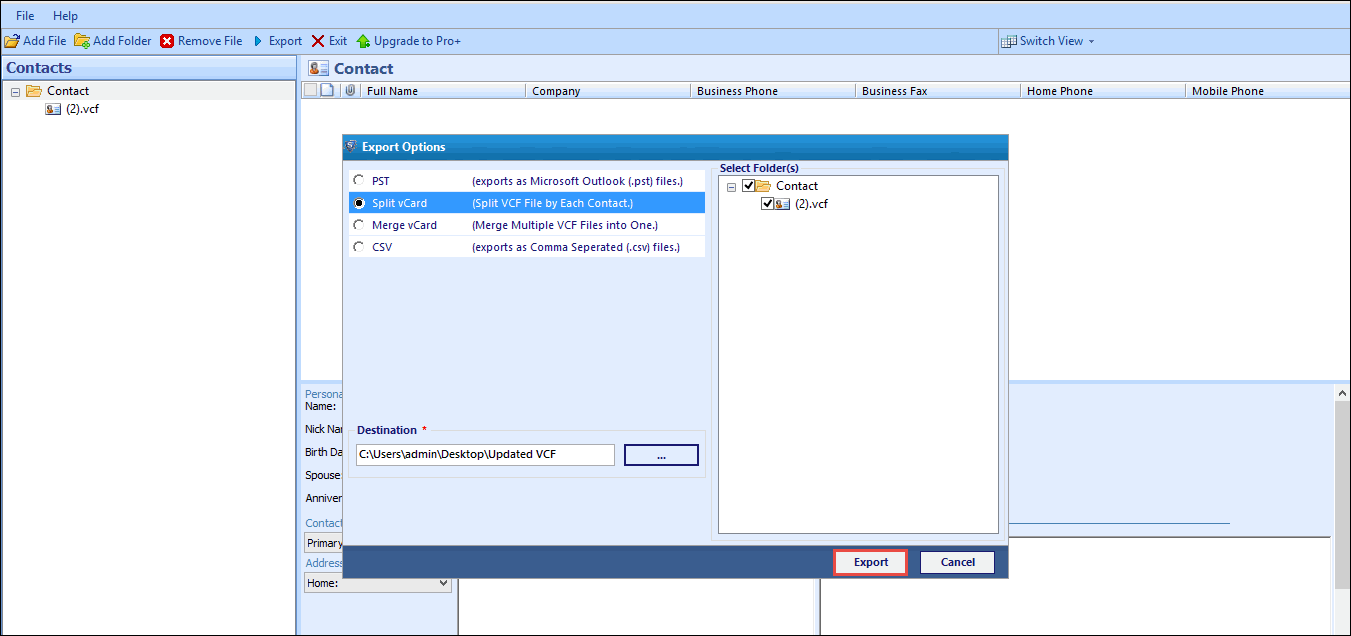 b)Importing Single / Several .vcf With Multiple Contacts
i. Open vCard Viewer Pro. Click Add Folder to import multiple vCard to iCloud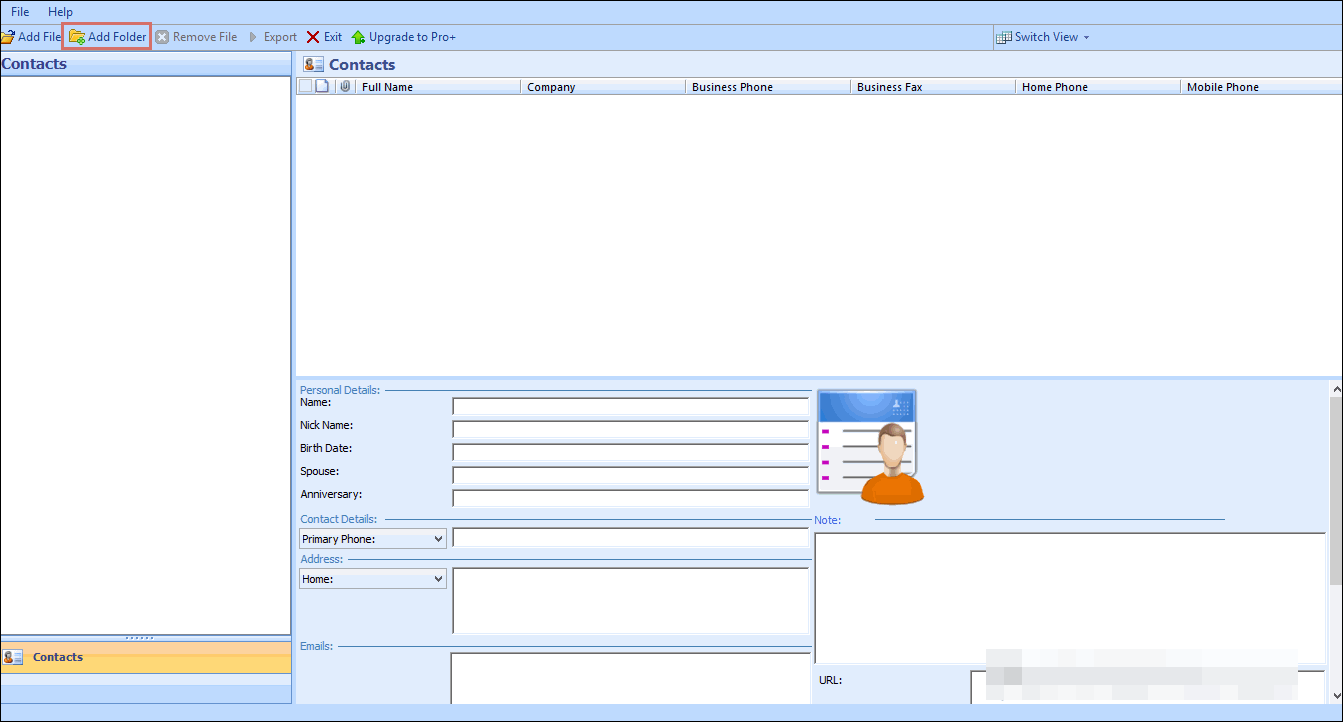 ii. Choose the folder containing multiple VCF files and click OK. You can also select a single file with multiple contacts using Add File option.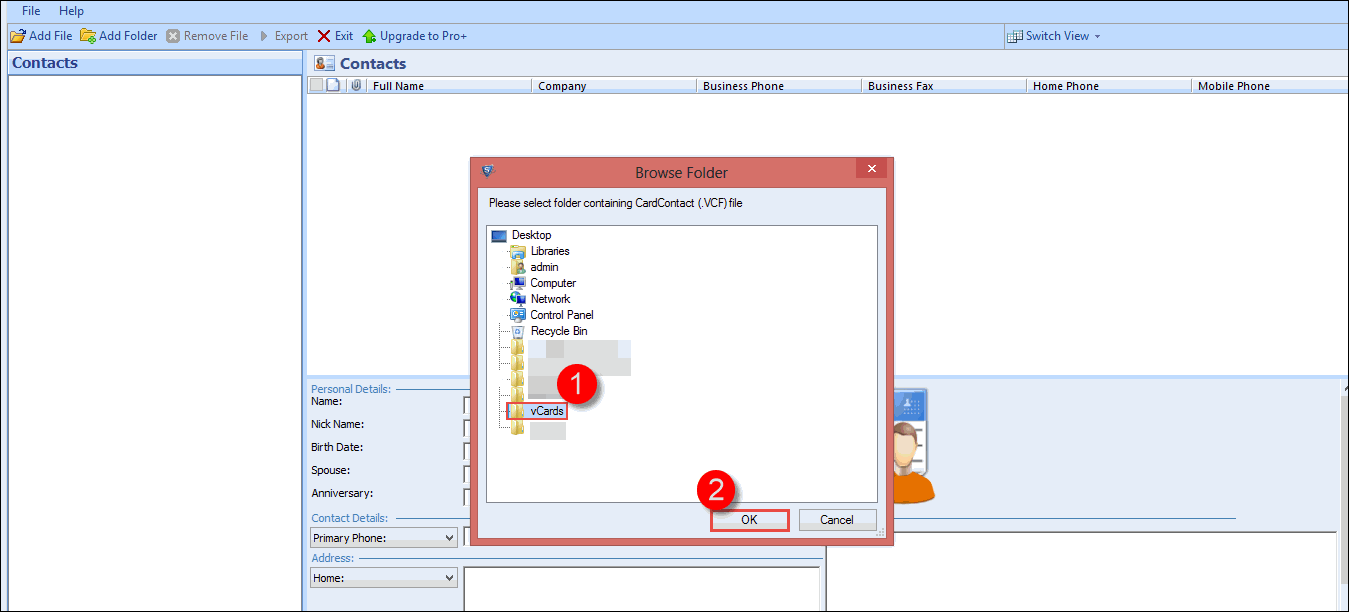 iii. You can view all data of VCF files and click Export to continue.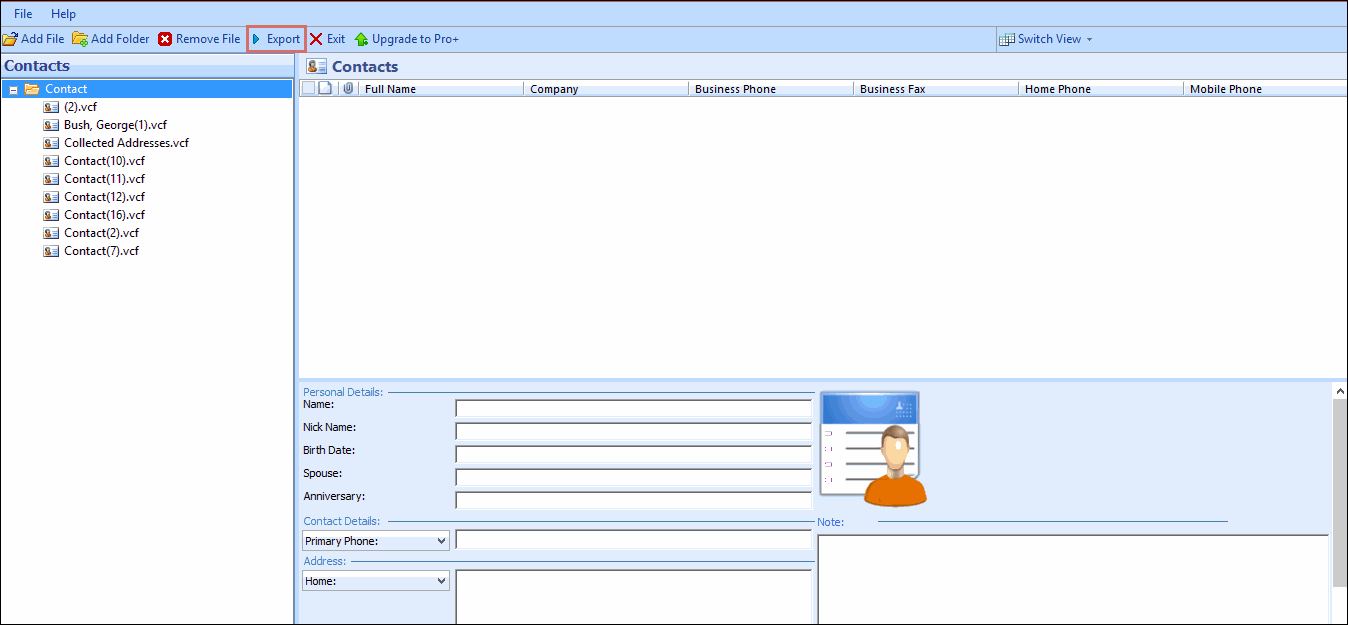 iv. Select all VCF files you want to import from Export Options wizard. Select Merge vCard option to fix " Unable to Import vCard " error.

v.Browse and locate the destination of resultant file. Click OK.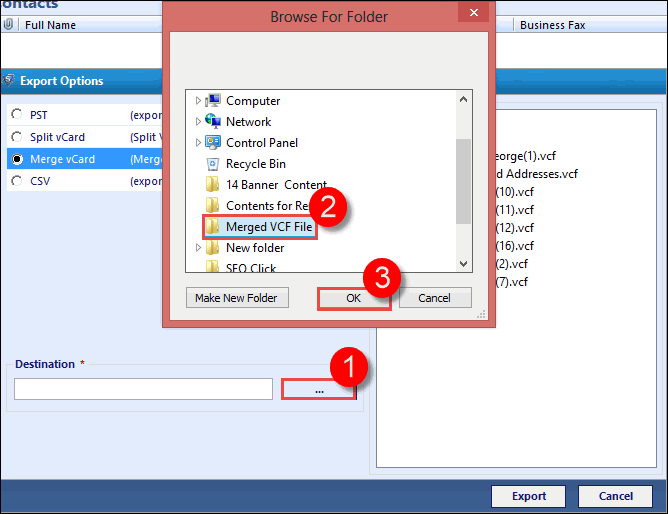 vi. Click Export and merged VCF file will be ready for import to iCloud.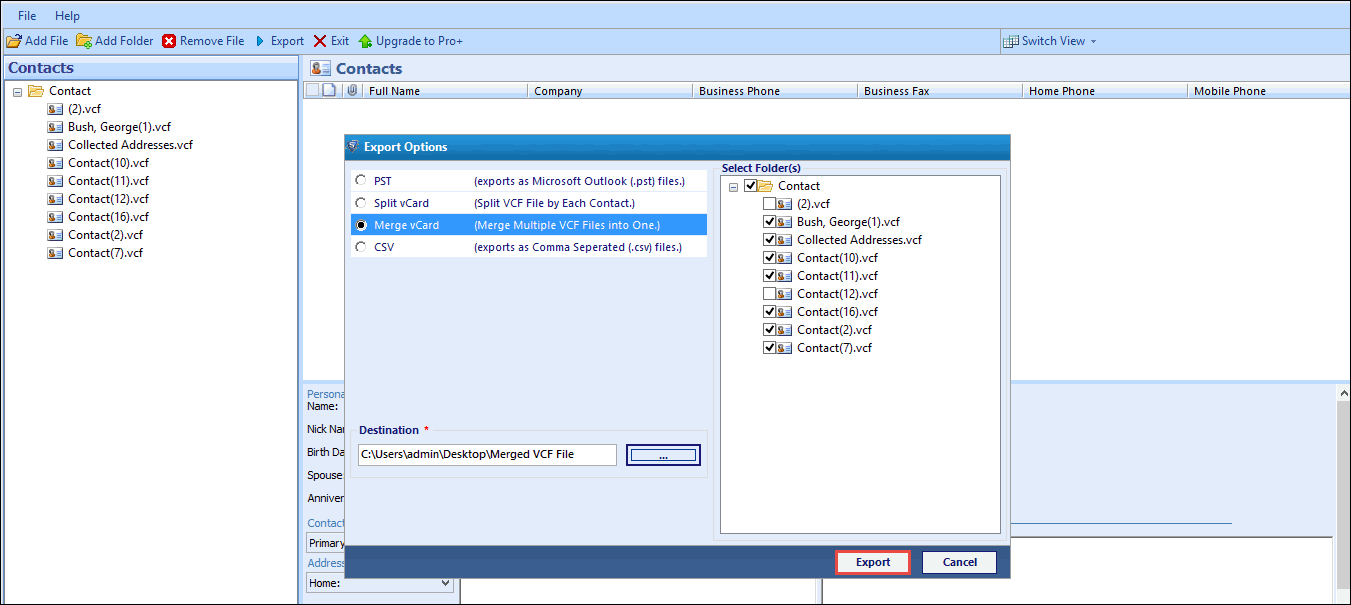 Part II: Import VCF to iCloud
i. Log in to iCloud using your credentials and click Contacts.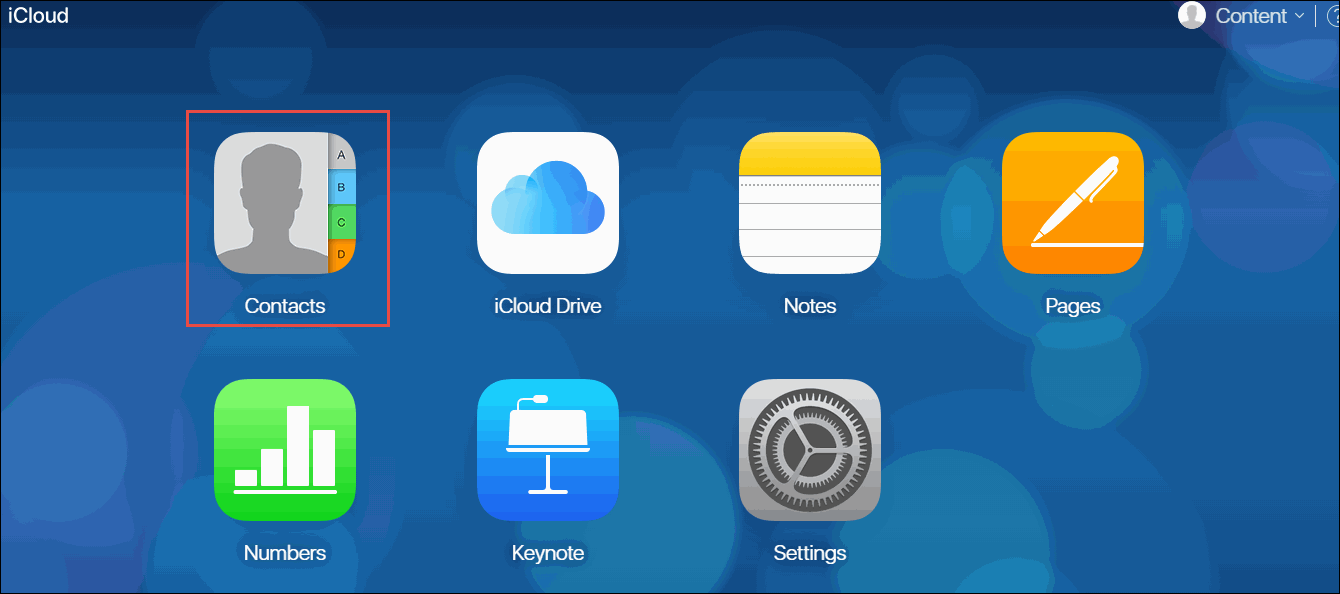 ii. Click on the gear icon on the bottom left side. Choose Import vCard.

iii. Browse to select the VCF file you want to import and click Open.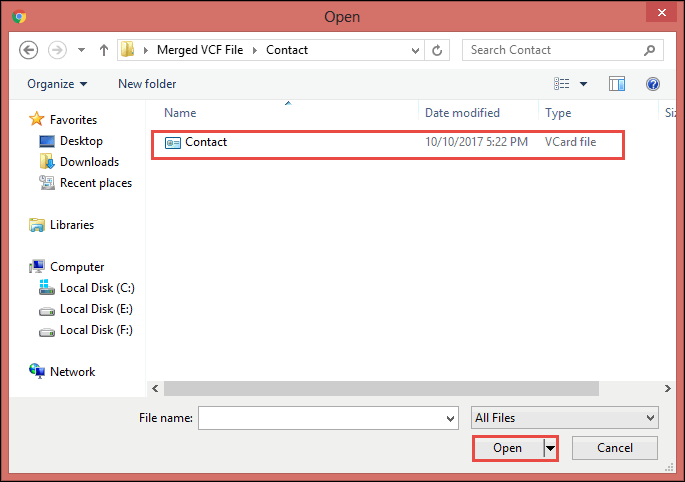 iv. All VCF contacts will be integrated with the iCloud account.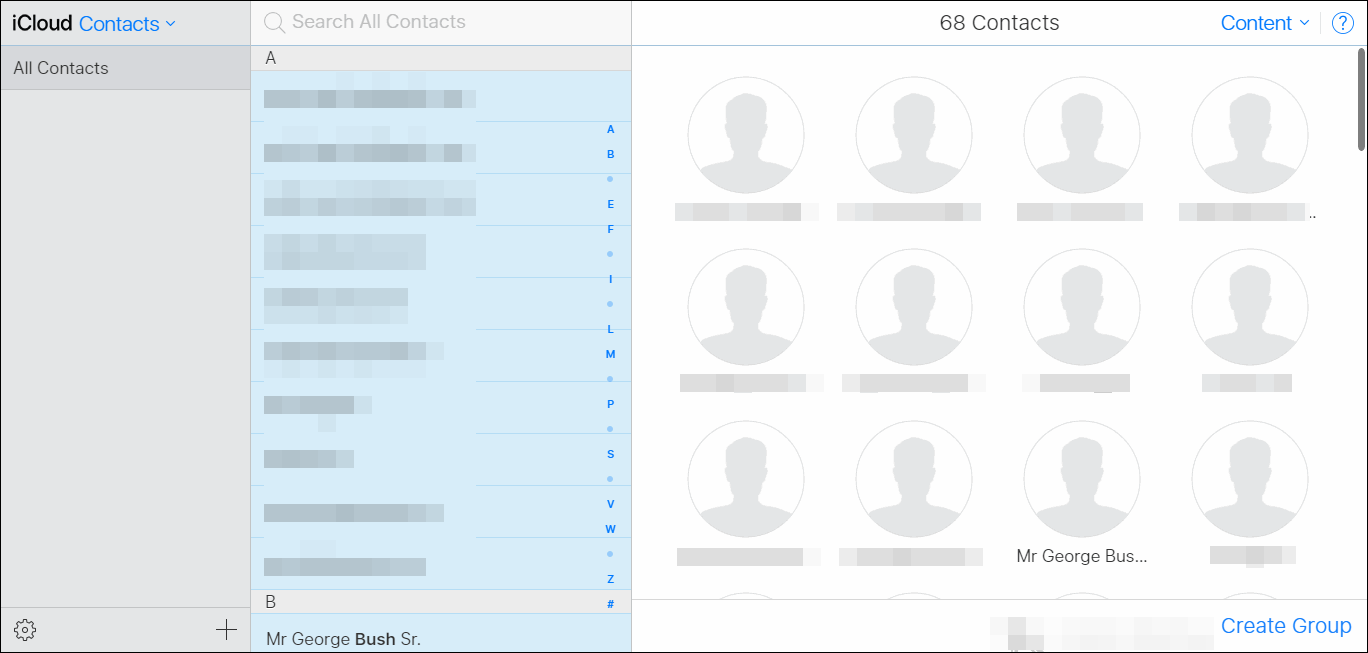 Conclusion
Now, you know how to import vCard to iCloud. Users always look for an easy and reliable solution to fix error " Unable to Import vCard ." The manual solution to this problem is lengthy and does not guarantee success. To successfully resolve this error, users should use the referred program. Users do not have to face the drawbacks of the manual method while using this application. This tool will resolve all the error while importing vCard to the iCloud problem and effortlessly import vCard to iCloud.