Combine Multiple VCF Files Into a Single File – Step By Step Approach
Do you want to combine multiple VCF files into a single file? If so, you are in the right place. Here, in this guide, we've come up with the best solution to help you combine multiple VCFs into one file. Therefore, let's start with the combined process without wasting time. But before we move on, let's talk about some important information about VCF files. 
The virtual Business card digest or VCF is used to store personal and business contacts. It is one of the universally accepted electronic business cards used by hundreds of applications. This can be easily attached to multiple email messages and sent through the IM agent. It contains all the information including name, address, phone number, email address, images, audio clips, etc. 
Subsequently, the article describes the steps to combine multiple VCF files into a single file. Before that, you need to understand more about the vCard file format. 
Read More: How to Import VCF Contacts to Outlook Express Perfectly.
Quick Solution to Merge Multiple VCF Files 
Download

and

Launch

the tool to perform the operation.

Hit on the

Add File

tab.

Preview

the VCF files before merging.

Click on

Export Selected

option.

Locate the save path through "

Browse

". Then, tap on

Export

.
Manual Methods to Combine Multiple VCF Files Into a Single File
This will combine a large number of VCF files and thus provide a vCard for your use
Locate all the target vCard contacts in the root directory of C: \ Drive in a folder and give them a new name. For example my contacts.
Press Windows key + R to open the run screen on the PC. Type and run the string cmd in the text box of this window.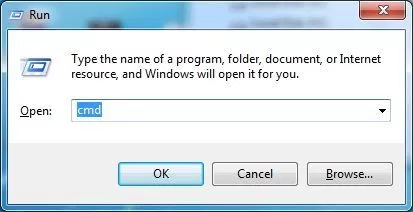 Run cd C: \ MyContacts in the current command prompt window.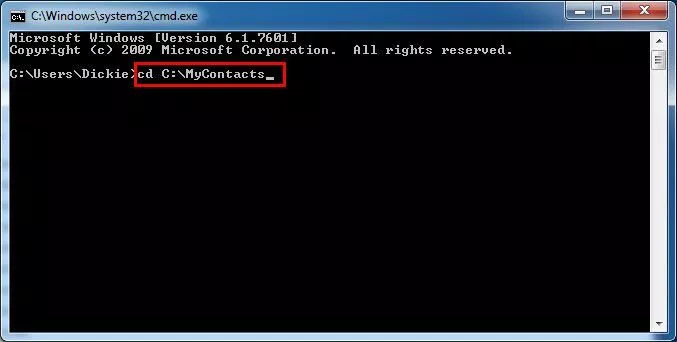 After executing this command, all the VCF files will be merged into one file. The file will be automatically named all_in_one.vcf. A process completion message appears, indicating that you have successfully merged multiple VCF contacts files into one VCF file.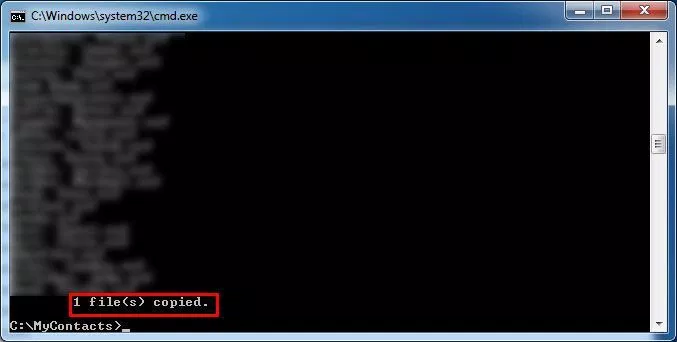 Finally, Close the command prompt screen from your PC and navigate to the location of the file.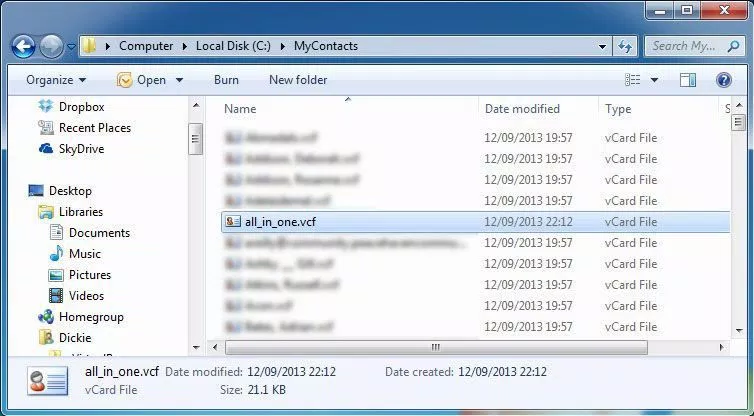 Combine Multiple VCF into Single File Using Gmail
This measure involves using a Gmail account as an intermediary to consolidate vCard files into one.
Login to your Gmail account and click the Gmail drop-down button to select the Contacts option.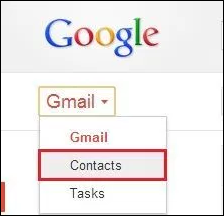 The Gmail Contact page appears, where you need to click More and select the import option.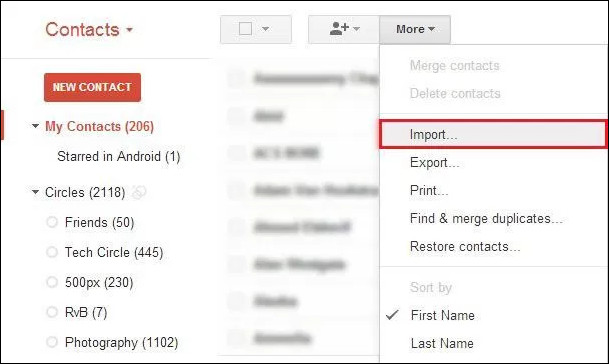 Go to the path where the VCF file is located, select it, and click the Open button.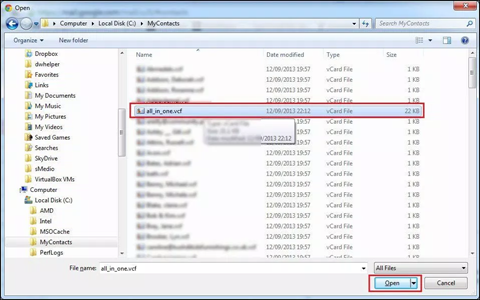 Repeat step (3) until none of your vCard files have been imported into your Gmail account.

Now is the time to export the VCF file to CSV format, which again involves opening the Gmail contact page.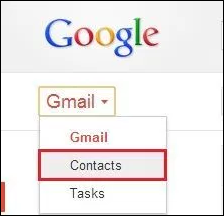 On the contact page, go to More >> Export.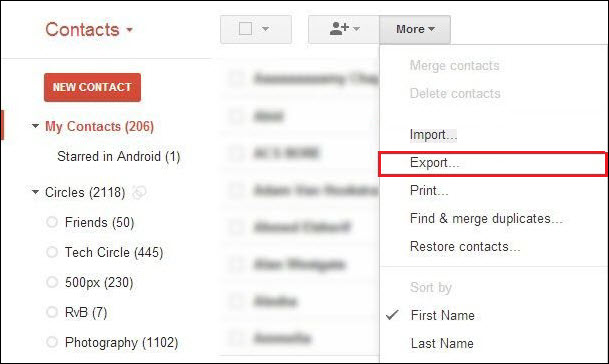 Select the Outlook CSV file format from the list of options, and then click Export.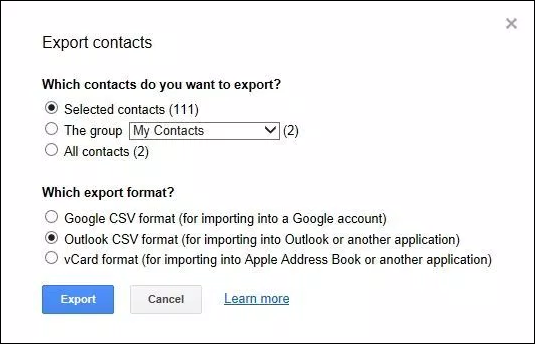 Finally, log out of your Gmail account and close the web page. Go to the path where the CSV file is saved and view all the data in the VCF file through the file.
Limitations in the Manual Method to Merge Multiple Files
The Manual method is of course free, but it has some drawbacks.
Here are a few:-
The whole process takes a lot of your precious time.

The process must follow technical expertise, which will be difficult if you do not have a technical background.
This process is not a fully 100% tested method and can fail.
Therefore, you need to be careful when performing the above steps.
Instant Solution To Combine Multiple VCF Files Into a Single File
If you have multiple email contacts in vCard file format or .vcf, you need to merge multiple VCF files into a single VCF to handle it efficiently. Therefore, to process how to combine these several vCard data files into a single file, you can take the help of the vCard Split & Merge Tool to combine several VCF files into one VCF file, one can use this application. It can quickly and efficiently merge vCard files into a VCF.
This software provides you with the option to sort VCF files or contacts matching the attributes. This software allows you to maintain data integrity like names, phone, numbers, images, etc. Highly recommended software to combine multiple VCF files into a single file. This tool also allows you to split vCard files. 
Steps to Join Multiple VCF Contacts Files Into a Single File 
Download and Run the Software to combine multiple VCF files.
Click on the 'Add File' or 'Add Folder' options.
Then the tool will display the preview of added files.
Select the 'Export' or 'Export Selected' options.
Then locate the path for exported VCF files and then click on the 'Export' button.
Also Read: How to create VCF file in Samsung? 
Conclusion
The perfect solution to combine multiple VCF files into a single file is described in this blog in a step-by-step manner. You can join multiple VCF to single VCF without any hurdle. So, the utility described in this session can join the VCF contacts from different sources together to create a single VCF file without any data loss. 
Frequently Asked Questions
Q1: Can this program handle a large number of files?
Ans: Yes, this software is capable of handling huge amounts of files. To use it, you can click on the Add Folder option to upload VCF files in bulk.
Q2: Does this merge tool support edited or modified vCards?
Ans: Absolutely, this VCF merge tool is proficient in handling edited or modified VCF files. This will provide you with more scalability and increase your workflow productivity. 
Q3: Which versions of vCard does this merge VCF program support?
Ans: This merge VCF wizard supports renowned and well-known vCard versions such as 2.1, 3.0, and 4.0. Through this, users can easily navigate through different versions of VCF. 
Q4: Do I need any technical knowledge to run this combine VCF tool?
Ans: No, there is no technical knowledge required to execute this merge vCard tool. Further, it offers an intuitive and user-friendly interface making the users easier to navigate.