Thunderbird Cannot Open Email, Countless Reasons When MBOX File Stop Working
Shrishti | October 6th, 2021 | Thunderbird
Most of the organisations prefer to work with Thunderbird email client due to its various features associated with it. You can easily manage emails, contacts, appointments and other important tasks through Thunderbird. Its a versatile and open source of desktop based email clients.
While using Thunderbird you may face problems. One of the common issues one can face when you cannot open email in Thunderbird. Such problems make the use difficult of the Thunderbird. So, here we are going to introduce you different solutions to deal with Thunderbird errors.
Common Reasons Why You Can Not Open Email in Thunderbird
1. Errors in MSF files – MSF retains the index of a particular mail, that mean its a summary of the entire mail. Many times, the mail header of an email does not open or its broken in Thunderbird, which makes the files inaccessible
2. Virus attacks – Because many users use Thunderbird for its various default features, there are highly chances of virus attacks in emails of the user. Whenever, you receives virus-infected email, after this attack Thunderbird files becomes corrupted and as a result, the file becomes unusable as it cannot be opened in Thunderbird.
3. Encrypted mails – You won't be able to view and open the mail if the mail is encrypted by the sender or its password-protected.
4. Error in MBOX file – If you use MBOX file in Thunderbird, there are chances of having error in MBOX file. If the MBOX is corrupted or virus-infected then you won't be able to see the MBOX files in Mozilla Thunderbird.
How to Fix the Error to Open Email in Thunderbird?
When you face errors in Thunderbird while opening emails you should consider an apt solution to fix this error. There is a manual method through which you can fix the error. We are discussing few methods that you can use.
Method 1 – Open Emails in Thunderbird by repairing them
A) In Thunderbird go to the left panel, choose any default folder. For instance, choose Inbox folder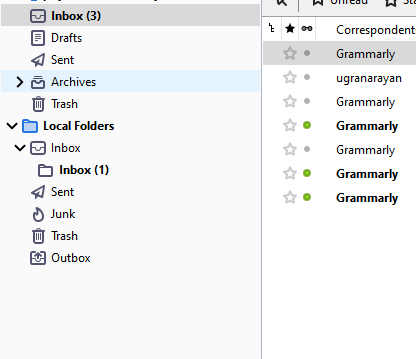 B) Click Right and a pop-up box will arrive, select Properties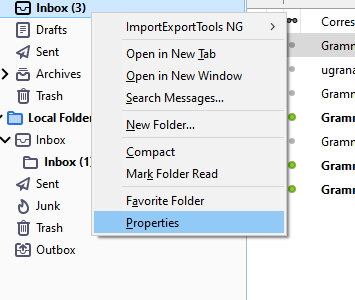 C) New Folder Properties pop-up box will arrive, then click on Repair Folder option then click on OK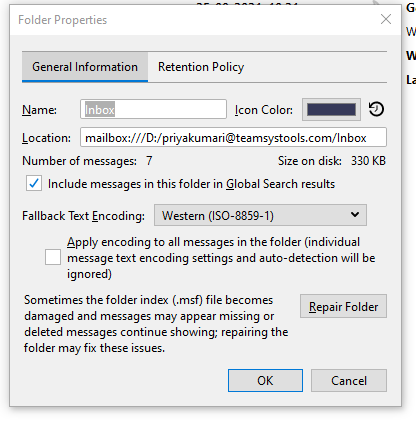 D) Finally, restart Thunderbird. It will repair your MSF file error and you will be able to see your emails.
Method 2 – Fix the email account setup
There might be chances of error while email setup. For that, check your email account settings of the Thunderbird and check server settings as well.
Method 3 – Install Antivirus
If you are facing issues while opening emails, there might be chances it is virus-infected, so, install any good antivirus and you can scan Thunderbird here. It will remove the error and you will be able to view and open emails.
Sustainable Solution to Open Thunderbird MBOX Emails
Methods that have mentioned above, can help you to open emails in Thunderbird but most of the time these methods do not work properly and by performing them you still can not open emails. So, here comes a need of sustainable solution to fix this error so you can open emails. One of the sustainable solutions is SysTools MBOX CONVERTER. This software is able to fix all the error that you are having in Thunderbird mailbox file. It provides you the security of your data as well and you can save mailbox file into multiple file formats.
Features of SysTools Software to Open Thunderbird Emails
1. You will be able to convert multiple MBOX files in bulk with this software.
2. Through this, you can convert MBX and MBS files as well.
3. This software supports all latest windows OS versions.
4. In this tool, you can browse and convert orphaned MBOX by performing a few simple steps.
5. By using this tool, you will be able to extract attachments from MBOX file.
6. This tool is helpful to recover MBOX file along with attachments even after permanent deletion of file.
7. This software provides an efficient feature to split the file. You can break the output file into GB or MB size at the end of MBOX file conversion process.
8. After the conversion process of MBOX file, this tool generates a report that includes the process details of the conversion file. You can save this report for the future reference.
Steps by Step Guide to Use the Software Efficiently
Download and Install the SysTools software on your local system. Follow the below-mentioned steps –
1. Select Add File from the menu bar

2. A pop-up box will appear, now select the Mozilla Thunderbird from the given options, and tap Next button then

3. Now from the select identities, you can choose as per your needs. For instance, choose email Id and tap Process button

4. Select files that you want to convert and tap Export button from the menu bar

5. Now, you will get different file formats in which you can convert your MBOX file. Select the file format and navigate the location to save your file on system and click Export.
Conclusion
In this article, we have discussed different ways to fix error while opening emails in Thunderbird. There are manual and smart approaches but if you perform manually there are highly chances of data loss, and hardly you will be able to fix the error. Hence, the best solution is SysTools Software that provides you the facility to convert MBOX file into different file formats and have many other features.