Learn How to Split Large PDF Files into Multiple Parts
"I have a PDF file consisting of 150 pages containing some information regarding the project report. However, when I tried to open a large PDF file it takes a lot of time. Therefore, I want to split large PDF files into multiple parts so that I could manage and open them easily. So, please suggest any solution for the same?."
The major reason for concern for most of the users is the large PDF file. Due to which users want to split PDF files into different parts. It would be difficult for the user to manage a PDF file of 100 or 200 pages. There is a chance of file corruption so, the only solution is to split them into different parts. Therefore, in this article we will discuss, some solutions to split bulky PDF files.
Need to split large PDF Files into Multiple Parts
There are various needs for the splitting of PDF files. Some of them are given below –
1- Large PDF files take more take for downloading and uploading due to which files get partially downloaded or uploaded.
2- Small PDF files can be shared easily as an email attachment without any difficulty.
3- Another advantage is, viewing small files consume fewer system resources.
4- Large PDF files cause some management and file handling issues and the system starts hanging while opening large PDF files.
Split Large PDF Files With Adobe Acrobat Pro DC
With the help of Adobe Acrobat, Pro DC application users can split large PDF files into multiple parts –
Firstly, open Adobe Acrobat Pro DC
Now, click on the File menu
Select the Open option to choose a PDF document that has to be split
Now, navigate towards the document menu & click Split Document
You will see the split document screen, select the options, and then click the OK button. The options are –
A number of pages: Select the maximum number of pages per split.
File size: Split PDF file by maximum size.
Top-level bookmarks: Set up bookmarks before using the option.
Note 1) To Split PDF file into multiple parts click on 'Apply to Multiple'
2) Click on Add Files option to select the PDF you want to split & click OK
Save output PDF files at any desired location & click OK
Drawbacks of Manual Solution to Split Large PDFs
In order to split huge PDF files by manual solution user should have the full version of Adobe Acrobat Pro DC. If it is absent then the user won't be able to split file. Moreover, the tool is quite expensive because Adobe asks you to take an annual subscription which will be $14.99 PER MONTH.
Most Efficient & Affordable Method to Split Large PDF Files into Multiple Parts
To overcome the limitations of manual strategy users can opt for a proficient automated tool i.e. SysTools PDF Splitter to split PDF into multiple files.
For Windows
For Mac
This software easily split PDF files into a few clicks. Moreover, it provides six options to split PDF documents such as –
By Pages
Even pages
Odd pages
Page Range
Spit By Size
By Each page
Split By Pages Option: With this feature, users can split large PDF documents containing multiple pages into different files. All the output files are saved in the destination path with subsequently numbered. Which makes it easier for the user to track the pages.
Split By Even Pages: A separate file for all the pages in the even count is created and saved in the target location.
Split by Odd Pages: Software split an odd number of pages of the selected PDF file. The tool does not make changes to the original file rather it creates other files.
Split By Range: This feature allows the user to split large PDF documents into multiple parts by range. In this, the user has entered the respective range and software creates PDF for each page that falls under the given range.
Split by Size: Split PDF files according to the PDF file size.
Split by Each Page: Separate each page of the PDF file into separate PDF documents.
Working of Automated Solution
1. Firstly, install and run the tool by choosing the Split option. You can also skip attachments in the output document.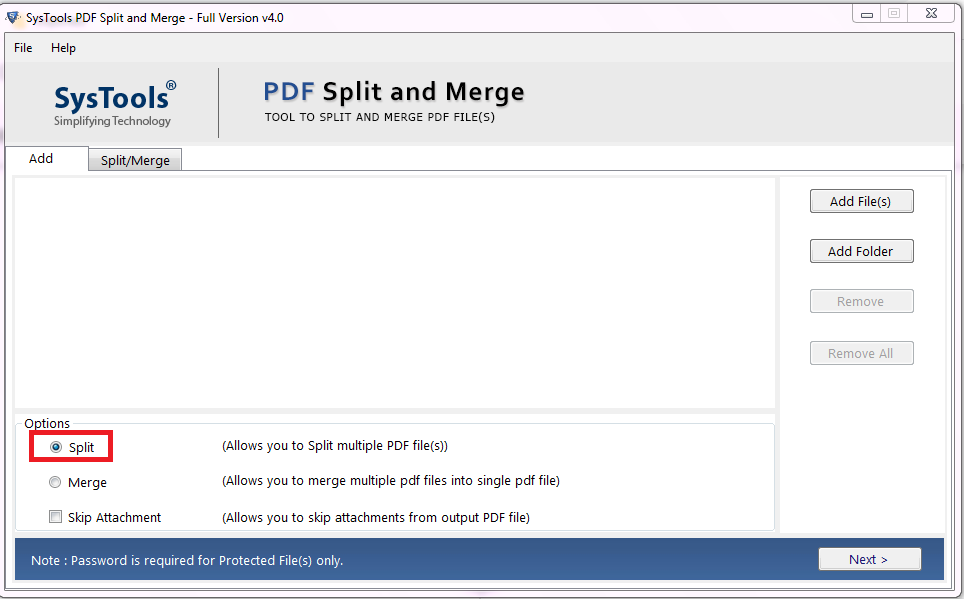 2. Click on Add File(s)/Add Folder to select the PDF file you want to split & click on Next. If your file is encrypted then, the tool will ask for the password.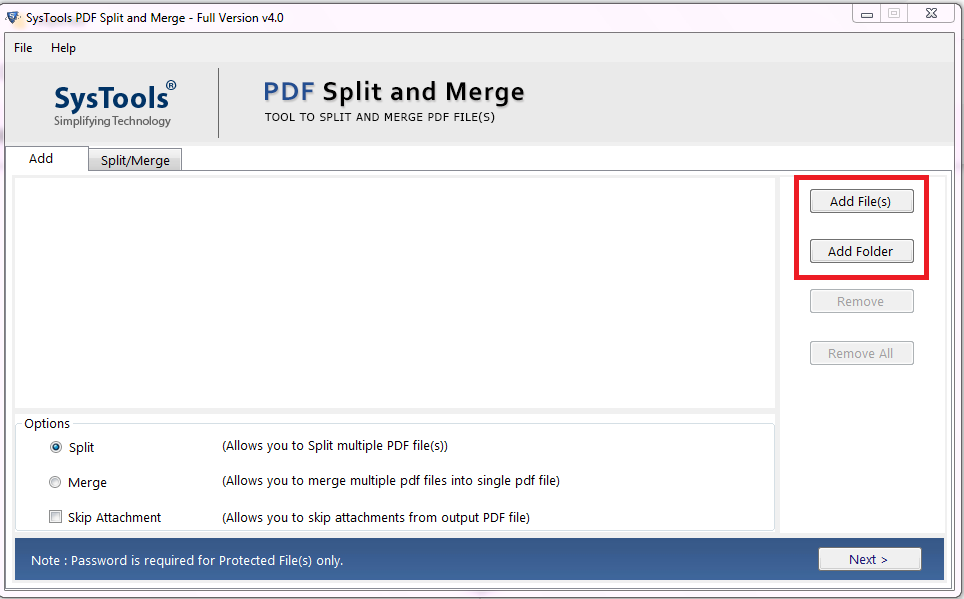 3. Select any desired Splitting options & click on the Split button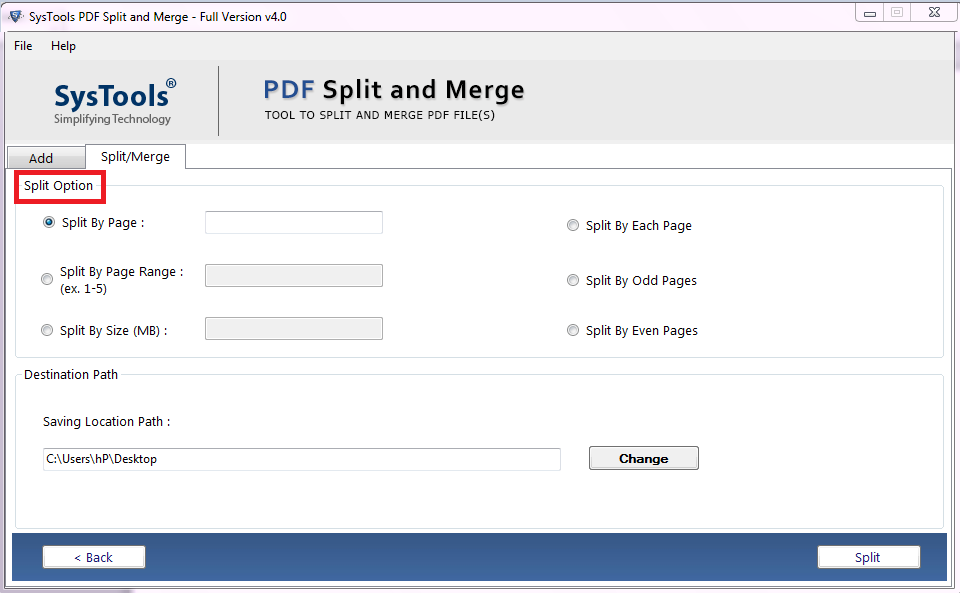 4. Pop up window is generated showing the completion of the process Click Ok
Read More: How to Delete Odd Pages in PDF File?
Conclusion
In the described article the entire procedure to split large PDF files into multiple parts is given. We have discussed both manuals as well as an automated solution. But, the manual approach fails when the user doesn't have the full version of Adobe Acrobat Pro. Therefore, we come up with a multi-functionality tool to split these portable documents formatted files.