How to Recover Corrupt OneNote Files – Restore Deleted OneNote Files
Microsoft always updates itself by introducing new and advance applications and software. OneNote is one of them, it is an excellent software for gathering and collaborating information with multiple users. The application has been updated over the time to make work easy but what if OneNote file get missing, deleted or corrupted? How will you troubleshoot OneNote errors & problems? There are many users who search and post queries like how to recover corrupt OneNote files, or how to restore deleted OneNote files or missing OneNote data. Here we have some user query related to Microsoft OneNote.
"I have several notebooks open on OneNote while working on my laptop. I sync OneNote with OneDrive and I saw automatically some changes. The problem is when I am trying to open any file it says "the information is missing, there are no sections open in this notebook or section group. Click here to create a new section". I want to recover lost OneNote files, what can I do to recover data and the info back to my laptop? If anyone knows how to resolve this issue then tell me."
"I was preparing for exam and working on study guide in OneNote 2016. I have spent several hours on it in the past few days. But unintentionally I have deleted my complete notes while deleting some other files. I have no clue how to restore deleted OneNote files. Those notes are important for my exam point of view So is there any way to recover deleted OneNote files?"
"I am using OneNote 2012 I have received an error message: "OneNote cannot access the Notebook cache file. It may be corrupted. OneNote will restart and create a new cache file. Error code: 0xE000019F". I don't know when those files got corrupted, I want to recover corrupt OneNote files. Please advise me any solution."
So, these are the top user queries which belongs to OneNote file recovery. Generally, when you are unable to find OneNote files in your PC, it doesn't mean that all these notes are gone for forever. There are some effective methods to recover lost OneNote files and corrupt files. All it required the correct methods, before that know the causes of missing file.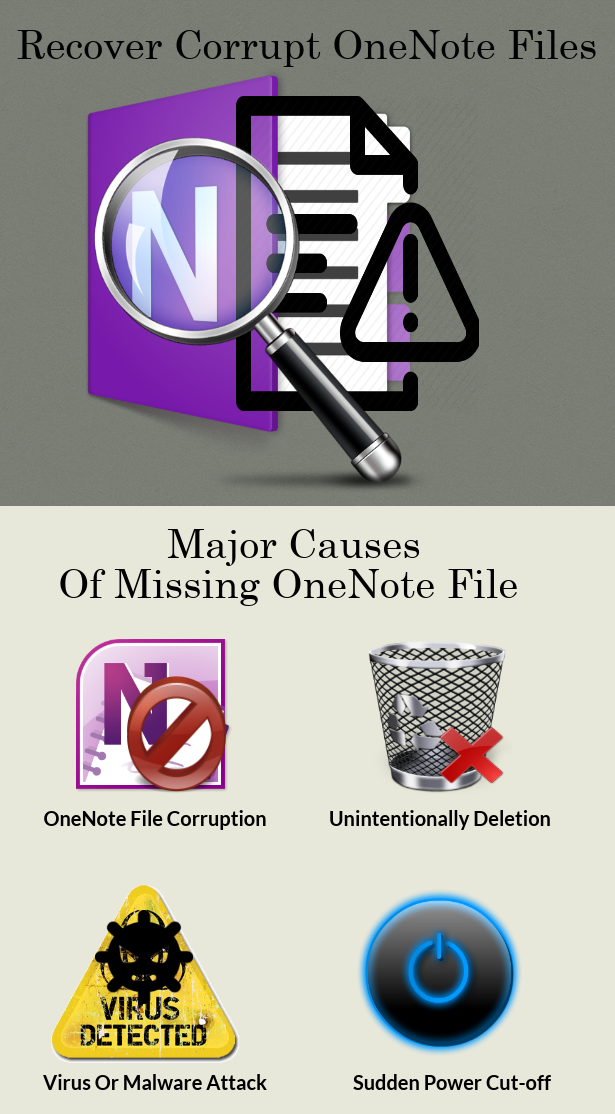 Possible Causes of Missing OneNote File
There are several causes behind the disappearance of OneNote file. But two are main deletion and corruption.
OneNote File Corruption: If you are unable to open the file or you cannot access it, then maybe possible that the file got corrupted. So, recover corrupt OneNote files with the correct and effective manner.
Unintentionally Deletion: As explained in the user query, most of the users accidentally delete their important file while removing some other data. It becomes quite difficult to restore deleted OneNote files.
Virus attack: Always use the best anti-virus for PC. Once your system gets infected by virus it starts attack on each and every file one by one. This can be the cause of missing file.
Other issues:Though Microsoft OneNote has the feature auto-save mode, but sudden power cut or system shut down can impact your data.
Therefore, always take a backup of your important documents & secure OneNote file. But if you are already in the hassle and looking for a solution then follow the below mention techniques this may help you to fix corrupt OneNote files or recover lost OneNote files.
Techniques to Recover corrupt OneNote files
This method is applicable for corrupt OneNote file by using ForceRepair switch. If you know that file is damaged and that is causing follow these steps to repair a OneNote section file.
Click on Start >> Run >> Browse
Change the location in the Look in from Browse dialog box
C:\Program Files\Microsoft Office\
Note: In your PC may be the location is different.
For OneNote 2003 is Office11 and for OneNote 2007 is Office12
Click on Onenote.exe and then click on Open
Now, move the insertion point towards end of the path statement
Close the quotation mark, type a space and type /forcerepair in the file-path
here file path is the full path and give the file name of which you want to repair,
The open box will look like the following:
"C:\Program Files\Microsoft Office\\Onenote.exe" /forcerepair
"C:\Documents and Settings\username\My Documents\My Notebook\Quick Notes.one"
Click OK to fix corrupt OneNote files and you will receive the following error message:
Once OneNote gets restarts, click OK, when you get the following message:

OneNote has repaired the file: Filename.one. By following these steps you can recover corrupt OneNote files.
Recover Lost OneNote Files – Manually
Sometimes unfortunately unwanted event occur and notes get missing. If any information is missing and you are unable to analyze the cause then don't panic. Every problem has their solution. Microsoft OneNote has an inbuilt feature that it keeps limited set of automatic backup by default. Therefore, luckily you can get back your data from the backup folder. For that follow these steps this technique is applicable for version 2016 & 2016.
Open the notebook select File >> Info >> Open Backups
You will get a dialog box in Open Backup, it will show the list of folder with their name
Double-click on the notebook that you want to get back
Check does that folder contain your deleted notes in the sections then right-click on section tab to restore OneNote files
Move or Copy command to get back the notes in their original location
Trick To Restore Deleted OneNote Files
If you have deleted your OneNote file unintentionally then you can recover them from OneDrive Recycle bin.
First of all, log in to www.office.com and select OneDrive
Select Recycle bin from the left panel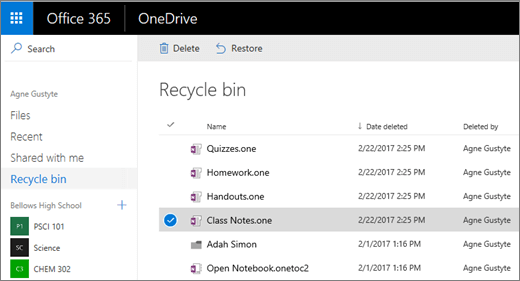 Choose the deleted file that you like to recover
Click on Restore and the data will be saved to their previous location in the Class Notebook
Bottom Line
OneNote is one of the popular applications launched by Microsoft. But users are troubling with several issues. Therefore, first try to understand the cause and then resolve it. Follow the above mentioned technique to recover corrupt OneNote files. The article has explained two other solutions also one for missing file and another to restore deleted OneNote files. You can select the manual method according to the requirement of an issue. Hope the piece of information is worth to you.