Fixes for Outlook Mac 2011 Is Not Opening Issue
"Outlook Mac 2011 is not opening all of sudden. I have been using Outlook for Mac 2011 on my new Mac since I had opened that around 4 months back. It was working fine. I only used to encounter trivial issues like say with email attachments once in a while when they did not work and sometimes, problems with sending emails, but I managed to find workarounds always and in the end, everything used to run smoothly.

However, this morning, all of a sudden, my Outlook no longer opened, resulting in forced shutting down for trying again, but with no luck at all. I even tried to restart the machine. I also tried to start from finder and not from dock. I even used disk-utility for repairing my disk, which is a workaround known to me for the attachment issue. But, all efforts went futile, and Outlook was still not opening. I was also unable to repair my main profile. Can anyone suggest a fix to my Mac Outlook 2011?"
The complete blog features the Outlook 2011 Mac does not open issue and the possible solutions available to resolve it. Please go through the following article and try solutions on your Mac machine as suggested.
Fixes for Outlook Mac 2011 is not Opening Issue
Here is a possible methodology for the issue when Mac Outlook does not open. This is a tried and tested method, wherein the same problem happened to many users at times and these steps resolved the situation for them on some of the occasions.
It might seem that your Outlook's database has got corrupted and it might need to be rebuilt. For this, the symptom is that when Mac Outlook 2011 is started, the logo-splash-screen opens and after that, nothing happens, even after rebooting Mac. Hence, what needs to be done in such a situation is enabling of MS Database-Utility that would run after that, and would also fix Outlook's database wherever it is required.
And then, before moving forward, take care of the usual safety measure of ensuring that the backup of Outlook-related relevant files is taken before making an attempt of any of the below mentioned fixes.
Rebuild Outlook Identity Mac 2011
This is the first and foremost manual technique that one can try without a glitch in case Outlook Mac 2011 is not starting. For trying & fixing corrupt Outlook's database, you can follow the steps underneath:
Simply click the 'Alt' key from the keyboard while clicking Outlook Mac 2011/16's icon
MS Database-Utility then opens.
After that, click 'Rebuild-Main-Identity'
This kicks off the scan, the verification & also the move of emails to new database file
Fix for "Outlook Mac 2011 is not opening" Issue
After you copy the records or emails across some new Outlook's database, it would recover any of that data then and after that, rebuild would end. Thus the Outlook Mac 2011 not working issue can be resolved.
Fix for Outlook Mac 2016 Corrupted Database
Another manual solution which you can try is this. You can do this by following the steps given below:
You must click 'Done' when you are actually done!
Exit Microsoft's Database-Utility
And then, click Mac Outlook 2016's icon
This would open fine
Yet another Scenario
One more scenario in which user might even view Microsoft's Database-Utility is when Outlook Mac 2011/16 is started and that actually leads to the detection of some issue with the mail database, and thereafter, user is prompted to start this utility for trying & fixing this issue.
Third-Party Tool for Outlook Mac 2011 is Not Opening issue
The above fixes are the manual ones for rectifying the problems for Mac Outlook 2016, which do not need to pay anything. But at times, they do not work and do not yield results. In such scenarios, one can always turn towards the small-investment-wonders, the third-party tools, which are good value for your money, every bit.
There are many vendors selling such products currently in the online market. Now, the catch is to pick the best one. Downloading demo versions help in most of the cases as what you see is what you buy! This can be the best deciding factor which choosing any third-party solution. One such efficient third party tool is SysTools Outlook Mac Database Recovery Tool. The main features of this utility are:
Automatically Locate and Upload Mac Outlook 2016/2011 Profiles
Manually Locate and Perform Recovery on OLK14 & OLK15 Files
Advanced Enough to Repair Emails, Calendar, Contacts, Tasks, etc.
Provides Option to Save Healthy Data in 10 File Formats
You can also Export Calendar and Contacts Individually if Required
Multiple Filters to Export Important Data instead Complete Data
Support for Mac OS 10.8, 10.9, 10.10 and Above Versions
Step by Step Guide of the Tool
Step 1: Download and run this program and choose the version of Outlook you are using.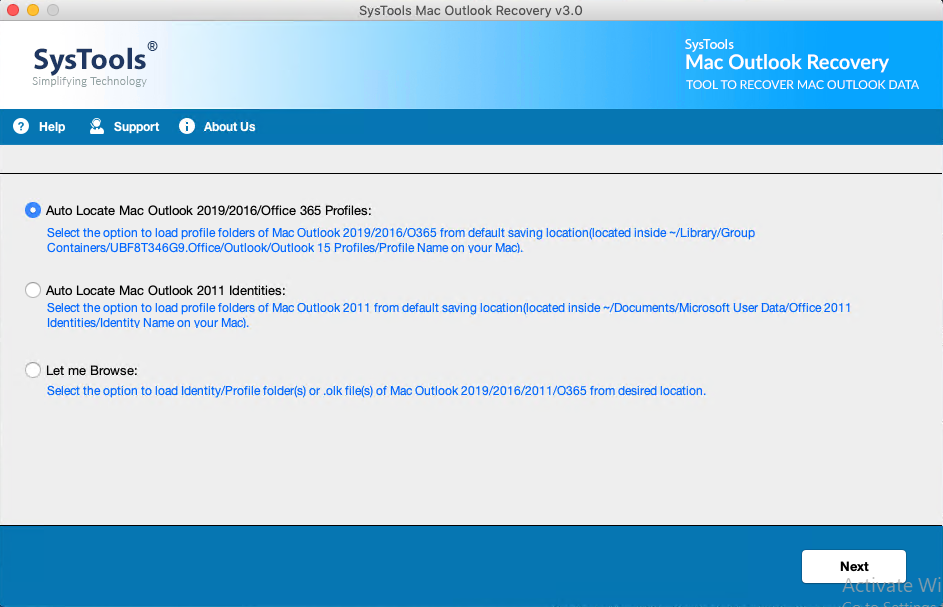 Step 2: Select the export option in which you want to export your data.
Step 3: You can use the advanced settings and choose the destination path according to your choice.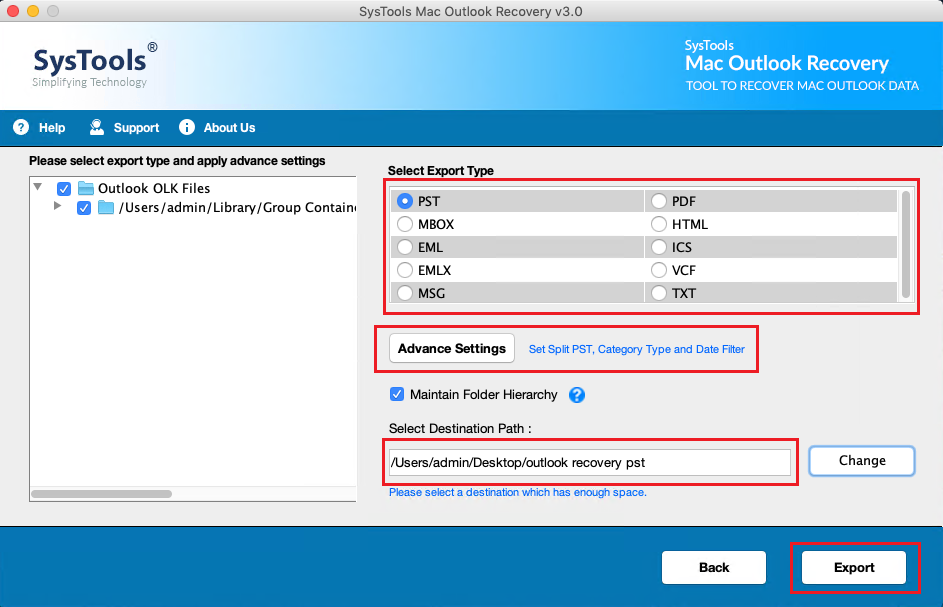 Step 4: Click the Export button to initiate the recovery process.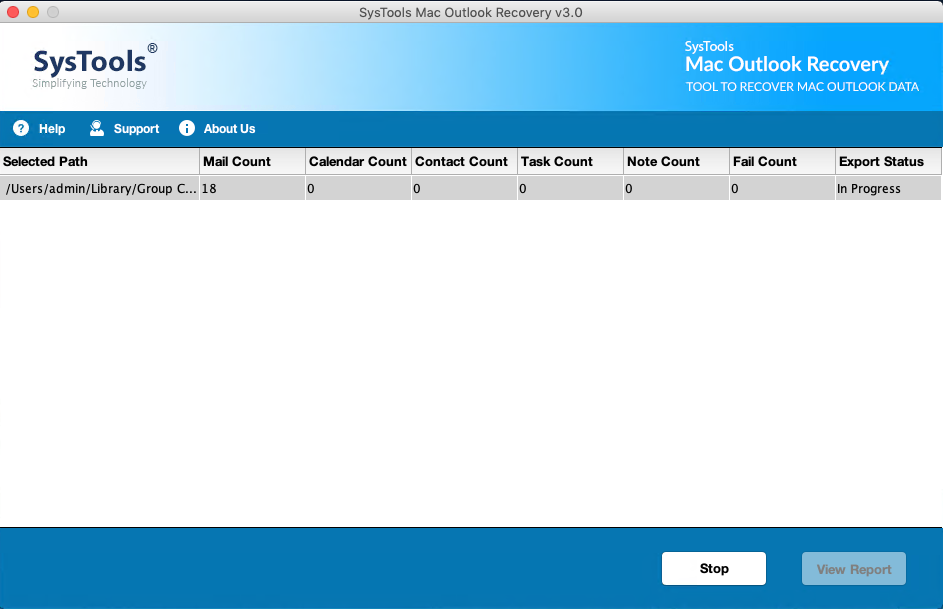 Step 5: When the entire process is complete, you will receive a completion message.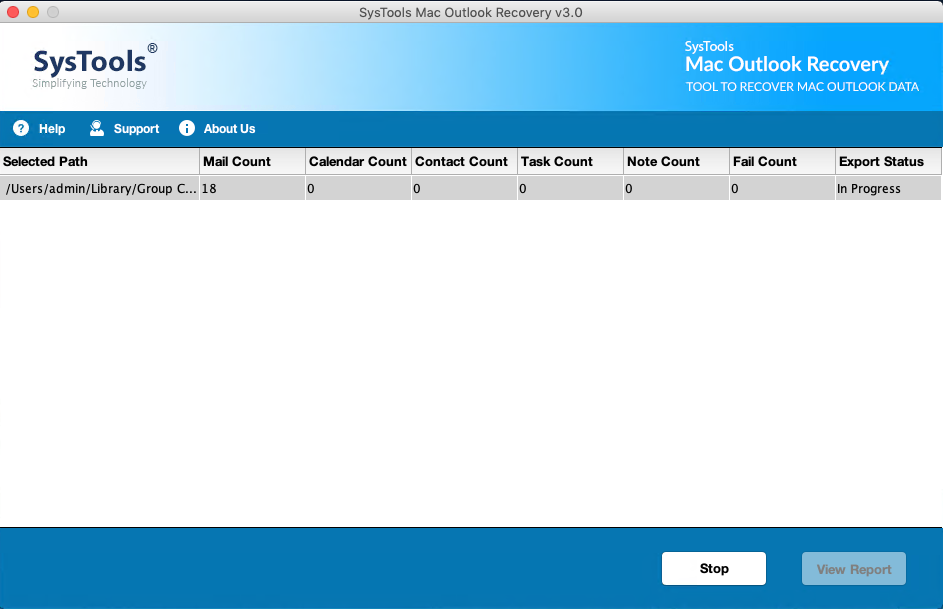 The End Note
As with all other computer programs, there surely arise many troubles and issues, which ultimately cause such Outlook problems. Although you may find the above fixes for the issue- Outlook Mac 2011 Is Not Opening, as they have been tried and tested by many users, if nothing works, then there always is the door of third-party solutions that can be knocked to knock down the trouble!