Outlook OST File Keeps Getting Corrupted on 2019, 2016, 2013, 2010 Versions
Ugra Narayan Pandey | November 27th, 2019 | Tips
OST file is an Offline Storage Table folder file in Microsoft Outlook 2010, 2013, 2016 and 2019. The essential feature of Offline folders is that possible for the user to work offline and then to synchronize changes with the Exchange server the next time they connect. The ability to work offline is useful in environments with limited connectivity. The issue is Outlook OST file keeps getting corrupted versions 2019, 2016, 2013, 2010 because of some reasons discussed in this article. You can simply carry out activities like analyze or cancellation of existing mail, keeping draft, and so forth. And do not have to worry about the alterations being made offline, the reason being, Offline Outlook Data File (.ost) get spontaneously synchronized with Exchange Server. Another type of file in Outlook is the PST file i.e, Personal Storage Table. Which is simply stored on the client or a server other than the Exchange server.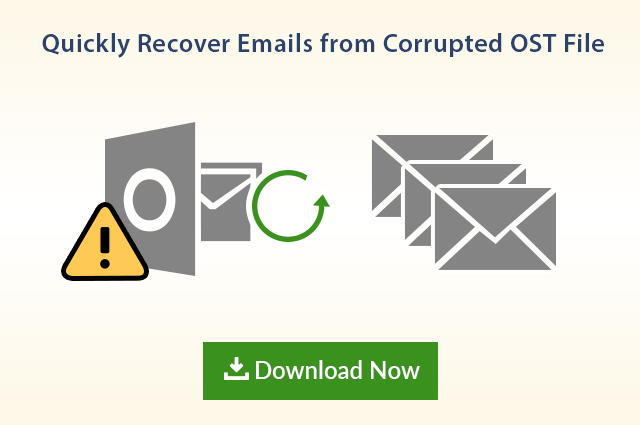 Factors of OST File Keeps Getting Corrupted on 2019, 2016
There are many reasons for the OST file gets corrupted, and the reason may be related to software and hardware functions.
Software Errors:
Corrupt File System Recovery
Virus Attack / Malicious Software Download
File Keeps Getting Corrupted Because of Work Over Load
Errors in Outlook Programs
Hardware Reasons:
Problem in Networking Device
Crashed Data Storage Device
Power Failure Issues
Dirty Shutdown
The following factors may not true for every case of OST file gets corrupted. There may be a different reason for each scenario. In general, these are the major reasons for OST file is Corrupted in Outlook 2010, 2013, 2016, 2019
1. Halt In OST Synchronization Process
When OST file synchronizes with Exchange server, all the changes of OST file in offline mode, get written to the server. It takes up to five minutes in total for 20-50 emails to get synced with the Exchange server at an internet speed of 28.8 KB per sec. And also in case of any fault in the synchronization, the mails didn't get completely synced to the server. The failure in the synchronization process ultimately leads to the state Outlook OST file keeps getting corrupted. The synchronization issues may be a result of network issues. A bad net connection may lead to a repetitive halt in synchronization process.
2. Virus Infection
OST files are highly prone to virus infections. Viruses may enter your system through unsecured websites, infected pen drives, spam emails and so on. The OST file gets corrupted because of these viruses. These OST files when opened with Outlook generate, errors and the data items residing within the file refuse to be accessed.
3. Damaged Hard Drive Partition
The OST files reside locally on any drives of hard disk. In case the drive in which the OST file is located is posing some corruption issues, then there are chances to end up corrupting the entire data residing on it, including the Outlook OST file keeps getting corrupted. In this case, change the location of the OST file and save it on a different drive. Also, take a backup of your OST file in an external device. For this way can repair the OST file gets corrupted.
Outlook OST File Keeps Getting Corrupted – Manual Solution
Method 1: Renew Folder
User can fix the OST file gets corrupted by only renewing it. Pursue the guidelines bellow:
Go to Properties Then Right-click on the folder
After choosing properties there is a dialog box that will appear. In this box choose Clear Offline Items.
Hit OK
If you working on Outlook 2010 ribbon go to Send/Receive alternative
Hit Update Folder.
OST File Keeps Getting Corrupted – Automated Solution
There is a solution for all corruption issues of OST file. SysTools OST Recovery Software. It is able to repair corrupted OST files effectively and fix any type of Outlook OST file errors. It has two scanning modes: Quick Mode and Advanced Mode. Use Quick Scan mode to repair minor corruptions of OST file, and select Advanced scanning mode to repair the Microsoft Outlook OST file keeps getting corrupted.
Features:
1. Extract & Recover deleted messages from OST files: Emails, Calendars, Contacts
2. Repair & Restore OST into common file types like PST, EML, and MSG
3. Split exported File into Small size to avoid file corruption
4. Support OST file of both Compressible & High-level Encryption
5. No File Size Limitation for recovering the OST File in case of OST file gets corrupted.
Conclusion
The manual solutions may help to put a stop on the OST file gets corrupted but there is a chance for the corruption of the OST files again. However, in case the above solutions, do not work out for you and you still are not able to recover the data residing in the OST file, also it is time-consuming. And then you can download a third-party tool "OST Recovery Software", it is one such tool that recovers that Microsoft Outlook OST file keeps getting corrupted and saves it in a new and healthy PST file format. This PST file can, later on, be imported in Outlook and the data residing within it can be accessed easily.