Office 365 Restore Mailbox to Different User Using Easy Method
Looking for solutions to solve Office 365 restore mailbox to different user? Don't worry, you will find the best solutions here. Office 365 being an email client provides various beneficial features to the users. Well, there may be situations where users would want to restore their mailbox from Office 365 to a different user account. Even though Office 365 offers many great features, there is always one or the other reason for moving a mailbox. In case you have soft/hard deleted a user mailbox, you can still restore it in a different user account.
But, there are no native methods for restoring the mailbox and moving it to another user account. There are not many users who have full technical knowledge on how to restore Office 365 mailbox to another user. Mostly, users face the issue of restoring their mailboxes because they have not taken a backup of their mailbox. If you want to never lose your data at any cost you can use the Office 365 Backup solution for mailbox and always have a backup for your data in case you lose it due to any reason. Let's check out the solution for restoring mailbox from Office 365 to different user and see how it helps.
Easy Solution for Office 365 Restoring Mailbox to Different User
This easy solution is the Office 365 Backup and Restore Tool which is a simplified solution to help you keep your data safe from all the external threats. The tool is capable of restoring all the data from the Office 365 mailbox: Emails, Contacts, and Calendar and convert the same in PST or EML file formats. It saves all the data offline on the users' local computer. The tool offers two types of restore process; option for single user migration or domain users migration. Learn the features provided by the tool in the next section.
Features of the Tool to Restore Office 365 Mailbox to Another User
Backup Entire Mailbox – The tool allows you to backup the complete mailbox or mailboxes of Office 365. You can also choose to restore certain folder(s) from the mailbox to users' local computer.
Secure Shared Mailbox Data – You are allowed to download data from the shared mailbox as it is also important for you. The tool save the data in PST or EML file format eliminating the need to purchase different software.
Migrate Mailbox in Batches – This feature gives you the option to migrate multiple mailboxes and that too in one shot. You do not have to run the migration again and again to save every mailbox. This solution makes it easy for you for Office 365 restoring mailbox to different user.
Physical Server or Virtual Server – It is possible to install this tool on a physical server as well as a virtual Windows server. To keep the data online and manage the backup from computer, it is installed on a VM hosted in the cloud.
PST Restored in Office 365 – You have the ability to restore PST files to Office 365 tenant in only one go.
Live-Progress Report – This tool gives an option to see the live-tracking report of the process on your screen. It is possible to check the real time status of the migration process.
How to Restore Office 365 Mailbox to Another User?
Follow the steps given below to restore your mailbox from Office 365:
First of all, you have to download the software and click on the "Log in" button.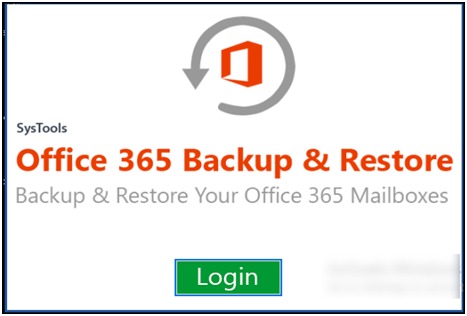 Now, you have to enter the log in id and password and hit "Sign in".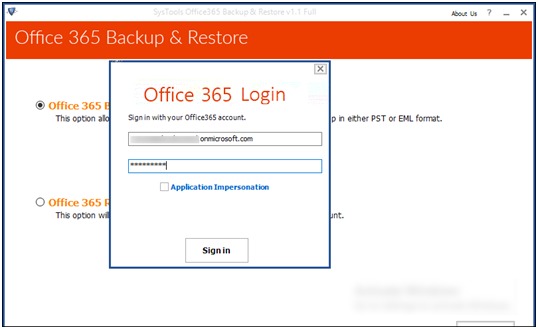 After that, click on the "Office 365 Restore" option and hit the "Next" button.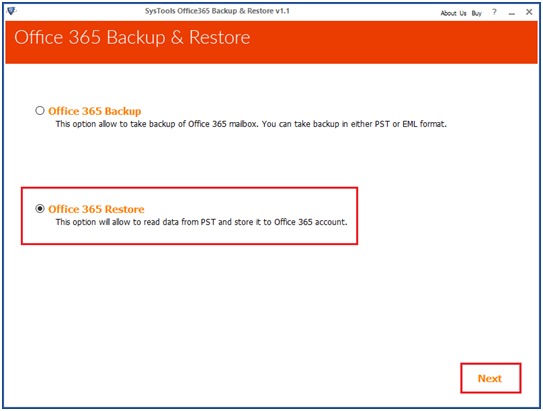 Next, choose the file(s) you want and hit "Open". Choose a destination location by clicking on the "Browse" button and hit "Restore" for Office 365 restore mailbox to different user.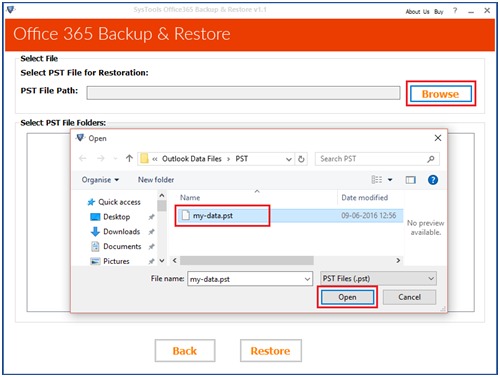 Once you have chosen the destination, select the categories and apply filters. Then, hit "Start" to start the exportation process.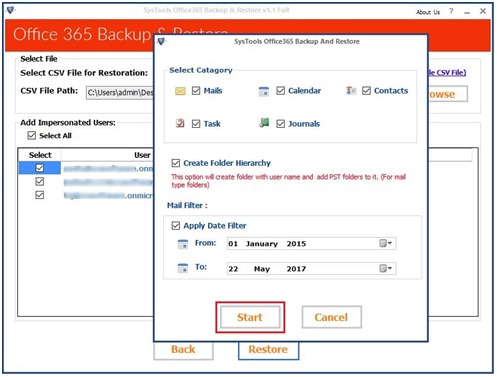 After that, your data will be exported without any data loss or modifications made to your data. The filters provided in the process are as follows:
Category Filter – Using this filter, you can choose which category you want to move from the mailbox.
Date Filter – This filter allows you to export selective data from a certain time period by putting in the "From" date and "To" date.
Briefly
As there are no methods that can manually restore Office 365 mailbox to another user, this easy solution is the best shot you have at retrieving their mailbox. The features of the tool are explained above so that you have a clear view at what the tool is providing you with. It also gives a free demo version in case users want to use it and check before taking it under consideration. They can use the demo version to migrate 100 emails and be satisfied with the working of the tool for Office 365 restoring mailbox to different user.