Lotus Notes No Sitemap Found Error Message Resolved in Simple Steps
Often, users have to face several challenges while using the email applications. In the case of Lotus Notes email program, there might occur several error messages that might ruin and hamper one's ongoing work. One such mind scratching error is IBM Lotus Notes no sitemap found error.
If you are a Lotus Notes user who has come across with similar such error message. Then here is the blog, which will help you to effortlessly troubleshoot the IBM Notes no sitemap found problem in a hassle-free way. Generally, this kind of error message occurs when a user tries to access inbox, calendars, or to-do lists from the Lotus Notes email program. However, the mailbox and calendar item is being already opened from the previous session.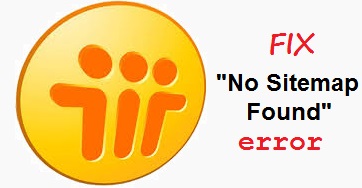 Pro Tip: SysTools Mail Migration Wizard provides out of the box features to seamlessly migrate Lotus Notes data to Exchange Server, Office 365 and Outlook application. One can easily perform Lotus Notes to Exchange Server Migration using this efficient software in a hassle-free way. The software is incorporated with numerous advanced features that lets you to migrate Lotus Domino mailboxes to the desired email platform.

Different Types of Error Messages in Lotus Notes
Here are some of the common types of errors, which the user might have encountered in Lotus Notes application.
No sitemap found error in Lotus Notes
Database has not been opened yet
Your current ID does not specify an Internet certificate for signing
Entry Not Found in Index
Database Corrupt – Cannot Allocate Space
From the above-mentioned issues, some of the errors are platform dependent. But, some of these errors can occur depending on the situation. Some of the errors might hamper the workflow of the organization or while moving from the lower version to higher version Notes application. Moreover, these type of errors are also encountered while synchronizing Lotus Notes email client with Blackberry device.
No Sitemap Found Error in Lotus Notes – Causes & Solutions
This issue generally occurs when users are unable to access the Inbox, Calendar, or To Do views from the open menu or the workspace. Moreover, this error occurs when a user tries to open another copy of mail file on the Server. During this error, the email client cannot create a sitemap for the display due to the presence of application's design cache stored within the local cache.ndk. This issue can be solved by updating the client to the newer version i.e. 8.0.2 Fix Pack 3 and in 8.5.1.
If a user still faces the sitemap not found error in Lotus Notes while opening the Inbox, Calendar or To Do views, then the first thing that users should do is to close all the opened tabs of the mail file and restart the application.
After doing the same, if Lotus Notes no sitemap found error is still not fixed, then the only reliable option is to switch to another email application. As IBM Notes stores data in NSF file format, therefore one needs to perform cross-platform file conversion to the email format, which the user is migrating to.
As the mailbox items such as Inbox, Calendar or To Do views items are so much important for the business purpose. Therefore, a user should avail a reliable third-party application like Mail Migration Wizard. Using which, he/she can access the Lotus Domino mailbox data in Exchange Online without hampering the workflow of the organization.
Conclusion
Many times, Lotus Notes users have to face the error messages whenever they try to open the data items in the email client. In this article, we have discussed one such error i.e. No Sitemap Found error in Lotus Notes.
Moreover, we have also suggested to try the aforementioned third party application to migrate Lotus Domino data into some reliable email platform like Exchange Server, Office 365 or Microsoft Outlook. It will enable to access their NSF mailbox data in the desired email platform of one's choice.