Neutralize Error 0xe000fe36 that is evoked during Veritas Backup Process
It is merely impossible to deliver or execute IT-enabled tasks or services or tasks without the helping aid of Microsoft Windows Operating System. Many things for the generation of crucial data items, creating and backup and saving them have become the need of an hour. But, in many cases, things have drastically changed. Keeping in mind the data loss prevention, Microsoft has incarnated an innovate tool to create the authentic backup of the files. Among all these, is MS NTBackup, the utility is so sharp-witted that it can restore any data file that is available in Windows Operating System in BKF file format. Additionally, the utility acts smart as it allows one to save BKF backup files at different locations i.e., hard drive, floppy drives, zip drives, and much more. In contrary to it, one other utility is Veritas that also creates a BKF file for generating the backup of the crucial data.
The main requirement of generating a backup file is to avoid chaos at the time of data loss. Many cases have been figured out where the .bkf files are the reason of corruption of the entire data. In addition to it, an error Backup job fails with error 0xe000fe36 has been generated many times. It leads to the corruption of entire data that is used in the process.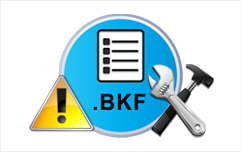 General Trivia: Error 0xe000fe36
It has been observed that many a times, users encounters error codes i.e., error 0xe000fe36 or a000fe36 HEX or e000fe36 HEX. Due to these occurrences of error, one usually suspects a reason that is incomplete and inefficient backup process that leads to the corruption of BKF file. Many other suspected reasons are jotted below:
Unavailability of backup log files during the BKF backup process
Corruption in backup files can be generated in case of intrusion of scan of antivirus process
Interference in backup process while generating the backup and size limit of file exceeds
Paged pool memory is one of the reason of the error as large number of files are opened for the backup process
In case, the file is used by some other application that causes problems in the backup process.
The statutory warning of error message: backup job fails with error 0xe000fe36 leads severe attention to the corrupted BKF files.
Get Rid of Symantec backup exec error 0xe000fe36 in 2 ways:
1. Manual Way:
Vanishing Error 0xe000fe36 at root level
One can make use of the MS utility NTBackup, or Veritas Backup to scan the BKF files and report the incident. Before marking the necessity of the backup applications, a user can even run the Windows Event Viewer for checking the entries in case a problem arises in the backup process. One can go through the following steps to remove problems generated in backup files:
Summon Advance Open File Option
While using Veritas backup utility, users must make sure that the Advanced Open File Option (AOFO) is activated. It reduces probability of corruption in the BKF file in case files are opened by different programs. To activate this, make sure that you follow all the steps mentioned below:
Open Veritas Backup utility
Search Tools >> Options >> Advance Open File
Opt for AOFO option >> Choose Automatically Select Open file technology
While checking settings opt for System >> Opt for MS Software Shadow Copy Provider in MS Volume Shadow Copy Service for Win. 2003 and later
AOFO Option Fails in the process
In the case of Veritas backup creation process, if AOFO does not come to rescue in terms of BKF file corruption, one can perform the following log to resolve the issue:
Make a new list of selection for backup process
Open Windows Task Manager to increase the priority of backup
Defragment the hard drive in which the data resides
Open CHKDSK process of partition in which the data is stored
To run the backup mechanism, user can deploy MS NT Backup utility
Make sure one configures the Pool Usage Maximum and Paged Pool Size to resolve the requests made by many users
Drawbacks of Manual Approach
Trusted
 Solution to Resolve Neutralize Error 0xe000fe36
In many cases, backup BKF file corruption makes recovery impossible. In such cases, the user can switch to SysTools BKF Recovery Software to ensure that the recovery of all data files is possible. From the above points, it is clear that the person needs to be technically sensible to solve the error 0xe000fe36. Next, one should try the BKF viewer software. The tool can repair all types of corrupt .bkf files. The tool is gifted with some features such as Windows NTBackup and Symantec Vertis to support backup execution files. The tool enhances its retrieval in three ways i.e. Quick, Advanced and Range based. In addition, it can also view BKF file contents and extract data from Win. Zip files.
4 Quick Steps to Resolve BKF/ZIP File Errors  are mentioned as follows:
Download BKF Repair Tool.
Browse & BKF  data backup file location to recover Data.
Choose three Scan Mode & Select on Scan to start Scanning Process.
Now, Search & Preview Recovered BKF backup file.
Final Words
From the above words, it is clear that trying the manual method will add skills to your learning but trying an automated utility will save your time and efforts. So, one should opt for BKF Repair Tool to resolve the corruption error 0xe000fe36 easily in any Windows platform.