Migrate SQL Server 2016 To 2022 For Better Database Efficiency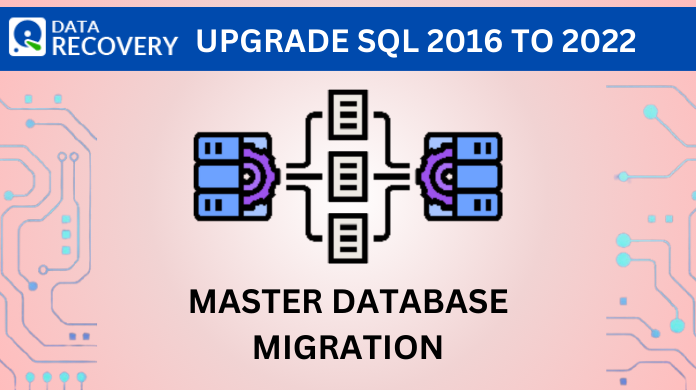 We commonly receive inquiries to smoothly migrate SQL Server 2016 to 2022 edition these days. However, many people frequently encounter issues because of a lack of basic technical understanding. We are devoted to providing consumers with dependable and optimum solutions in order to achieve the greatest potential outcomes. Furthermore, our blog discusses the motives for relocation as well as the obstacles that come with it.
In case, you are already aware of all the challenges and difficulties of SQL migration, move to the automated solution section, we have provided in the article.
Difficulties Faced During The Upgrade SQL 2016 to 2022
When it comes to migrating SQL Server 2016 to the 2022 version, users often encounter numerous challenges. These obstacles can significantly impede the migration process, and some of the major difficulties are outlined below.
DATABASE OBJECT CORRUPTION OR DAMAGE
When data files become corrupted or damaged, users cant migrate SQL Server 2016 to 2022 easily. Moreover, not all migration tools are equipped to handle such situations, resulting in disruptions during the SQL Server database migration.
SELECTION OF THE APPROPRIATE TOOL AND TECHNIQUE
Choosing the right tool and technique for the migration process is crucial. Using the wrong or inadequate tools can have a severe impact on the final outcome. Therefore, it is essential to carefully select a suitable solution that ensures a smooth and trouble-free database migration.
INSUFFICIENT TECHNICAL KNOWLEDGE
Users who wish to upgrade SQL 2016 to 2022 require a solid understanding of the technical aspects involved. Therefore, users without the necessary technical knowledge may struggle to execute the migration successfully and achieve the desired results.
EFFICIENT TASK EXECUTION
Completing the database migration task promptly and accurately is vital. Users need a solution that provides various features and capabilities to ensure a streamlined migration process. In today's rapidly advancing technological landscape, intelligent and efficient solutions are highly sought after.
Therefore, to overcome these challenges, users need to address issues related to database object corruption, select the appropriate tools and techniques, acquire the necessary technical knowledge, and optimize smart solutions that can expedite and simplify the migration process.
What are the Reasons to Migrate SQL Server 2016 to 2022
Users update their SQL Server to a higher version for a variety of reasons. Because each user has varied demands, these reasons may differ from one another. However, there are certain typical reasons why people transfer their SQL databases to an upgraded SQL database server.
There are two primary reasons why users conduct this migration:
UPGRADING
Users should upgrade SQL 2016 to 2022 and take advantage of the features present in the newest version. Users have numerous expectations while updating, including:
Improved performance – Faster processing.

Additional features and functionality.

Cost-effective subscription plans.
MODIFICATIONS TO THE MANAGEMENT STRUCTURE
Organizations go through substantial management changes, which might lead to the decision to migrate databases to a new SQL Server. Here are two notable examples:
Mergers and acquisitions of brands

Divestiture from a parent company
If you want to avoid these complications and difficulties and want a swift and smooth migration of SQL Server 2016 To 2022. Simply switch to the solution we have mentioned below. 
Best Way to Migrate SQL Server 2016 To 2022
SysTools SQL Server Migration Tool is the top-notch solution to upgrade SQL 2016 to 2022. This is the one-stop solution for all your problems. If you want to have a seamless migrating SQL Server experience then this software is for you. Moreover, it effortlessly transfers all your SQL database to the SQL server you want. It will be tough to neglect once you are aware of the advanced features of this software. Just have a look:
PRIME FEATURES:
Move the objects available within the database, including tables, functions, views, stored procedures, triggers, etc.

Compatibility of a large number of SQL server versions such as 2022, 2019, 2017, 2016, 2014, 2012, 2008, 2008 R2, etc.

You get to transfer your online and offline SQL database to a .sql Transcript file.

Options to

upgrade SQL 2016 to 2022

along with

schema an

d without schema.

Migration of SQL database from live SQL server to another live SQL Server.

Multiple options to migrate SQL database such as online and offline mode.

Easily migrate offline MDF files to a live SQL server without any trouble.

Several exporting options to make modifications as per the user's need.
Read More: The tool can also be used to copy table records from one database to another in a simple manner.
What are the Steps to Shift The Database Using the Software?
Now you already have the best solution to migrate SQL from 2016 to 2022. This is the time to learn about its steps. However, the software is quite easy to use. You do not need to learn to use it specifically. Still, let's have a peek for your ease:
Step-1. As you know, it is crucial to Download the software first. Click on the link given above, then download and Install it on your system.
Step-2. Open the software, you will land on its interface. Click on the Open button and choose the File which you want to transfer to SQL Server 2022.
Step-3. Choose in which mode you want to migrate SQL Server 2016 to 2022. If you choose Online, it will show a preview of the uploaded database. 
Step-4. Click on the Export icon and you will reach on Export options page. Choose the options and Make the Changes as per your requirement. 
Step-5. After selecting all the required options, finally Hit on the Export button, which is available at the bottom.
Note: If you don't want to upgrade SQL 2016 to 2022 in online mode, then choose the offline mode option then select "Microsoft SQL Server 2019" from the list of SQL servers to migrate your database from SQL Server 2016 to 2022.
Additional Info: Users can read this guide to recover deleted database table from SQL Server easily.
Conclusion
We hope the article was helpful for you. This article's primary goal was to assist you to migrate SQL Server 2016 to 2022. We conclude with a step-by-step explanation of the full migration procedure. Moreover, we provided users with the most effective advice based on our years of experience and competence in this industry.
Now you can easily switch databases from SQL version 2016 to 2022 following the above guidelines. Please let us know if you require any other support!