Migrate Lotus Notes to Google Apps – Top Reasons & Solutions
Looking for a tried and tested solution to migrate Lotus Notes to Google Apps? If yes, then you are fortunate indeed to reach out to this blog. Here we will elaborate cost-effective and efficient solution to export NSF files from Lotus Notes to G Suite account.
IBM Notes is a well-known desktop-based email client used for business purposes. It is often compared with other services that are available for email-based communication and document collaboration. One name that is on the top of the list is Google Apps. It offers a monthly subscription for renting G Suite applications as a service under a company's domain.
Apart from that, there are various other reasons, which urge users to export NSF files to G Suite. Therefore, in this post, one can learn about the reasons for preferring G Suite over Notes along with the manual method to process this demand. Besides this, users can also try an automated solution by SysTools to simplify the migration process.
Topics Discussed in this Post
Top Reasons to Migrate Lotus Notes to Google Apps
Following are some of the leading causes for companies opting for Google over IBM services:
High Maintenance Cost: The overall charges to purchase and maintain a Domino server environment in a business is quite high. It charges more to hire professionals who have in-depth knowledge to understand and configure the Notes environment.
Difficult to Understand: This is the major reason for many companies moving from Lotus Notes to G Suite. Many non-technical employees have difficulty in using Notes client on a daily basis due to the complex interface.
Limited Experts: There are only a few professionals well-versed with the Domino and Notes environment. If there are any minor issues even a technical person cannot resolve them without help.
How to Move NSF file to G Suite Account Manually?
Here are the steps that can be undertaken to migrate Lotus Notes to Google Apps in a simplified way.
First, go to IBM Notes>>File>>Export.
From the 'Export' dialogue box, set a name and location for the mailbox archive.
Then, select 'Save as Type' as Comma Separated Value.
From the 'CSV Export' box, select the appropriate options and click OK.
Now, the complete mailbox is archived from Lotus Notes to CSV file.
In Outlook 2013 or 2016, go to File>>Open and Export>>Export.
From the 'Import and Export Wizard' dialogue box, select Import from another program or file>>Next.
From the 'Import from a File' screen, select Comma Separated Values>>Next.
From 'Import a File' section, Browse to the folder where the Notes CSV file is saved.
Then, select an appropriate option for duplicates and click Next.
Select the folder where the Lotus Notes export CSV file will be saved and click Finish.
Step 2: Import CSV to MS Outlook
In this step, import CSV file (from Step 1) to the installed MS Outlook application. After that, export the imported CSV file in PST format from Outlook. With this, one can easily import PST file with complete Lotus Notes data to G suite account.
Step 3: Migrate PST to Google Apps
You can follow the below mentioned steps to migrate files from PST to G Suite.
First, download and install the Google Apps Migration to Microsoft Outlook (GAMMO) tool by searching it in Google's search bar.
Then, launch the tool and sign in using Google Apps credentials.
From the 'User Profile' screen, select the option to Migrate All Data.
From the drop-down box, choose the option to import 'From PST File'.
Then, Browse to where the Outlook PST file is saved and click Next.
Select the appropriate 'Migration Settings' and click on Migrate button.
In case if the PST file is huge, it will take some time to complete the migration process
By following these steps, one can smoothly move Lotus Notes NSF data file to Google Apps in a seamless way
What are the Limitations to Transfer lotus Notes to Google Apps?
Tricky Steps: It is quite complex to understand and follow each step without data loss for a non-technical user. These can be confusing and technical jargon for a regular home user.
Technical Help Needed: During the process of converting NSF files to Google Apps, one needs to be technically proficient. It cannot be performed without complete knowledge and proper understanding of risks involved in moving mailboxes manually.
Limited to Emails: This process can only be implemented to email messages. Separate steps need to be taken to move contacts and calendar items.
Still undergoing cumbersome time to know the immediate solution to migrate Lotus Notes to Google Apps? If so, then finally your wait is going to end soon!
Use SysTools Lotus Notes to Google Apps – Tried & Tested Tool
There is no direct way of moving multiple mailboxes to G Suite in one go. The manual solution can move a single mailbox at a time. Business users search for a workaround to fasten the entire process. They look for an instant and versatile third-party tool, which can easily migrate Lotus Notes to Google Apps within a short span of time.
Therefore, it is best suggested to opt for Lotus Notes to Google Apps Migrator by SysTools, which can directly export the entire Lotus Notes data to the desired G suite account. It is an easy-to-use application, which can transfer multiple mailboxes in one go.
All it requires is the admin credentials of source and destination. Users can apply "Date-filter" to export selective data within Lotus Notes NSF file. The simple and self-explanatory interface of this utility makes the entire job effortless.
Working Steps of the Utility in Brief
1. Launch this Lotus Notes to Google Apps Migrator on Windows OS.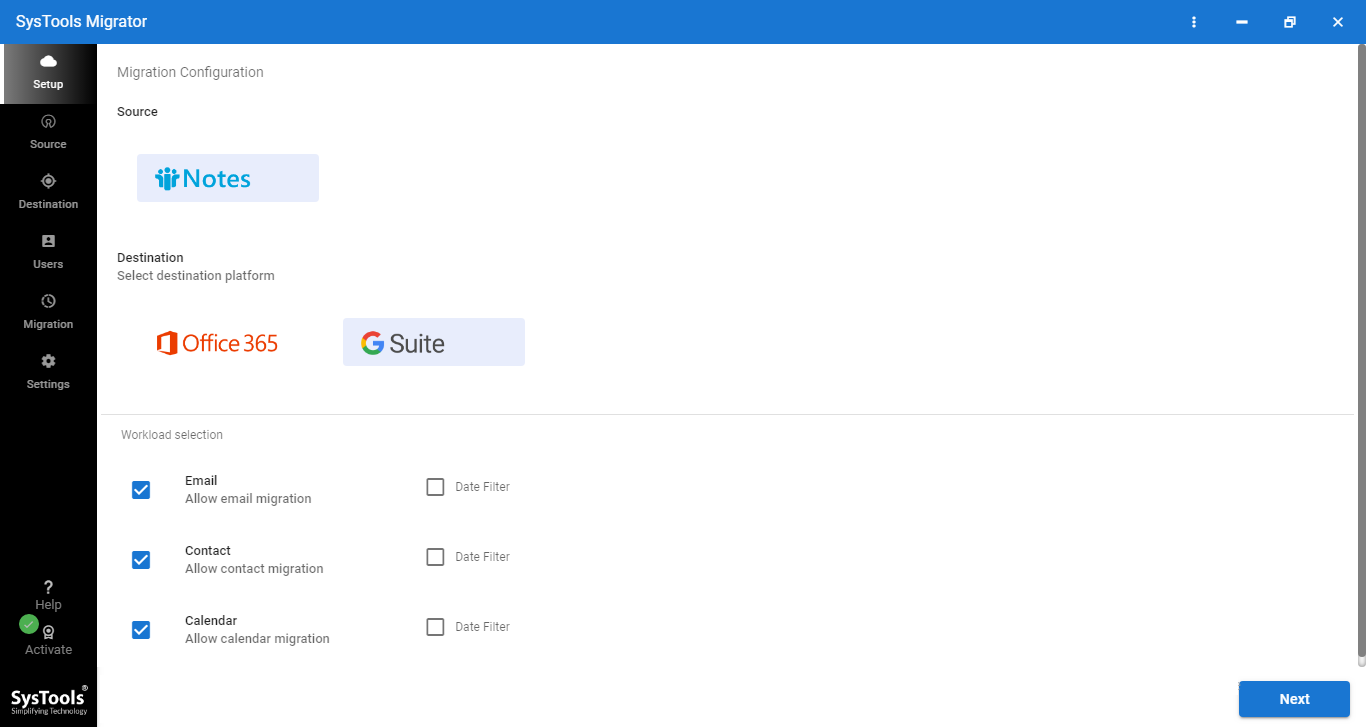 2. Select the migration platforms and apply advanced settings.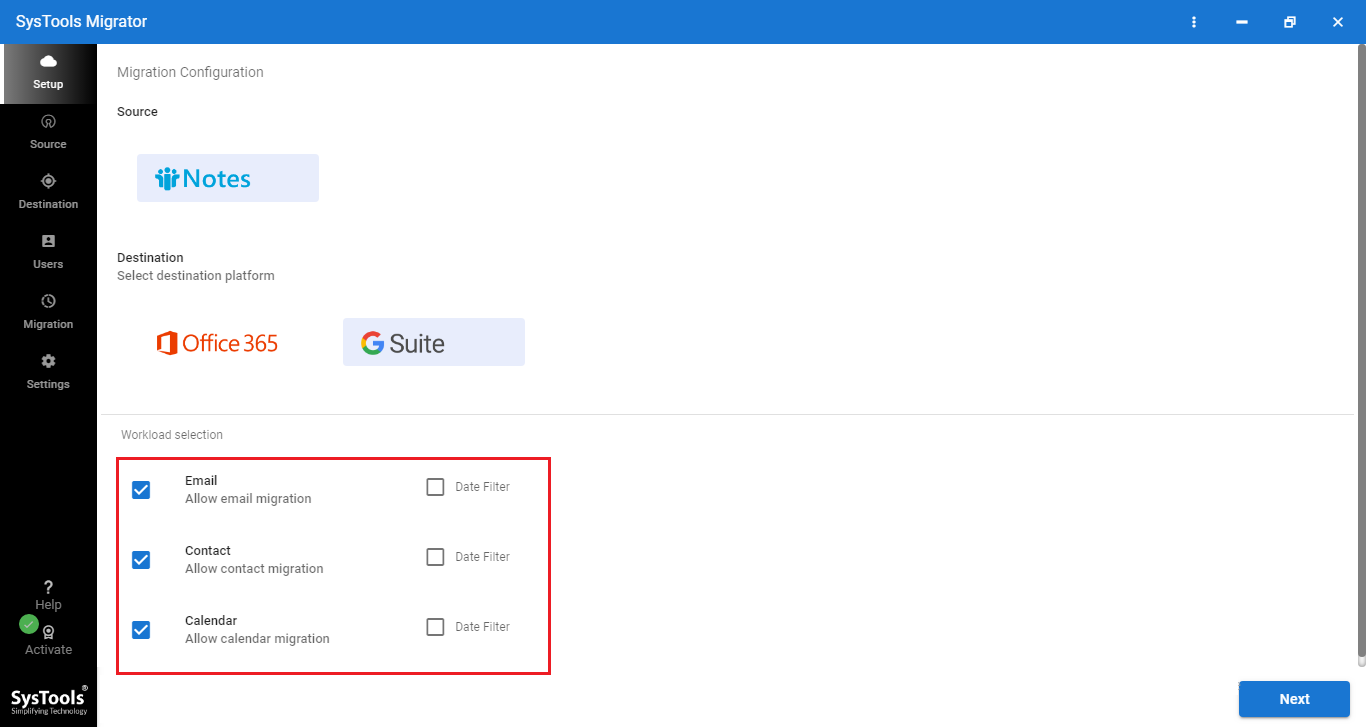 3. Browse and choose NSF files stored in your system.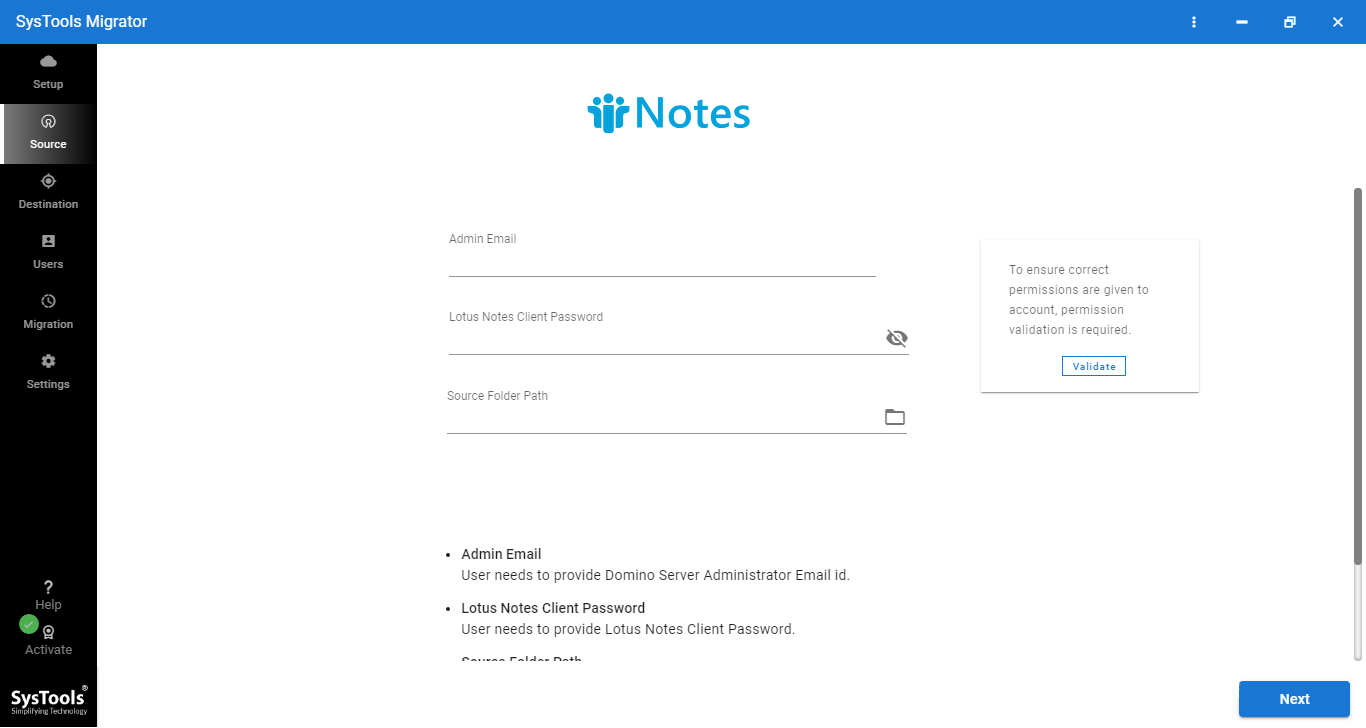 4. Enter G Suite account details and validate them.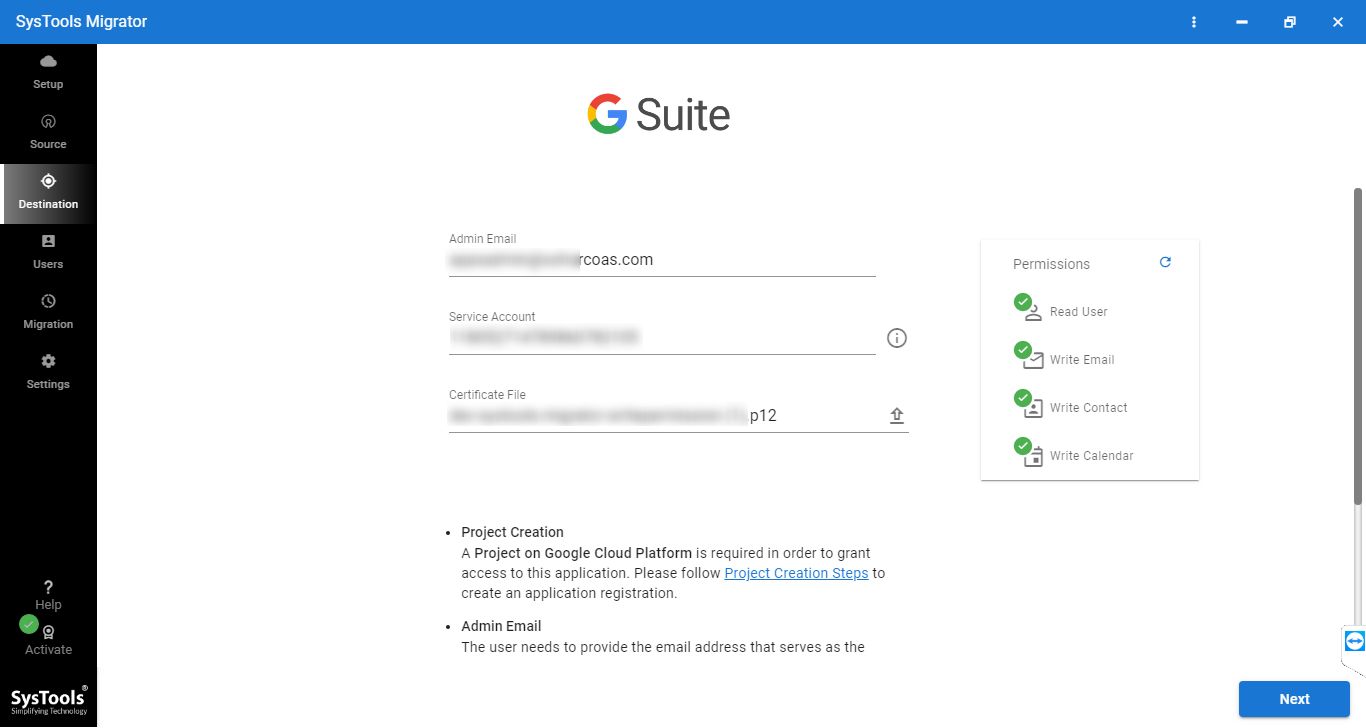 5. Finally, select users and click on the Start Migration button.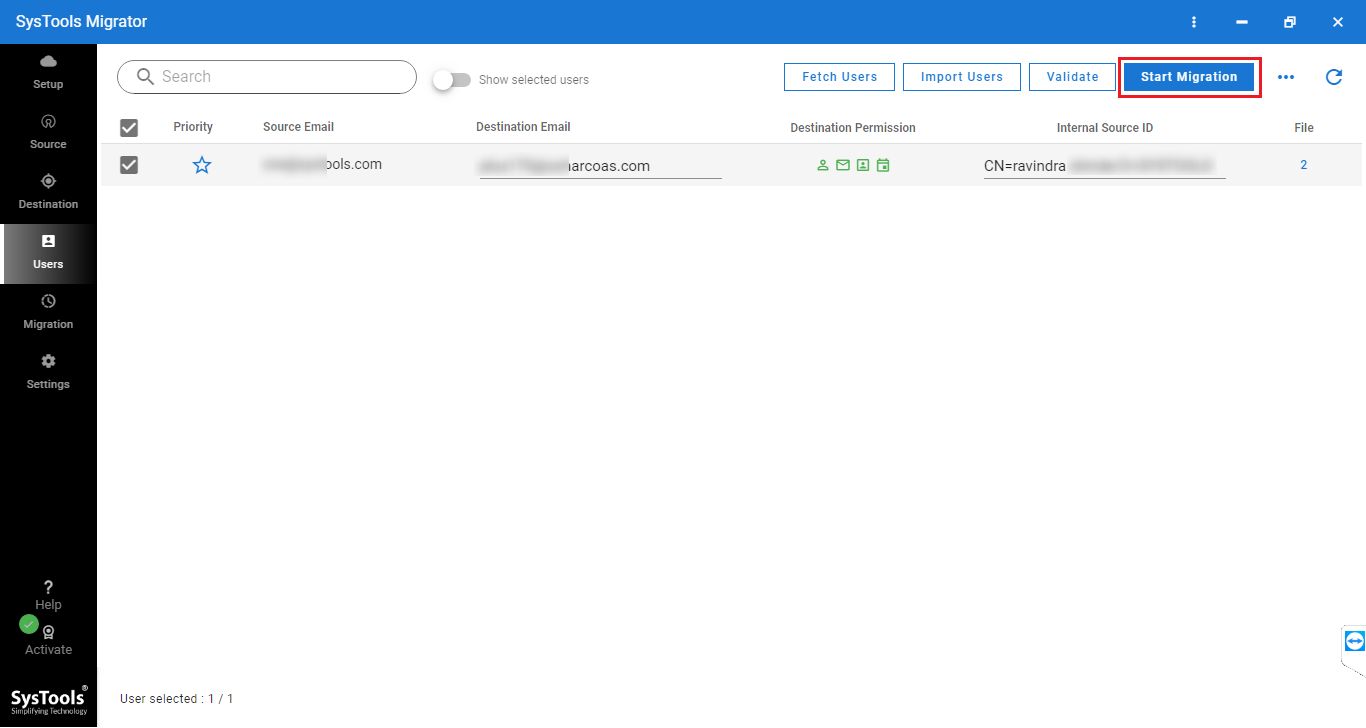 Let's Sum Up
It is pretty difficult to migrate Lotus Notes to Google Apps using the traditional manual method. Moreover, it does not ensure data integrity while moving Lotus Notes to G Suite account. There are workarounds available that can fix this issue. Thus, to overcome this mind-scratching hurdle, this blog describes Lotus Notes to Google Apps software, which is the most reliable, effective, user-friendly tool.