How to Import Excel List to Outlook Contact Group?
Do you want to Import Excel List to Outlook Contact Group? Also, Are you looking for a solution to transfer your address book from Excel to Outlook? Then you are undoubtedly at the right place, as we have found the right ways to do this job effectively.
We all know that networking plays an important role in our lives, be it personal or professional. Many users like to keep their contact list in a spreadsheet. It will store all contact data on different platforms very easily. Sometimes, when users try to transfer their address book from Excel sheet to Outlook, they may face certain problems. Actually, it is not easy to move all contacts to Outlook folder. So, in the next section, we will discuss manual solutions to transfer multiple Excel files to Outlook efficiently and effectively.
Why is It Important to Transfer Excel to Outlook?
We can easily manage data with Outlook
With Outlook, you can access your data anywhere and keep your data safe
After seeing the advantages of using Outlook, we will now see how to convert Excel contacts to Outlook.
Methods to Import Excel List to Outlook Contact Group
We have two simplest ways to import excel spreadsheets to Outlook contacts read them one by one and choose the best method accordingly.
The manual method is provided by Microsoft but it lacks when the user needs to import multiple files and the automated solution is a third-party application that is tested and verified by experts.
Manual Solution to Transfer Excel Contacts to Outlook 
Supports CSV file format for importing and exporting MS Outlook files. So, to open contacts or transfer contacts from Excel to Outlook, We need to convert excel contacts to csv format first. In this way we can save excel contacts in outlook. Let us understand how this change is possible.
Phase 1: Create CSV File from Excel Spreadsheet
Open a sheet in Excel with all the contacts and address book information Create a CSV file in Excel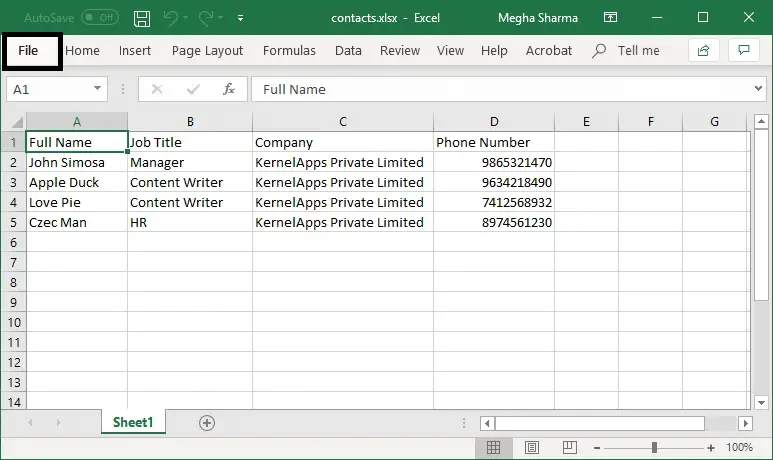 Select Save As from the File menu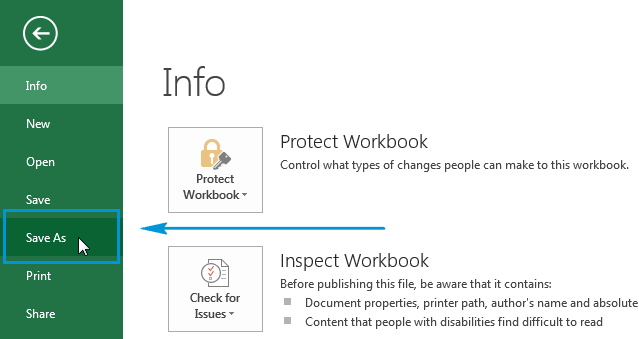 Select a folder location to save the resulting file
In the Save As menu, select CSV (Comma Delimited) from the Save As Type drop-down menu. save excel as csv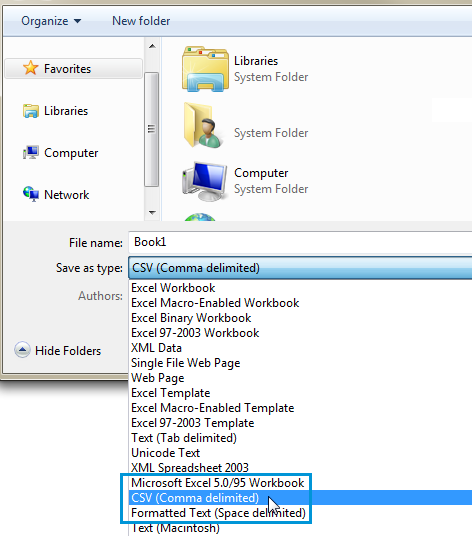 Click the "Ok" button and you will see a message box showing the information that the selected file type is not a multi-sheet workbook

Click on the OK button and another message box will appear because some features in the workbook may be lost if you save it as a CSV file. press the "Yes" tab to save the file

You have now saved your contacts as a CSV file in an Excel spreadsheet. Now user needs to import excel csv file into outlook.
Phase 2: Import the CSV File into Outlook 
Sign in to your Outlook Account using your credentials
Select the File option at the top of the Outlook interface
Choose "Open & Export" > "Import/Export" from the menu that appears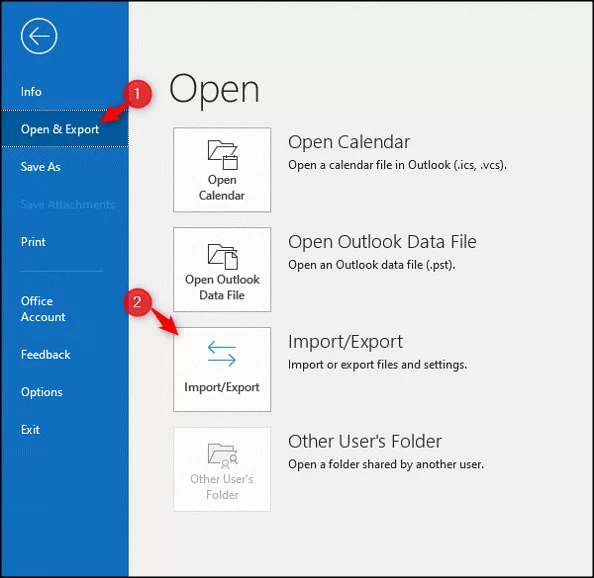 Select Import from another program or file option and click Next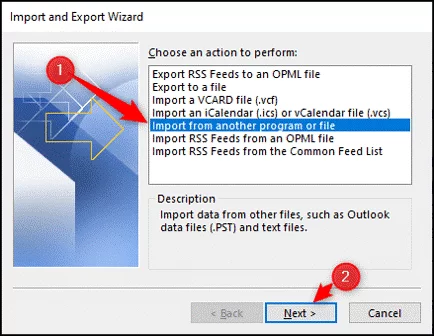 Select file types to import (Comma separated values ), click Next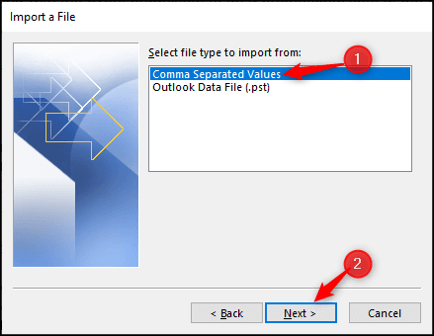 Provide the .csv file path after clicking on the Browse button and check the Do Not Import Duplicate items, click Next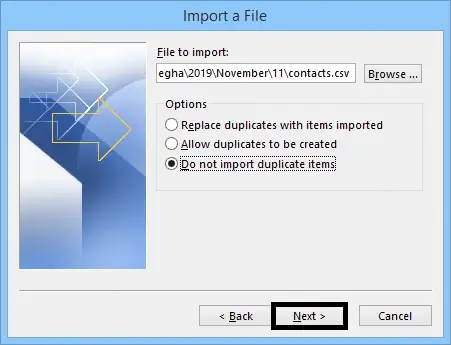 Pick Destination Folder: Contacts and click Next
After selecting the import function, click on Map Custom Fields
In the next page of Custom Field Mapping, you can map source record values to Outlook contact values and click OK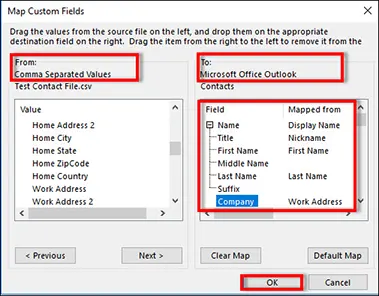 Finally, click on 'Finish' option.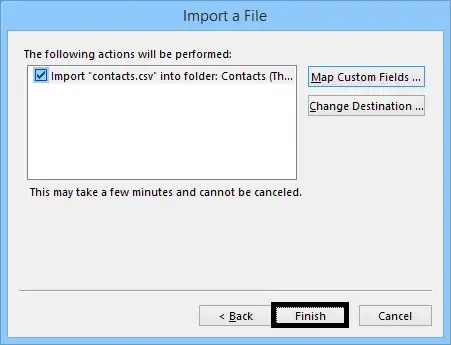 Automated Solution to Import Excel List to Outlook Contact Group
If the above method is a bit tedious and time consuming, it is highly recommended to use an automated solution. The name of this program is Expert Recommended Solution to bulk transfer of address book data from Excel file to Outlook CSV file is easy with this tool. It is quite capable of excluding duplicate contacts from spreadsheets during conversion.
Moreover, the GUI of this tool is so simple that even beginners can freely access Excel contacts in CSV format without data loss. This application allows you to convert Excel sheet to PDF, MSG and other formats without any extra effort with complete formatting and fields. It also provides a free demo for the users to evaluate the performance and advanced features of the software.
Steps to Transfer Excel Contacts to Outlook 2021, 2019, 2013
First you need to Excel Contacts Converter Application
Pick on the Browse button to add your Excel file to the software
Preview all contacts data items and verify the items before conversion to the next option
Select the PST option and click Next button
Pick the following settings under Apply Setting
Click Change Button to provide the destination for exported files
Finally,  hit the Export Option to complete the process.
Why You Should Choose this Tool ?
Provide the option to save an excel spreadsheet directly into your current Outlook profile
Compatible with all the versions of MS Outlook from 2021 to the above version
Capable to map the attributes accordingly
Prevent duplicity of contacts to avoid the corruption issues
A simple and most reliable tool
Maintains the data integrity and prevents data loss
Authorize you to import multiple contacts at the same time
Virus-free software
User-friendly interface
Conclusion
As we know that most of the people were searching for a solution to import excel list to Outlook contact group but they were stuck many times. Therefore, in the write-up, we introduced both the possible ways to accomplish these tasks. Our main motive is to resolve the user query by providing the best solution to them. The all-in-one tool that we mentioned above is user-friendly and even non-technical guys can easily import an excel spreadsheet to Outlook in a trouble-free manner.