How to Extract MBOX File into Windows Outlook Effectively
Nilesh Kumar | September 5th, 2018 | How to
In the modern era, there is an extensive use of email clients globally for both professional and personal needs. These email clients stores all the mailbox items in the form of files. However, the file formats may vary per client. Among these formats the two most popular are: MBOX and PST file format. MBOX, along with its variants, is the most common file format used by popular email clients such as Thunderbird, Apple Mail, Eudora etc. On the other hand, PST is exclusive to MS Outlook.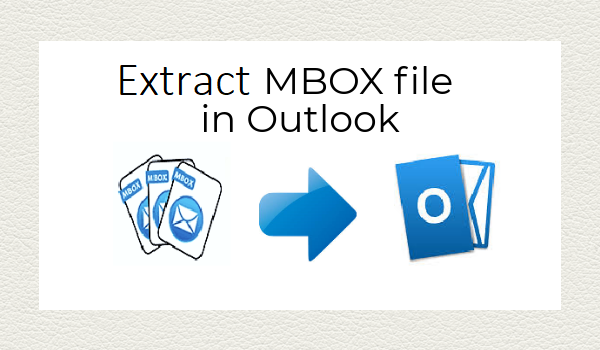 Due to better security details and advanced features, Outlook has always been preferred over other email clients since its launch. Every now and then, some organization or individual shifts towards Outlook and has MBOX files with essential data to extract. Therefore, we will be providing readers with an effective solution to help them understand how to extract MBOX file into Windows Outlook.
Some User Queries
Let us analyze some queries and understand the reasons behind them:
"Hello! I took backup of my Gmail data using Google takeout as MBOX file. But I can't extract that data in my Outlook account. Please suggest me a solution on how to extract MBOX file data in Windows Outlook easily. Thank you!!"
"I am shifting from Mac to Windows due to some professional reason. Since I can't use Mac mail in Windows, I decided to install MS Outlook. However, Outlook does not support the MBOX format of Apple Mail. Is there any way to extract data from MBOX file into Outlook? Any help is appreciated..!!"
Reasons to Extract Data From MBOX
There can be a variety of reasons to extract MBOX into Outlook for Windows. The above queries show us a rough idea of what problem users are facing and what do they want. We have listed some common reasons below after analyzing similar queries in popular forums.
The organizations are shifting from an MBOX supporting client towards MS Outlook after analyzing its requirements.
The user used Google Takeout to download the backup of the Gmail data(i.e., in MBOX format) and now needs to extract it in Outlook.
MS Outlook advanced security details and calendaring features attract other client users.
An Outlook user may need to analyze an orphan MBOX file for essential data.
A user is changing platforms from Mac to Windows and has an MBOX file to migrate data from.
How to Extract MBOX File Data to Outlook – Best Solution
There are some manual methods available for the task. However, their complexity and data loss issues render them almost useless. These unavoidable limitations of manual ways made users look for a better solution. This solution comes in the form of third-party software. One of these professional approaches is SysTools MBOX to Outlook Converter. This application is dedicated to the sole purpose of achieving results in a risk-free environment. The user-friendly interface converts MBOX to Outlook PST in just a few clicks. It doesn't matter if the user has technical knowledge or not. You just need to specify the source and destination of files and let this tool perform its task in a hassle-free manner.
Striking features of the tool
Extract emails from MBOX file to Microsoft Outlook PST with no data loss issues
Preserves data integrity i.e., the attributes are maintained throughout the conversion process
Transfer multiple MBOX files or folders with supported selective and batch migration
Supports automatic data fetching from multiple email clients(Thunderbird, Eudora, etc.)
As a stand-alone tool, it does not require Outlook installation to extract data from MBOX
Option to split output PST as per required size while exporting MBOX messages
Provides features such as naming convention and date filters for user convenience

Procedure on how to extract MBOX file into Windows Outlook
Follow the given instructions in order to extract emails from MBOX file and convert to Outlook PST:
Download and Install the software tool on your Windows machine
Next, click on Add File to fetch the MBOX file into the tool
Now, select the email application installed on your system and click on Default profile configured radio button, click Next
Select the configured email account under Select Identities and click Process
However, if you have an orphan MBOX file, click on Select file(s)/folder from file system in step 3
Browse and select the MBOX file, click Open. You can also select Folder mode to add files in bulk
Once all files are added and email preview is available, click on Export tab
Select Export All Folders to migrate all the MBOX files at a time
Else, select Export Selected Folders to convert specific folders
Choose PST as the file format to export MBOX file and click Export button
An acknowledgment window will confirm the successfull completion of the process, click OK
Click Open Location to directly access the converted file
This marks the end of the step-by-step guide on how to extract MBOX file into Windows Outlook.
Conclusion
Extraction and conversion of data from one email client to another is a complex task to achieve. And, if the manual methods have so many shortcomings, it further increases the user's difficulty. In such a situation, the only way is to let a professional software handle that task for you. This article provides you with one such comprehensive solution- an automated approach to help you guide through how to extract MBOX file into Windows Outlook. Its sheer number of relevant and effective features is more than enough to describe its credibility. In addition to this, we also discussed the complete process to extract data from MBOX in a hassle-free way using the tool.