Google Drive Quota Wrong / Incorrect – Fixes
Google Drive free storage comprises of 15 GB and it includes Google Photos and Gmail along with G Drive storage. The G Drive storage starts running out as a result of the space consumed by Photos and mailbox. An overall view of Google Drive storage space usage is considered to be Google Drive Quota. Often the storage quota is indicated as being overused. The Google Drive Quota Wrong issue may be considered as a hoax by some users. But in reality, this is accurate and the space maybe used up by other sources. So if your storage is being indicated as less, the below mentioned methods may help you to fix it.
Helpful Tip: Manage your Google Drive storage by transferring Google Drive to another account using SysTools Google Drive Migrator
Fixes for Google Drive Quota Wrong Issue
There can be many reasons for Google Drive quota exceeded issue. Below given are some of the scenarios and solutions associated with them.
1. Empty the G Drive Trash
It may be noted that the files and folders which are temporarily deleted are stored in trash folder and are not deleted permanently. This can affect the consumption of Google Drive storage in a large scale. To make these space free, all you have to do is free up the trash frequently. This could be done as follows:

Log in to Google account
Go to Google Drive and click on Trash option on the left panel
Click on the Trash option under the Search bar and thereafter click on the "Empty Trash" option
Clearing trash data like this in a much frequent manner can save your storage space from running out and thereby avoiding the Google Drive Quota Incorrect issue.
2. Manage Google Drive Application Data
There are a number of extensions, applications, etc. that are being connected with our Google Drive. So these apps and extensions will also be consuming the drive storage space. To clear the space consumed in this way, you can follow the below steps: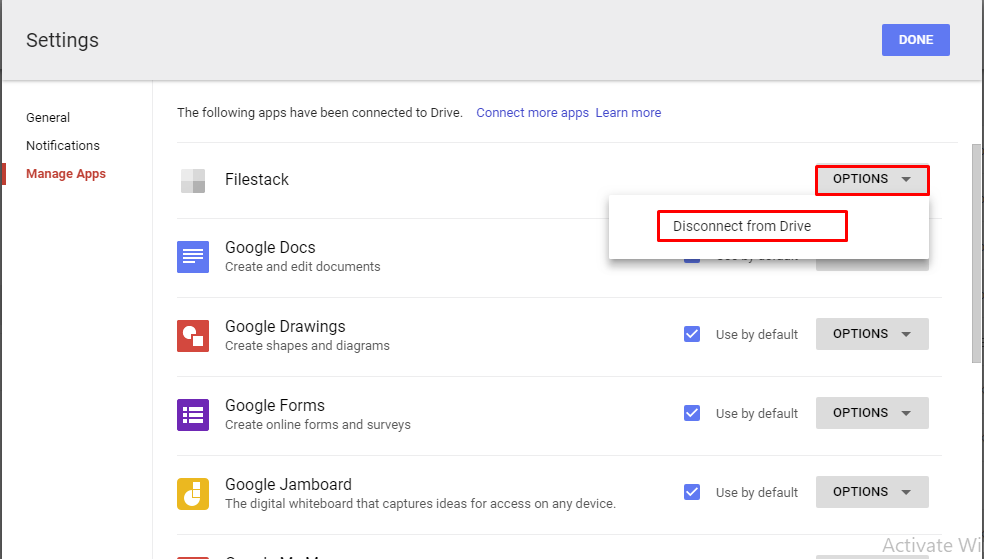 Click the Gear icon on the top right corner of G Drive page and click on Settings option
From the left pane, choose Manage Apps
A list of Apps that are being connected to Drive will be made available of which some maybe default (cannot be removed)
Choose the app that is to be removed and Click on Options >> Disconnect from Drive >> Done
3. Search & Remove Orphaned Files
Orphan files can be a serious cause of Google Drive storage quota incorrect issue. Orphaned files in this scenario are the files in Google Drive which are not having a parent folder. This files can largely consume the G Drive quota. The steps with which you can search and remove orphaned files are being explained below.

Type is:unorganized owner:me in the search bar of G Drive and press Enter.
Any orphaned files present will be listed after the search
Select multiple files >> Right Click >>Remove from context menu
Drag & Drop those files to Trash & then empty the Trash
4. Manage Google Photos and Gmail mailbox storage
The storage space associated with each Google account is being consumed between G Drive, Gmail and Google Photos. So there is a chance for the inflation of quota due to junk emails and unwanted photos and thereby leading to Google Drive quota exceeded issue. The storage space distribution is being represented as given below.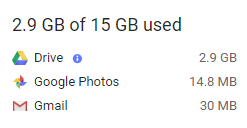 To avoid Google Drive storage quota incorrect issue, you have to go through the following steps:
Login to Google & go to Google Photos
From Top Left, click on main Menu
Select settings for opening the options
Choose from the Two options for the quality of pictures to be stored
Note: Two options include Original & High Quality. If High Quality is selected, then the storage won't be largely consumed. And if Original is selected, then the G Drive space will be largely consumed. So choose High Quality to save your photos at reduced file size, whereby reducing the G Drive quota consumption.
Also Open email and delete junk and spam emails. Also empty the trash to remove the deleted emails. Make sure to frequently delete the old and unwanted emails from the mailbox to avoid Google Drive Quota wrong issue. Also try to empty Trash often.
Expert Solution to Overcome Google Drive Quota Incorrect Issue
This issue can be avoided by transferring data from Google Drive to another account. To migrate Google Drive files to another account, SysTools Google Drive migrator can be used. It allows to transfer files and folders from one G Drive account to another efficiently.
Conclusion
Google Drive Quota Wrong issue arises due to several situations. The main scenarios and the related solutions are explained in this write-up. Choose the right solution according to your context.