Google Apps Backup Tool to Export Data from Multiple G Suite Accounts
Loss of important data is always a major concern for any organization. It can hinder productivity and render the employees helpless. Therefore, it is always important to keep a backup of data at a secure location even if we are talking about something stored on the Google server itself.
G Suite, formerly known as Google Apps, is a cloud productivity suite that provides users with a number of applications. These apps are present over the cloud and one can easily work with them over any system at any time.
Many organizations backup Google Apps data to a secure hard drive in order to safeguard it from cyber-attacks. This backup is also handy for accessing G Suite data in other platforms such as Thunderbird, Outlook, etc. Since Google only provides the backup in MBOX files without any sort of customization, most organizations opt for automated tools or third-party services for this task.
In this review, we are going to talk about such a backup tool, namely, G Suite Backup Tool formerly known as (Google Apps Backup).
Google Apps Backup Tool – A Smart Backup Solution
This software is a quick solution to export G Suite data to external hard drives. It is an efficient software that takes backup of Google Apps emails along with documents, calendars, and contacts. It also offers date-filters to select and export only the specified data to save the time of the user. Moreover, the tool has no backup file size limitation.
Important: The article has been updated to adhere to the information regarding our new Backup Tool that right now only has PST format as its backup option.

Due to Google's update regarding Google Workspace (formerly G Suite), the old tool now only supports backup of single account at a time. It is only available ON-Demand. Please contact the Official site Support team for it. Some features like multiple backup formats – MBOX, PST, EML, and MSG; delete after download options are only available in the old version.
Prominient features of Google Apps Backup Tool
Export Complete Google Apps Data – The tool allows a user to export data such as emails, calendar, contacts and documents from Google Apps account. All the formatting is intact such as To, cc, bcc, from and many others.
Backup Emails in PST – The software provides four different option for the migration such as Google Workspace to Outlook.
Archive Calendar and Contacts – This application also exports Google Apps calendar and contacts to .pst file format.
Backup Multiple User Accounts – The tool offers user fetch option as well as the CSV option to add user accounts for backup. Log in as an admin of a particular domain for exporting data of all the domain users.
Apply filters – Date filter, available for all workload categories helps in providing the specific date range of "From" and "To". So you can export data that fall in the specified date-range
Delta backup – Applicable after at least one instance of process completes. User can opt this option to backup only the new Google Apps data.
Display Progress Report – Once the download process gets started, the download status is visible through the software. You also get detailed and summary reports after the process completion.
Prerequisites for Domain User Backup:
Net Framework 4.6 or above
Create Project in Google Console
Enable API access in Google Console
Add Scopes at Domain Level
How Does the Tool Work?
Once the prerequisite is taken care of, users can easily backup Google Apps data from multiple domain user accounts at once.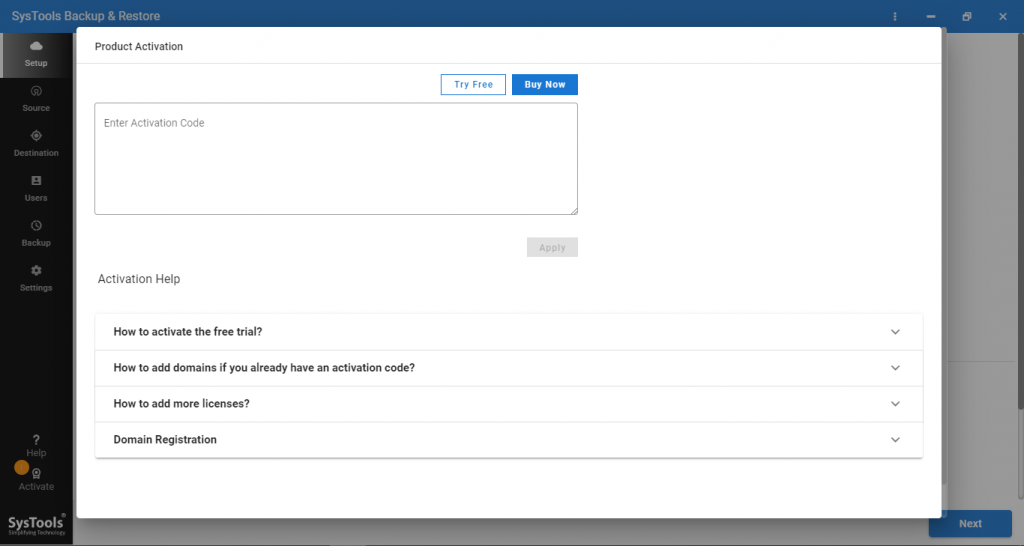 Launch the Google Apps Backup Tool and click Backup button.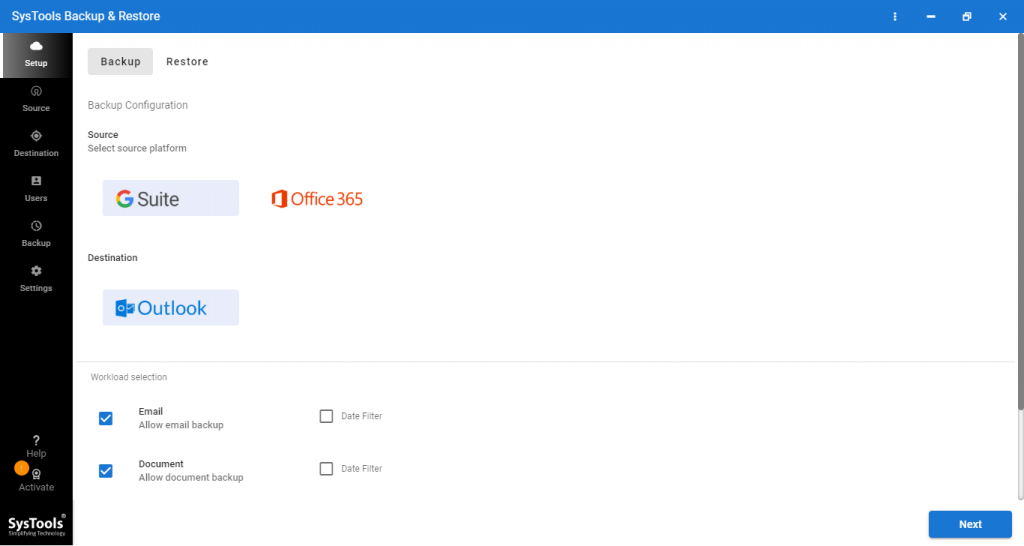 Select the backup source and destination: G Suite & Office 365
Select the category of Google Apps data: Emails, Contacts, Calendars, Documents.
Apply additional settings such as email filters (backup data of a certain time interval)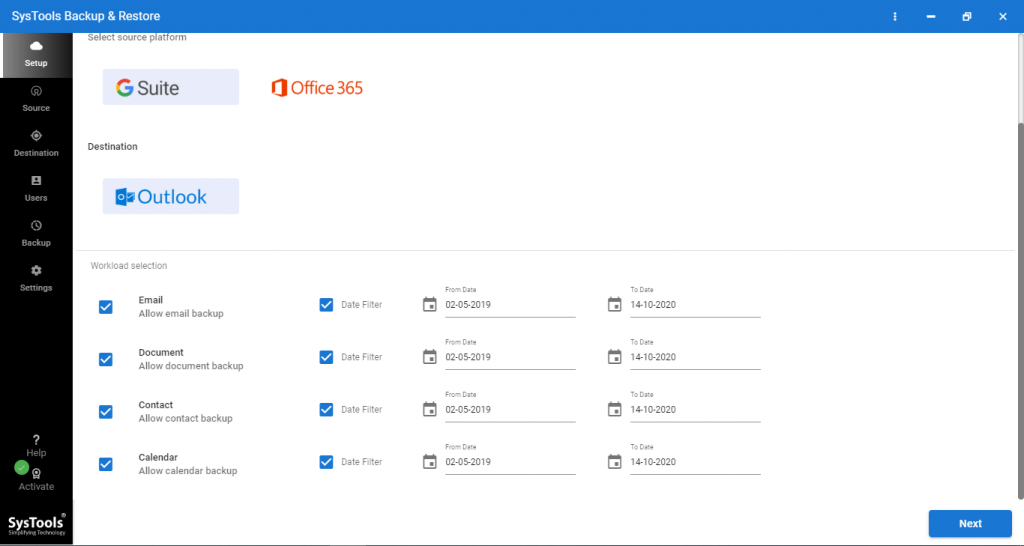 Enter admin id, service account and certificate file that is available after executing pre-requisite.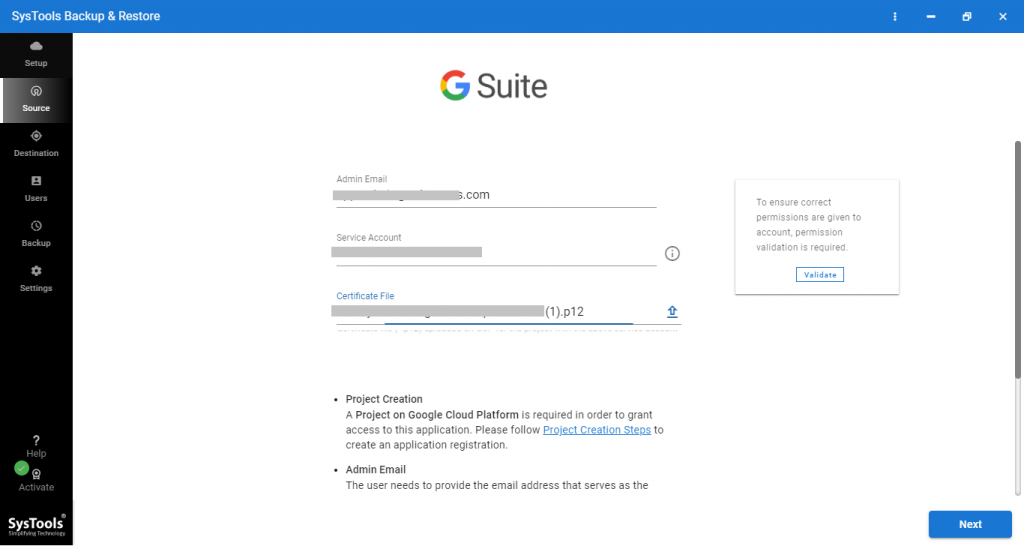 After verification of the entered user account, select the destination in which you want to backup the Google Apps emails.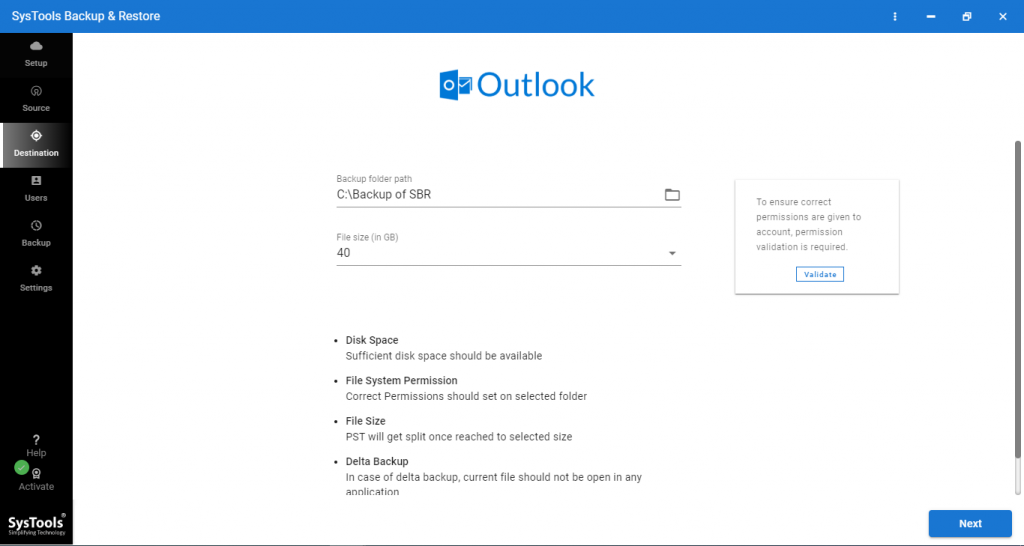 Either fetch user accounts from source or simply select a CSV file that contains all the user accounts.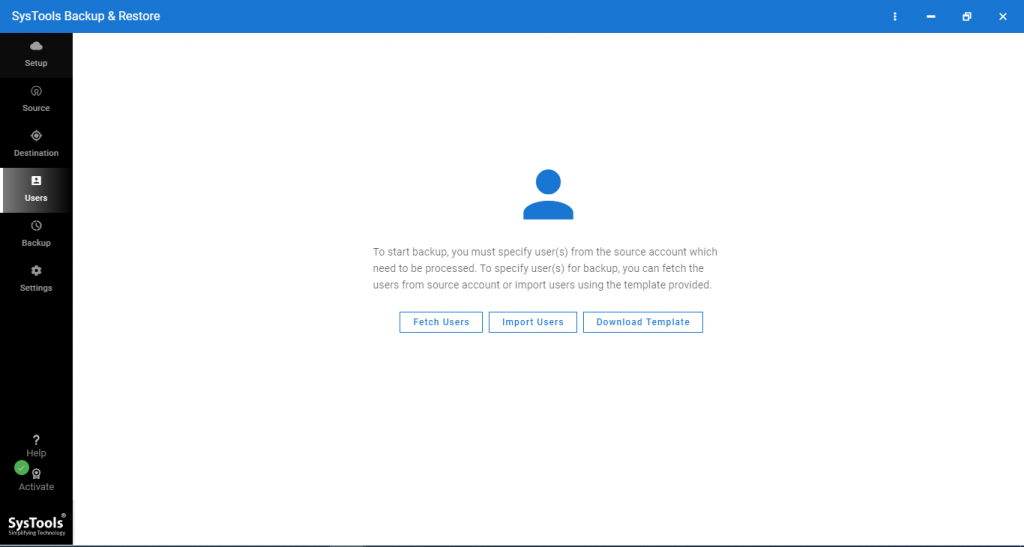 Validate the user accounts and premissions and click the Start Backup button.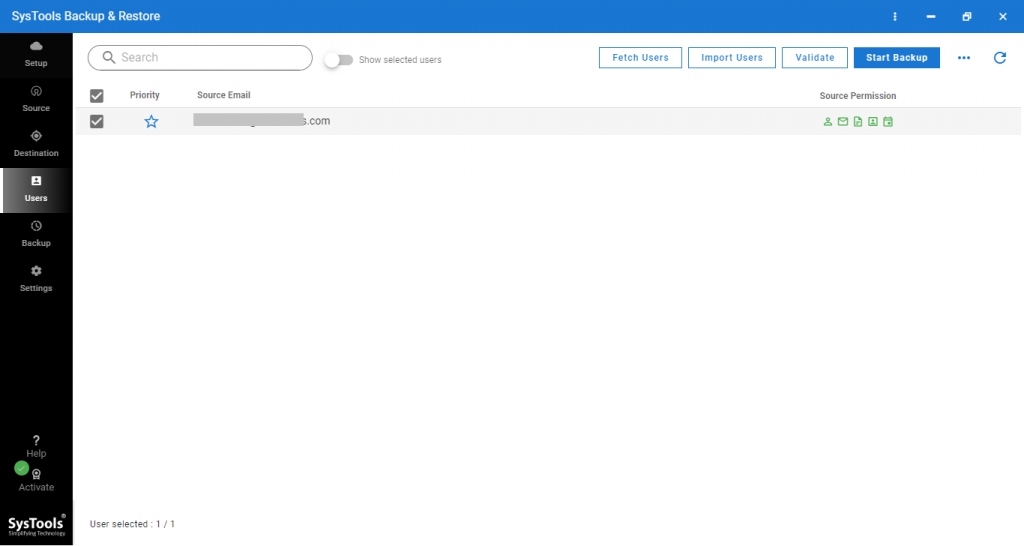 Google Apps backup utility will show two types of report to download. Click on Download Report to start the download process.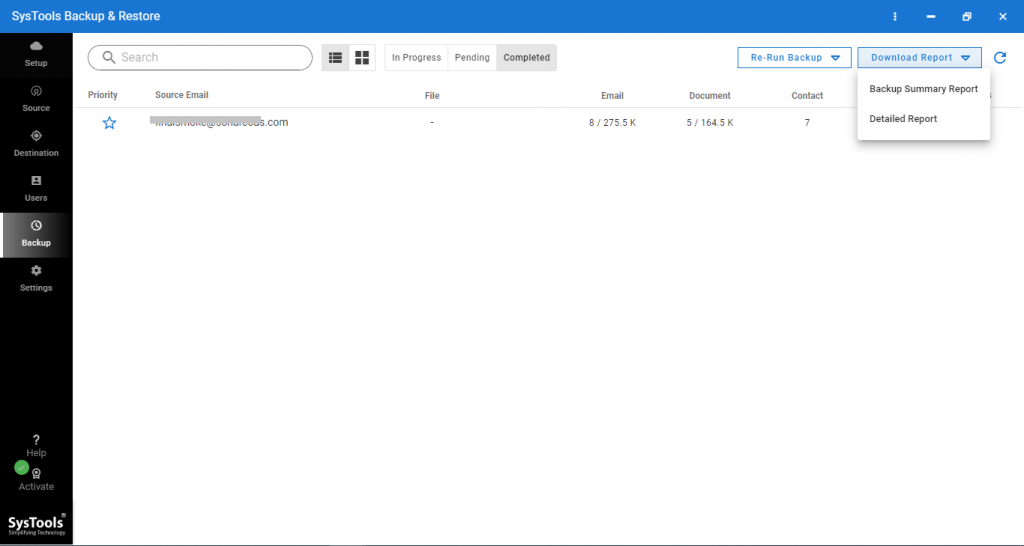 Google Apps Backup Tool comes in 2 versions
The software comes with two versions, i.e., Demo and Licensed Version. Users can opt for the free demo version to understand the working of the utility and then go after the full version.
Demo Version – The demo version is free of cost and exports data items of two accounts ONLY.
Licensed Version – This version is paid. There are no limitations on the number of files and accounts as well as on size. Thus, you can buy the product from the company's official site and then use it for data backup.
Observational Verdict
Google Apps Backup Tool to export data to hard drives is one of the most promising and efficient tool in terms of accuracy and performance. Even a non-technical person can use this tool without any external help due to the easy user interface. This software has made many lives easier with its advanced features.
FAQs
Can I backup only selective data from Google Apps account?
You can backup specific data items (emails, contacts, calendars, etc.) and even set time interval to download the data items falling in the set interval.
How much time the does tool take to backup Google Apps account?
The time required to backup data depends on the amount and size of the Google Apps mailbox data. Rest assured, the tool is generally fast-paced and ensures accurate backup of Google Apps data.
What Operating system can I work with this application?
The backup tool supports Windows Operating system. It is compatible with Windows 10 x64.