Top 10 Outlook Issues & Troubleshooting With Outlook Inbox Management Toolkit
Almost all organizations and home users perform their emailing, scheduling, and calendaring via Microsoft Outlook because it offers a number of functionalities. As it might be a well-made software however, it tends to throw the occasional obstruction during work such as slow-response, start-up issues, corrupt Outlook profiles, freezing etc. Thus, in this technical post, we are going to disclose top 10 Outlook problems and a perfect solution to fix all these troublesome issues with SysTools Outlook toolkit. So, let us get started!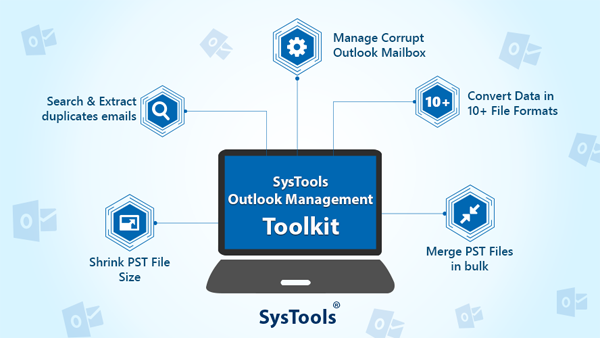 #Problem 1: Easy Way to Locate and Move Outlook PST Files on Windows 10 With Outlook Email Management Tool
PST stands for Personal Storage Table. It is actually a fairly complex database, which contains emails, contacts, calendars, and all other data items of Outlook mail program. Sometimes when users need to backup or move their PST files to another hard drive to save the storage space they bother with where their Outlook data files are located issue. Below is a user-query related to the same condition:
User Query:
"Before upgrading my PC to Windows 10, I want to create a backup of my Outlook PST files and move this backup to another USB Drive. For this, I searched for PST files on my disk however, unable to find the exact location of Outlook PST. Please, someone suggest me that where can I find my PST files?"
Solution:
Your PST files could be located almost anywhere on your PC but there are few default locations in which you can check. Well, finding PST files manually is such a tedious task. Thus, we recommend to use Outlook Email Management Software as it has the capability to auto locate and list all Outlook PST files with their attributes. Also, the Outlook toolkit allows to save the selective Outlook PST files on the local machine, both ANSI and UNICODE PST files are supported by this.

#Problem 2: Resolve Getting Unknown Errors while Adding a PST File in Outlook With Outlook Toolkit
Sometimes while adding a single or multiple PST files in Microsoft Outlook application, users face some issues such as Outlook respond slow, freezes, or various error messages. One can understand the issue more clearly with the help of below-mentioned user-query:
User Query:
"I want to add some PST files in my Outlook account however, I am receiving an error message while trying to add a personal folder file in Microsoft Outlook 2016. The error says that the file cannot be opened, access denied. After that, Outlook stops responding. I urgently need to import these PST files into my Outlook account. Can anybody tell me what this error is and how can I add multiple PST files in Outlook quickly."
Solution:
Outlook Inbox Management Toolkit is the standalone solution to resolve this issue. Via this, one can add multiple PST files to Outlook in bulk. Users are allowed to add both UNICODE and ANSI PST files to Outlook. It does not impose any limitation in the number of Outlook data files to be added.

#Problem 3: How to Remove Duplicate Emails in Outlook With Outlook Email Management Tool?
Duplicate emails are those email messages that appear repeatedly in the Outlook PST files. They create a lot of confusion among users in deciding that what to do with the email messages consisting of duplicates or where to get and remove Outlook duplicates. Incorrectly configured rules, short send/receive intervals, incorrect account setup, improper mailbox settings, etc., are some common reasons for this issue. Take a quick glance on a user-query related to the same problem:
User Query:
"Whenever I am using Instant Search option of MS Outlook to find a specific file or email, it is taking a lot of time and displaying me a big list of files that contain same data. Also, the size of my Outlook mailbox also increasing continuously due to which Outlook freezes, hang, and stops responding. Due to all this, I want to find all the duplicate emails from Outlook and delete them. Is there any quick technique to do this without any data loss. Thank you!"
Solution:
Outlook Inbox Management Toolkit is one such eminent utility to find, search, and analyze the duplicate emails in multiple Outlook PST files in batch. The Outlook toolkit software creates a separate PST to find duplicate files in Outlook also, eliminates duplicates from password protected or corrupted PST files.

#Problem 4: How to Extract Multiple Attachments With Outlook Inbox Management Software
When the user receives an email message with several file attachments then, just saving each one individually into the same directory is a tedious task and takes up an excessive amount of time. Also, sometimes due to personal or professional requirements users need to save the attachments from multiple email messages but, Outlook allows to download a single attachment at a time. In this condition, users search the solution for this like below mentioned user-query:
User Query:
"In one Outlook folder of mine, there are thousands of email messages that comprise various attachments with them. Now, I want to extract all the attachments into a single folder (not an MS Outlook folder). I can do this via Outlook but one attachment at a time. Is there any technique to select multiple emails and extract attachments from them?"
Solution:
In order to download all attachments from multiple MS Outlook PST files, one can use Outlook Inbox Management Toolkit. Outlook toolkit allows users to extract attachments from all email folders even without imposing any file size limitations. Also, it supports both ANSI and UNICODE PST files.

#Problem 5: How to Resolve PST Conversion Problems With Outlook PST Management Software
Outlook PST is utilized to save all Outlook data items (such as emails, contacts, tasks etc.) can get damaged/corrupted or harmed on a seemingly on regular basis. There are several reasons for Outlook PST corruption like header corruption, abrupt system shutdown, virus/malware infection, human errors, software/hardware contradiction, and so forth. Apart from all this, there may several conditions in which users may need to access their PST files from different email applications such as Thunderbird, Lotus Notes, Abode Acrobat, etc. This is possible only if the PST is converted into the supported file format. Following user-query will clear the scenario:
User Query:
"I have few PST files to which I want to convert into multiple file formats i.e., MBOX, PDF, EML, TXT, and RTF. Doing this manually is such a tiresome task. Is there any third-party solution that can convert my PST files into mentioned file formats quickly?"
Solution:
Outlook Inbox Management Toolkit has the ability to export Outlook PST in various file formats like EML, MSG, PDF, VCF, TXT, RTF, HTML, MHT, MBOX etc. After conversion one can easily access these files from supported email clients.

#Problem 6: Resolve Problem in Compacting Massive PST Files With PST Management Tool
Large sized PST files interrupt the smooth and flawless working of MS Outlook. Compacting an oversized PST file is a process to make the file size small as this improves the performance of the application. However, sometimes compacting process is not easy and users face few difficulties during this i.e., slowdown of Outlook, abrupt application close etc. Here is a user-query to clarify the scenario:
User Query:
"I am trying to compact an absurdly massive 49 GB PST file yet, the Compact Now wizard closes very immediately. I want to know that is there any viable third-party solution to compact this PST without any data loss?"
Solution:
To Reduce the size of large Outlook PST, there is one foolproof solution i.e., Outlook Inbox Management Toolkit. It can compress multiple large PST files by extracting, eliminating, and saving the attachments. Also,  Outlook toolkit supports compression of both ANSI and UNICODE PST files.

#Problem 7: How to Combine Multiple PST Files Quickly With Outlook Email Management Toolkit
Outlook users certainly have one or more PST files, which may cause serve issues related to PST management and handling. If someone has a large number of PST files then, managing them is actually complex. Also, PST files may lose, or misplaced due to the accidental deletion and access multiple PST files separately is tedious work. Further, we are going to discuss a user-query that will disclose the complexness of combing multiple PST files:
User Query:
"Over the years, I have created many archives of PST files due to lack of storage space. I still sometimes use these PST files as a reference. Now, I want to combine them all into one big archive for easy management and simply searching. How can I merge all of them together? Please, recommend a simple and quick solution for this."
Solution:
We highly recommend users to use Outlook Inbox Management Toolkit to merge multiple Outlook PST files with all items i.e., emails, contacts, calendars, tasks etc. Outlook toolkit has the capability to remove duplicate items while combing multiple PST files and folders together.

#Problem 8: PST Reached to Maximum Limit, How to Split it?
PST files stores a large amount of data due to which they reside so much of storage space. When the defined size of PST file gets exceeded, the system generates few error messages such as "Outlook.pst has reached its maximum size". Well, deleting some contents from PST file is not an easy option as due to the privacy some files cannot be deleted. Thus, splitting a large PST into smaller parts is an appropriate solution. Breaking a PST file manually may result you permanent data loss, thus users search for some automatic techniques like below user:
User Query:
"I had a large PST file to which I need to break into smaller parts due to the maximum size limitation issue. I tried a manual technique to split this PST and I lose all my data. Somehow, I recovered the file and now, I strictly do not want any kind of data loss. Is there any technical expert who can suggest me a perfect solution to split PST files?"
Solution:
Large PST files can be easily split via Outlook Inbox Management Toolkit to avoid 2GB PST file corruption and other issues. It can split both Active PST file and Archive PST files. With the help of Outlook toolkit, users can break large PST by Date, Size, Year or Folder.

#Problem 9: How to Remove Outlook Duplicate Items With PST Management Toolkit
Duplicate data items are such a common issue that most MS Outlook users encounter from time to time. Well, there are many factors that can cause Outlook data items to become duplicated yet, two of the most common sources are:
Wrong Outlook account rules settings
Syncing Outlook with any other applications/devices
This is actually a confusing and annoying state. When users try to remove duplicate items, it is possible that they may lose their original data items. Following is a user-query that states the same scenario:
User Query:
"Hello! It is James. Yesterday, when I open my Outlook application, I found that there were several copies of every data item. All emails and even contacts items have their duplicates. I got afraid that what is this then, I manually started deleting duplicate contacts. After that, I realize that I have lost some original contacts also. I stopped there and now, please someone recommend me a perfect solution to remove duplicate items from Outlook."
Solution:
Duplication of emails, contacts, calendars, journals, tasks, notes etc., is a quite common issue in MS Outlook. For de-duplication of all data items, users are suggested to use Outlook Inbox Management Toolkit as it one of the best ways to delete duplicates within a folder and across a folder. Outlook Toolkit has the capability to remove duplicate emails from multiple PST files in bulk.

#Problem 10: How to Perform Outlook Data File Recovery With Outlook Toolkit?
Sometimes we become unable to open the Outlook Data File (PST or OST) and receives an error message i.e., 'Outlook cannot open this set of folders'. There may various reasons behind this, such as corruption, damage, virus/malware, hardware/software issue and so forth. In this case, you may get the error message in various forms, some most common error messages are following:
User Query:
All these errors interrupt the smooth working of MS Outlook. Let us take a quick look on a user-query related to Outlook file recovery:"Due to some technical error, my Outlook data files get corrupted. I tried a third-party solution to repair my files however, unable to get back the data from Outlook files. Is there any actual working technique to repair both Outlook files easily as well as quickly?"


Solution:
If your Outlook data files i.e., OST or PST, gets corrupted due to any reason and you need to recover them then, Outlook Inbox Management Toolkit is the best solution. With the help of this toolkit, all above-mentioned Outlook errors easily get resolved in few simple clicks. The Outlook inbox management software can recover soft as well as hard/permanent deleted data items from Outlook files whether your files have minor or major corruption. Via this, one can perform both OST recovery and PST recovery without any hassle. PST Management toolkit can recover all data items from Outlook files such as emails, contacts, calendars, tasks, journals etc. After performing recovery, it provides multiple file formats like PST, EML, MSG, HTML, etc., to export the recovered data items. There are no file size limitations imposed by Outlook toolkit to recover data. The best thing about this toolkit is it supports Windows 10, 8.1, 8, 7, and all below versions. It is compatible with MS Outlook 2016, 2013, 2010, 2007, 2003 etc.
Final Words!
Most of us prefer MS Outlook as our email client due to its excellent email manageability and easy to understand GUI. Although Microsoft Outlook is handy to use but, sometimes it does not work favorably and interrupt operation via prompting various error messages. Besides, there come many points when we need to perform some operations with Outlook files such as conversion, attachment extraction, split, merge, compress, remove duplicate items, OST/PST recovery and so forth. Nevertheless, for all these operations users need to search for different tools and methods. Now, users do not need to worry about any Outlook error or operation as we have disclosed an all-in-one solution "Outlook Inbox Management Toolkit".